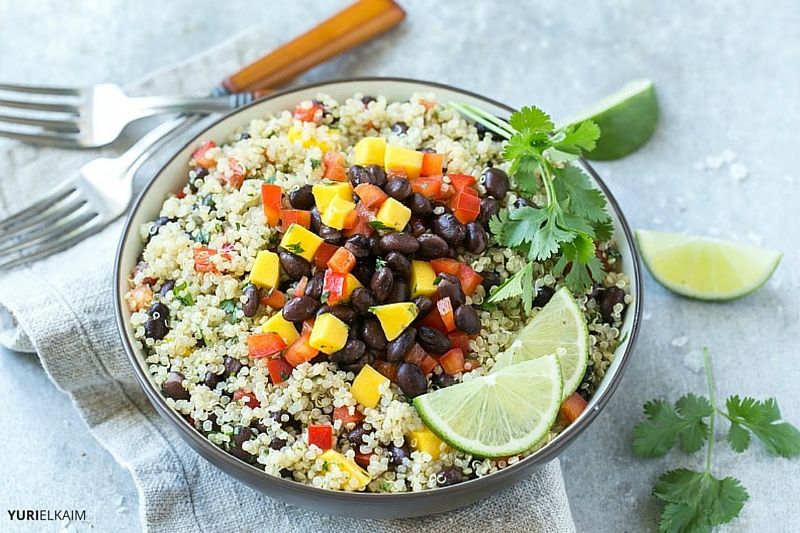 Are you one of those potluck people?
Not the kind that simply likes potlucks. I'm talking about the kind that obsesses over potlucks – researching for days to find the just-right recipe to bring along.
The kind that finds pride in toting a tasty dish to a party, happy when it's the first thing that disappears because guests are devouring it.
Admission: Amy and I are potluck people.
We're all about winning the secret, unspoken race that is potluck popularity.
Living in a food-forward city has done this to us. Here in Toronto, we have top-notch everything: vegan eats, ethnic cuisine, haute and high end, and locally grown.
So, when it comes to prepping for a potluck, it feels like our chance to take part in the art, using both tasty and healthy eating recipes for our bring-alongs.
And so we take it very seriously. We've got an ongoing list of shockingly good clean-eating recipe ideas. I've made 67 of them and put it into a book you can get for free right here.
And now, one more that's a total winner.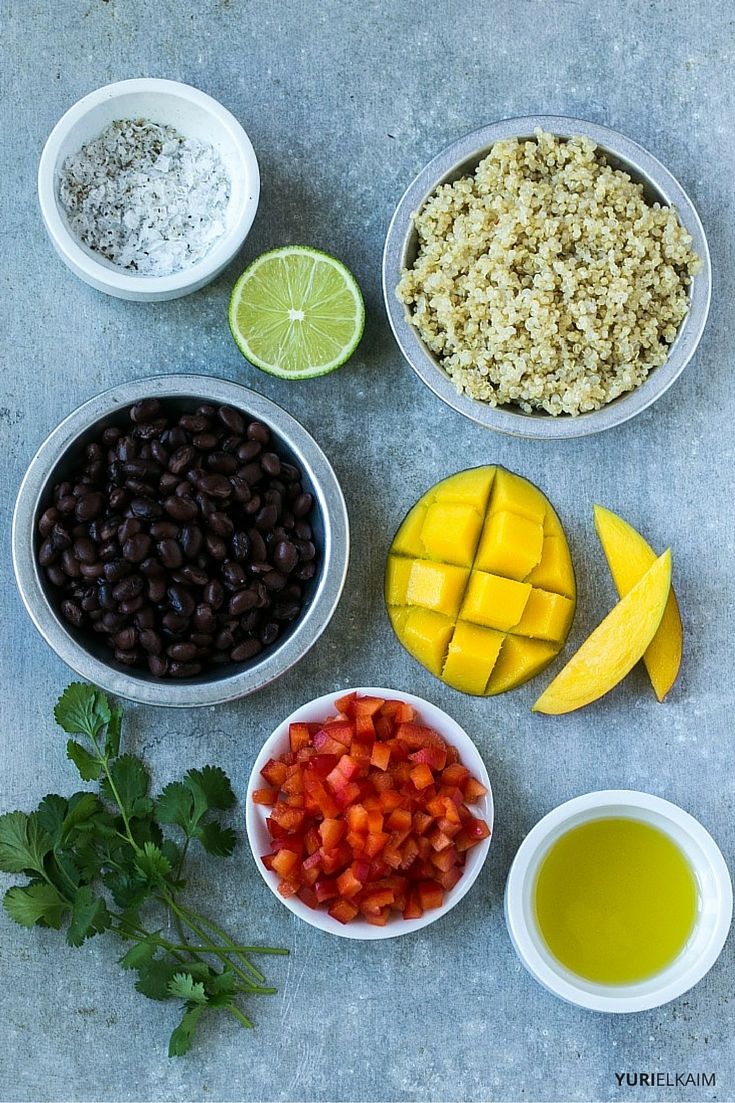 Easy Quinoa and Black Bean Salad
This mango, quinoa and black bean salad is about to disappear from potluck tables everywhere.
Great news, this one also happens to be an amazing vegan, gluten-free meal.
We'll make it for parties, or as a quick summer dinner, and sometimes serve it as a side dish with grilled chicken. This salad features zesty flavors that make it a favorite with my family.
The recipe itself is pretty versatile, basically a blank canvas for other fresh fruits or veggies. Add avocado or toss in orange slices to make it even tastier. Serve it up for lunch or dinner, and you'll keep your eating on track while enjoying big flavor.
Packed with protein and fiber-rich black beans and quinoa, this hearty salad is definitely one you'll want to make.
For best results, this recipe should be tossed together minutes before sharing. The flavors taste brightest and best right out the can (and rind), so don't plan on making this one ahead of time.
Love quinoa? You might want to try these other quinoa recipes of mine: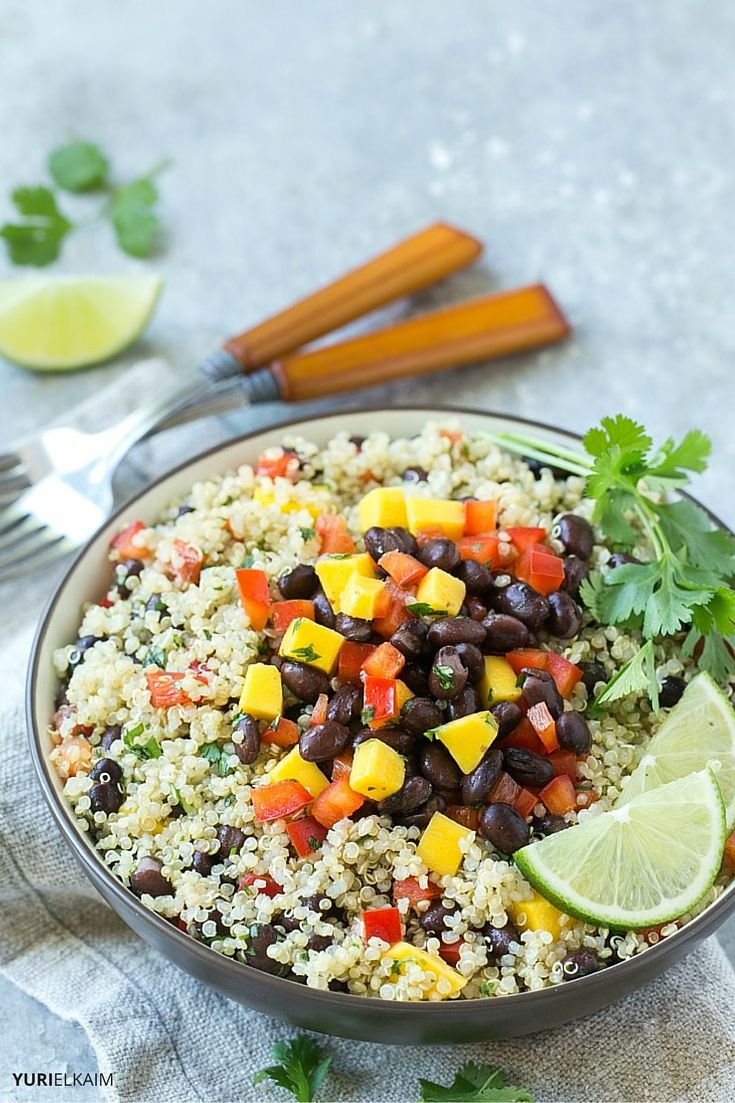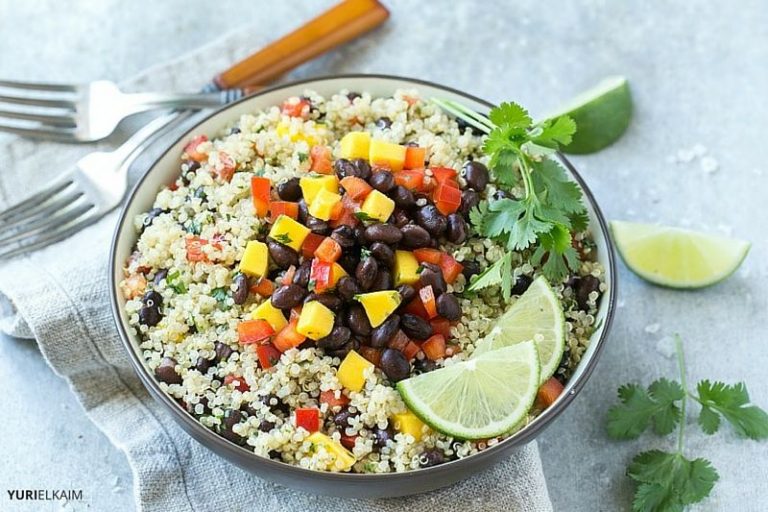 | | |
| --- | --- |
| | |
In a small bowl whisk together the lime juice, olive oil and cilantro.

Add salt and pepper to taste.

Place the black beans, quinoa, mango and bell pepper in a large bowl.

Pour in the dressing and toss gently until coated.

Serve immediately or store in the refrigerator for up to 8 hours before serving.

Garnish with cilantro sprigs and lime slices if desired.
Easy, Tasty, Quick and Healthy Choices
Looking for more healthy eating recipes that you can have on the table in 15 minutes? Check out the All Day Energy Diet Community Cookbook, which you can get for FREE!
It features 67 real-world-tested meals that are gluten- and dairy-free, low in allergens and high in taste. Click the banner and it's yours!