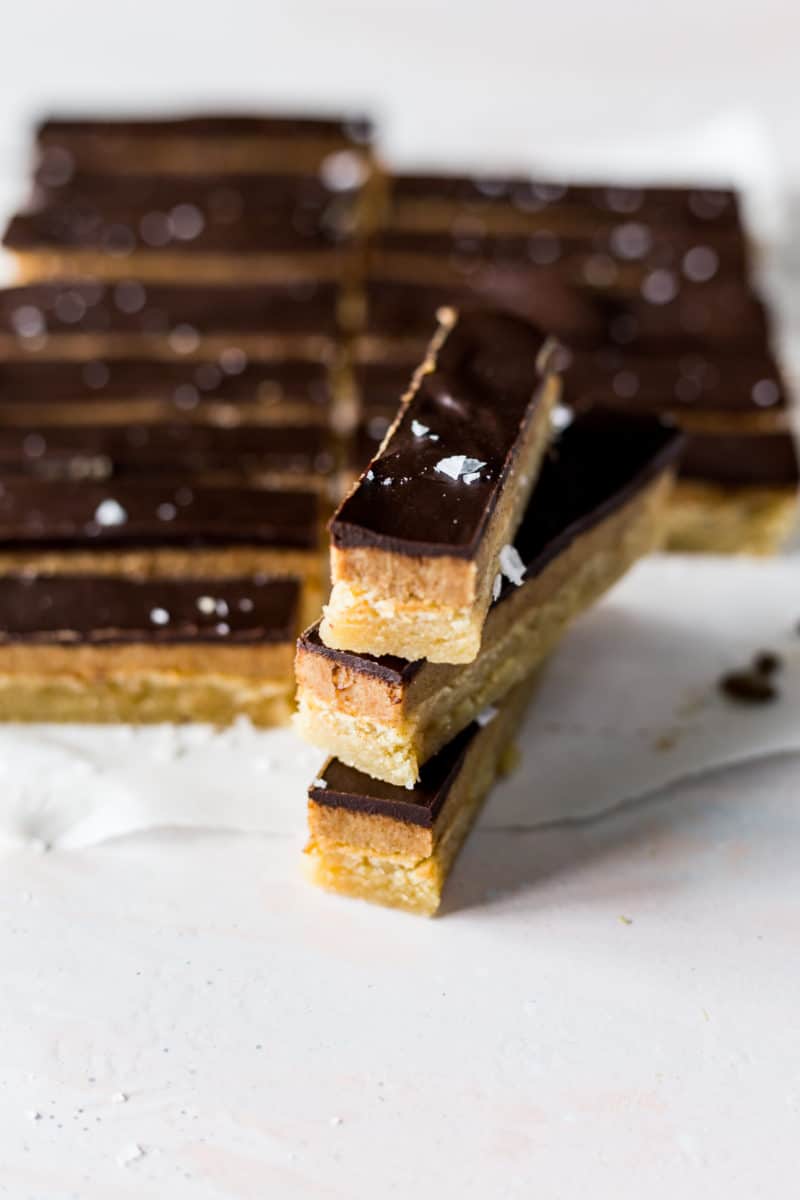 I have always loved Twix. There is just something about that shortbread, gooey caramel, and melty chocolate that hits all the right spots.
I mean, how can you go wrong?
But of course, with this beloved chocolate bar comes 10 tons of refined sugar and other ugly ingredients that quickly make this treasured treat anything but satisfying.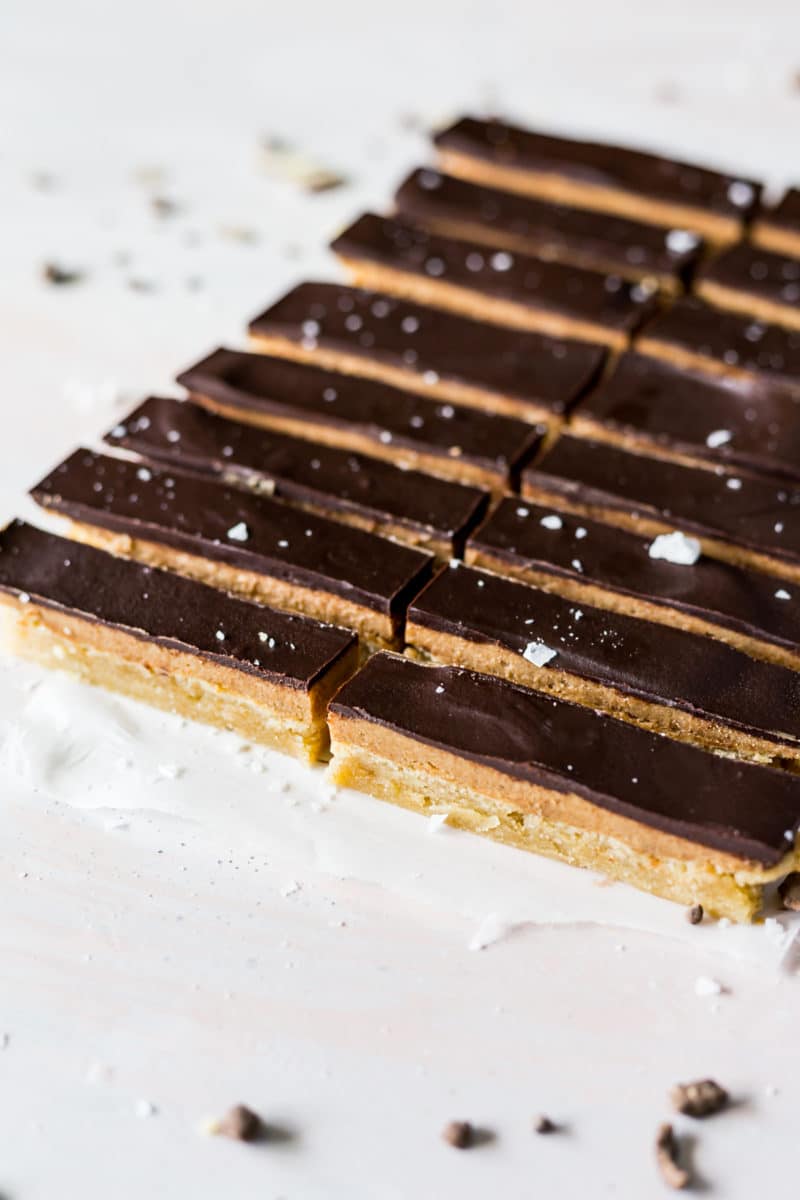 These healthier homemade Twix bars, however, will have you jumping for joy. Like this flourless red velvet cake, and these chocolate tahini balls, this Twix recipe is about as guilt-free as you can get, because these bars are gluten-free, grain-free, refined sugar-free, AND vegan.
I mean, what's not to love?
This Twix recipe makes so many bars you can share with your friends and family, or hoard them all for yourself. I promise I won't tell, so long as you don't!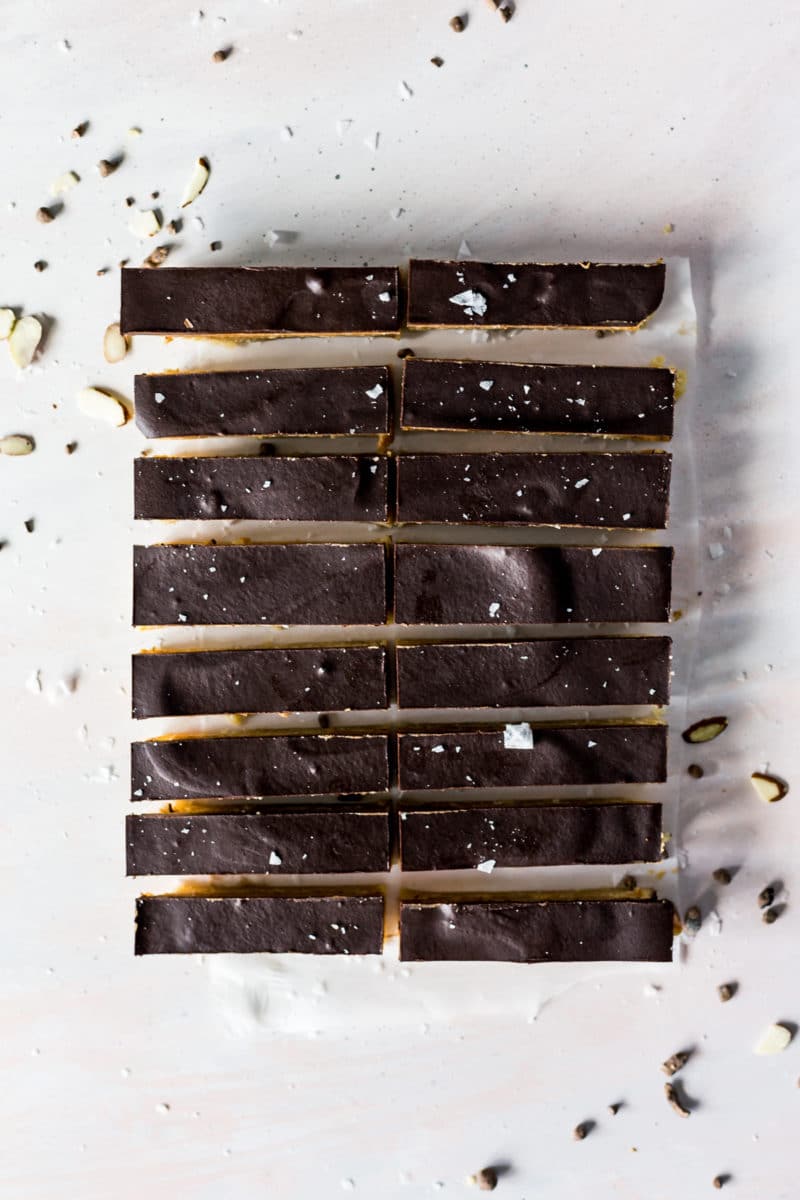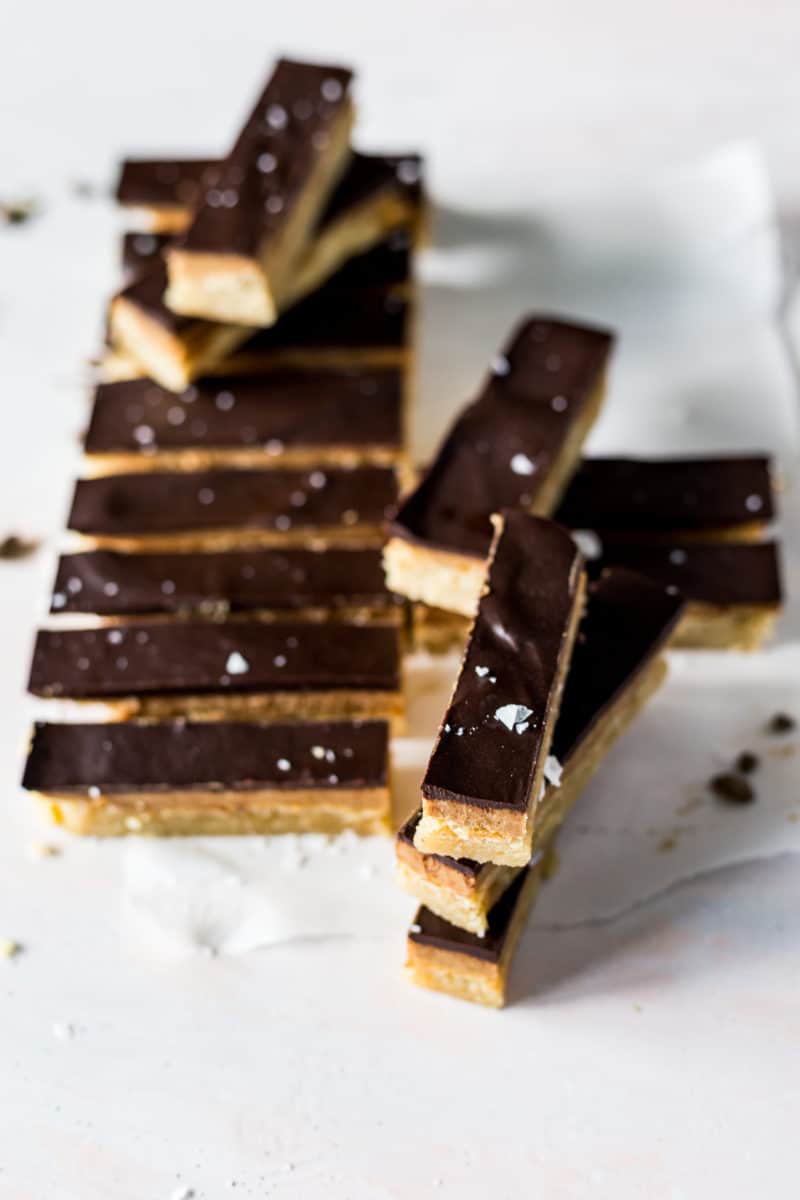 I brought these homemade Twix bars to a family gathering not too long ago because I wanted to test out the recipe with people who don't have to try my creations on the daily, and who won't lie to me to save my feelings, ha ha ha. Needless to say, they were a hit!
Homemade Twix Bars
And while they don't taste exactly like a traditional Twix bar, they were so delicious that everyone wanted the recipe right then and there.
It was a proud moment for me. Thanks, fam.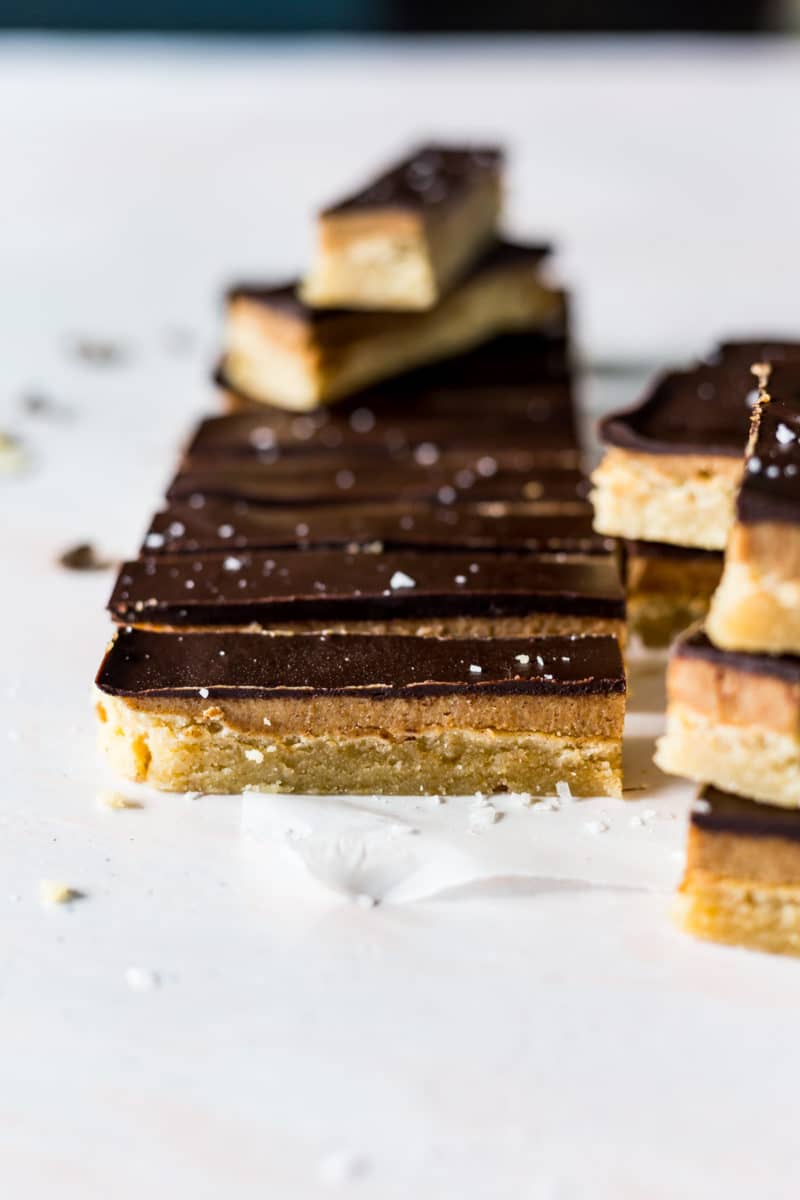 The really cool thing about this recipe is that even though it looks like there are lots of ingredients and many steps, there are actually only SEVEN ingredients total! Most of them are repeated in each layer, like the coconut oil and maple syrup.
And while I did say I wouldn't tell if you hoarded these all to yourself, keep in mind that this Twix recipe contains better-for-you ingredients. Enjoy them in moderation.
On that note, I better go make a new batch; I'm running low!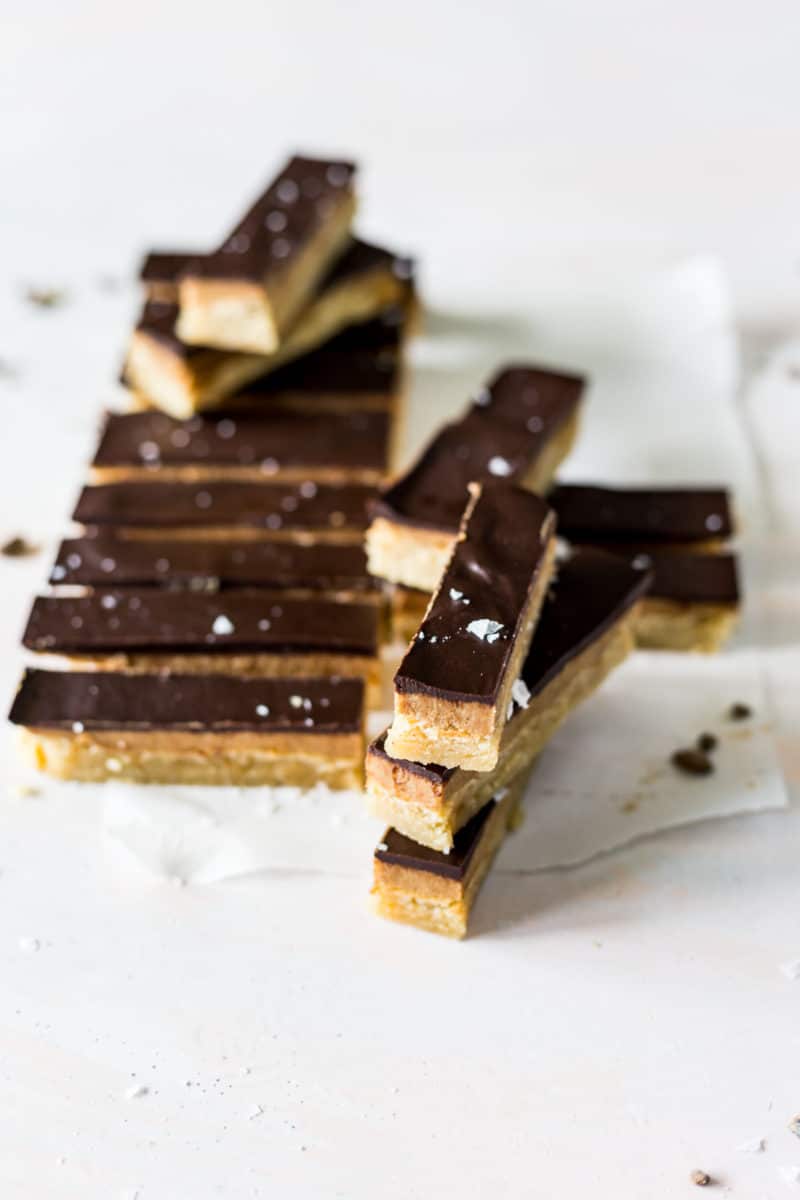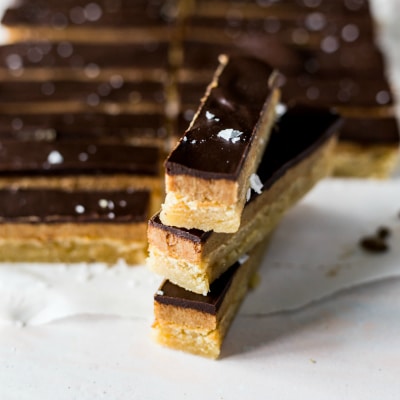 | | |
| --- | --- |
| | |
Preheat oven to 350 degrees. Grease and line an 8x8 pan with parchment paper.

In a medium bowl, combine almond flour, coconut oil, maple syrup and vanilla extract. Mix until well combined. Press into the bottom of the prepared pan and bake for 11-13 minutes, or until sides are slightly brown. Let cool while preparing the next layer.

In a medium bowl, combine almond butter, coconut oil, maple syrup, honey, and vanilla extract. Mix until completely smooth, then pour over cooled crust and place in the fridge for 1-2 hours to harden.

Once the caramel mixture is hardened, prepare the chocolate layer. In a medium bowl, combine the coconut oil, cacao powder, maple syrup, and sea salt. Mix until smooth and pour over the caramel layer. Refrigerate until hardened, about 1 hour.

Once the chocolate has set, remove the twix bars by pulling up on the parchment paper. Place entire square on a cutting board and cut in half one way and in eighths the other way, creating 16 candy sticks. Keep leftovers refrigerated.
Got Cravings?
Get your FREE copy of my Healthy Desserts eBook, which contains the how-tos for 8 energy-boosting treats that are so tasty you'll think they are bad for you.
Each recipe is gluten- and dairy-free and low in sugar – and they'll please everyone in your family.
You can download it right now – for FREE! – by clicking the banner below.