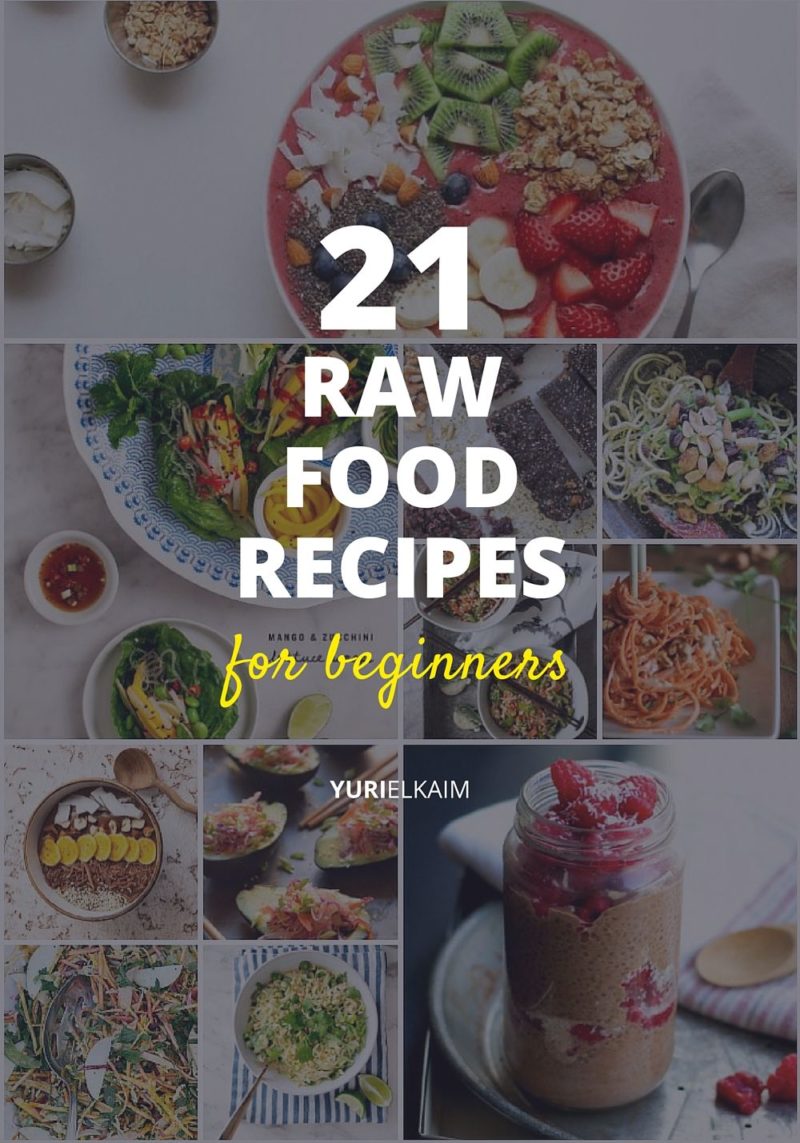 Does the hype around raw foods have you curious? Thinking about incorporating raw food recipes in your weekly meals?
Getting started with raw foods can seem intimidating, but no worries, we've got you covered with these 21 amazing raw food recipes for beginners.
If you haven't heard of the raw food diet, it's based on the premise that cooking food creates toxic byproducts, and raw food retains vital nutrients and natural enzymes that our bodies need to process food. Think: whole, unrefined, fresh, plant-based food.
I make sure to include a plethora of raw food recipes in my diet, and I think you can benefit from incorporating more raw fruits and veggies into your meals too.
The Benefits of Eating Raw
Let's look more closely at how you'll benefit from raw food.
Raw fruit contains a wealth of vitamins that protect the body from harmful free radicals. These free radicals contribute to chronic diseases like cancer and heart disease.
If you worry about stuffing yourself with carbohydrates when you eat fruit, remember that fruit is a simple carbohydrate, and the sugars are easily absorbed by cells as a fuel source.
Since you're consuming whole fruit, you're also getting fiber and high doses of antioxidants. While protein should definitely be the star of your breakfast, you'll want to include a healthy dose of fruit and chopped nuts and seeds for healthy fats as well.
Vegetables provide high amounts of minerals like iron, calcium, and magnesium that our bodies need for metabolic processes, nerve function, and a whole host of other important tasks.
It's a balance of different minerals that helps the body maintain normal health. Of course vegetables also contain lots of antioxidants, so you'll want to include lots of fruits and vegetables in your raw food diet.
Some tips on incorporating raw foods into your diet:
Start off slowly if you're going raw and swap out one regular meal a day for a raw food meal.
Gradually work in more raw meals, depending on whether you go strictly raw or just want a few raw meals in your weekly diet.
21 Super-Easy Raw Food Recipes for Beginners
Raw for Breakfast:
1. Enlighten Smoothie Bowl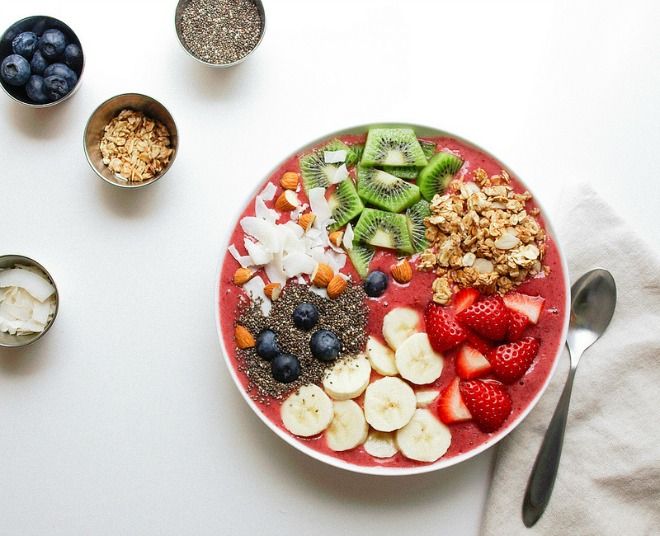 Breakfast sets the stage for the rest of your day, and this enlighten smoothie bowl is the perfect way to start your morning.
The base of this breakfast bowl combines antioxidant-rich berries with protein powder and almond butter. Heap on your favorite nuts for even more protein, superfood seeds like hemp hearts and chia, and any other toppings to give your bowl optimal nutrition to power your day!
Find the recipe here: Simple Veganista
2. Chocolate Strawberry Almond Protein Smoothie
This smoothie has it all: great taste, high-protein, healthy fats, and loads of antioxidants.
Hemp, maca, almonds, strawberries, coconut oil, and protein powder come together for a convenient breakfast full of superfood goodness.
Find the recipe here: The Healthy Family And Home
3. Cocoa Superfood Hemp Bars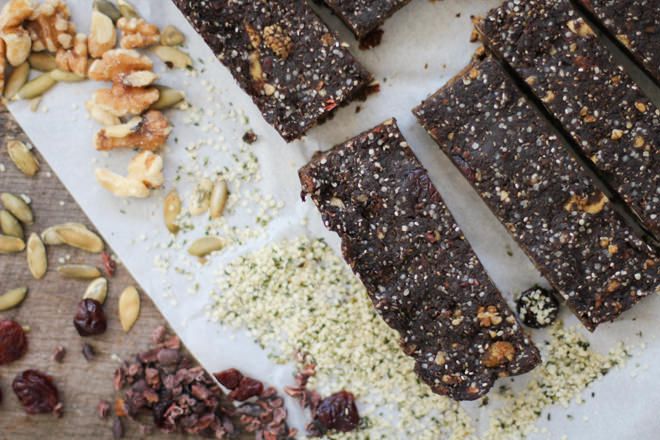 Grab a few of these protein-packed raw bars for a nutritious on-the-go breakfast. Hemp protein powder and hemp hearts deliver heart-healthy fatty acids, antioxidants, and major protein to these delicious raw bars.
Cocoa and cinnamon add a tasty flavor while sneaking in more good-for-you health benefits.
Find the recipe here: Nutrition Stripped 
4. Chocolate Hazelnut Protein Bowl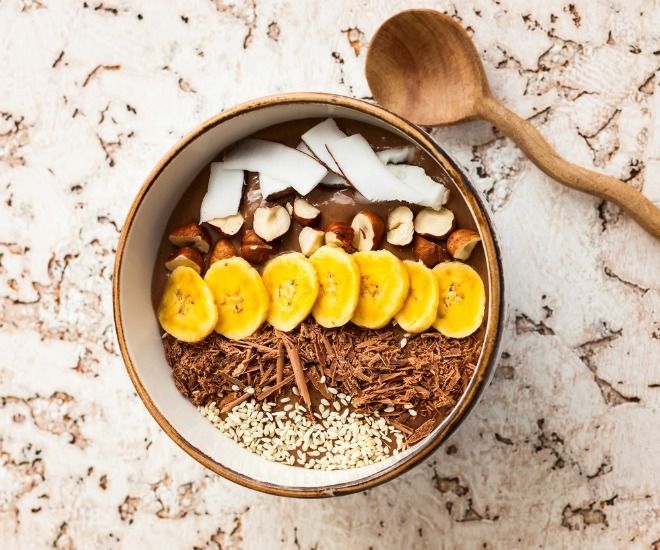 Avocado lends both creaminess and a dose of healthy fat to this delicious chocolate hazelnut protein breakfast bowl, which has added hemp protein powder to keep you full for hours and give your morning energy levels a boost.
Top it with cacao nibs, chopped hazelnuts, hemp hearts, shredded coconut, and any other extras to raise the nutrition profile.
Find the recipe here: Young and Raw
Raw Lunch Recipes:
5. Beet and Sweet Potato Salad
A spiralizer makes quick work of this raw beet and sweet potato salad.  These bright, colorful veggies are packed with nutrients that make this lunch a healthy gold-mine.
Top it with nuts and seeds for a protein-packed meal.
Find the recipe here: A Spicy Perspective
6. Shredded Brussels Sprouts Salad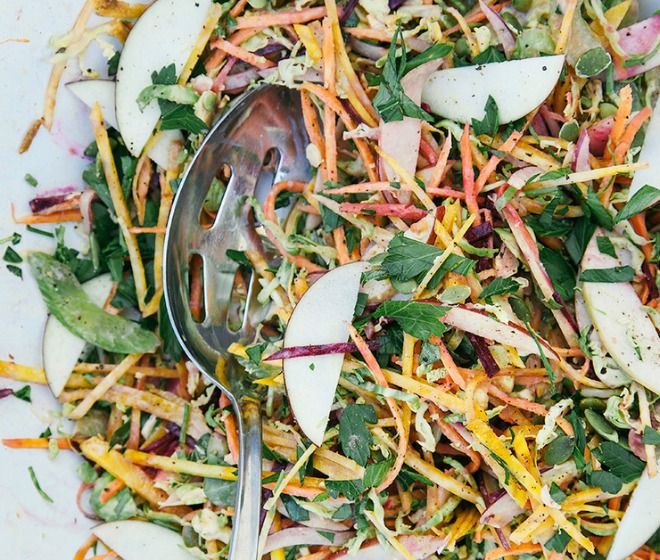 Want to sneak in a raw food lunch?  This fall veggie salad celebrates raw vegetable. Toss in any veggies you have in the fridge and use a julienne peeler to save on prep time.
Add an avocado for healthy fat and top with nuts and seeds for protein.
Find the recipe here: The First Mess
7. Raw Rainbow Wraps
Stuff all the colors of the rainbow into a healthy raw wrap: red bell peppers, orange carrots, yellow squash, green zucchini, and purple cabbage are wrapped in a sturdy collard leaf and dipped in a tasty mango cilantro sauce.
Each of these colorful veggies has unique antioxidants for optimal health.
Find the recipe here: With Raw Intentions
8. Mango Zucchini Lettuce Wraps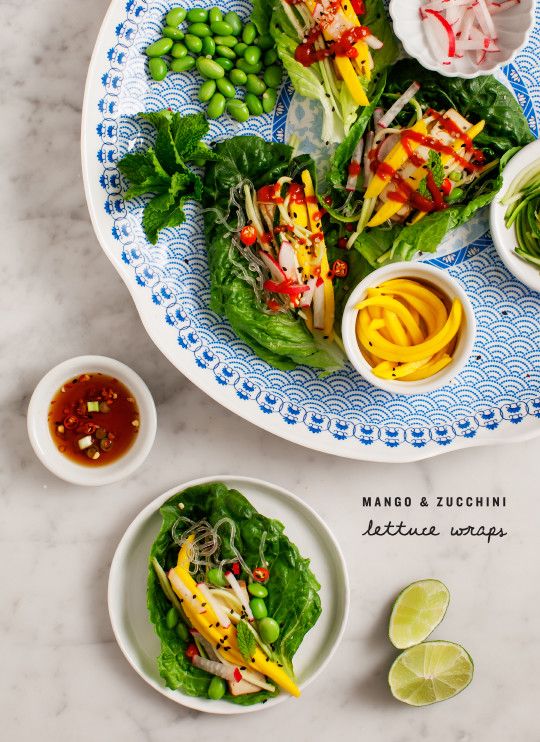 Mango and mint add a whole new taste dimension to lunch, not to mention a healthy dose of immune-boosting Vitamin C.
These wraps have an incredibly tasty dipping sauce that can be made ahead of time and stored in the fridge. Use a julienne peeler for the zucchini, and you've got a quick, healthy lunch that pops with flavor.
Find the recipe here: Love and Lemons
9. Stuffed Avocados with Crunchy Asian Slaw
You won't need a bowl for this lovely, healthy raw lunch.
Use a food processor or microplane grater to chop up the veggies for the incredible Asian slaw. Top avocado boats with your slaw, and you've got the perfect lunch!  Avocado delivers healthy fats, and the veggies give you immune boosting antioxidants.
Find the recipe here: Coffee and Quinoa
Dinner in the Raw:
10. Pumpkin Seed Garlic Pasta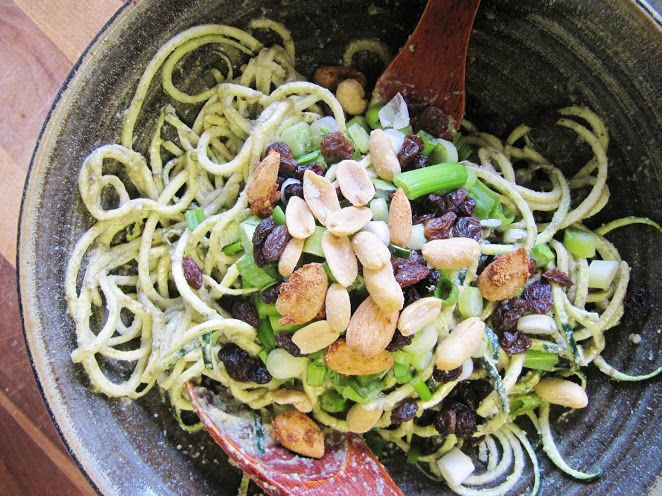 Weeknights can be busy, and making a quick, healthy raw recipe can seem like a challenge. This recipe is incredibly easy and satisfies your cravings for pasta.
Nutritional yeast has a parmesan-like taste and delivers Vitamin B12, which prevents nerve damage and anemia, and is challenging to get if you avoid eating animal products.
Find the recipe here: This Rawsome Vegan Life
11. Thai Zucchini Noodle Salad
This Thai zucchini noodle salad showcases how amazingly delicious raw food can be. Just the right amount of chili, garlic, and fresh herbs come together in a flavorful sauce to coat the raw zucchini noodles.
Find the recipe here: Heather Cristo
12. Raw Veggie Rice With Tamari Orange  Sauce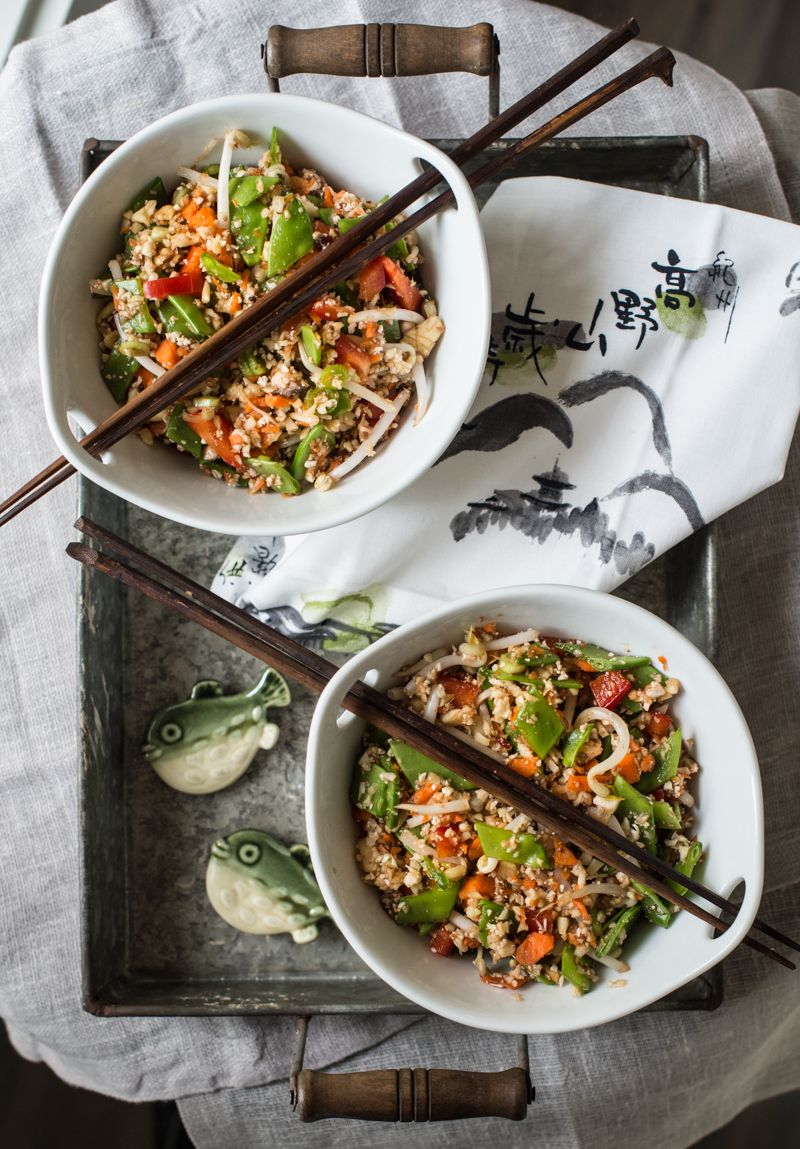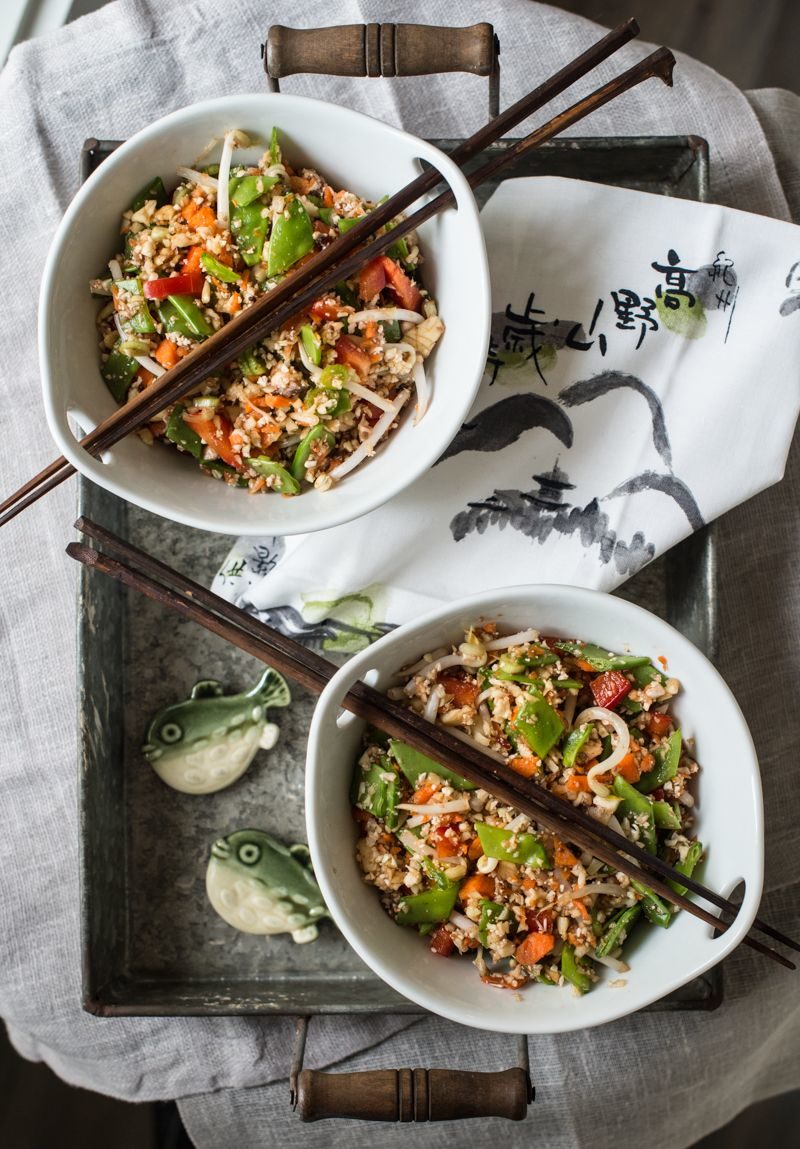 Get out your chop sticks for this yummy raw version of stir-fry, which is loaded with healthy veggies and tossed in a tasty orange tamari sauce.
Toss in mung bean sprouts for a good dose of protein, fiber, and vitamins.
Find the recipe here: Rawmazing
13. Raw Vegan Tacos
These tacos have it all: A spicy nut and seed crumble, a fresh, herby salsa, and a vegan cashew crema to top it off.
Stuffed inside cabbage and swiss chard leaves, these tacos deliver a nutritious crunch with a delicious, velvety finish.
Find the recipe here: The First Mess
14. Cauliflower Rice With Fresh Peas and Cumin
Go for a light, flavorful dinner with this cauliflower rice recipe.
Pulse cauliflower in a food processor for rice-like consistency, toss in fresh garden peas, pine nuts, and an enticing spice blend, and you've got a simple dinner that's big on taste and nutrition.  Cauliflower delivers potent phytonutrients to help fend off cancer and boost your immune system, while pine nuts add protein to this meal.
Find the recipe here: Rawmazing
15. Cucumber Noodles With Peanut Sauce
Bok choy makes an appearance in this light, veggie-based cucumber noodle bowl.
Bok choy is in the same family as cabbage, broccoli, and cauliflower, and has incredible antioxidant and anti-inflammatory properties.  Swap out the peanut butter for raw almond butter to get a good dose of vitamin E.
Find the recipe here: A House in the Hills
16. Raw Carrot Pasta
Use a spiralizer to turn carrots into curvy, thin ribbons of deliciousness.
Carrots are rich in beta-carotene, which we need for healthy vision and collagen production. Load on cashews for protein and coat with an irresistible ginger-lime sauce.
Find the recipe here: The Roasted Root
17. Raw Zucchini Noodles Marinara
Give heavy Italian food the heave-ho. This raw zucchini noodle bowl with marinara is a refreshing change from traditional pasta.
Use a food processor to cut down on chopping time, and you'll have a delicious Italian dinner that's quick to make and loaded with nutrients.
Top with hemp seeds for protein, omega-3's, and much more.
Find the recipe here: Veggies Don't Bite
Raw-some Snacks:
18. Cashew Chia Pudding
Fragrant cardamom and creamy nut milk make this chia pudding totally irresistible.
This nutritious chia bowl is packed with omega-3 fatty acids, protein, and fiber. It's also raw and vegan, and can be topped with fresh or dried fruits, nuts, and seeds.
Find the recipe here: The Kitchn
19. Chocolate Chia Parfait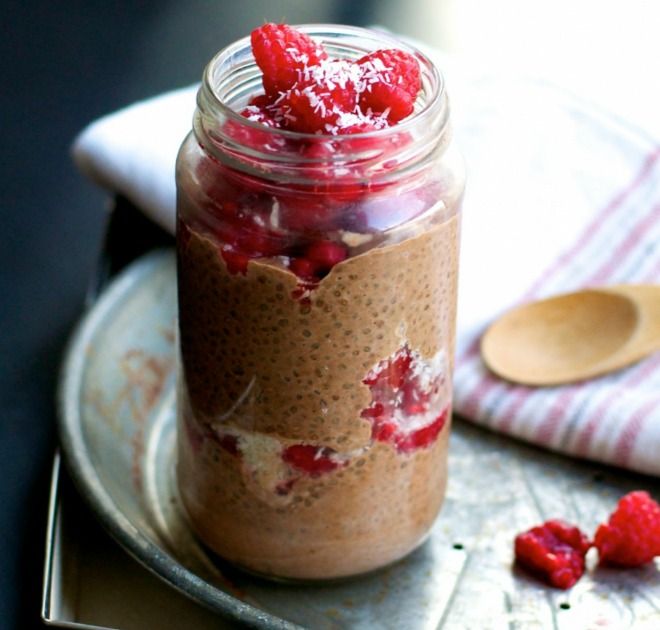 This snack will make you happy.  Fresh, tart raspberries offset a rich, chocolaty chia pudding that turns a snack into a special occasion.
Not to mention the nutrition included from anti-inflammatory, protein-rich chia seeds and antioxidant and fiber-rich raspberries.
Find the recipe here: Vegan Culinary Crusade
20. Raw Apple Cinnamon Chia Bowl
Crave an oatmeal-like snack with raw food benefits? Try this raw apple cinnamon chia bowl that's full of fall harvest flavor.
Walnuts and hemp seeds give this snack a satisfying crunch with superfood benefits.
Find the recipe here: Blissful Basil
21. Acai Berry Bowl
This fruity bowl is loaded with antioxidants, protein, fiber, omega-3 fatty acids for a healthy taste of paradise.
Acai berry puree, flaxseed, and coconut milk make a tasty base that's topped with fresh fruit and nuts.
Find the recipe here: Colorful Eats
Going Raw Can Be Tasty … and Healthy!
Eating food in its natural state is a great way to boost digestion, fight chronic disease, and lose unwanted weight. And as you can see from the recipes above, it also can be delicious.
Go Green to Go Raw
If you're looking for more ways to ditch heavy, energy-sapping foods from your diet, green smoothies do the trick. Check out my 1-page printable on How to Make the Perfect Green Smoothie – every time. Get it for FREE by clicking on the banner below.