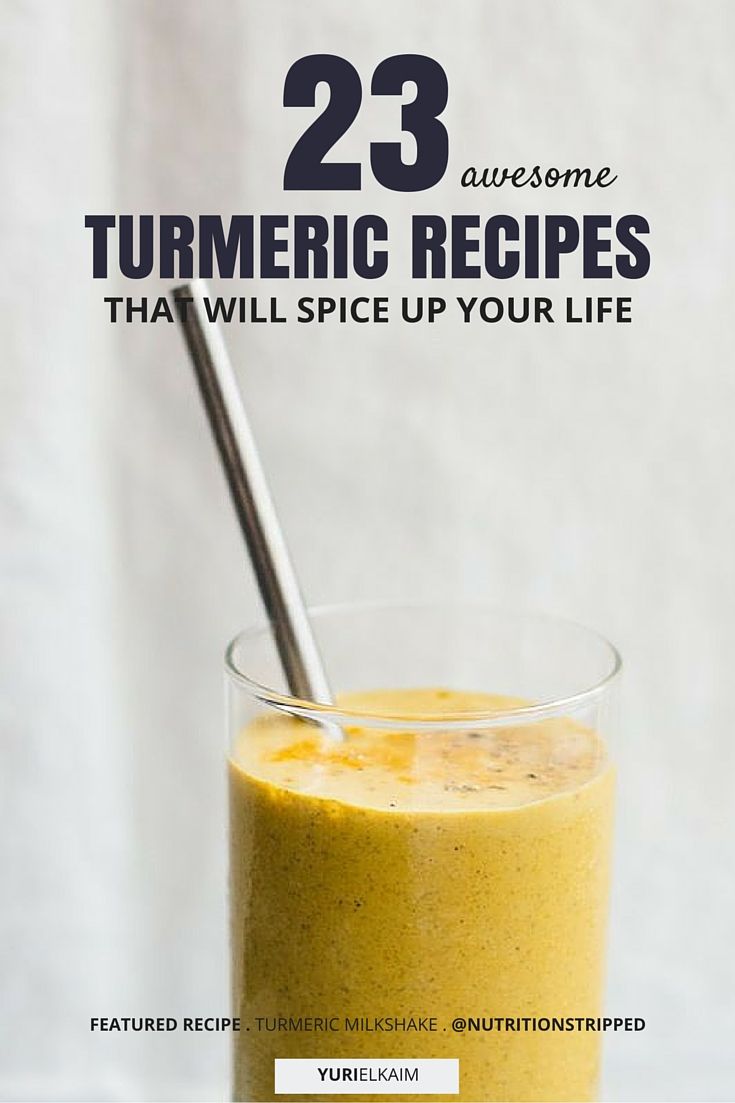 Warm, peppery, and vibrant, turmeric is a spice you'll want to include in your meals as much as possible – not only for flavor, but also for its amazing health benefits.
A common ingredient in curry powder, turmeric is a staple of cuisine in India and parts of Asia. But it's also can be found in recipes from around the world, ranging from Spanish paella and Mexican stew to thick dessert shakes.
And for good reason: Beyond its value as a spice, turmeric is considered to be a highly potent anti-inflammatory, and has been used for centuries in Indian and traditional Chinese medicine.
If this incredible spice isn't in your kitchen, it's time to get to the store and stock your cabinet or fridge with the dried or fresh version of this healing spice.
How to Use Turmeric
Turmeric is literally the root of the Curcuma plant and has a vibrant yellow-orange color. You can use either the dried or fresh version of this spice in your healthy eating recipes.
The whole root can be found in the produce aisle of your grocery store, usually next to the ginger root. It has a sweeter, milder taste than dried turmeric, which is more pungent and woodsy.
When you're cooking turmeric root recipes, you'll want to treat the root the same way you do ginger: scraping off the outer skin with a spoon, then either grating or finely chopping the fresh root for use in recipes.
Look for the powdered form of turmeric in the spice aisle, and remember to use ¼ teaspoon less of the dried root in recipes that call for fresh turmeric if that's all you've got available.
Turmeric's bright, beautiful color can easily stain surfaces and clothing, so take precaution when working with this powerful, healing ingredient.
Turmeric's Health Benefits
Turmeric is widely known for its digestive, anti-inflammatory, and antioxidant benefits, and is commonly used to treat arthritis and digestive tract issues.
Check out just a few findings about turmeric's benefits:
In a 2004 study, participants with IBS that were given turmeric extract for 8 weeks experienced significantly less abdominal discomfort than those given a placebo (1).
Patients with knee osteoarthritis were split into groups and given either ibuprofen or turmeric tablets, and both were equally effective at reducing joint pain (2).
Turmeric contains the compound curcumin, which is is the phytonutrient responsible for the strong anti-inflammatory and antioxidant powers of turmeric.
Curcumin is linked to fighting degenerative brain disease (3), lowering the risk of heart disease (4), and helping to prevent cancer (5).
Since curcumin is poorly absorbed into the bloodstream, black pepper is commonly used to increase absorption. Piperine is a natural substance in black pepper that increases absorption rates of curcumin by as much as 2,000 percent.
If possible, have some black pepper with your turmeric. Another way to boost absorption is to add coconut oil or avocado in your meal.
We've curated this roundup of recipes that will help you incorporate turmeric into your diet so you will not just experience the flavor of this amazing root, but also the benefits.
23 Awesome Turmeric Recipes
1. Sweet Potato Fries with Turmeric Tahini Dip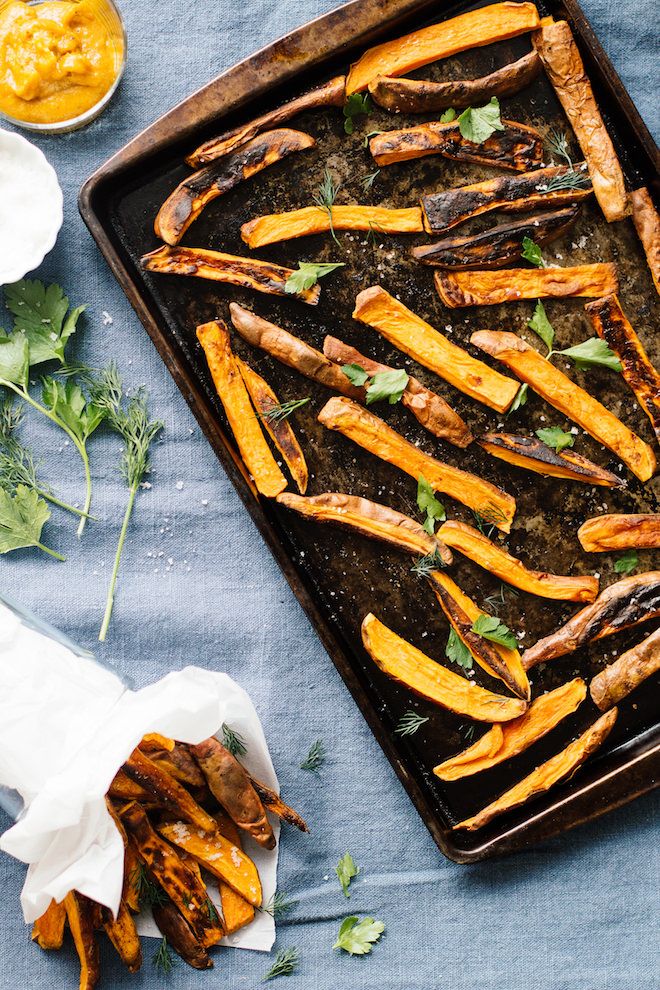 You're in for a healthy treat with this recipe. Dunk oven-roasted sweet potatoes in an incredibly flavorful dip for a tasty side or healthy snack. This simple recipe will win you over.
Find the recipe here: Nutrition Stripped
2. Turmeric Juice Elixir
Whether juicing or blending this refreshing drink, you'll love its zesty citrus flavor. You can enjoy this elixir once a day to reap the anti-aging benefits of the turmeric, as well as getting an immune boost from the vitamin C in the citrus fruit.
Find the recipe here: Yuri Elkaim
3. Turmeric Roasted Cashews with Chia
Roasted cashews? Yes, please! This recipe is a delicious and quick option for your lunchbox, as a salad or soup topper, or whenever hunger strikes. These lovely cashews are roasted with the goodness of turmeric and chia for a nutritious and filling snack.
Find the recipe here: Cook Republic
4. Mango Turmeric Chia Pudding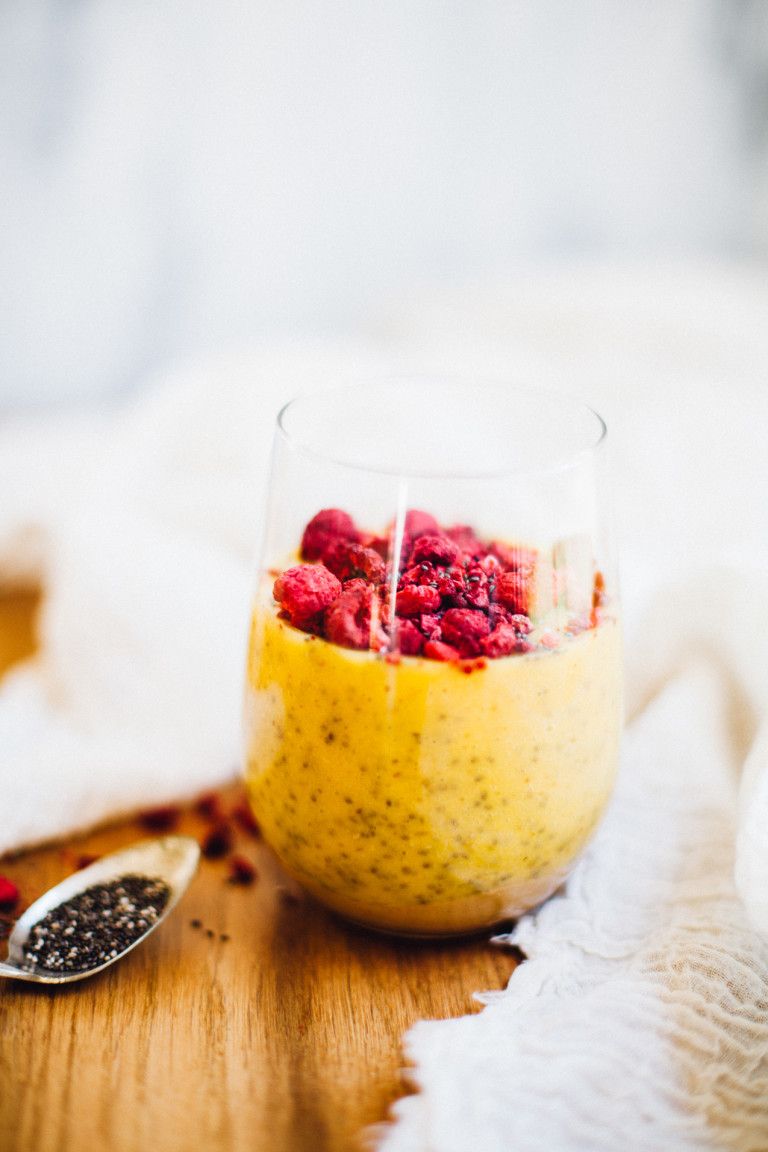 This simple and sweet tropical chia pudding makes a perfect quick snack or clean-eating breakfast. It's packed with omega fats and the anti-inflammatory power of turmeric.
Find the recipe here: Will Frolic For Food
5. Pan Roasted Brussels Sprouts Subzi With Cumin And Mustard Seeds
This flavorful Indian side dish features Brussels sprouts infused with whole cumin and mustard seeds, turmeric, garam masala, and sesame seeds. It's vegan, gluten-free, and totally delicious.
Find the recipe here: Vegan Richa
6. Golden Beet Carrot Turmeric Smoothie
This one sounds weird, but it's a tasty snack with a nutrition bonus of the best kind. The turmeric in this vision-boosting smoothie has anti-inflammatory and gut healing properties, while the carrots and beets offer beta-carotene's protective benefits.
Find the recipe here: Downshiftology
7. Vegan Buddha Bowl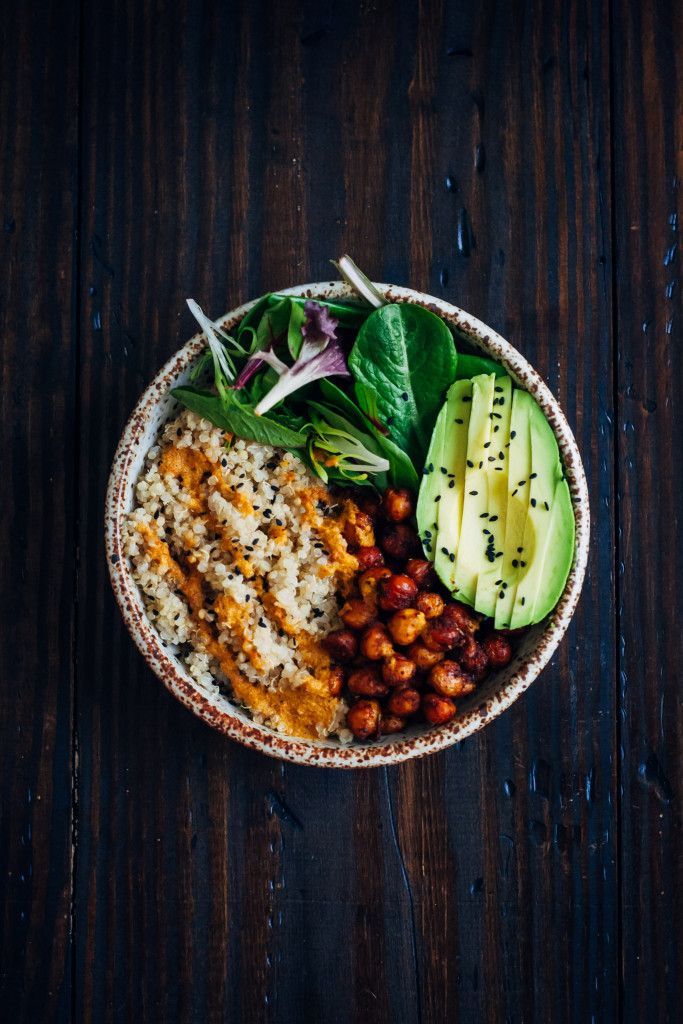 This one-bowl meal has it all – fluffy quinoa, crispy spiced chickpeas, and mixed greens, topped with a mouthwatering red pepper sauce. It's healthy, portable, and filling.
Find the recipe here: Well and Full
8. Turmeric Roasted Crispy Chickpeas
Roasted chickpeas are the perfect fix for any crunchy, salty cravings. They take on any flavor you want and are great for noshing on the go, keeping you full for hours from the high protein and fiber content – and the turmeric in this recipe adds an exotic flavor that is also packed with health.
Find the recipe here: Clean Eating Goddess
9. Carrot Cauliflower Turmeric Soup
This soup is a powerhouse recipe packed with antioxidants and full of vitamins and nutrients. It's deliciously creamy, yet dairy-free.
10. Turmeric Milkshake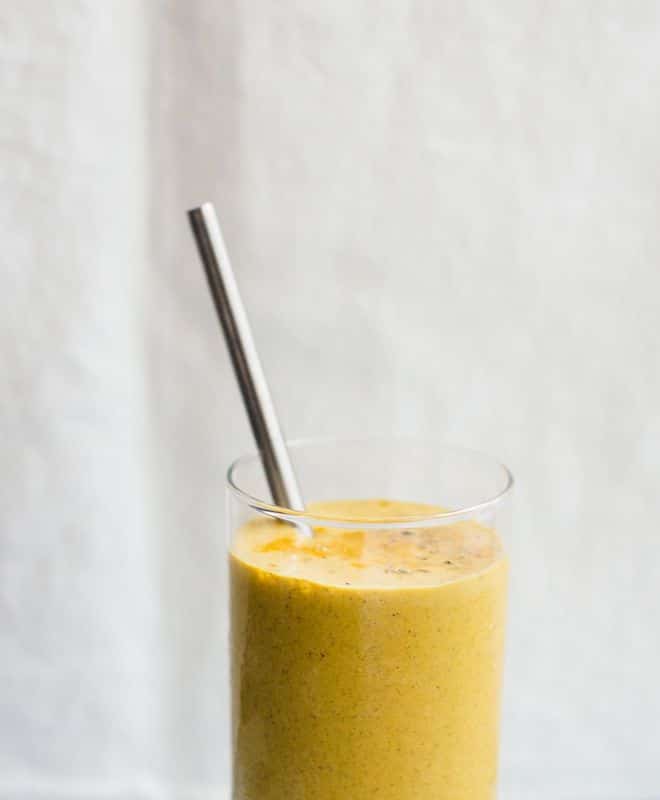 You'll love this thick, creamy, inflammation-fighting "milkshake" made with coconut milk, bananas, and turmeric. Turmeric is one of the most powerful inflammation-fighting spices, it tastes amazing, and can be used in sweet and savory dishes.
Add in vanilla plant-based protein powder or almond butter to boost the protein.
Find the recipe here: Nutrition Stripped
11. Turmeric Chickpea Cakes
Want a super yummy and easy dinner idea? These chickpea cakes are quick to make, totally delicious, and healthy. They're naturally gluten-free and vegan too
Find the recipe here: Pure Ella
12. Turmeric Chicken No-Noodle Soup
Try this anti-inflammatory veggie-packed soup that will leave you saying, "Who needs noodles?"  Whip this up on the weekend for quick and cozy meals throughout the week.
Find the recipe here: Clean Eating Veggie Girl
13. Carrot Almond Salad with Fresh Turmeric Coconut Dressing
 
Shaved rainbow carrots, fresh cilantro, and toasted almonds come together in this simple and delicious salad. You'll love this mildly spicy, slightly sweet dish with warm nutty undertones.
Find the recipe here: Viktoria's Table
14. Turmeric Pumpkin Soup
The warming, anti-inflammatory and immune boosting properties of this pumpkin soup make it perfect to add to your menu during the winter months, but it's absolutely delicious anytime of year. It makes a quick meal full of wholesome, savory ingredients.
Find the recipe at here: Homespun Capers
15. Cod With Spicy Coconut Turmeric Sauce
This warm, comforting recipe makes a healthy, quick, inexpensive, flavorful, and easy-to-clean-up meal.  Ladle a cup of this gluten-free, dairy-free goodness into your bowl for a healthy anti-inflammatory meal.
Find the recipe here: Dula Notes
16. Turmeric Tomato Detox Soup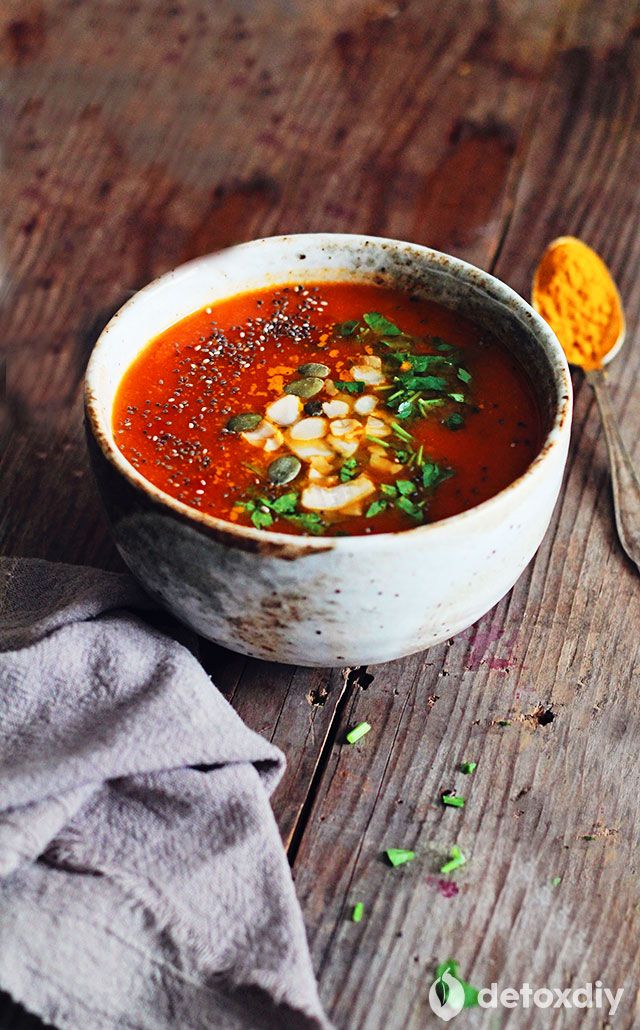 Indian and Mediterranean flavors combine to give you a comforting soup loaded with antioxidant and anti-inflammatory nutrients. Pair lycopene-rich tomatoes with powerful anti-inflammatory turmeric for a healthy meal.
Find the recipe here: Detox DIY
17. Turmeric-Roasted Cauliflower
Roasted to perfection, this recipe makes cauliflower delightfully delicious and incredibly healthy. It makes a great side – add either chicken or cashews for protein.
Find the recipe here: The Reluctant Entertainer
18. Chickpea Quinoa Turmeric Curry
Cooking quinoa in a coconut curry broth creates incredible flavors. Each bite is bursting with turmeric, coriander, ginger, garlic, and chili, and the spinach adds a beautiful color.
Find the recipe here: Deliciously Ella
19. Mexican Red Lentil Stew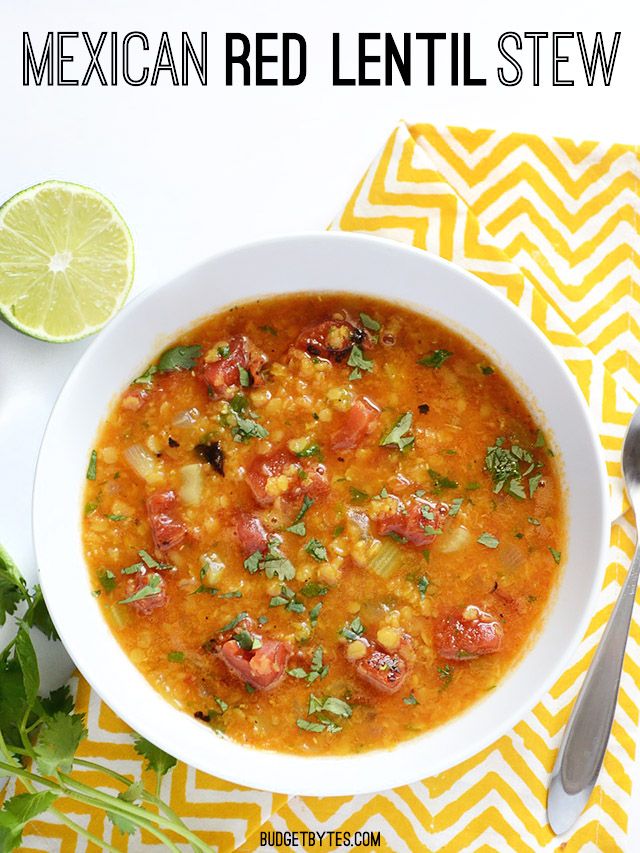 You'll be pleased to know turmeric isn't just an Indian spice. This Mexican stew is perfectly flavored with turmeric, yet still has southwestern flair. It freezes well, so make a big pot and save the rest for later.
Find the recipe here: Budget Bytes
20. Red Lentil Dahl with Turmeric
A hearty and comforting autumn dish, this fiber-filled recipe is flavored with the anti-inflammatory superstar turmeric. Dahl makes great leftovers, so save some for lunch.
Find the recipe here: Hello Glow
21. Indian Spiced Coleslaw
The flavors of India and Asia come together in this crunchy coleslaw. Paired with roasted chicken or fish, it's a tasty and nutritious weeknight side dish.
Find the recipe here: A Communal Table
22. Macro Bowl with Turmeric Tahini Dressing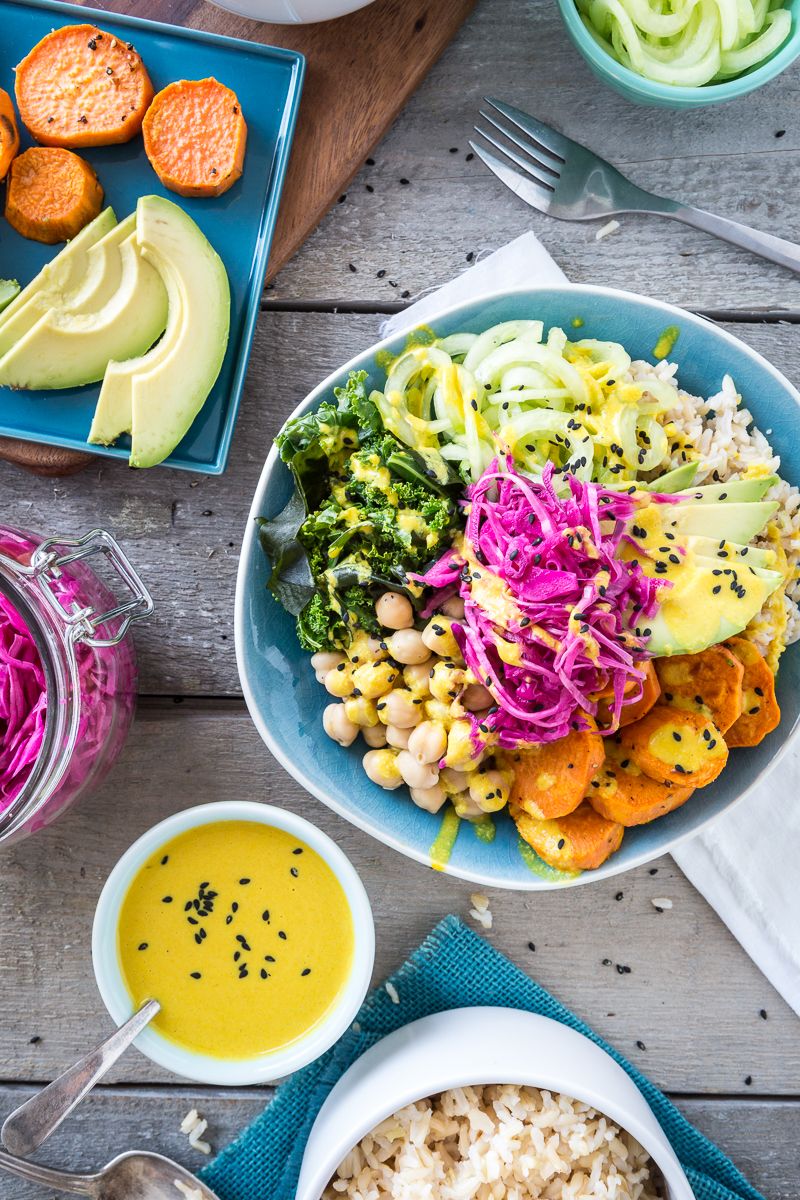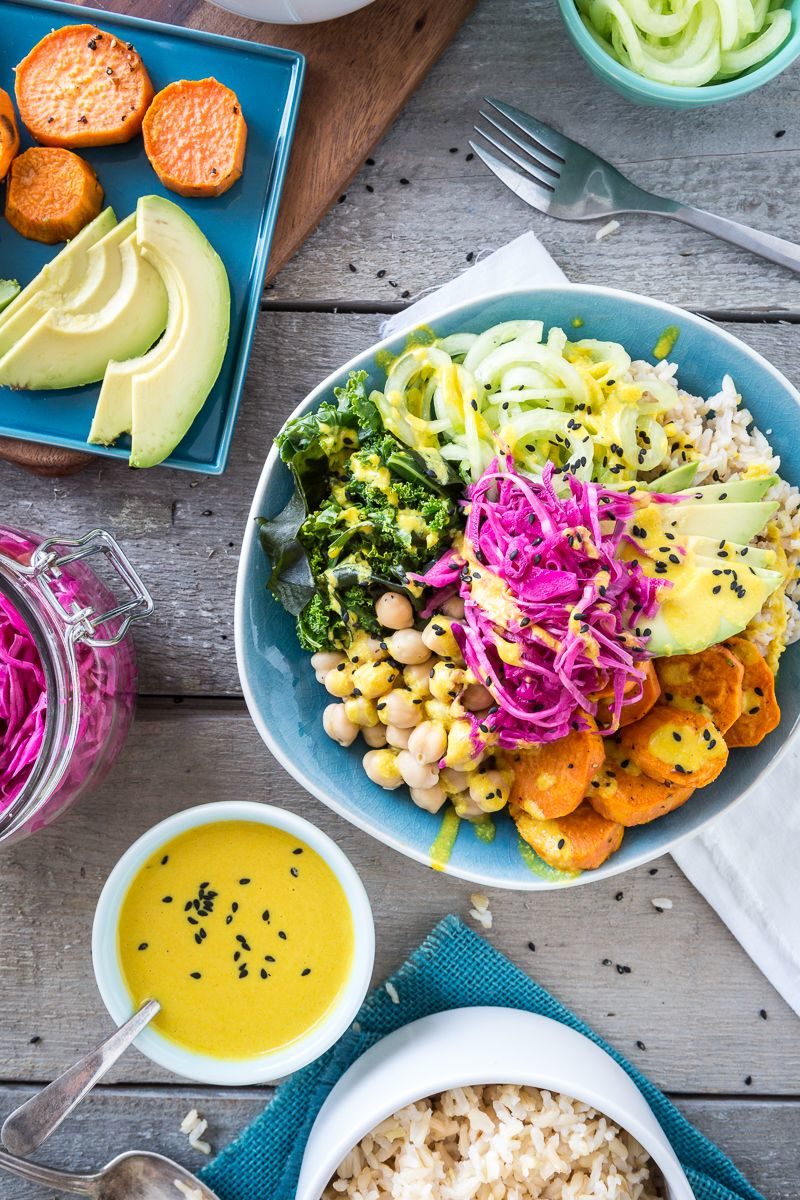 Eat this one-bowl meal for lunch or dinner and you'll feel on top of the world.
Steamed kale, seaweed, roasted sweet potatoes, cucumber "noodles," chickpeas, avocado, and pickled red cabbage give this bowl nutrition power to help you feel your best. A turmeric-tahini dressing adds bright, tangy notes.
Find the recipe here: Keepin' it Kind
23. One-Pot Cauliflower Rice Paella
This amazing one-dish paella is full of veggies, and healthful cauliflower replaces the rice. The bonus: one pot means less cleanup!
Find the recipe here: Life is But a Dish
Recipes with Turmeric Health Benefits
Add warm and wonderful turmeric to your food for incredible health benefits and amazing flavor.
Whether a recipe calls for fresh turmeric root or dried, you won't be disappointed with any of the 23 tasty turmeric recipes above, perfect for spicing up your food and your health.
Delicious 1-Day Detox
Looking for even more health-boosting benefits from your foods? Detoxify your body in 24 hours with this FREE 1-day plan of mouthwatering "cleansing" meals that help will jumpstart your feelings of well-being.
Click the banner below to download the 1-Day Detox Plan right now!