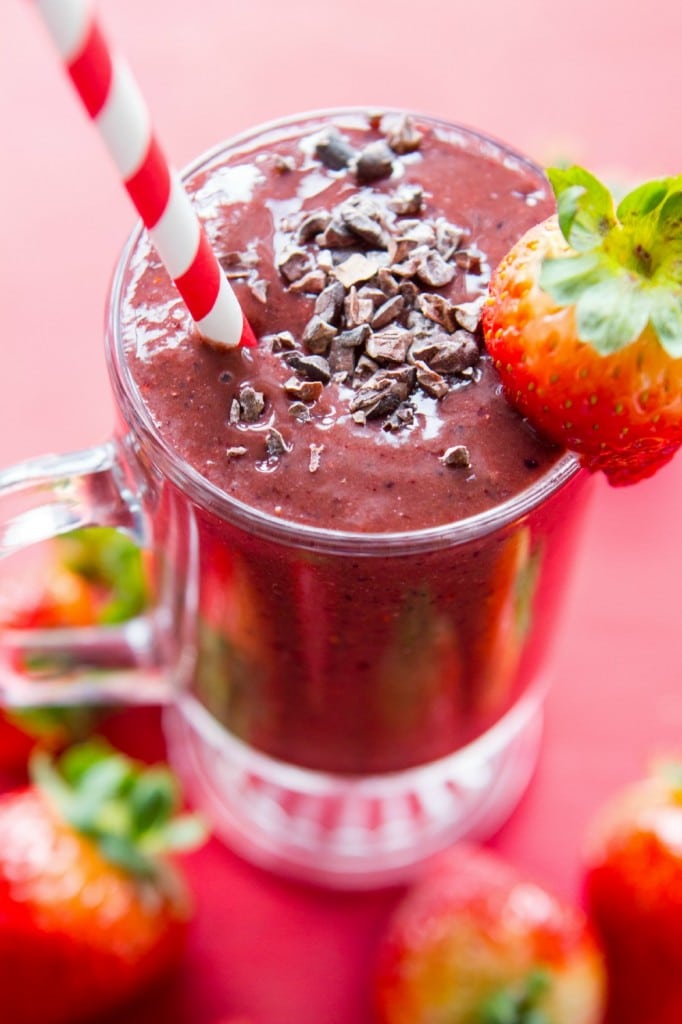 If you're craving something sweet but don't want added sugar, this Strawberry Cacao smoothie is a great way to satisfy your sweet tooth. It's loaded with antioxidants and fiber, and actually has tons of hidden greens. Red spinach is the trick to a vibrant red smoothie, which delivers some serious leafy green nutrition.
Red Spinach has been used in Indian cuisine for hundreds of years, but is just now starting to show up on the North American food scene. You'll find it in health food and specialty food stores like Whole Foods and Trader Joes. Less related to spinach that it is to amaranth, red spinach contains nearly 3x the calcium as spinach leaves. The flavor of red spinach is mild and earthy, which makes it a great add-in for green smoothies. You'll be packing in nutrition without even knowing it.
The strawberries in this smoothie lend sweet flavor with minimal sugar. You're also going to be enjoy some amazing health benefits with berries. They're loaded with vitamin C, which boosts immunity and reduces the free-radicals that cause disease. Eating foods rich in vitamin C also results in healthier-looking skin, and the ellagic acid in strawberries prevents collagen destruction, an added bonus!
Cacao is the raw, unprocessed bean that, after roasting and adding other ingredients, becomes chocolate. On it's own, the cacao bean contains powerful disease-fighting antioxidants. Raw cacao beans are also known for lowering blood pressure and promoting cardiovascular health. I love how the cacao powder adds a rich dimension to this smoothie, and you can't beat the health benefits too.
If you're looking for a sweet, antioxidant-rich smoothie, this is one to try. It's a great way to stay focused on good eating goals while still feeling like you snuck in a little dessert.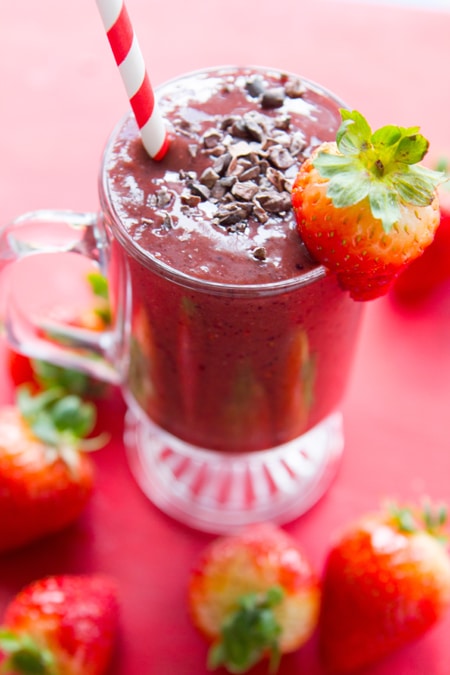 | | |
| --- | --- |
| | |
Blend all ingredients except raw cacao nibs in high-speed blender until completely incorporated. Pour in glass and sprinkle with raw cacao nibs.