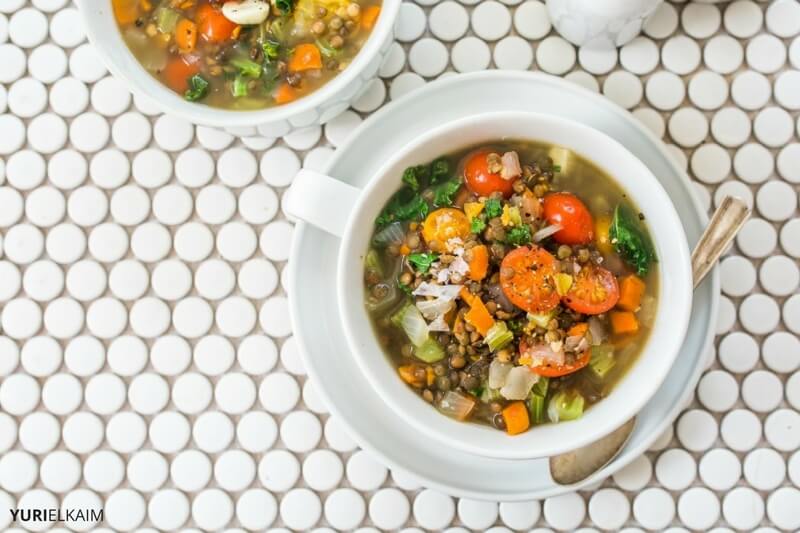 It's this season for pulling out the slow cooker. This handy kitchen appliance isn't just for making creamy, not-so-healthy foods – in fact, the crockpot is a killer way to get more plant-based protein into your belly.
Although most people thing of using their slow cooker for Sunday roasts or decadent meals made with processed soups and mixes, there are so many delicious ways to use this kitchen tool to support your health.
Check out a few of our past healthy slow cooker recipes:
And now, to add one more to the menu.
Vegan Lentil Soup
Like a classic vegetable soup, this hearty slow cooker meal is savory and cozy. Lentil soup traditionally calls for meat, but we've perfected a plant-based version that tastes even better than the original.
Plus, the prep time on this slow cooker soup is 10 minutes flat.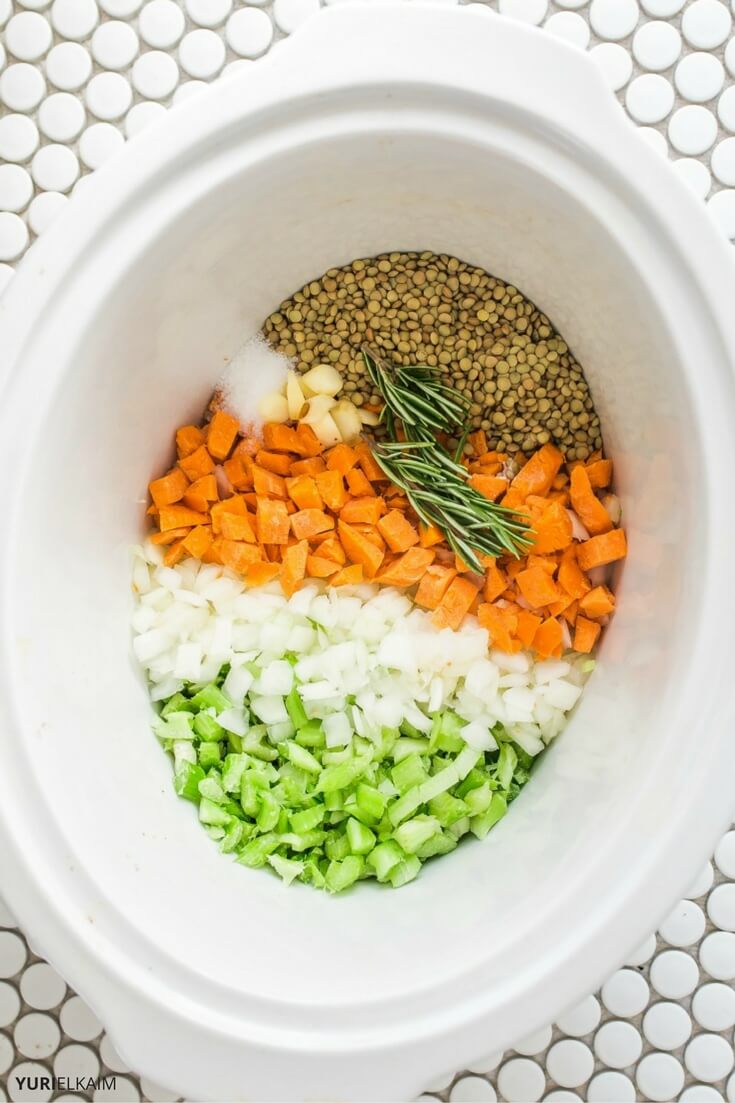 A handful of dried lentils, some chopped veggies, and fresh herbs are tossed in your slow cooker to simmer all day.
Lentils make a great stand-in for meat, providing protein for vegans, vegetarians, and anyone looking to reduce meat consumption. Lentils are legumes, in the same family as beans.
I love lentils because you don't have to soak them overnight before cooking with them. They're highly nutritious, loaded with protein, iron, and fiber. That means they provide energy, long-lasting hunger relief, and they help maintain lean muscle.
Lentil Varieties
There are many different varieties of lentils to choose from. Green and brown varieties hold their shape better after cooking than the red variety, so I recommend not using red-colored lentils for this recipe.
You can find lentils in the bulk section of most grocery stores, as well as in the grain aisle, next to the dried beans.
Be sure to sift through your lentils to make sure there are no small stones, and rinse well before using.
Spice it Up
Want a little heat in your soup? Toss in a pinch of red pepper flakes to your slow cooker.
If your taste buds crave spice, try adding ½ teaspoon coriander and ½ teaspoon cumin to the recipe. Serve as is, or drizzle with balsamic vinegar and chopped fresh herbs for a totally tasty bowl of soup.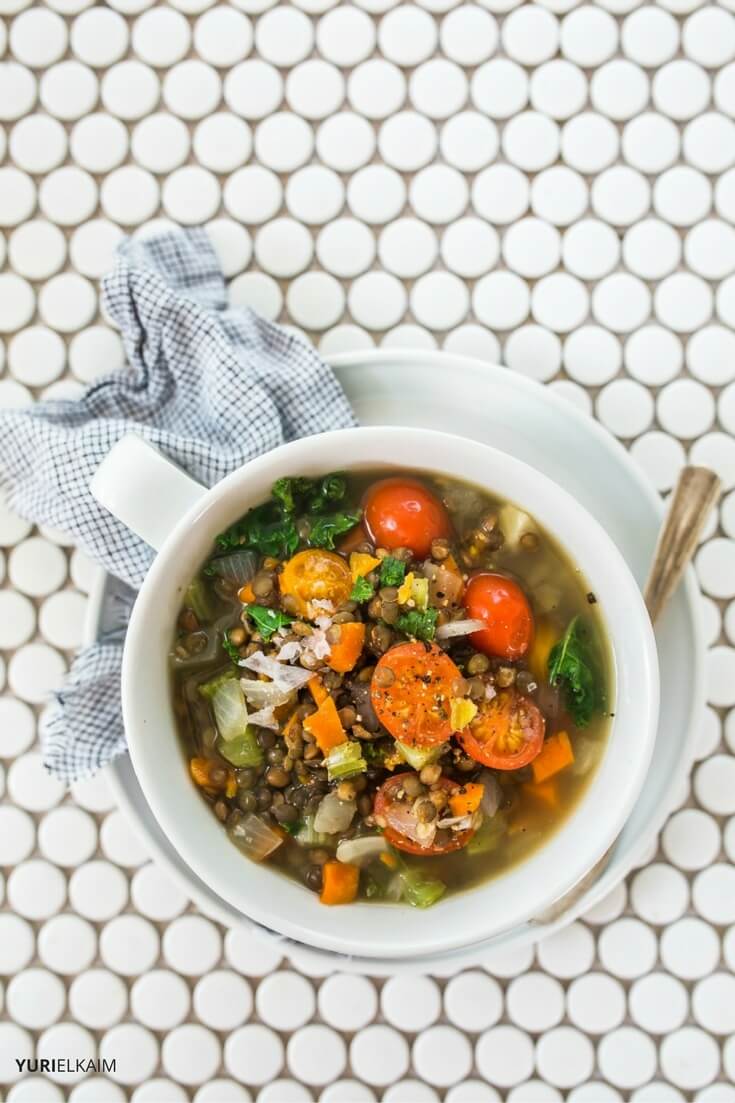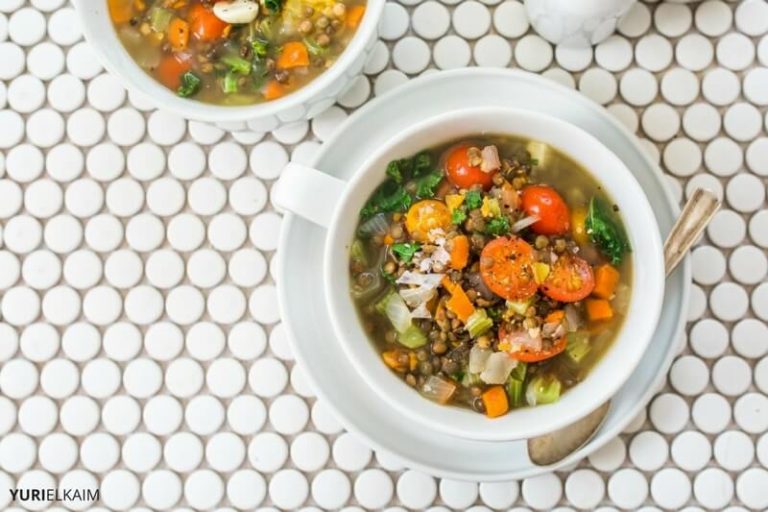 | | |
| --- | --- |
| | |
In a 4- or 5-quart slow cooker, combine carrots, celery, onion, lentils, garlic, rosemary, salt and vegetable broth.

Cover and cook on low for 6 to 8 hours, or on high for 3 to 4 hours.

One hour before serving, stir in cherry tomatoes and kale leaves. Cover and cook until lentils and kale are tender.

Salt and pepper to taste. Serve and enjoy.
Delicious, Healthy, Easy Meals
Tired of the "what to have for dinner?" decision? Bored with the same-old, same-old "healthy" meals?
Get your copy of the All Day Energy Diet Community Cookbook, which features 67 recipes developed by people like you, who want to eat healthy, clean, and home cooked meals – without spending hours in the kitchen.
Each recipe is gluten- and dairy-free and also low in allergens. They also are designed to take about 15 minutes to get on the table.
You can get your copy – for FREE! – by clicking the banner below.