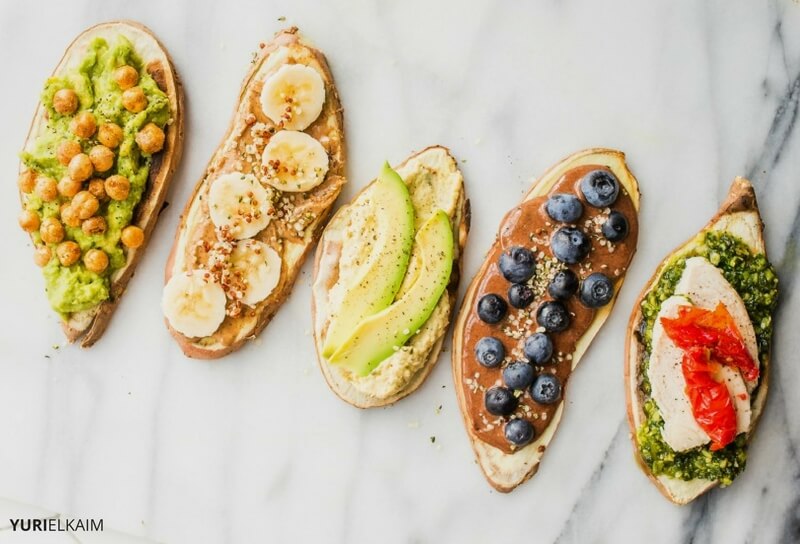 Have you discovered sweet potato toast yet?
When I first heard a few friends talking about it at our latest mastermind, I thought they were slathering toast with mashed sweet potato – similar to avocado toast, but with sweet potatoes instead.
I was wrong. But sweet potato toast is so very right.
Sweet potato toast is, perhaps, the savviest recipe of the year. It falls into the same category as these other recipes:
But sweet potato toast is epic because not only is it delicious and healthy, it couldn't be any easier to make.

Here's the basic recipe:
Take a sweet potato
Turn it on its side
Slice into long, thin 1/4-inch thick pieces
Put those pieces in your toaster
Turn toaster to high
Toast
Toast again
Boom. Sweet potato toast!
Sweet Potato Toast, Turned Up
And after a few hours in the kitchen, I took this idea and made it even better.
But before I show you the 5 protein-packed versions, let's talk about the confusion between yams and sweet potatoes.
Sweet Potato Goodness
Did you know the powerful antioxidants in sweet potatoes are associated with lowering cancer risk (1)?
Sweet potatoes also contain anti-inflammatory compounds, and inflammation is associated with diseases such as diabetes, cancer, and heart-disease, it never hurts to add more sweet potatoes to your diet. And since sweet potatoes are full of fiber, they'll keep you full and satisfied.
Choose sweet potatoes that are heavy for their size, and don't have bruises, blemishes, or mold on them.
Here are some other delicious ways to sneak more sweet potatoes into your diet:
With all the health benefits of this humble root veggie, this sweet potato "toast" trend is here to stay.
Try these 5 tasty toppings – some of them packed with protein – to pile on flavor while amping up the nutrition.
1. Almond Butter + Banana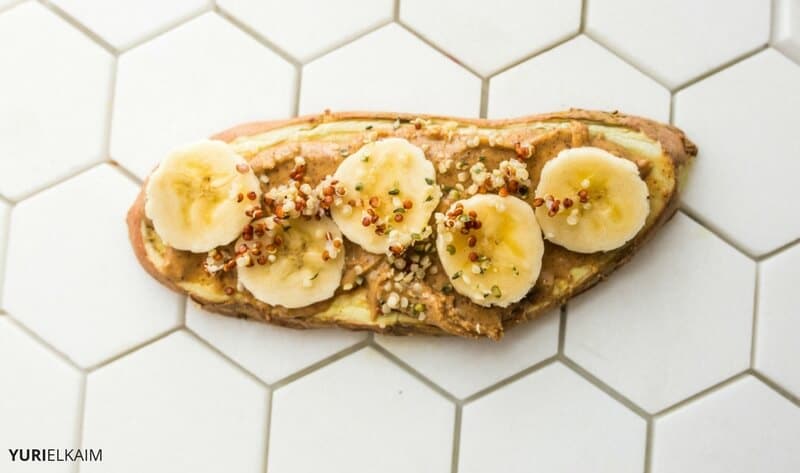 Top your toast with raw almond butter and banana slices. This combo is great.
For a bit of added sweetness, stir in a small amount of pure maple syrup or raw honey. A pinch of salt stirred into the almond butter also tastes great.
2. Hummus + Avocado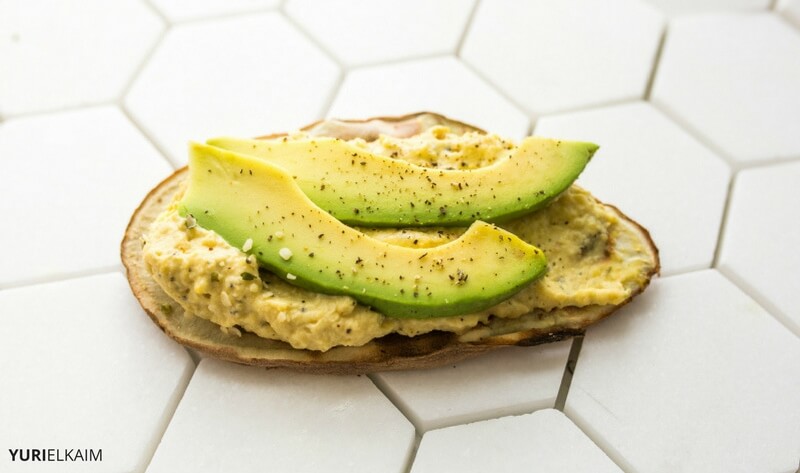 Slather your favorite hummus on top of the toast. Add a few slices of avocado (drizzled with lemon to keep them from browning), sea salt and pepper.
Boost the protein even more by sprinkling the hummus with hemp seeds before topping with avocado.
3. Guacamole + Roasted Chickpeas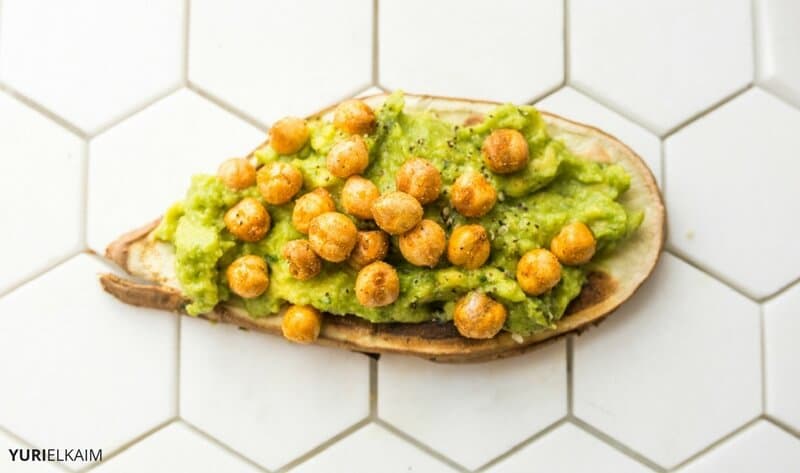 Top your sweet potato toast with guacamole and roasted chickpeas (here are 14 favorite recipes).
Did you know you can also purchase roasted chickpeas in the healthy snacks section of most grocery stores? Look near the organic potato chips, dried bananas and nuts.
4. Chocolate Peanut Butter + Blueberries + Chocolate Chips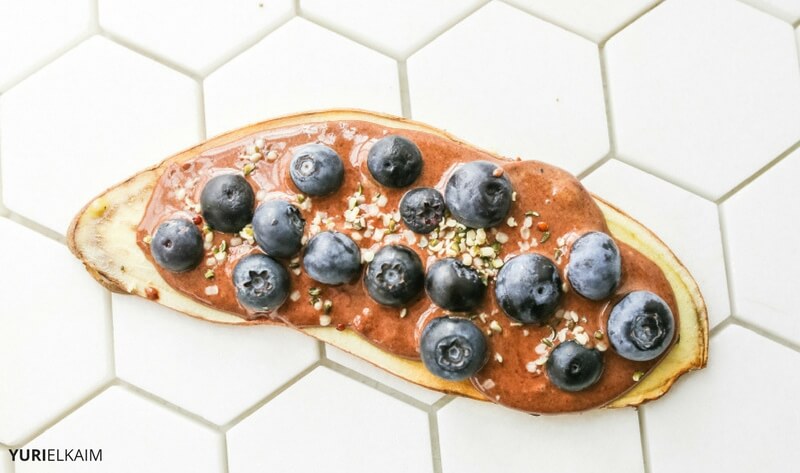 Mix a little of my plant-based chocolate protein powder into peanut butter for a protein-packed spread. Top with fresh or frozen blueberries and a few Enjoy Life! chocolate chips.
5. Pesto + Grilled Chicken + Sundried Tomatoes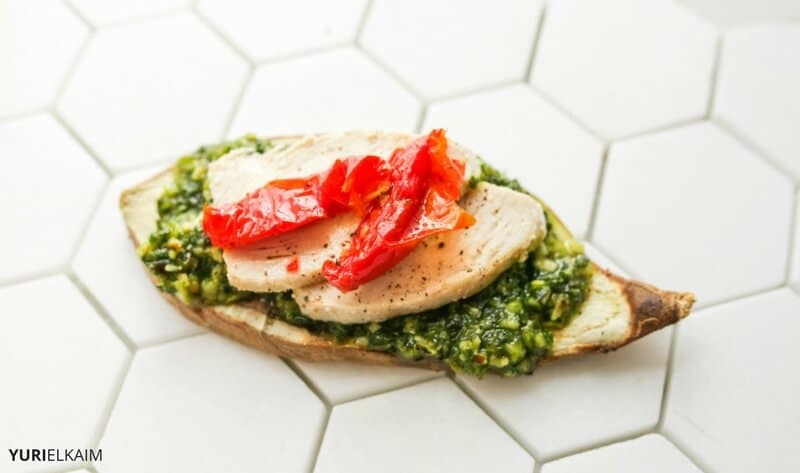 Slather store-bought pesto on your sweet potato toast, then top it with chicken and sundried tomato. This is a delicious way to make a quick savory snack or meal.  For paleo eaters: look for a cheese-free pesto. People who follow a vegan diet will want to swap out the meat for white beans and hit the refrigerated section of your grocery for vegan pesto.
Peel potato, if desired. Slice vertically into 1/4-inch thick slices.

Turn toaster to high and put slices in toaster.

Toast twice, or until sweet potato is tender and slightly browned.

Top with your favorite toppings.
5 High-Protein Topping Ideas:
Almond Butter + Banana
Hummus + Avocado
Guacamole + Roasted Chickpeas
Chocolate Peanut Butter + Blueberries + Chocolate Chips
Pesto + Grilled Chicken + Sun-dried Tomatoes
Healthy Meals Made Easy
Eating a gluten- and dairy-free diet just got a whole lot simpler! You'll love the 67 recipes in The All Day Energy Diet Community Cookbook, which are designed to be simple, fast, healthy – and delicious.
These meals were created in the kitchens of our online community members – people with busy schedules and finicky eaters to please.
You can get your copy of the cookbook for FREE by clicking the banner below!