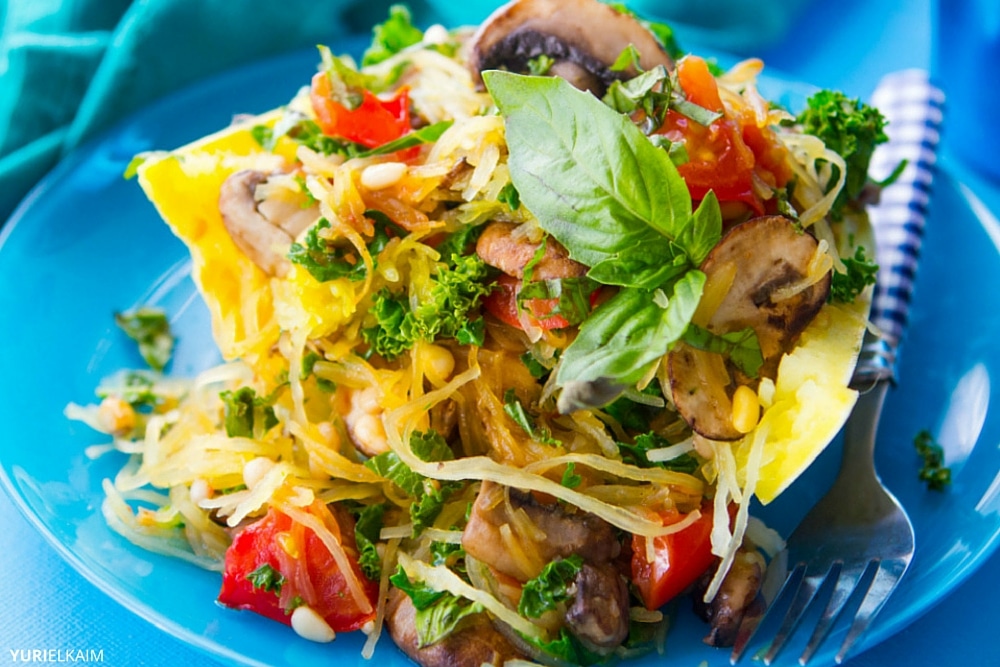 If you want a healthy Italian meal without a serious carb-fueled blood sugar spike, ditch the pasta and give this spaghetti squash recipe a try.
Cooking spaghetti squash separates into spaghetti-like ribbons, and it tastes amazing smothered with Italian herbs and veggies. It will satisfy whatever craving you have for those troublesome carbs that come with a plateful of pasta.
I created this spaghetti squash recipe with my kids in mind, knowing they would eat every last bite of this healthy dinner. It's one of those healthy eating recipes that doesn't make you feel like you're missing out anything. I'm telling you, if it works for my picky kids, I promise it will work for you!
Why This Spaghetti Squash Recipe Is So Good for You
One great advantage spaghetti squash has over its pasta counterpart is the calorie count—one cup of pasta has over 200 calories, compared with spaghetti squash, which only has about 42 calories per cup.
[Recommended Reading: 4 Good Carbs to Eat for a Flat Belly]
Spaghetti squash also contains powerful antioxidants vitamins that you won't find in pasta.
For example, the carotenoids in spaghetti squash are converted in your body into vitamin A, which is needed to maintain clear skin and healthy eyes. The vitamin C in this orange squash is an important immune booster, because it fights the free radicals that cause diseases.
Spaghetti squash also delivers more calcium than pasta, which is essential for bone health.
As for the topping, baby portobello mushrooms contain selenium, which is important in regulating our immune systems, and the zinc in these mushrooms stimulates the production of white blood cells.
The tomatoes in the special "sauce" for this spaghetti squash recipe are rich in vitamins A and C. The vitamin C and lycopenes in tomatoes prevent cancer-causing free radicals to damage the body.
Kale is also included in this recipe and is an excellent source of antioxidants, as well as iron. Iron is essential for the transportation of oxygen throughout your body, and if you feeling tired and draggy, increasing your iron levels may give you more energy.
If all of the reasons above aren't enough to talk you into trying this spaghetti squash recipe, here's one more: this recipe is absolutely delicious! It makes a great weeknight meal that's easy to prepare.
I promise that this spaghetti squash recipe is quick, simple and filling. Best of all, it's full of 100% veggies. Not a bad way to get your plant-based eating on!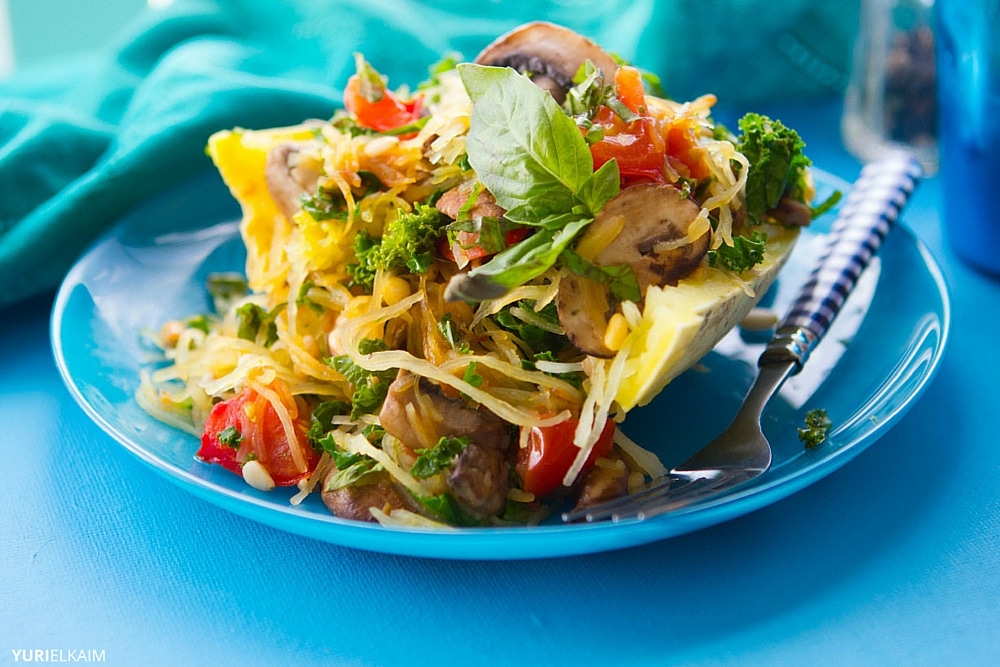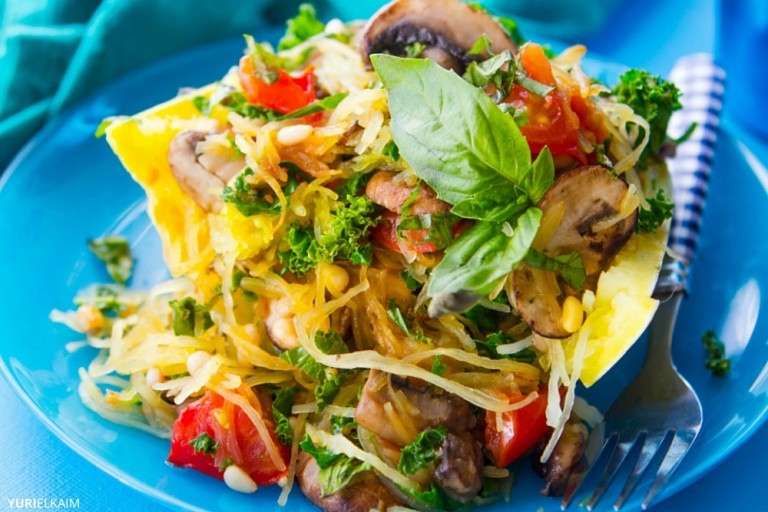 | | |
| --- | --- |
| | |
In a microwave (or oven), cook spaghetti squash until tender. In microwave, that's about 20 minutes; in an oven preheated to 350 degrees, that's about 60 minutes.

Cut in half, then slice each half into half so you have 4 pieces. Scrape out and discard the seeds from center of the squash. Then scrape the squash into a large bowl, leaving the squash shells intact.

In a large skillet, melt coconut oil over medium-high heat. Add garlic and mushrooms, sautee for 2-3 minutes, until the edges have browned. Add pine nuts and kale. Cook until kale is wilted.

Remove from heat, toss in tomatoes and basil. Salt and pepper to taste. Scoop mixture back into squash shells. Serve and enjoy!