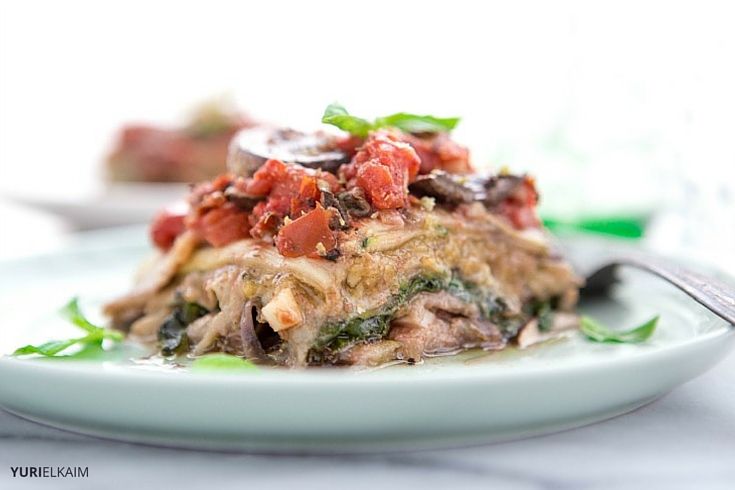 It's hard to give up warm, comforting food for the sake of your health.
The good news? You don't need to!
I've created an amazing slow cooker vegetarian lasagna that's pure comfort food without all the guilt – definitely qualifying for a place in your repertoire of healthy eating recipes.
Imagine a delicious lasagna that's not loaded with dairy and refined grains.
The first thing I did was replace the usual refined grain noodles with eggplant and zucchini.
If we take a step back and compare the carbs in regular noodles with the carbs in eggplant and zucchini "noodles," you'll be astounded at the difference. The pasta has about 100 grams per serving, and the zucchini noodles have only 6 grams.
The gluten in the pasta can also cause health issues, manifesting in the digestive system.
It may cause tiny holes in the intestinal wall due to inflammation, allowing allergens and toxins to leak into the bloodstream and affect your overall well-being. It can also exacerbate symptoms in those with irritable bowel syndrome (IBS).
Delicious Slow Cooker Vegetarian Lasagna
As an added bonus of using the zucchini noodles, you'll be getting more servings of veggies, and that's never bad.
Eggplants have a powerful antioxidant, nasunin, that protects cell membranes from damage. If you're looking to improve your memory and cognitive function, nasunin protects the fats in brain cell membranes.
Both eggplant and zucchini are low in calories and packed with vitamins C and A, along with a healthy dose of fiber.
The vitamin C in the eggplant and zucchini boosts immune function, and the vitamin A is great for your eyes and skin. The fiber is both filling and excellent for digestive health.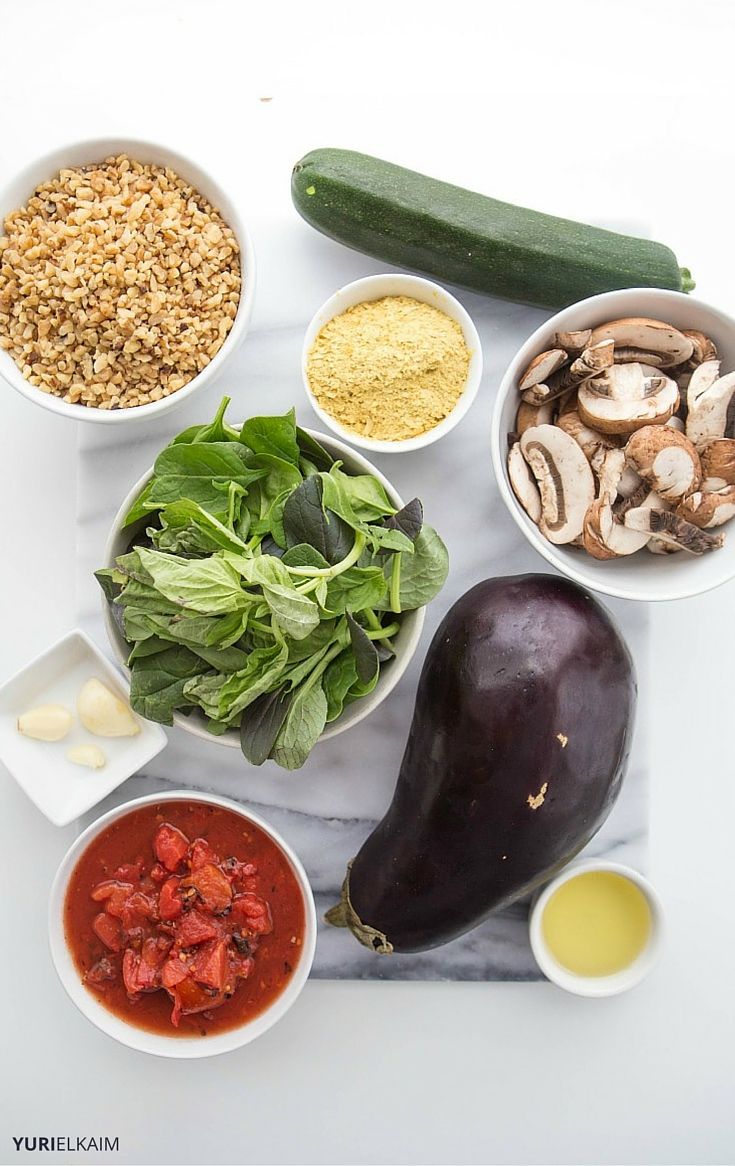 Why avoid dairy? For one, we're the only mammals that drink the milk of another mammal, and we don't need to.
In fact, 75 percent of the world's population is lactose intolerant.
A 2006 study linked dairy consumption to prostate cancer, suggesting that dairy increases an insulin-like growth factor in the body associated with cancer (1).
Consuming dairy can also lead to a whole host of other health troubles, including allergies and IBS.
Slow Cooker Veggie Lasagna Sneaks in Protein
There are plenty of other ways to get protein, calcium, and vitamin D. You'll get protein in this recipe from raw walnuts, which, along with the nutritional yeast, gives the lasagna a mild, nutty, cheesy flavor.
Nutritional yeast is rich in vitamin B12, which is also found in dairy, and is critical for production of red blood cells and for producing myelin, the protective insulation surrounding your nerves. It's also a complete protein, so you'll get a boost for your brain, body, and muscles.
The mushrooms in this lasagna recipe are a natural source of vitamin D, which helps support a healthy immune system, as well as enhancing calcium absorption in the body. And the calcium? You'll get that from all the spinach and mushrooms in this lasagna.
So if you're looking for a delicious, healthy slow cooker veggie lasagna, this recipe is just what you need.
Want more slow cooker ideas? Check out these recipes: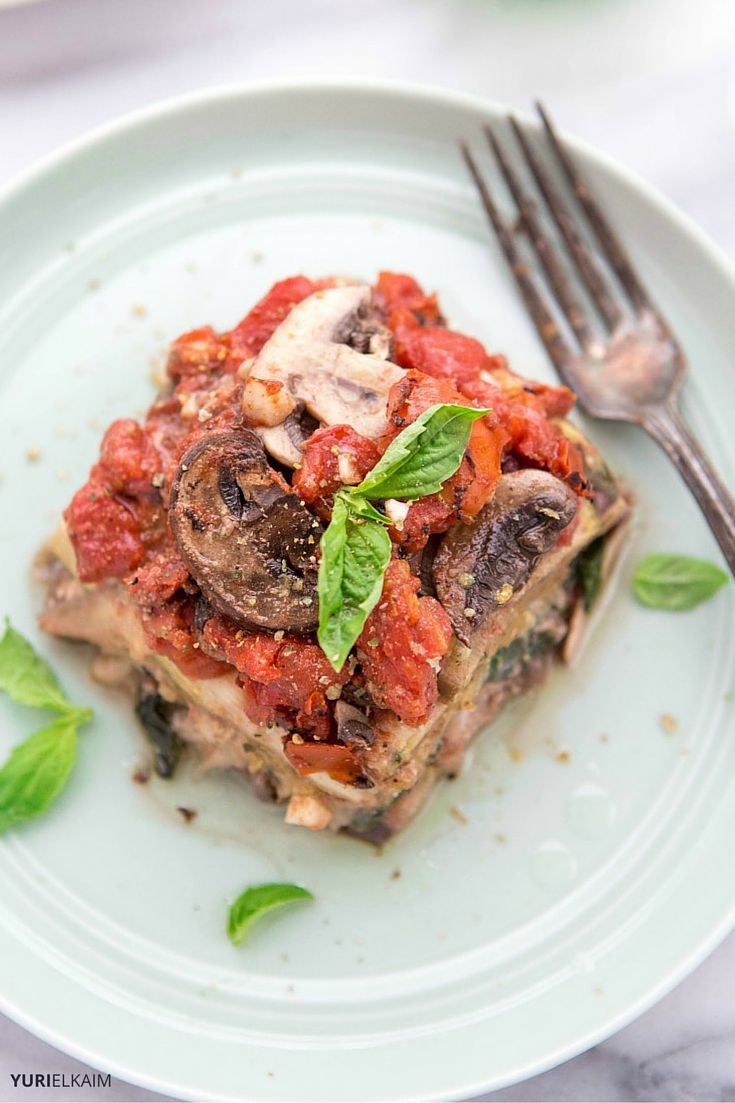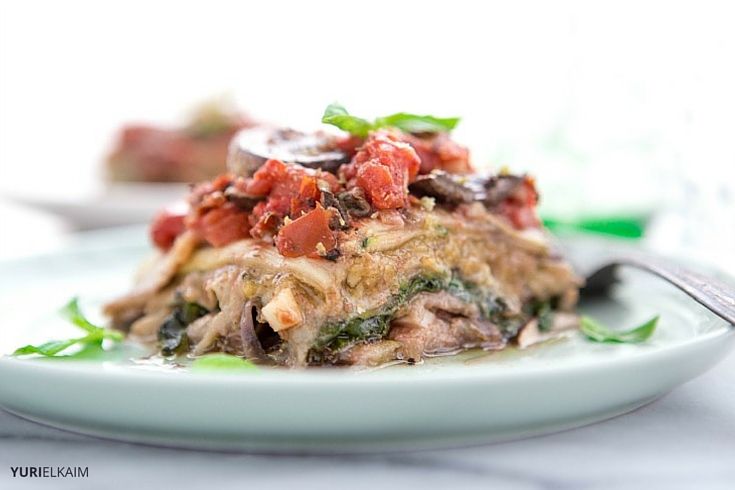 | | |
| --- | --- |
| | |
With a vegetable peeler, peel eggplant and zucchini into long, thin strips.

Drizzle 1 tbsp. olive oil on the bottom of a 5­-6 quart crockpot.

Line crockpot with eggplant and zucchini "noodles."

In a large bowl, stir together tomatoes, sliced mushrooms, 2 of the chopped garlic cloves, and ½ teaspoon salt.

Pour half of this mixture on top of the noodles. Lay zucchini and eggplant noodles on top. Place spinach on top, sprinkle with ½ the remaining garlic, drizzle with 1 tablespoon of olive oil. Sprinkle lightly with salt.

Top with a layer of zucchini and eggplant noodles.

In a hi­gh-speed blender or food processor, puree walnuts and yeast with remaining garlic and 3 tablespoons olive oil. Add a pinch of salt, to taste.

Spread this mixture on top of the noodles. Top with a final layer of zucchini and eggplant noodles. Add the remaining tomato and mushroom mixture on top. Cover and cook on low for 6­ to 8 hours or on high for 4­ to 6 hours.

Unplug the slow cooker 30 minutes before serving, allowing the dish to cool slightly for best results.
FAQ
Can I use anything other than zucchini?
Feel free to use only eggplant or only zucchini. Yellow squash or strips of sweet potato also work.
What if I don't have a slow cooker?
No worries! Make this recipe in a 9×9″ pan and bake at 350 degrees F for 45-50 minutes, or until tender.
Where can I purchase nutritional yeast?
Readily available in the bulk foods section of most health food stores, you can also ship it in from online natural food markets.
 Eat Healthy, Feel (and Look!) Great
How would you like 67 quick and delicious recipes that not only help you feel light and energetic, but help you look and feel years younger?
Check out my All-Day Energy Diet Community Cookbook, which you can get for FREE for right now, by clicking the banner below!