Does autumn instantly make you think of pumpkin? Do the flavors of fall constantly call your name?
If so, I get it.
We're big pumpkin lovers around here, too. And I wouldn't want to face a fall that doesn't basically turn everything into its better pumpkin version.
A few past favorite seasonal recipes:
And now we've got one more for the list: a tasty, simple and naturally sweet pumpkin smoothie to satisfy every autumn craving.

In fact, the flavors of this smoothie might make it a year-round choice.
Creamy, silky, and delicious, you'll never guess this smoothie is high in health benefits. With just the right balance of natural sugar, nutritious ingredients, and fall spice, you'll sip your way to good health.
Pumpkin's Healthy Payoffs
Pumpkin is an all-star ingredient – it can easily be hidden in desserts or included in savory dishes to boost the nutritional profile.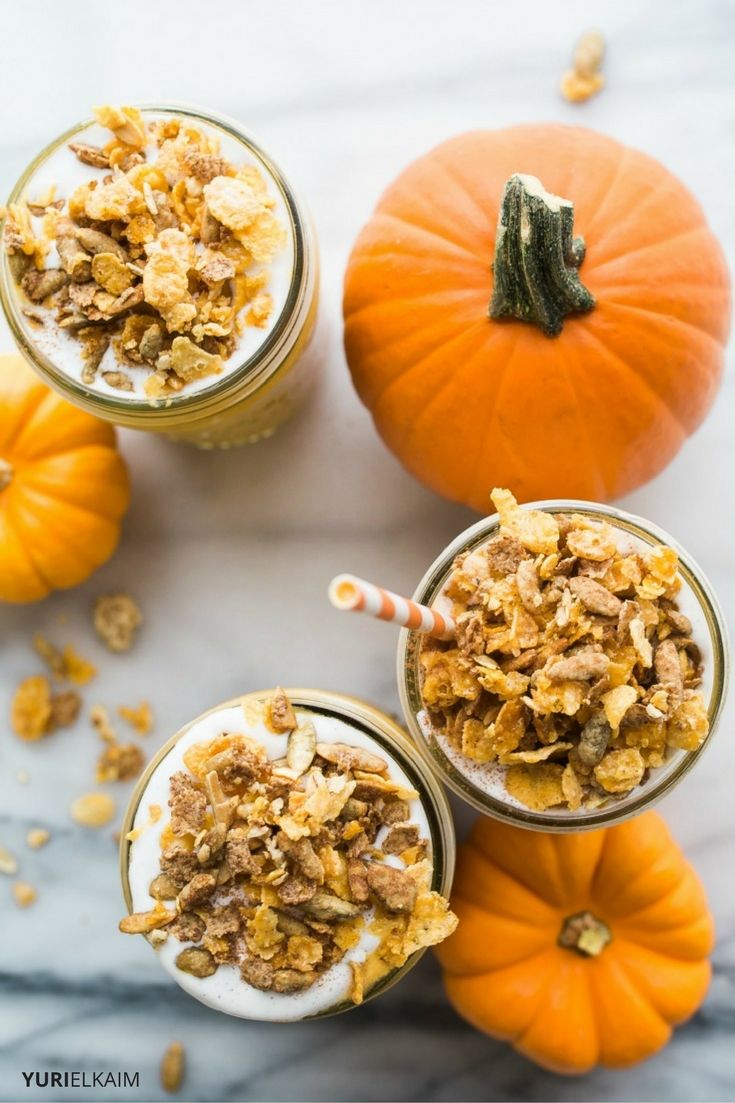 Pumpkins are one of the richest sources of beta-carotene, a powerful antioxidant known to promote healthy vision, reduce cancer risk, and neutralize the free radicals that cause disease.
This seasonal squash is also packed with fiber to keep you full and aid in digestion. Keep a few cans of pumpkin stocked in your pantry for an easy way to sneak more nutrition into your diet.
Make sure to buy organic pumpkin, and look for BPA-free cans, which you can find in most natural grocery stores.
I use pumpkin in a range of recipes from grain-free muffins to coconut milk pumpkin crème brulee to roasted pumpkin.
Pumpkin Smoothie
This smoothie recipe can be modified to fit your own needs and tastes.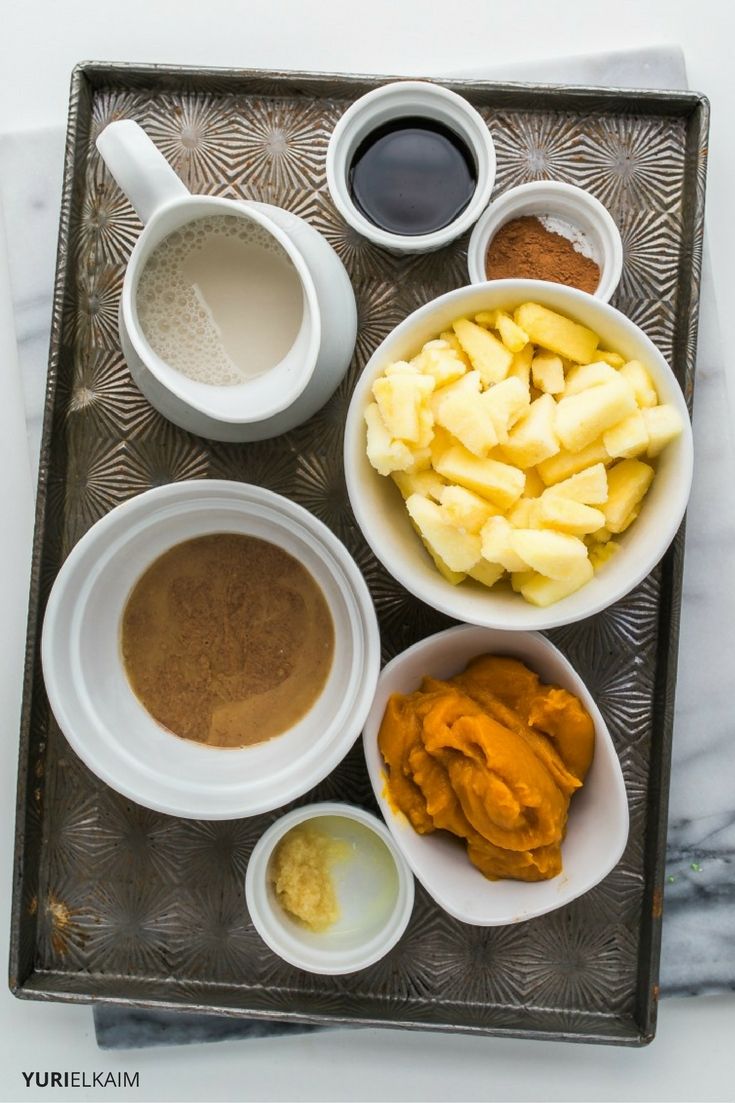 Pump Up the Protein. Almond butter in this smoothie gives it a protein boost, but you can sneak in more protein with a scoop of protein powder.
Coconut Whip. I also like to top my smoothie with coconut cream, giving my body healthy fats to boost immune function, increase my good cholesterol, and keep my hunger pangs at bay.
For added yum, refrigerate a can of coconut milk overnight, scoop the thick cream from the top, and beat it with an electric mixer until fluffy. Add a a little honey and you've created your own sweet dairy-free whipped cream.
Go Tropical. At this time of year nasty viruses are circulating, so I snuck in some frozen tropical fruit for a punch of vitamin C to boost your immune system.
[Related: Nature's Flu Shot and Cold Buster]
We've tested this recipe with frozen pineapple, mango and peach. And while they're all good, I think my favorite combo in half pineapple, half mango.
If you've got a craving for pumpkin pie, try this pumpkin pie smoothie and give your body good-for-you ingredients in a delicious, creamy fall-inspired drink.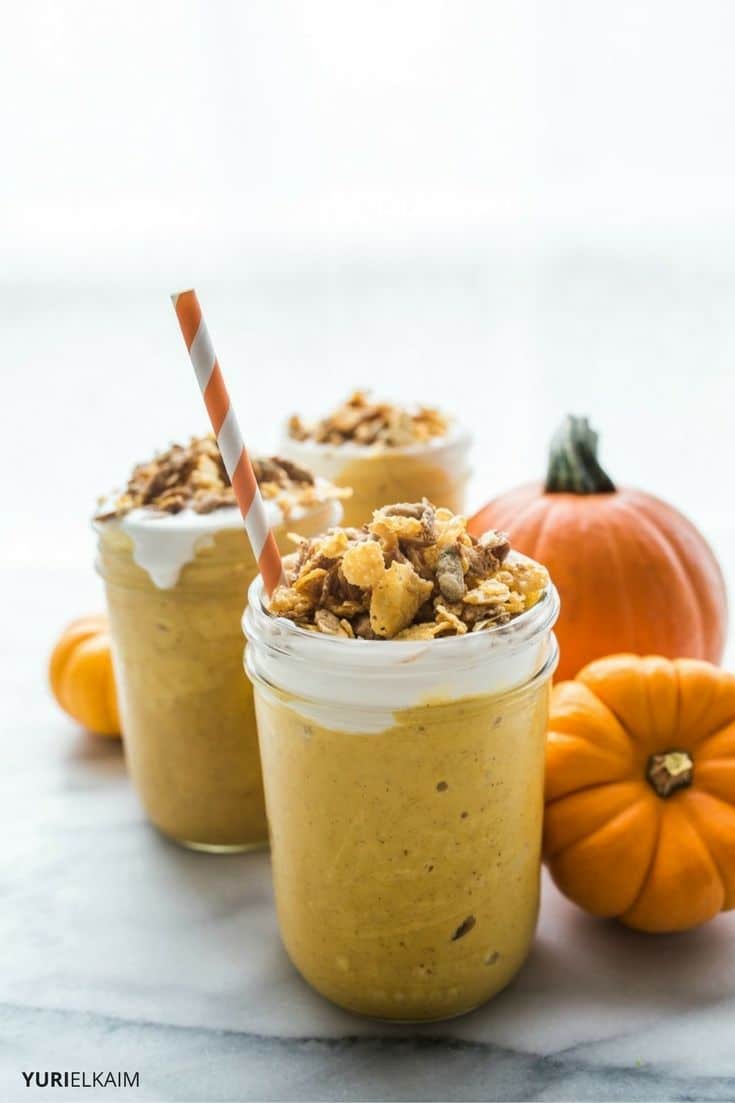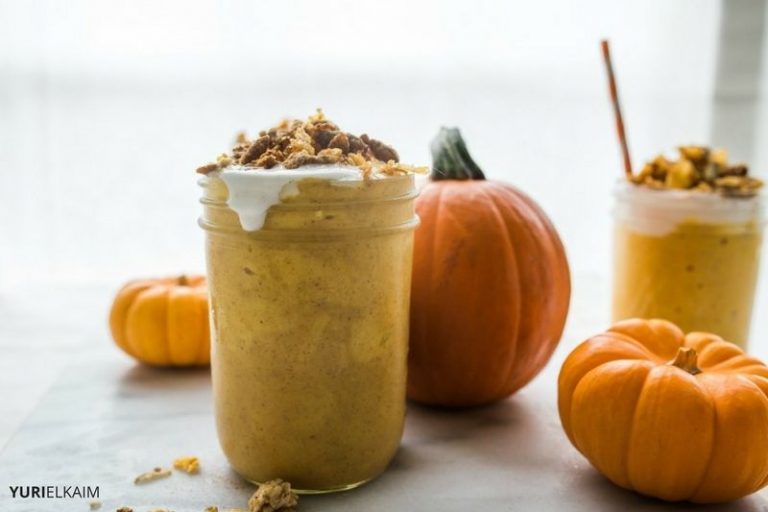 | | |
| --- | --- |
| | |
In a blender, puree together pumpkin, pineapple, almond milk, almond butter, ginger, pumpkin pie spice, almond extract, and honey.

Add more almond milk, if needed, until desired thickness is achieved.

Top with coconut cream and granola. Enjoy
Learn the Secret of the Perfect Smoothie
Healthy green smoothies can taste amazing … or they can go really wrong. There's nothing more disappointing than choking down a homemade smoothie-gone-wrong or (worse yet) dumping one out.
Want to know the formula for blending up your own smoothies that come out perfectly every time?
We've created the Perfect Green Smoothie Printable – a super-easy guide to ingredients that will not only deliver health and nutrition but delicious flavors.
And you can get this one-sheet guide right now – for FREE! – by clicking the banner below.