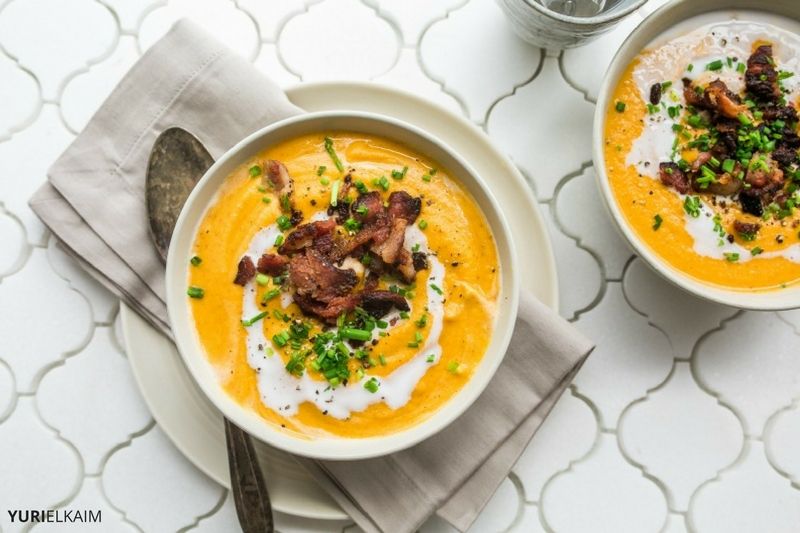 A crisp fall night calls for a warm and welcoming bowl of soup.
Grab your blender and try out this simple, creamy butternut squash soup – which also happens to be paleo.
Quick and simple, this made-in-a-blender meal combines the best flavors of autumn in one healthy and delicious bowl. And as a special treat, the soup is topped with crispy, salty bacon and zesty chives, which makes it great for paleo eaters or anyone who wants a smoky, flavorful soup that can be easily assembled or made ahead of time and heated up.

It's also one of those soups that tastes even better the next day, which makes bringing leftovers to work a no-brainer. And it makes an amazing addition to your fall brunch menu.
If you love soup, you also should check out my other perfect fall recipes. Check out my:
But before we get ahead of ourselves, let's talk about this butternut squash soup first.
Eating seasonally isn't just budget-friendly and simple, it's also a comforting way to nourish your body with vital health. In autumn and winter, hearty squashes abound.
I love butternut squash because it has a mellow, slightly sweet taste and stores well if you don't use it right away.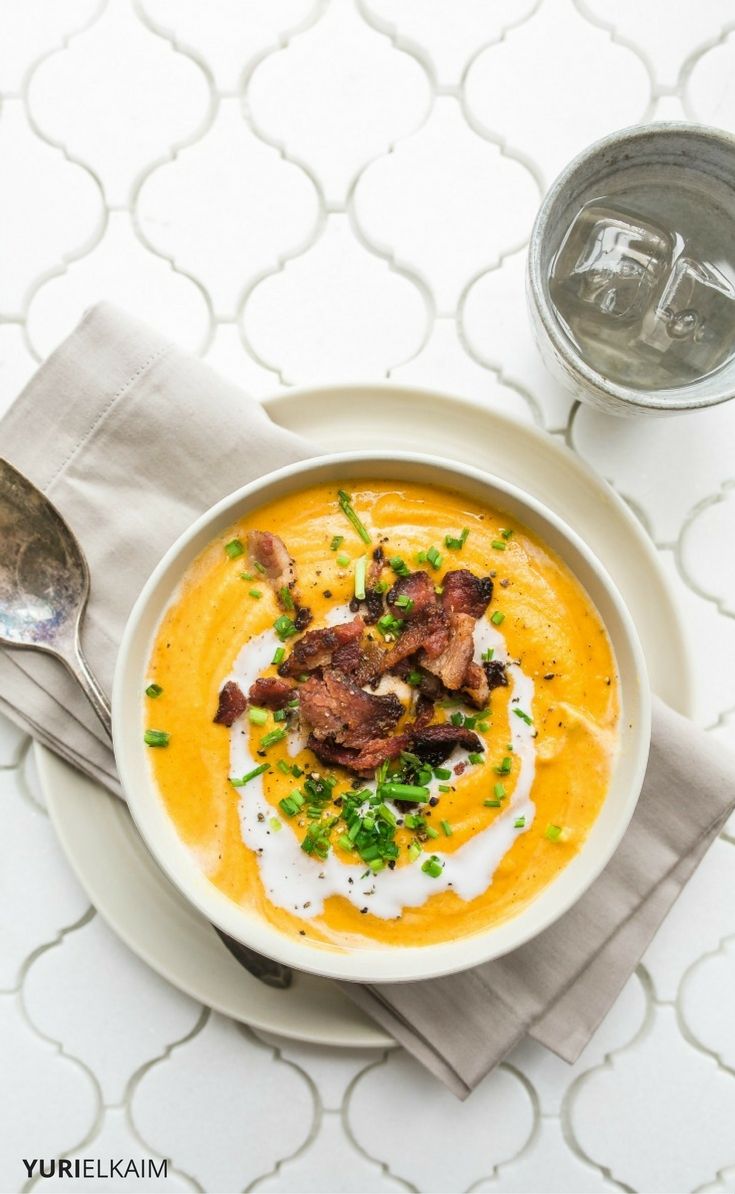 How to Choose a Butternut Squash
Some stores sell pre-peeled and cubed butternut squash in sealed bags to save on prep time, but it's more economical to buy a whole squash.
Look for butternut squash in the produce section of your grocery store or head to your local farmer's market for the best organic selection. Choose a squash with a solid beige color and no deep cuts, bruises, or brown patches.
To prep the squash, I use a vegetable peeler to remove the skin and a sharp chef's knife to cut off the top and bottom stem, then cut lengthwise through the center. Scoop out the seeds with a spoon, cut into strips lengthwise, and cube for best results.
The bright orange color of butternut squash means it's full of beta-carotene, an antioxidant known to support healthy vision and protect against cardiovascular disease and cancer.
The high fiber content in butternut squash helps to regulate blood sugar and promote a feeling of fullness, and butternut squash also has amazing anti-inflammatory properties. It's a great time of year to get more vitamin C in your body, and butternut squash soup is full of this powerful immune boosting vitamin.
Dairy-Free Butternut Squash Soup Recipe
I've kept this soup dairy-free, with its creamy and silky texture coming from coconut milk. Coconut milk contains healthy fatty acids that raise your good cholesterol levels, improve your blood pressure, and as well as properties that boost your immunity.
Enjoy this autumn butternut squash soup as a quick weeknight dinner that's full of wholesome, vitamin-packed ingredients and delicious taste.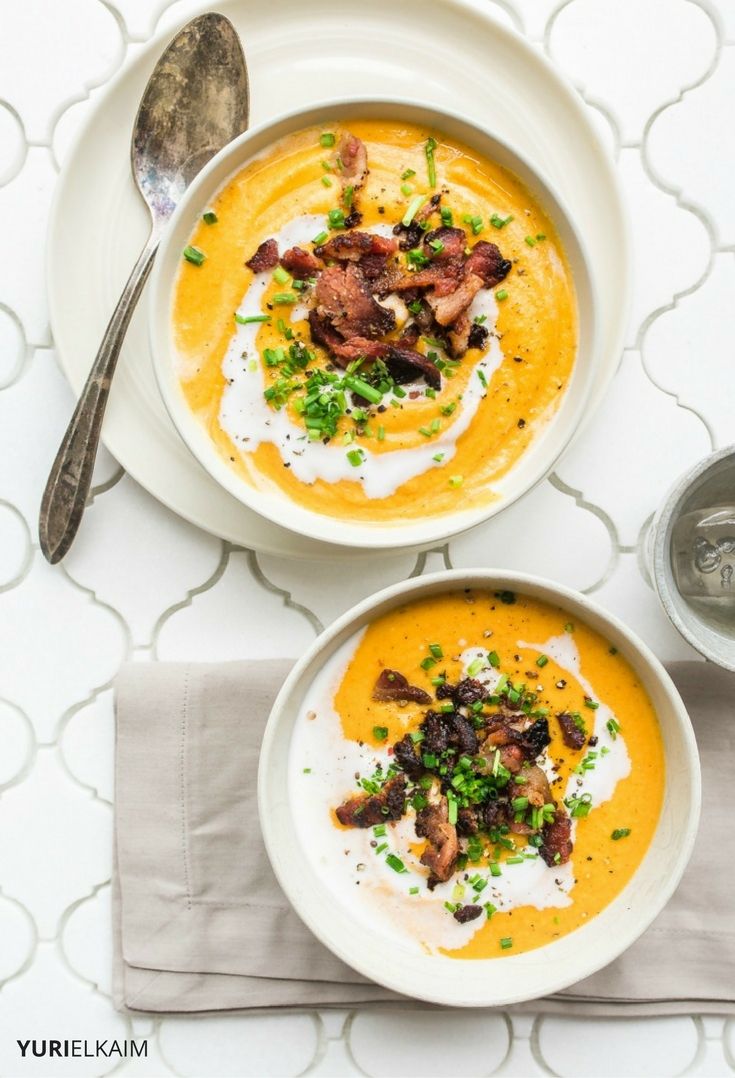 | | |
| --- | --- |
| | |
In a large skillet, heat coconut oil over medium-high heat. Toss in butternut squash and garlic, cooking until squash is tender.

Transfer to a high-speed blender or food processor.

Add chicken broth and 1/2 cup coconut milk. Blend until smooth.

Salt and pepper to taste.

If using a Vitamix or other high-speed blender, blend on high until steaming.

If using a food processor, return puree to a pan and heat until very hot.

Serve topped with a drizzle of coconut milk, bacon and chives.
Easy, Quick, and Delicious
Want to get a healthy dinner on the table fast? The All Day Energy Diet Community Cookbook is just what you need!
It features 67 recipes that are designed to be ready in 15 minutes or less, that also happen gluten- and dairy-free as well as low in allergens and sugar.
We know these recipes work because they were created in the real world by my online community.
You can get your copy of the cookbook – for FREE! – by clicking the banner below.