If your diet took a detour south this weekend or you simply need an energy boost, get back on track easily with this healthy kale avocado smoothie. It delivers all the nutrients you need to feel great again.
Here's why this smoothie is amazing for your health:
Kale
Kale is considered a superfood for good reason—it is one of the most nutrient dense foods around. One cup of kale has only 33 calories, yet it is packed full of fiber to keep you feeling full for hours. Kale is also an antioxidant powerhouse, giving your immune system a boost and counteracting damage from free radicals.
Avocado
Avocado not only gives this smoothie creaminess, it's loaded with heart-healthy fats and aids in keeping your blood sugar stable.
Pineapple and Banana
Pineapple lends a sweet, tart flavor while delivering tons of vitamin C to your diet. And the banana? It offers sweetness along with potassium for regulating blood pressure.
Add my Energy Greens and you'll be getting even more alkalizing health benefits.
So go ahead, give your morning a perfect start with this healthy, delicious smoothie.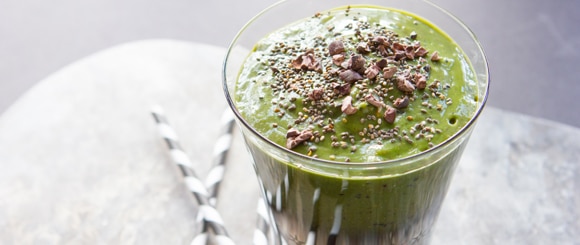 | | |
| --- | --- |
| | |
Blend kale and almond milk until smooth. Add banana, and avocado and blend until creamy. Add more almond milk if consistency is too thick. Top with chia seeds and cacao nibs.