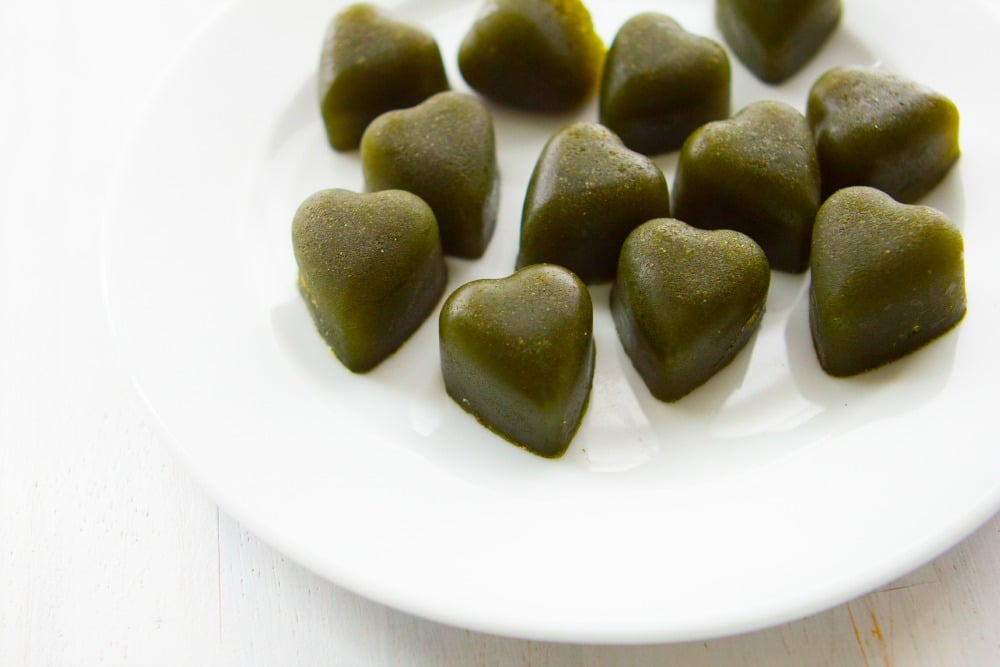 One of the simplest, most convenient ways to boost your intake of leafy greens is to drink a high-quality greens powder daily – or by mixing the greens powder into some of your daily recipes
And with these Gummy Snacks, you now have yet another unique and tasty way to do just that.
So whether you're trying to get your kids to eat more greens, or you're just looking for a fun flavor twist for yourself, give this recipe a shot. It's a winner.
And for those of you with a sweet tooth, these gummies just might be your new go-to snack. Not only is it spiked with 8 different superfoods, it's also made without sugar.
Strengthen Your Body and Bones
Another great bonus? These gummies are made with gelatin.
Here are a few of the powerful benefits gelatin offers, via the Weston A. Price foundation:
Supports skin, hair and nail growth
Supports liver detoxification
Promotes healthy digestion
Stimulates and strengthens bones
Try telling any other "candy" about this healthy, homemade version, and they'll instantly step aside. And with just 4 ingredients, this recipe is simple to whip up a batch or two in less than 30 minutes.
| | |
| --- | --- |
| | |
In a medium saucepan, sprinkle the grass fed gelatin over the lemon juice.

Let it sit for a few minutes and start to dissolve.

Whisk together all ingredients in the saucepan over medium heat.

Heat it just enough to warm it. Do not bring it to a boil.

Skim any foam from the top of the mixture.

Pour into silicone molds or a parchment-lined pan.

Chill until set, about 30 minutes and then remove gummies from molds or slice into cubes.

Store at room temperature or in the fridge--for up to 1 week.
TIPS & TRICKS:
Feel free to mix in the Energy Greens to taste. You can halve the amount of greens powder in your first batch, adding more as you get used to the flavor.
FLAVOR SWAPS:
This recipe is great with any no-sugar added juice.
You can also swap out 1 cup of juice for 1 cup of fresh fruit puree. Blueberries, blackberries, applesauce, and puree'd mango make excellent add-ins. Make your own, or find easy fruit add-ins in the baby food aisle.
Got a Sweet Tooth? Feel free to add in 1-5 drops of stevia. Sweeten to taste.