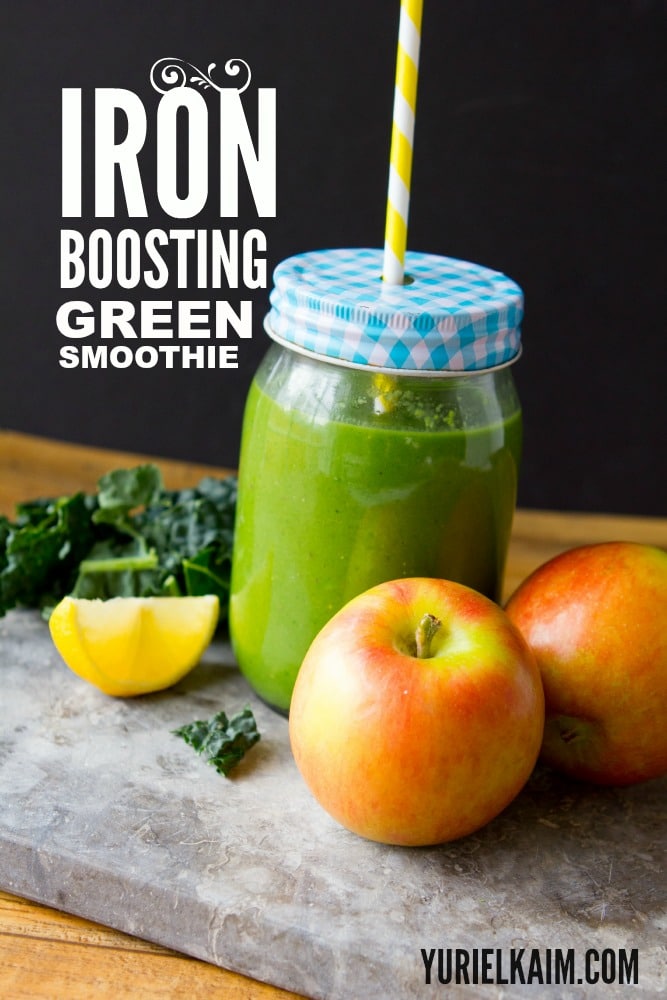 If you haven't noticed yet, I love to adding kale to my morning smoothies. It's one of my favorite leafy greens–versatile and mild in flavor, it's perfect for smoothies, soups, and salads. There's no wrong way to prepare this healthy green.
These days, you can find many different types of kale in your grocery store. There's curly leafed kale, lacianto kale (also called dinosaur kale), red Russian kale, and baby kale, among others. The heartier big-leafed kale (curly, red Russian, and lacianto) is best for soups, stews, and stir-fries. I like baby kale or lacianto kale in a salad and smoothies. For this smoothie I used lacianto kale, which is easy to de-stem, and also has a nice nutty sweet flavor, tending to be less bitter than the curly leafed kale.
Kale packs a seriously such a nutritious punch. It has high amounts of vitamin C, which not only boosts your immune system, it also makes the iron in kale more absorbable. And if you're low on energy, you may need to up your iron intake.
Proper iron intake is essential for good health. It's a vital part of hemoglobin formation–the oxygen-carrying molecule in your blood. Iron is also essential for enzyme creation and healthy cells. The reccomended daily iron intake for adults is 18g. One cup of kale offers about 1 gram of iron. Add four cups of kale to your morning smoothie, and you're about one-fourth of the way to your daily dose. Add the optional nut butter and you'll nearly double that–all from plant-based iron sources.
Kale also evens out your blood sugar levels, keeping them stable for hours.
The apple in this smoothie has plenty of dietary fiber, and pectin, a type of fiber found in apples, has been shown to lower levels of bad cholesterol. Lemon gives this smoothie an immune system boost, and fresh ginger soothes the digestive tract and has anti-inflammatory benefits.
| | |
| --- | --- |
| | |
Blend all ingredients until smooth. Enjoy!