You like hummus … but you love cookie dough.
Sound about right? Then I've got good news for you.
Because if you mix the two – hummus and cookie dough – you get a surprisingly delicious protein-filled fruit dip. And I'm excited to show you the simple trick to this recipe.
But, wait: hummus and cookie dough?
I know. It sounds bizarre. But here's the thing: beans aren't just great for savory dishes.
The flavor of most beans is very mild. So you can stir in a variety of spices, add a little vanilla, a drizzle of maple syrup. And suddenly you've got a sweet hummus that's so good, you won't be able to stop eating it.
Good news, you won't have to.
Chock-full of health benefits, this is one cookie dough I encourage you to eat.
Along with mellow-flavored, high-protein, high fiber white beans, this recipe relies on the combo of additional ingredients for flavor, texture, and added health benefits.
Nut butter and coconut oil provide extra creaminess and nutty flavor, along with even more amazing health benefits. A little pure maple syrup lends a bit of sweetness and added vanilla-maple flavor. Raw honey works, as well, but I prefer maple syrup.
Once prepared, pair this recipe with sliced apples, strawberries or skewers of blueberries.
I also think it tastes great smeared across a split banana. No peeling needed! Just slice right down the center of the yellow skin, open the banana, and schmear. Add a little gluten-free granola to the top, and you've got a dessert you can enjoy for breakfast.
How to Make Cookie Dough Dip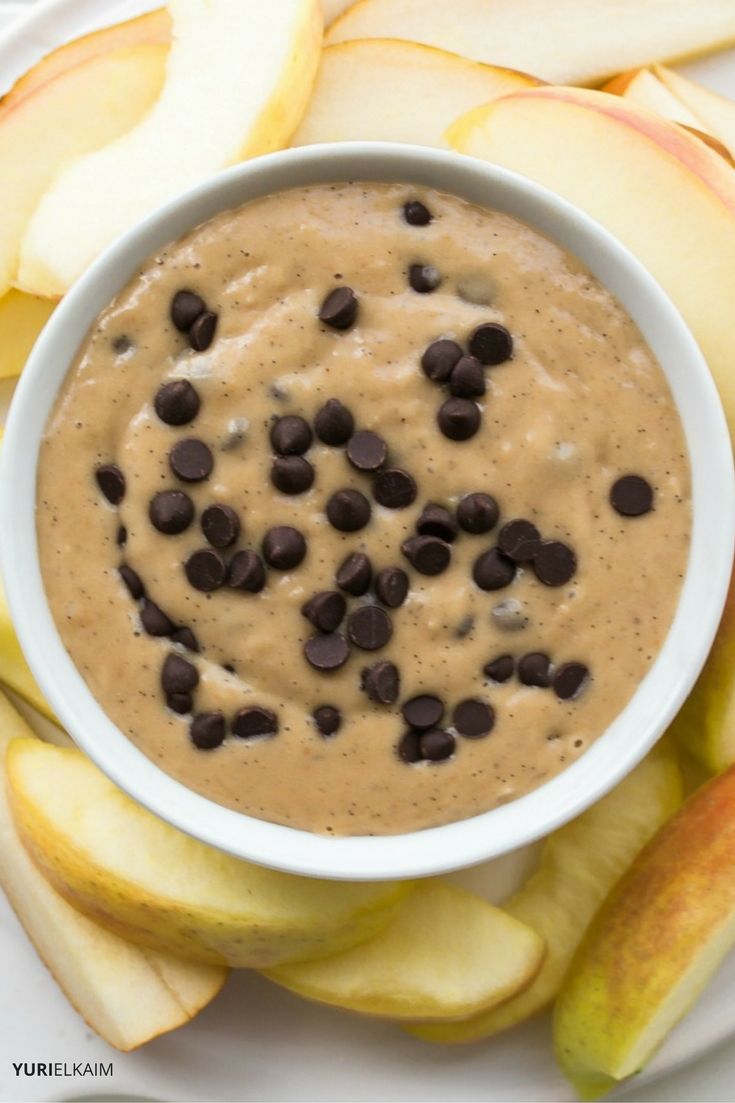 This cookie dough recipe is versatile, and you can tweak it to your liking.
Go Gluten-Free. Try gluten-free oatmeal raisin, swapping out chocolate chips for raisins and adding ¼ cup gluten-free oatmeal.
Give it Some Spice. For snickerdoodle cookie dough, leave out the chocolate chips and add ½ teaspoon cinnamon.
So Much Cocoa. Chocolate lovers can add 1 tablespoon of cocoa to the mix, or replace the vanilla protein powder with chocolate.
Whatever your taste, this cookie dough is a whole new way to snack. This protein and fiber packed treat satisfies cravings the healthy way!
If You Like This Recipe, You'll Love These
Don't skip dessert! When made right, the sweet stuff can be a healthy and satisfying part of your nutrition. A few favorites you won't want to miss: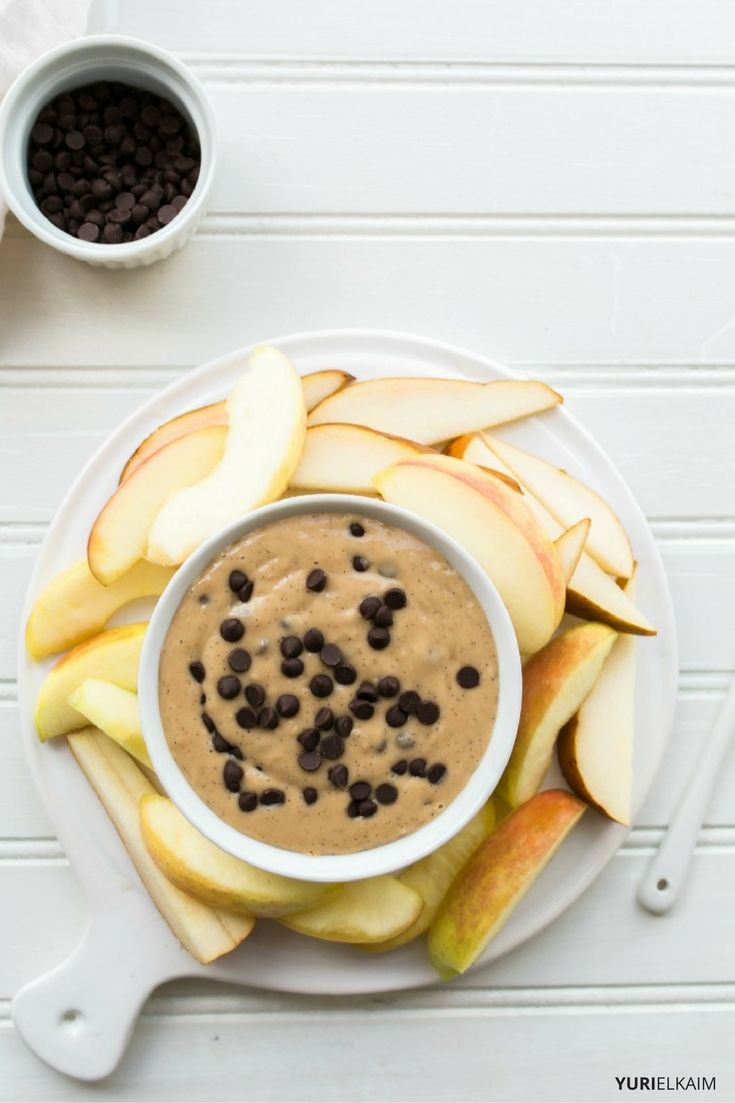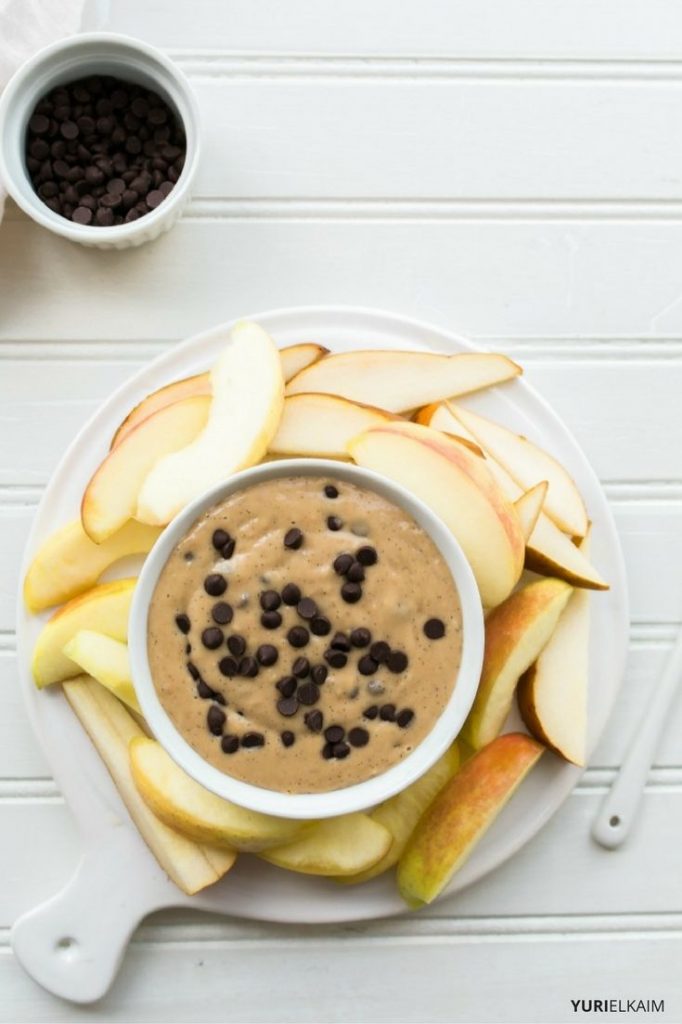 | | |
| --- | --- |
| | |
In a blender or food processor, puree beans, coconut oil, nut butter, maple syrup, protein powder and vanilla together until smooth.

Spoon into a serving bowl.

Enjoy with sliced apples for dipping.
You'll Love These Desserts …
Looking for more treats that are 100 percent gluten and dairy free, and also low in sugar (but taste great)? I've got you covered!
Get 8 energy-boosting desserts so irresistible you'll think they're bad for you.
They're in my Healthy Desserts eBook, which you can get for FREE right now by clicking the banner below.