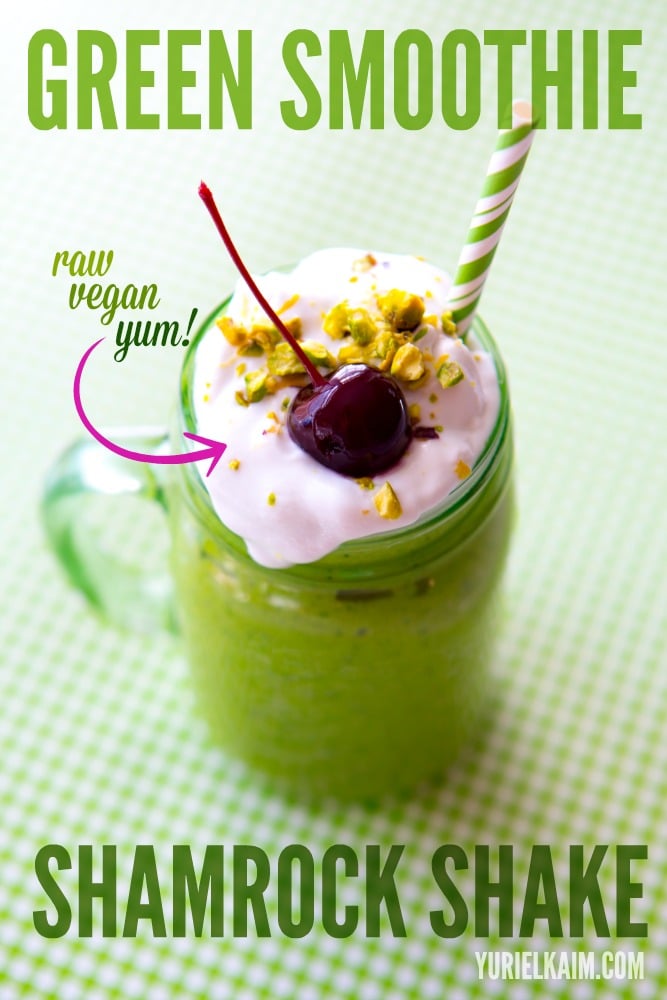 Do you think eating a healthy, nutritious diet means giving up the decadent seasonal favorites that franchise food joints roll out each year?
While you shouldn't regularly indulge in sugary treats on a regular basis, there is still plenty of room for decadence in a plant-based diet … and this homemade Shamrock Shake smoothie is proof.
This is the time of year we start looking forward to the arrival of a bright green St. Patrick's Day-themed shake at the world's biggest fast-food joint.
The problem? A single cup of the stuff is so full of crap, you can't even believe it.
What's in the 'Real' Shamrock Shake?
On top of massive amounts of dairy and sugar, here's what else you'll find in a 22-ounce Shamrock Shake:
A whopping 820 calories – that's the equivalent of 3 orders of fries!
High Fructose Corn Syrup – and it's in everything from the ice cream on the bottom to the whipped cream and cherry on top.
Yellow 5 and Red 40 – dyes linked to hyperactive behavior in children. Yuck.
Carrageenan – a food additive linked to inflammation and gastointestinal issues. Double yuck.
54 Ingredients – That's right: 54! Many of which you can't even pronounce. That's a huge warning flag.
If that quick list isn't enough to talk you out of a storebought shake and into this version, here's one more thing to consider …
This Homemade Shamrock Shake Recipe is Delicious
Yes, as delicious as a bowl of ice cream. Only, you don't have to deal with all that diet guilt afterwards.
Lucky, lucky you!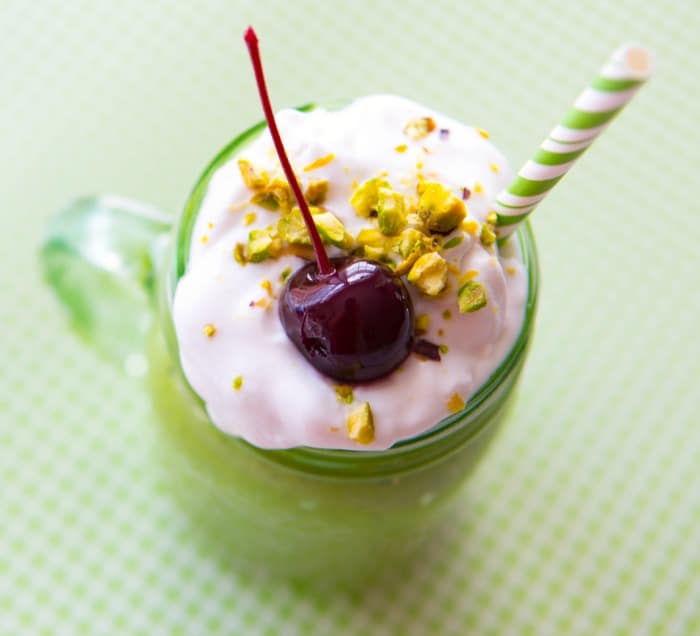 | | |
| --- | --- |
| | |
Blend banana, avocado, spinach, mint, and vanilla together in a high-speed blender.

Scoop into a serving glass. Top with coconut cream, pistachios, and cherry. Enjoy!
The Recipe for Perfect Smoothies
Want to know how to make the perfect green smoothie – without having to follow a set recipe or make a special trip to the store to pick up specific ingredients?
Download the free 1-page Perfect Green Smoothie printable. It contains the ultimate formula that lets you mix-and-match ingredients for nutritious and delicious smoothie recipes.
You can get it right now – for FREE! – by clicking the image below.