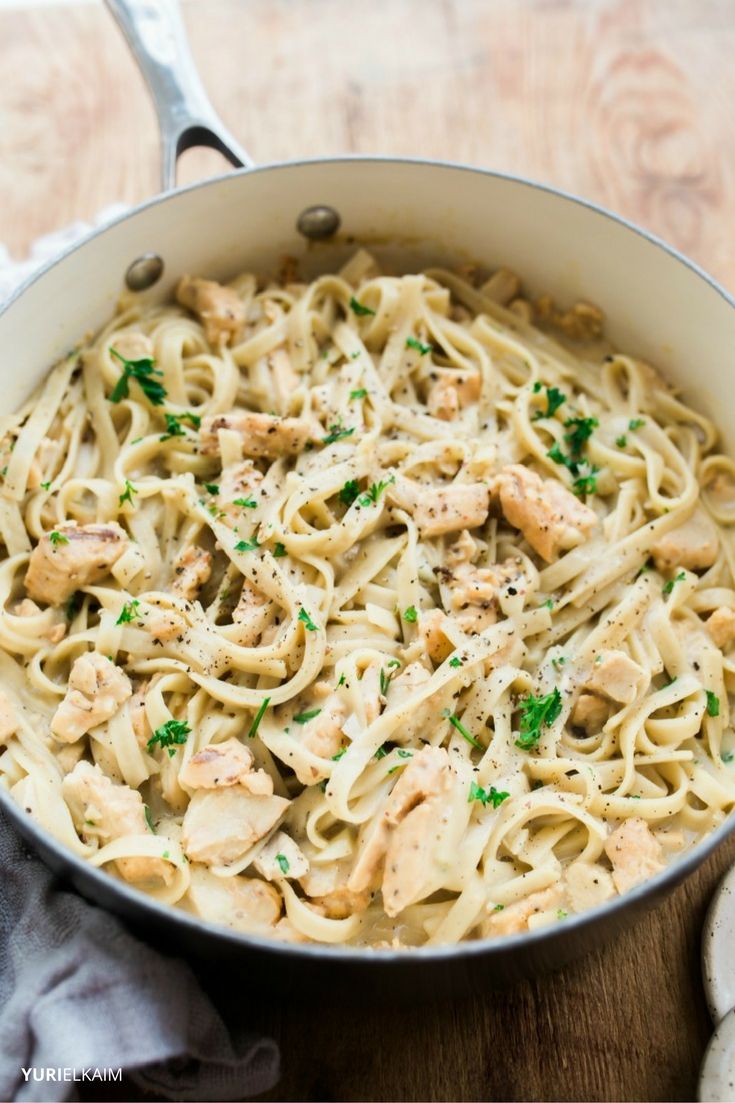 Picture it: A rich, creamy plate of creamy fettuccine chicken alfredo.
So delicious … and so off-limits, right?
I mean, chicken alfredo on a gluten-free and dairy-free diet?
Hang on, because I'm about to deliver the best news ever.
You can still enjoy it!
Because now, with this recipe, you can make a rich and indulgent dairy-free alfredo sauce – and it's seriously as good as the original.
No cream.
No cheese.
No butter.
No joke.
I've dialed in an awesome recipe that passes the clean-plate test with the fam.
Added bonus: it's made in one pot, in 20 minutes flat.

It's All About the Trade-Offs
How did we do it? By using smart swaps.
One of the top flavor swaps here is nutritional yeast, instead of cheese. This ingredient is markedly different from the yeast you find in the baking aisle.
Nutritional yeast is grown on a food source, most often molasses. After a few days it's heated to deactivate the yeast, then harvested, washed, dried, and packaged.
It's rich in vitamin B12, and is critical for production of red blood cells and for producing myelin, the protective insulation surrounding your nerves. Nutritional yeast happens to be a complete protein, too.
If you're looking for other ways to use it, my first experience with it was on popcorn. A drizzle of olive oil, a sprinkle of nutritional yeast  and you've got a plant-based "cheese" popcorn. So good!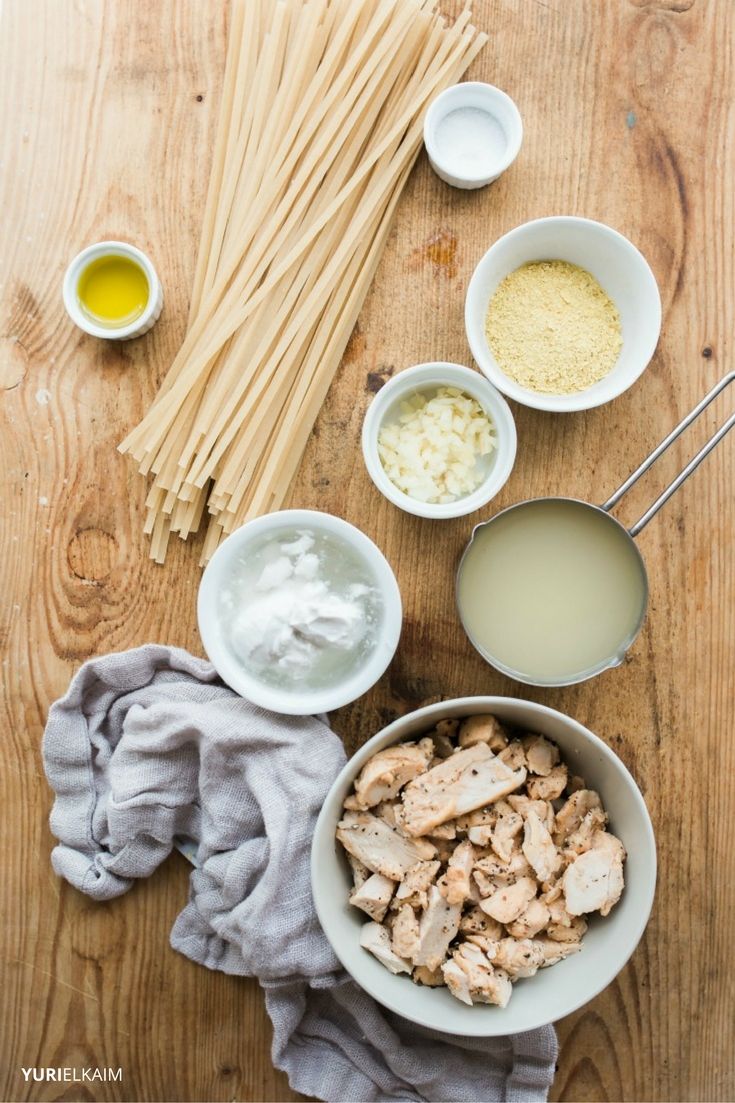 Look for nutritional yeast in the bulk section of any health food or natural food store. It's also in the natural foods aisle of some larger grocery chains. Or just buy it online. It's readily available and can keep in an airtight container for several months, so it's nice to have on-hand in the pantry.
Healthy Chicken Alfredo Recipe Options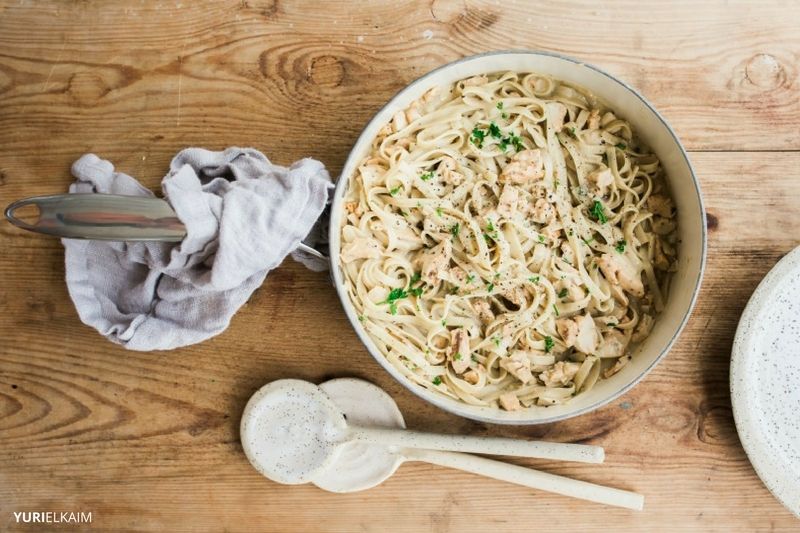 Sometimes recipes need a few tweaks to be compatible with specific diets, eating preferences, or allergen-free needs.
Here are a few easy twists to make this recipe just right for you:
Make it vegan. Nix the chicken and you've got a pot of plant-based pasta.
Go paleo.  Swap out the pasta for zucchini or sweet potato noodles. Reduce the broth to just 1/2 cup, and use bone broth, instead.
Keto-friendly. Follow the above swaps, and add crumbled bacon on top.
Want even more tasty ideas like this one? Don't miss these amazing eats:
Snap a picture of the recipe, upload it to social and tag me in it. It's always great to see these recipes come to life in your home kitchens.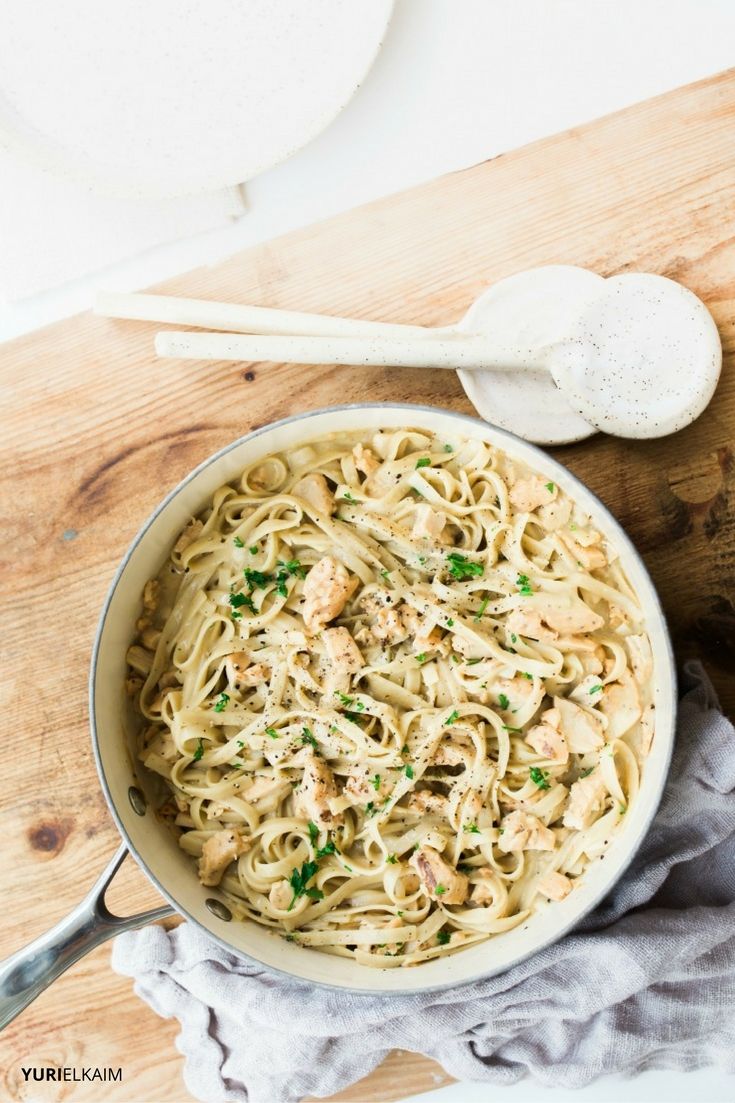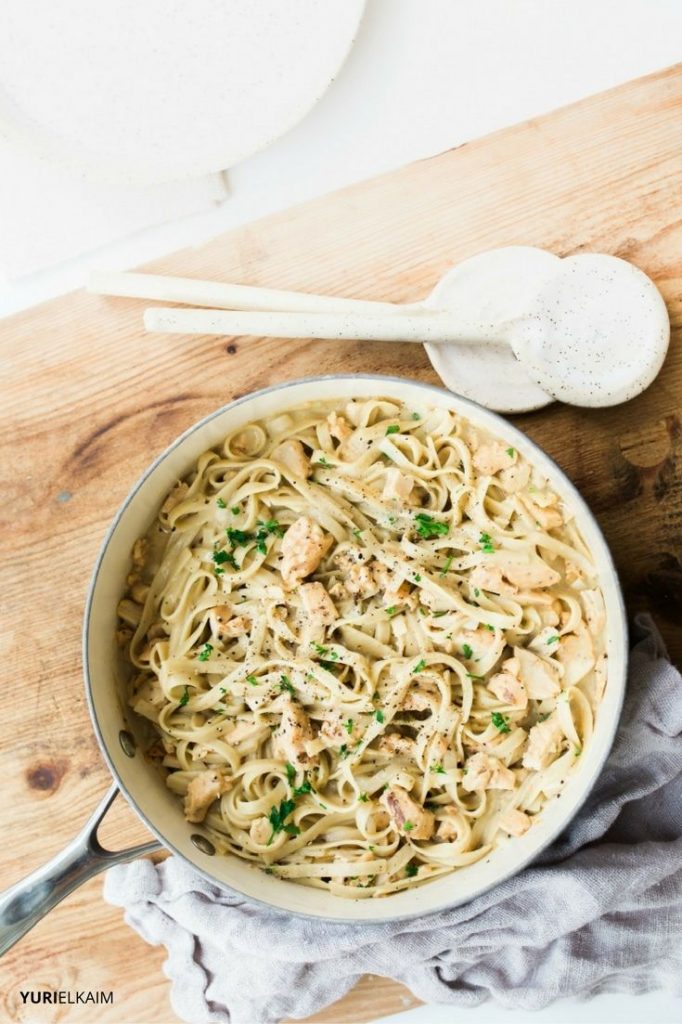 | | |
| --- | --- |
| | |
Place all ingredients in a pot.

Cover and bring to a boil over medium-high heat.

Stir every 2-3 minutes, to keep the noodles from sticking to each other.

Remove from stove once al dente (after 12-15 minutes of cooking).

Garnish with parsley, if desired.
Fast, Easy, Delicious Meals
If you are looking for more gluten- and dairy-free meals that will please the family and take less than 20 minutes to get on the table, you'll love the All Day Energy Diet Community Cookbook.
It's packed with 67 easy-to-make recipes that are low in allergens and high in nutrition.
You can get your copy of the cookbook – for FREE! – by clicking the banner below.