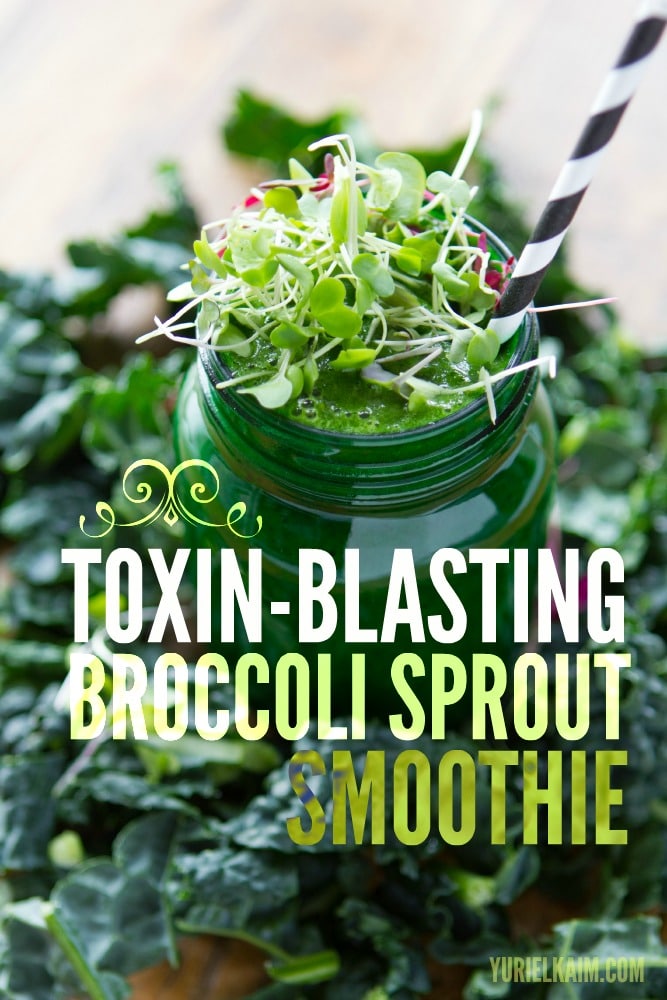 It's hard to convince most people to eat a bowl of steamed broccoli every morning. (Count me in there!) But green smoothies make it easy to get in those greens. You can enjoy more greens by 8 a.m. than most people eat in a day by ossing your broccoli–or in this case, broccoli sprouts–into a blender.
If you haven't yet discovered the incredible, health-boosting benefits of broccoli sprouts, prepare to be amazine. Broccoli sprouts are lighter and more delicate than broccoli florets (making them significantly easier to eat) and actually contain more cancer-fighting sulforaphane than a mature broccoli plant. Research has found they are a particularly powerful way to fight the affects of environmental toxins.
One study looked at the toxin-fighting chemistry of broccoli sprouts. The results are pretty astonishing:
The three-month long study included about 300 Chinese men and women living in one of the most polluted areas of China, a rural community in the Jiangsu Province.

The test group drank half a cup a day of a beverage consisting of sterilized water, pineapple, and lime juice, with dissolved freeze-dried broccoli sprout powder. The control group drank the same mixture without the addition of the sprouts.

After urine and blood tests were collected and analyzed, the researchers found that the test group, who received the broccoli sprout powder, excreted far greater levels of two carcinogens. Excretion of benzene increased 61 percent, and the rate of excretion of acrolein increased by 23 percent.

Benzene is usually found in car exhaust fumes, but can also be ingested via soda, where it can form from benzoate salt—used as a preservative. Acrolein forms from the breakdown of certain indoor air pollutants, from the burning of organic matter such as tobacco, and the burning of fuels like gasoline.
(Time Magazine via Mercola)
With a rise in city living, more and more of us are surrounded by harmful pollutants. Fumes from car exhaust, industrial waste, and harmful cleaning chemicals, and other toxins are absolute reality. The situation can feel out of your control, until studies like this come along and remind you–health starts from the inside out. The food you choose can offer protection from the detrimental effects of our toxic world.
If you, like me, don't like the taste or smell of broccoli, broccoli sprouts are a great way to get serious health benefits without knawing your way through a hunk of green stalks. Broccoli sprouts are light and tender, and don't require cooking or steaming–so you'll be enjoying not just a milder flavor, but all the benefits of eating raw greens.
Blend up a batch of broccoli sprouts into this smoothie. Inspired by the Chinese study mentioned above, it's a powerful way to cleanse your system, boost antioxidant intake, and minimize the effects of environmental toxins on your body.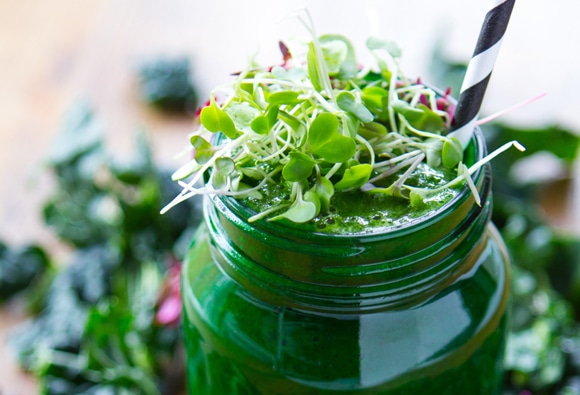 | | |
| --- | --- |
| | |
Blend all ingredients together in a hi-speed blender until smooth and creamy.