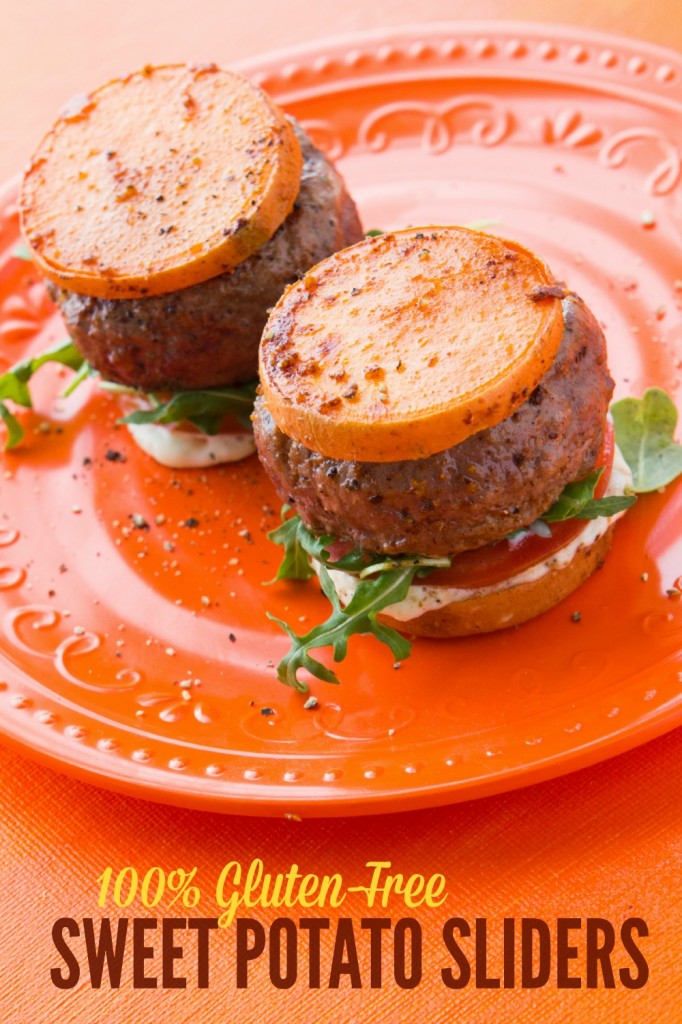 How does the idea of a delicious hamburger sandwiched between two sweet roasted "buns" sound to you?
A burger slider that also happens to be gluten-free, paleo-friendly, and low-carb?
It sounds pretty good, right? Is your mouth watering yet? It should be. This recipe for Sweet Potato Sliders satisfies your need for pub food fare, without any of the guilt.
It's also proof that going gluten-free can be delicious.
It's true that when you're first starting out, the idea of giving up gluten can seem overwhelming. But there are so many clever substitutions (like the one in this recipe) that the overwhelm quickly disappears.
Why Bunless Burgers?
Going gluten-free doesn't have to be a pain. Hang with me a second, because I want to assure you that:
It's not as challenging as you might think, once you get into the swing of it, and
It's worth the effort, in how you look and feel. Some of those results might take awhile, but you will notice them, I promise.
That's because research continues to show the harmful effects of consuming high amounts of flour. Wheat Belly is on the rise, while Grain Brain has a growing number of us caught in a brain fog.
And going gluten-free doesn't mean you have to give up favorites like hamburgers.
This simple recipe for bunless sliders makes clever use of roasted sweet potato slices in place of traditional burger buns. They're easy to make and if you follow a vegan or vegetarian diet, you can always swap out your favorite black bean burger for the hamburger.
Here are some other options to satisfy your burger cravings: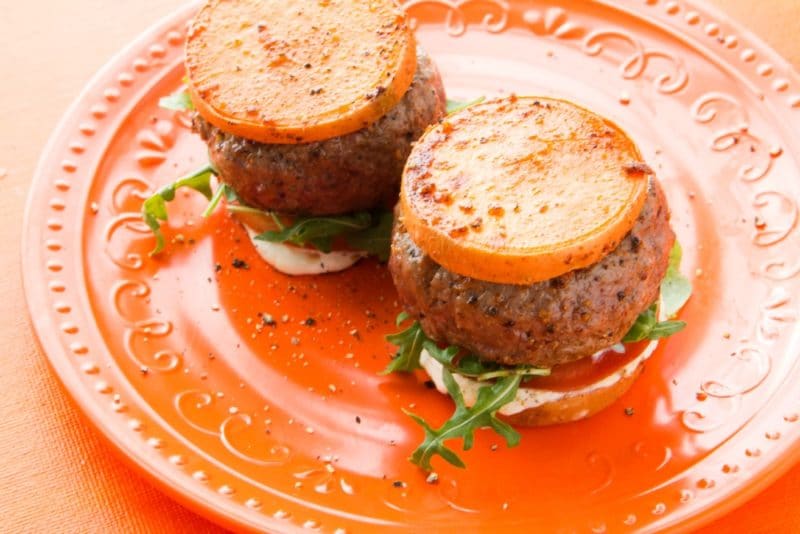 | | |
| --- | --- |
| | |
Preheat oven to 425 degrees.

Slice sweet potato into eight 1/2-inch slices (don't worry about peeling it first).

Place on a parchment-lined baking sheet and drizzle with 2 tablespoons coconut oil, and sprinkle with salt and pepper. Roast for 20 minutes, or just until the sweet potato slices can be easily pierced with a fork. Remove and cool.

In a large bowl, mix together ground beef, salt, and pepper. Form into 2 1/2-inch to 3-inch sliders. Fry in a bit of coconut oil or grill until desired doneness is acheived.

In a small bowl, whisk together coconut gream and Braggs.

To assemble burgers, spoon the coconut cream sauce on top of a sweet potato slice. Top with tomato, arugula, and a cooked burger. Finish it all off with a second sweet potato slice. Serve and enjoy!
Delicious Gluten-Free Meals
Looking for some fast and easy recipes to keep your tastebuds happy?
Be sure to reserve your FREE copy of the All Day Energy Diet Community Cookbook, which contains 67 recipes made with real (and real delicious!) foods. These recipes were created in real-world kitchens by everyday people who live busy lives.
You'll love them! Just click the image below to get your copy.