Eating healthy doesn't mean you can't have a treat. I'm not talking about a dessert that's full of sugar, but one that's delicious, satisfying, and healthy.
Berries and sweet almond-coconut cream is a simple, splendid way to end any dinner (or start any snack!) Serve this with any berries you please, or swap in fresh sliced peaches, if you prefer. For more protein, feel free to sprinkle with sliced almonds or pistachios, as well. Here are some of the wonderful health benefits you'll get from eating this tasty dessert:
Coconut Cream
Coconut cream is made by soaking the meaty flesh of the coconut in water. The cream rises to the top and is skimmed off and packaged. This cream is a rich source of vitamins B, C, and E. Vitamin B protects against nerve damage and is integral for transporting oxygen in the bloodstream, and vitamins C and E support healthy skin and eyes and boost the immune system. Coconut cream contains a medium chain triglyceride length, which increases your HDL (good) cholesterol levels. Coconut cream also boosts your metabolism and can help with weight loss.

Berries
Berries are packed with fiber, keeping you full for hours and contributing to a healthy digestive system. They also contain powerful phytonutrients, including the anthocyanins that give berries their rich color, that fight cancer. Berries are high in vitamin C, which is important for collagen growth and healthy skin. Berries also keep you mentally sharp, cleaning up damaging toxins that cause mental decline.
This simple, elegant recipe showcases the beautiful bounty of summer fruit. It's easy to make, and a delight to eat. On top of being a great dessert, it's also a deliciously simple swap for cereal. If you're looking for a simple morning meal, start with this basic bowl of Berries & Cream, then mix in any of the following plant-based protein toppings:
2 tablespoons hemp seeds
2 tablespoons chopped pistachios
2 tablespoons sliced almonds + toasted coconut
2 tablespoons pumpkin seeds toasted in a skillet with 1 tsp maple syrup + cinnamon
1 teaspoon mesquite powder
1/2 cup cooked quinoa
1/2 cup cooked oatmeal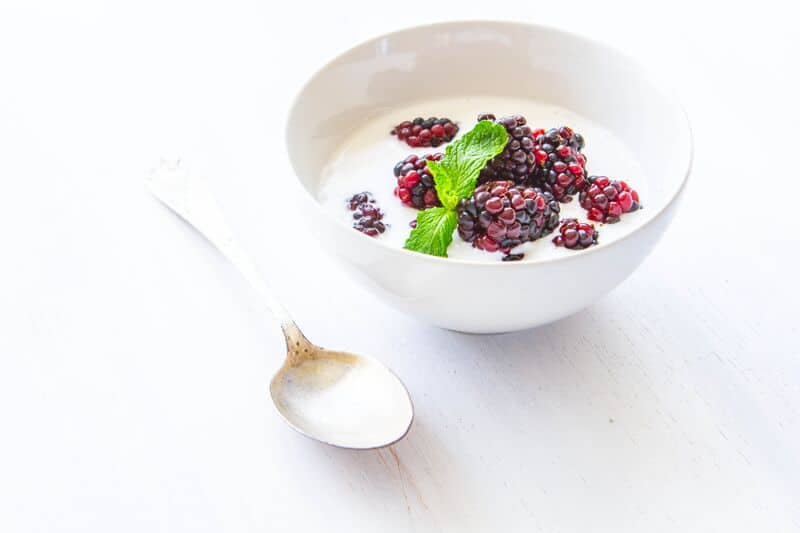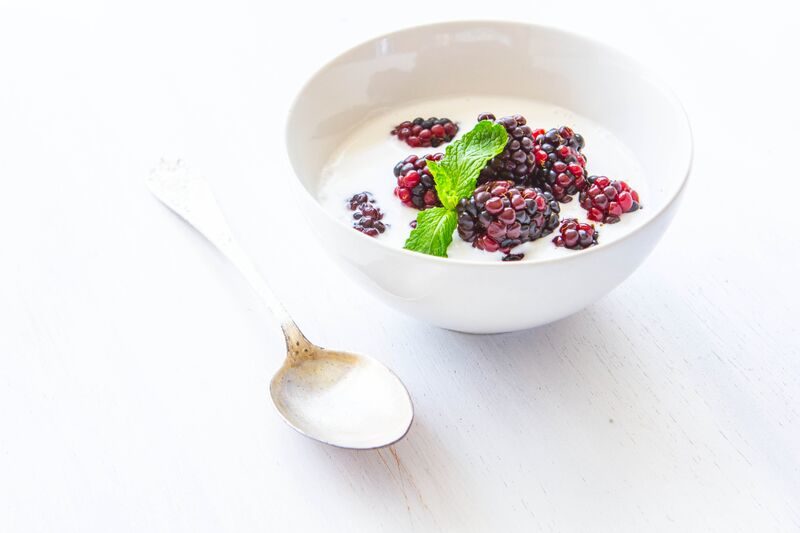 | | |
| --- | --- |
| | |
Whisk together coconut milk, almond and vanilla extracts, and stevia. Pour over fresh berries or peaches. Serve and enjoy!