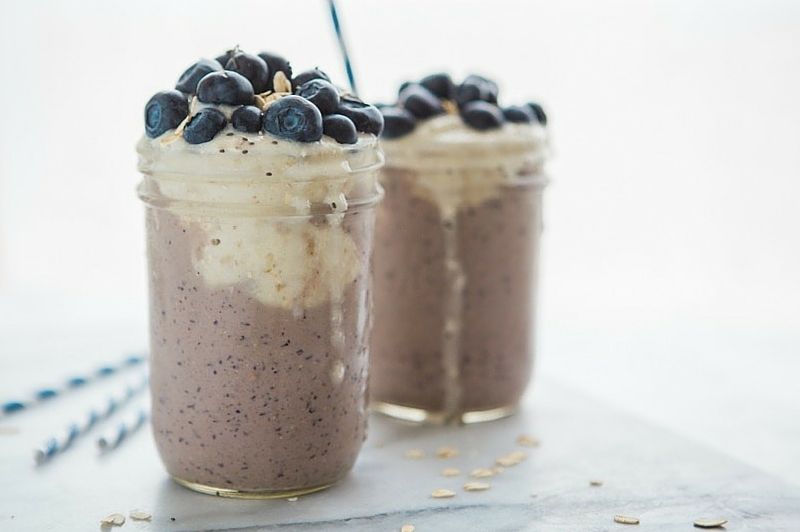 Perhaps you've seen an array of recipes for banana-oat smoothies floating around the web.
This classic combination has recently seen a surge of popularity, with the promise that adding this smoothie to your morning routine can help you lose weight.
This promise is typically rooted in the belief that oatmeal is a low-fat, high-fiber breakfast option. And when combined with high-fiber bananas, some science says you've got a prize-winning combo here.
Right off the top, I disagree.
Blend up a traditional banana oat smoothie (made with bananas, milk or yogurt, and oats) and you'll be sucking down so many carbs, it's likely to throw you into a day-long rollercoaster ride of sugar cravings.
That said, the banana and oat combination certainly has a place in your day. But you've got to do it right.
Here's my take on a highly nutritious, absolutely delicious banana oat smoothie, with a nutrionist-approved makeover.
This Banana Oat Smoothie Tastes Like Dessert
First things first. This upgraded version of the traditional recipe tastes absolutely delicious and deserves its rightful spot in the healthy smoothies hall of fame.
Creamy and naturally sweet, with no added sugars, this whole food sipper tastes like an after-dinner treat.
I've made this a two-layer smoothie, with blueberries added to the bottom layer. This flavor combination is mild and delicious, with the bananas bringing out the brightness of the berries.
It's also a great way to get those daily antioxidants in. That's not all: The blueberries help to bulk up this smoothie with satiating fiber while keeping the carb count low.
It's High-Protein, High-Fiber
My biggest issue with traditional banana oat smoothies is the protein content is surprisingly low.
Since I'm a firm believer in starting the day with a hefty dose of protein, I've added two forms of plant-based protein to my version – both vegan protein powder (like my Pure Plant Protein) and almond butter.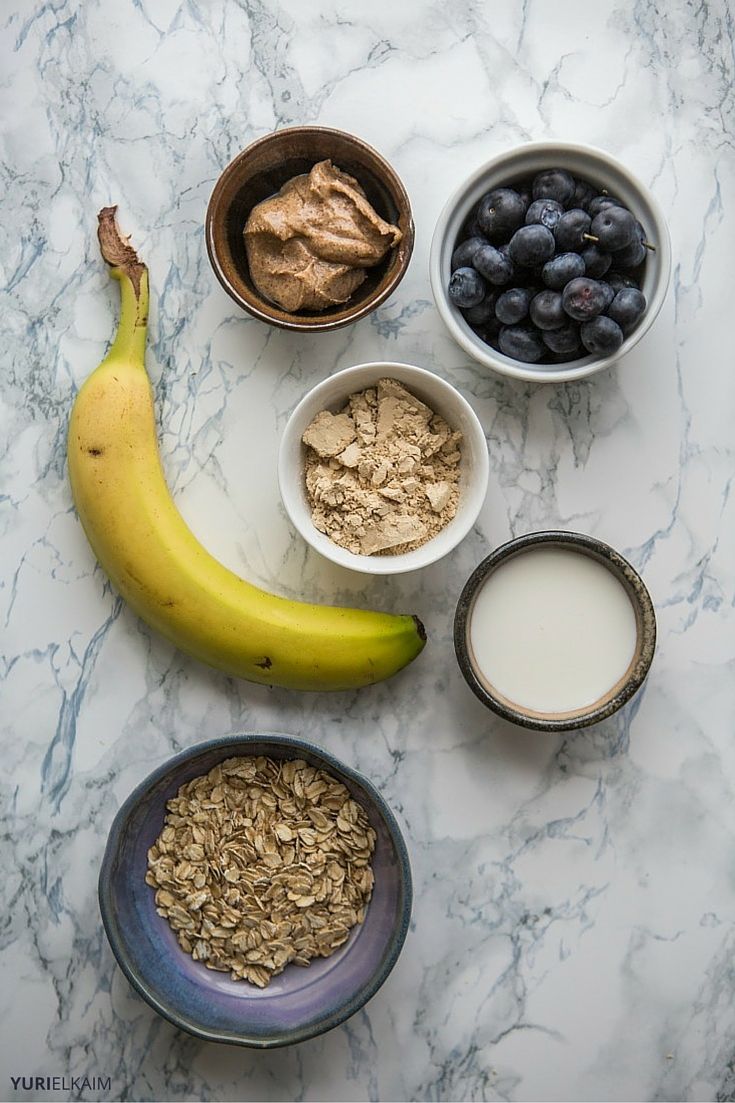 You certainly don't have to use both, but if I had to recommend one, I'd suggest protein powder – you'll get more protein, and therefore, make for a more satiating smoothie.
As mentioned above, I also like blending blueberries into the smoothie for the fiber, nutrients, and flavor they provide without adding much sugar. Use frozen organic blueberries for an extra rich and creamy smoothie.
You can also freeze peeled, sliced organic bananas, adding them to your smoothie for an ice-cream like texture.
When it comes to oats, I prefer old-fashioned oats for smoothies. Since quick oats (or instant oats) are the most processed of your oatmeal options, steer clear.
If you're closely watching carbs, you can also swap in hemp seeds, which blend into a texture that's almost identical to oats. But since they're seeds, you'll get a much lower carb count: one-quarter cup of old-fashioned oatmeal rings in at 16 grams of carbs, whereas 2 tablespoons of hemp seeds has just 6 grams.
Breakfast with Benefits
Enjoy all the good flavor of a banana oat smoothie with the added goodness of plant-based protein, high-fiber blueberries and satiating nut butter.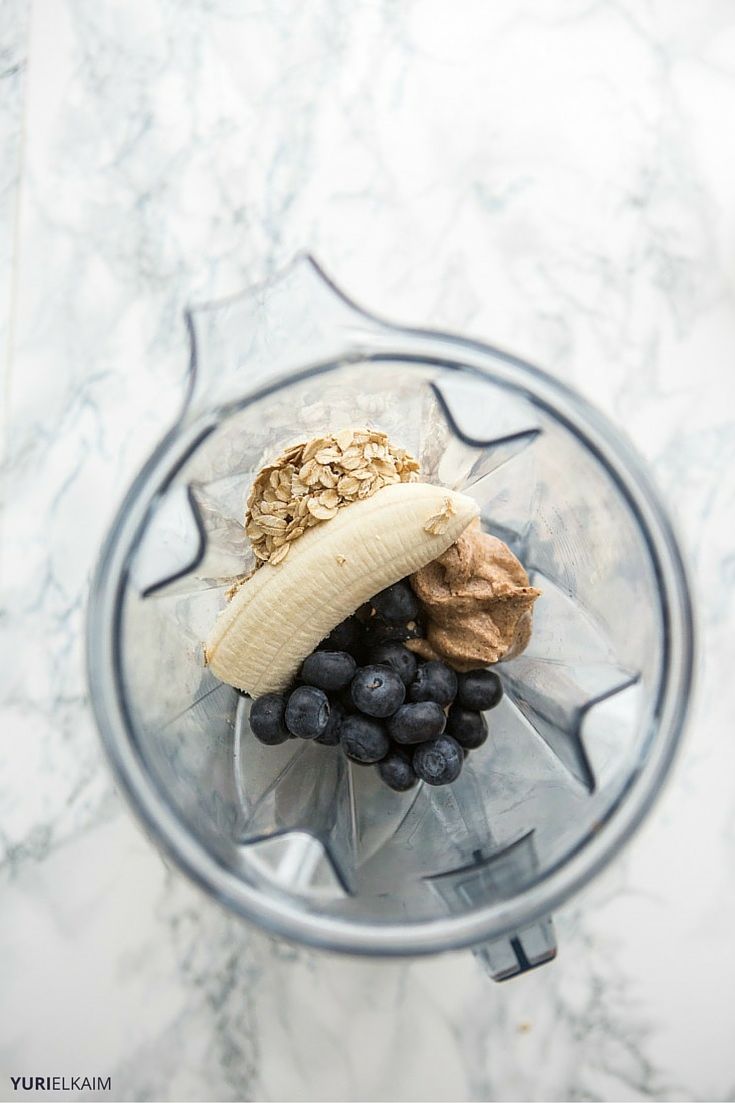 With a few ingredient tweaks, I've turned a formerly not-so-hot for you smoothie into a delicious real-food smoothie, ideal for breakfast, lunch, or post-workout fuel.
You'll notice I specify "high-speed blender." That's because blenders such as the Vitamix or Blendtec are ideal for smoothie making because of their powerful motors.
While you can make a smoothie in a traditional blender, the higher horsepower allows these blenders to fully puree whole or frozen fruits, making for richer and creamier smoothies. If making this recipe in a standard blender, make sure all ingredients are diced well and add more liquid to the blender for best results.
Blend this one up anytime you need hunger-fighting whole foods and a boost of natural energy. It's a good one.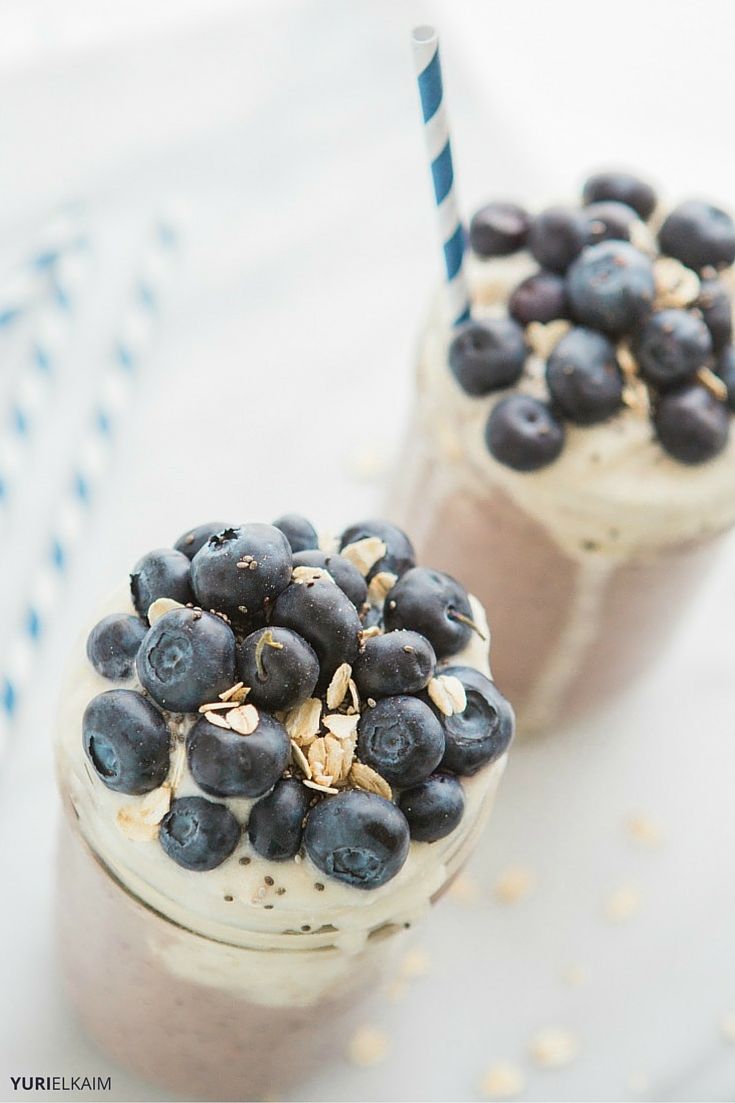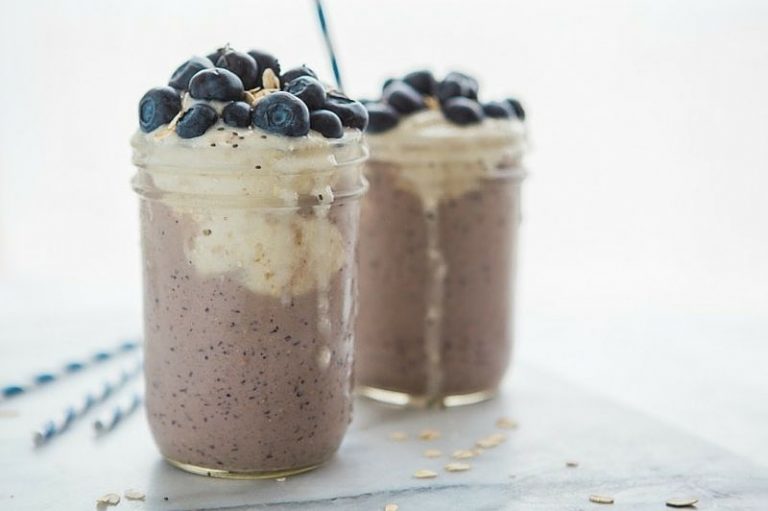 | | |
| --- | --- |
| | |
In a high-speed blender, puree banana, protein powder, almond butter, oats and just enough almond milk to create a thick and creamy smoothie.

Set aside 1/2 cup of the mixture.

Add blueberries to blender, blend until smooth.

Pour blueberry smoothie into glass, top with banana mixture, blueberries and chia seeds.
Make a Perfect Smoothie, Always
Want to know the secret formula for making a perfect smoothie? I have the key! You can download my one-page printable Perfect Green Smoothie guide, which is a great plug-and-play recipe chart. Get it FREE now by clicking the banner below.