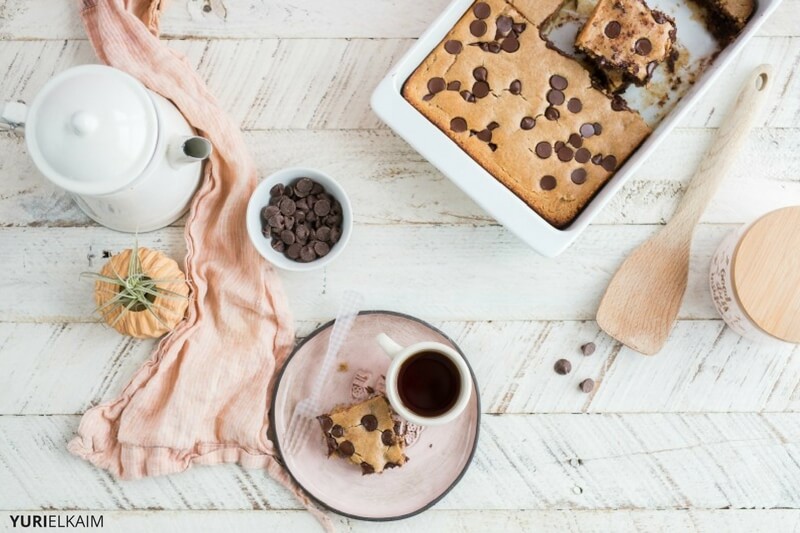 A few years ago, Amy and I were in the kitchen, trying to come up with a healthier chocolate chip cookie.
Since we love food, we do this sometimes – we open the cupboards and try to think outside the box.
Why? Because an important part of eating healthier is learning new ways to cook.
So, we're standing there, wondering how we can use what we had on hand to make a gluten-free, good-for-you cookie, when Amy pulls out a can of chickpeas and says, "Let's start with these."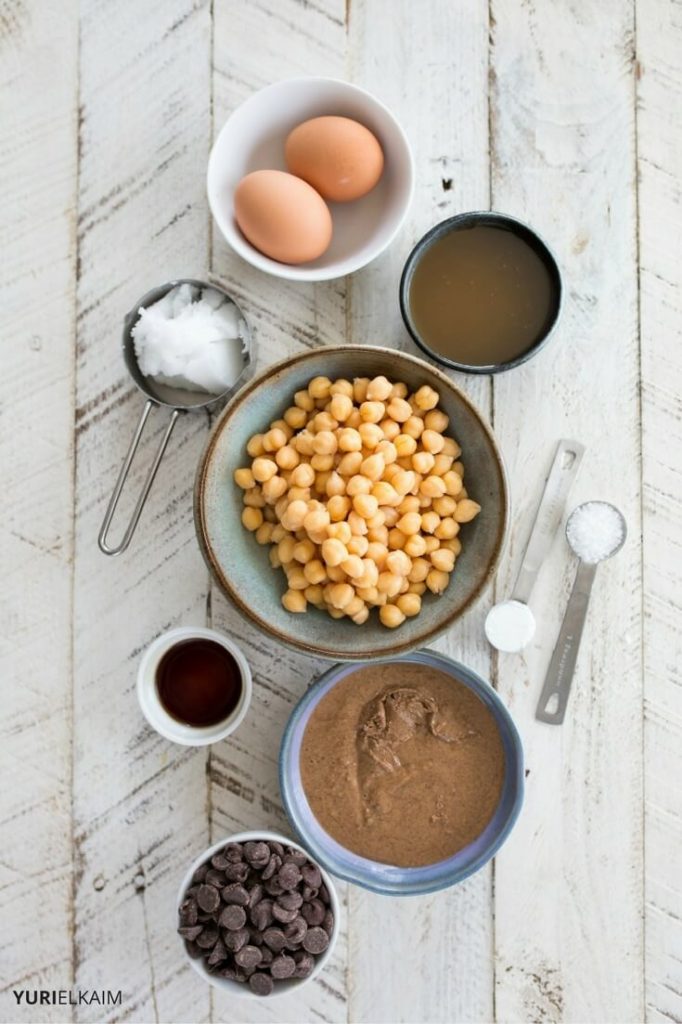 I thought that sounded crazy. I mean, beans in dessert? But on second thought, however, it didn't seen so far fetched.
Most white beans – chickpeas, navy beans, white northern – have a surprisingly mild flavor. We tend to add them to savory dishes, but they actually just serve as a nice base for other flavors – like in this Chocolate Banana Shake.
And they're also high in fiber, giving them natural thickening properties. We started thinking through the baking science and realized that beans mixed with eggs might mean we could make an entire cookie without flour. The beans could stand in for all that gluten-packed refined stuff.
So, out came the high-speed blender. We tossed a variety of whole food ingredients together and blended them into a batter.
And no, we didn't make cookies. Our initial attempt wasn't thick enough to stand together on a cookie sheet. But still, the batter tasted awesome because it was sweetened with raw honey and had a hint of vanilla. We weren't about to call this a fail.
We poured the batter into a cake pan and tossed in some chocolate chips. And 30 minutes later, we pulled out our first-ever pan of gluten-free, high-protein vegan blondies.
Chickpea Blondies
It turns out that chickpeas work fantastically as a flour swap.
Combined with eggs and honey, the bean undertones disappear. So, when you bite into these blondies, instead of saying, "Tastes healthy," you say, "Yum! blondies!"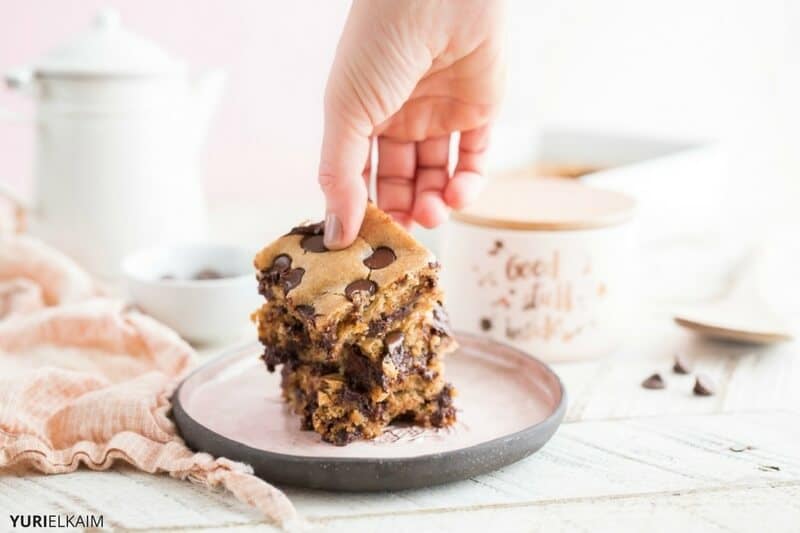 Which is a nice surprise, considering that every ingredient in this recipe gets a thumbs up from our resident nutritionist (that's me) and the taste-testing staff (that's the kids).
How to Make it Vegan
If you follow a vegan diet and don't want to use the egg in this recipe, you can make your own flax "egg" with this simple recipe, which makes 1 "egg" (note that the recipe calls for 2 eggs):
1 tbsp flaxseed meal
2 1/2 tbsp water
Mix together and allow to gel for 10-15 minutes before adding to batter.
If You Like This Recipe, You'll Love
This isn't the first time we've put a tasty gluten-free twist on traditionally decadent eats. If you're looking for more healthy sweets, give these recipes a try: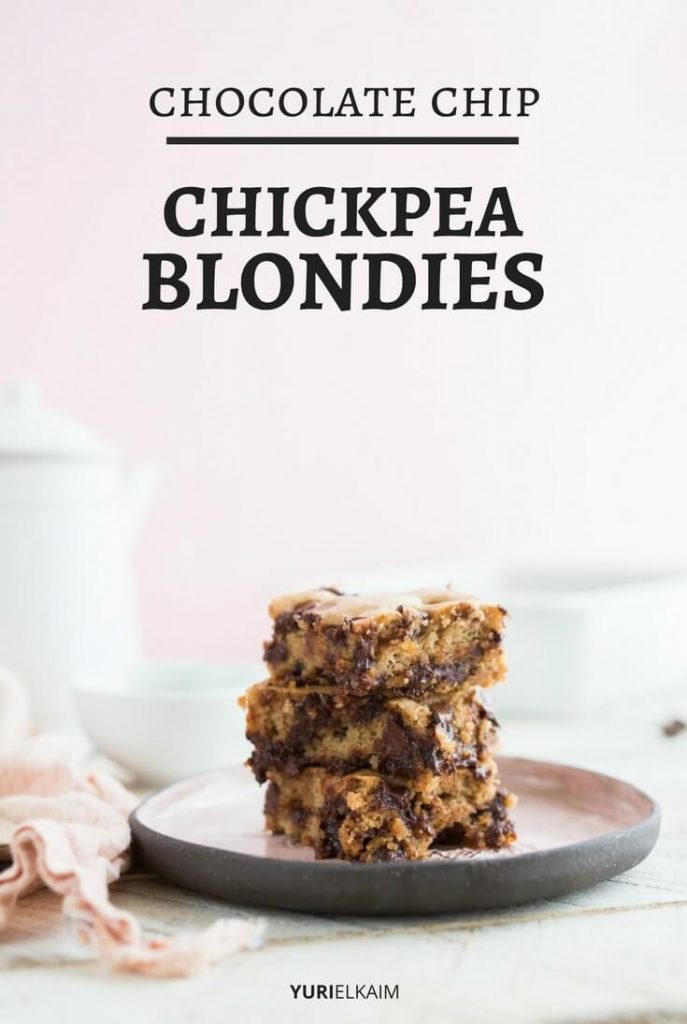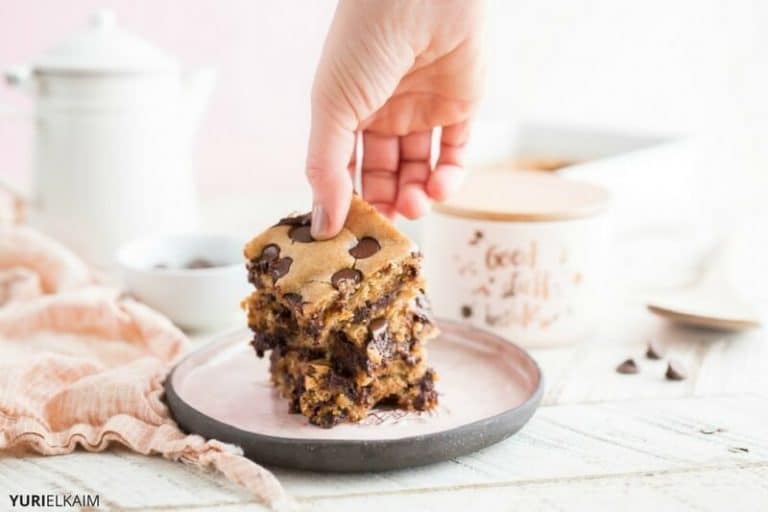 | | |
| --- | --- |
| | |
In a blender, combine chickpeas, eggs, coconut oil and honey. Blend until pureed.

Add almond butter, vanilla, salt and baking powder. Stir in chocolate chips.

Spread into a 8"x11" or 9"x9" pan, sprayed with nonstick coconut oil spray.

Bake for 30-35 minutes, or until the center is set, and springs back when touched gently.
If you want to make the vegan option for this recipe, instead of using an egg, mix 2 tbsp of flaxseed meal with 5 tbsp of water. Allow the mixture to gel for 10 to 15 minutes before adding to the batter.
Healthy Desserts Your Body Will Love
Yes, it really is possible to make a delicious dessert that's low in sugar, allergens and is free of dairy and gluten. For real!
Still not sure? Down my Healthy Desserts eBook and see for yourself! This cookbook contains recipes 8 sweet treats that you'll make again and again.
You can download it right now – for FREE! – by clicking the banner below.