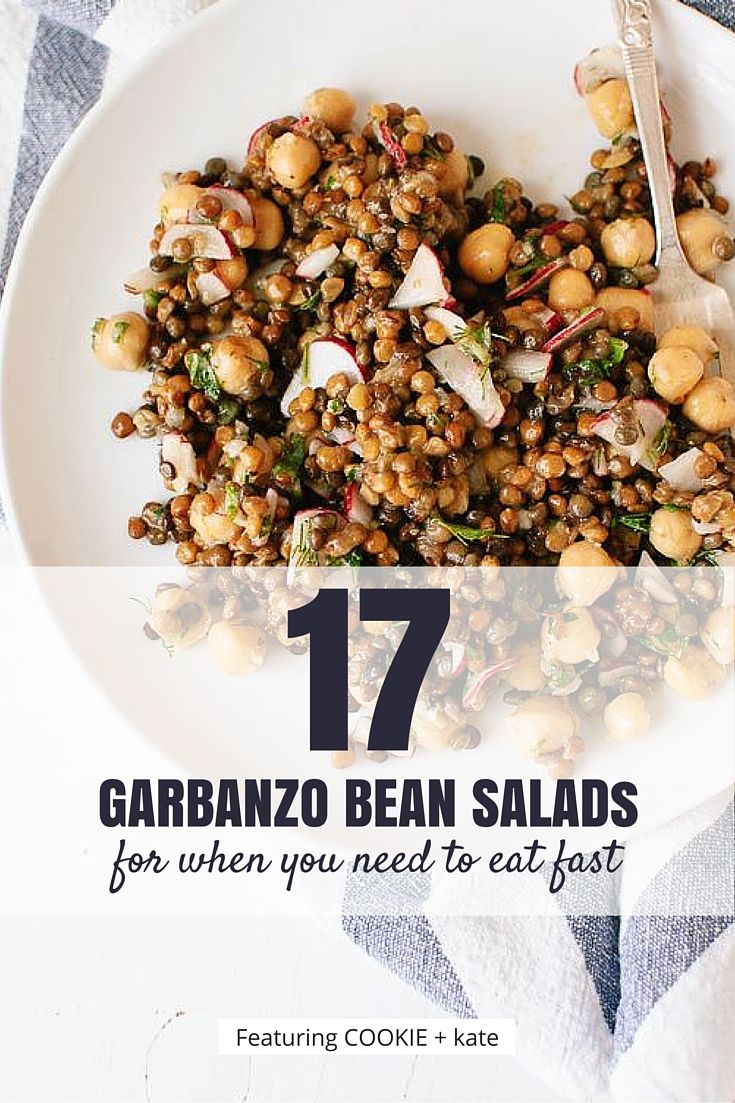 Looking for a recipe that's easy, convenient, portable, and healthy?
Whip up a garbanzo bean salad and discover just how wonderfully versatile and tasty garbanzo beans can be. The subtle nutty, buttery taste of garbanzo beans is the perfect addition to a variety of different cuisines.
Whether you want to give your green salad a boost or experience the unique, exotic flavors of international food, try adding garbanzo beans to your diet. Purchase them canned (in a BPA-free can) for a ready-to-go option that doesn't require cooking – perfect for a hot summer day or when you're in a rush to get dinner on the table.
Try making a garbanzo bean salad for lunch or dinner and you'll have a filling, delicious, protein-packed meal that's super easy to prepare. The hearty nature of chickpeas make them a natural choice for including in healthy salad recipes.
Chickpeas and garbanzo beans – are they the same thing? Yes, in fact, they are. Garbanzo beans, or chickpeas, are one of the earliest legumes to be cultivated in the Middle East, about 7,500 years ago.
They remain still a popular staple around the world, but are grown mainly in India, Pakistan, Turkey, Ethiopia, and Mexico. These legumes are in the same family as beans, peanuts, and lentils, and provide an inexpensive protein source that easily takes on the flavor of any dish.
Garbanzo Bean's Nutritional Power
Aside from their great taste, garbanzo beans are low in saturated fat and cholesterol, and contain high amounts of protein, fiber, folate, and iron.
Protein is necessary for building and repairing muscle, and is a building block for skin, cartilage, and blood. The protein in garbanzo beans also helps you maintain a healthy weight by curbing hunger, so load up your plate.
Garbanzo beans are packed with a beneficial combination of insoluble and soluble fiber that promotes healthy blood lipids, blood sugar regulation, and cardiovascular health.
The nutrition value of garbanzo beans is similar whether you buy them canned or cook them from scratch.
If you want to try cooking your own garbanzo beans, rinse and pre-soak them in a large saucepan with three times the water per cup of beans. Boil for two minutes, remove from heat, cover, and allow to stand for four hours. This method lowers your chances of experiencing flatulence by reducing the oligosaccharides in the garbanzo beans.
From a veggie-loaded Thai salad to a curried chickpea salad bowl, we've found 17 easy garbanzo bean salad recipes that will fill you up while satisfying your tastebuds.
17 Must-Try Garbanzo Bean Salad Recipes
1. Lemony Lentil and Chickpea Salad with Radish and Herbs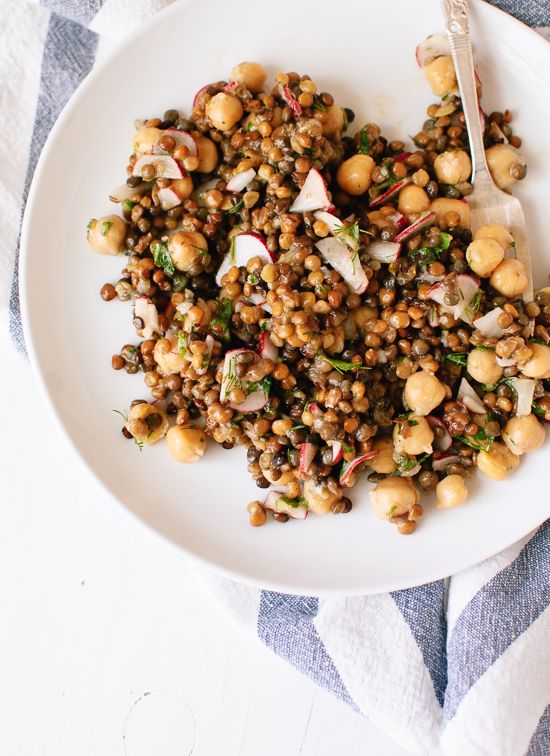 Need a lunch or dinner recipe that's ready in under 20 minutes? Try this fresh and filling recipe, and use canned chickpeas and lentils to keep prep super easy.
Find the recipe here: COOKIE + kate
2. Moroccan Carrot Chickpea Salad
Take a culinary trip to Marrakesh with this exotic garbanzo bean salad. It's loaded with delicious and good-for-you ingredients, including carrots, chickpeas, walnuts, parsley, and dates. The honey-lemon dressing ties this delicious salad together in minutes.
Find the recipe here: Little Spice Jar
3. Sweet Potato and Chickpea Salad
This beta-carotene packed choice is a simple, healthy, filling lunch or dinner that's both vegan and gluten-free. Adjust cayenne pepper to taste and zest fresh lemon peel for a bright, citrusy flavor.
Find the recipe here: Avocado Pesto
4. Cilantro Lime Chickpea Salad
This refreshing salad has an addictive flavor combo that will have you making this dish again and again. It's perfect for a summer picnic or barbecue.
Find the recipe here: Oh She Glows
5. Crispy Chickpea Thai Quinoa Bowl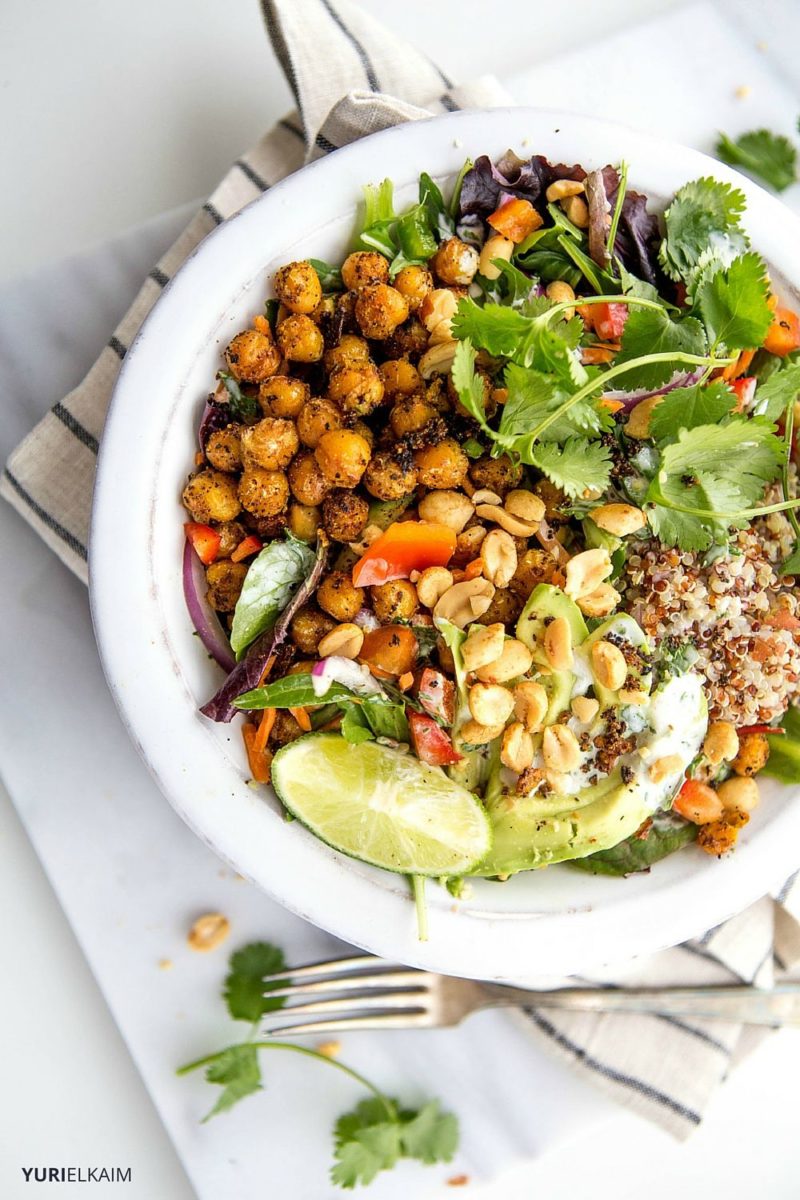 Dig in to this one-bowl wonder, which makes for a deliciously filling lunch or dinner salad. Protein-powered roasted chickpeas have an incredible "crunch," and the rainbow of veggies offer a range of antioxidants that'll aid in preventing cancer, reducing cardiovascular risk, maintaining healthy bones and building collagen for healthy skin.
Find the recipe here: Yuri Elkaim
6. Pear Arugula Chickpea Salad
Sweet, juicy, ripe pears pair with spicy, bold arugula for an incredible lunch or dinner. This recipe is topped with toasted nuts and hemp seeds for a satisfying and tasty crunch.
Find the recipe here: Love and Lemons
7. Roasted Cauliflower and Chickpea Salad
Full of warm, comforting goodness, this salad is a tasty vegan meal that's brimming with flavor. Cauliflower, chickpeas, olives, greens, and sun-dried tomatoes mingle with a cashew butter lemon dressing for a salad that's pure deliciousness.
Find the recipe here: Edible Perspective
8. Sweet and Sour Thai Carrot and Cucumber Noodle Salad
Upgrade your menu with this "noodle" salad.  It's a healthy, delicious, and gluten-free way to enjoy Thai food. Drizzle the refreshing cucumber, carrots, chickpeas, and peppers with the irresistible sweet and sour sauce for a salad you'll want to put on your menu every week.
Find the recipe here: Peas and Crayons
9. Rainbow Power Salad with Roasted Chickpeas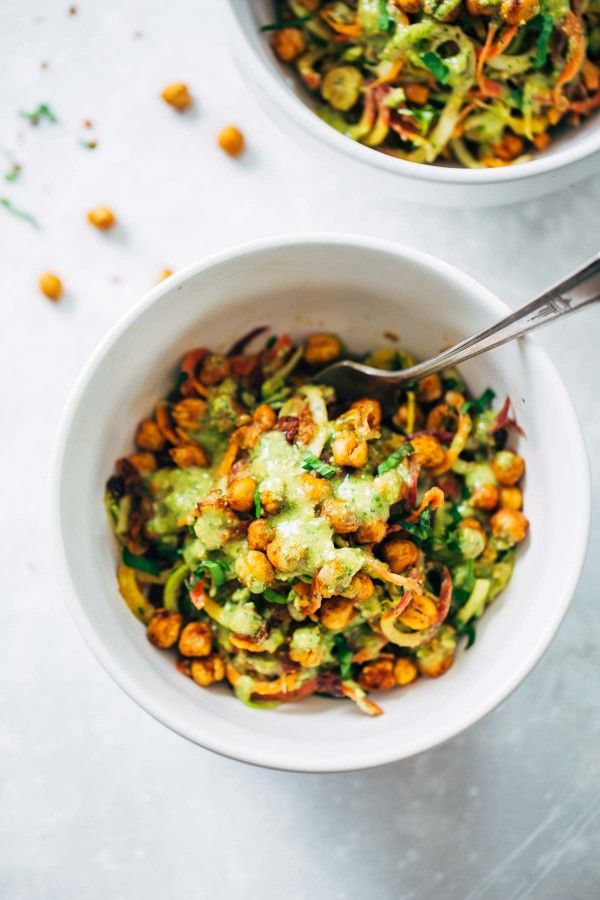 Delight in this colorful recipe, which contains the nutritious power of zucchini and carrots, fresh herbs and greens, along with crispy, spiced, roasted chickpeas and an amazing vegan magic green sauce. Eat this salad and you'll get a healthy glow, inside and out.
Find the recipe here: Pinch of Yum
10. Curried Chickpea Salad Bowl
This delicious salad is reminiscent of Indian curry, but made at home with pure, whole ingredients. It's loaded with kale and Swiss chard, and also has a hearty dose of plant-based protein, all in one delicious, easy-to-prepare bowl.
Find the recipe here: Yuri Elkaim
11. Middle-Eastern Chickpea Black Bean Salad
You'll get double the protein and fiber in this healthy, savory meal. It's tasty, hearty, and super easy to make.
Find the recipe here: Ambitious Kitchen
12. Spicy Summer Bean and Chickpea Salad
This bold salad makes a delightful and satisfying meal. You get colorful, crunchy, spicy, and refreshing all in one simple meal.
Find the recipe here: Blossom to Stem
13. Vegan Caesar Salad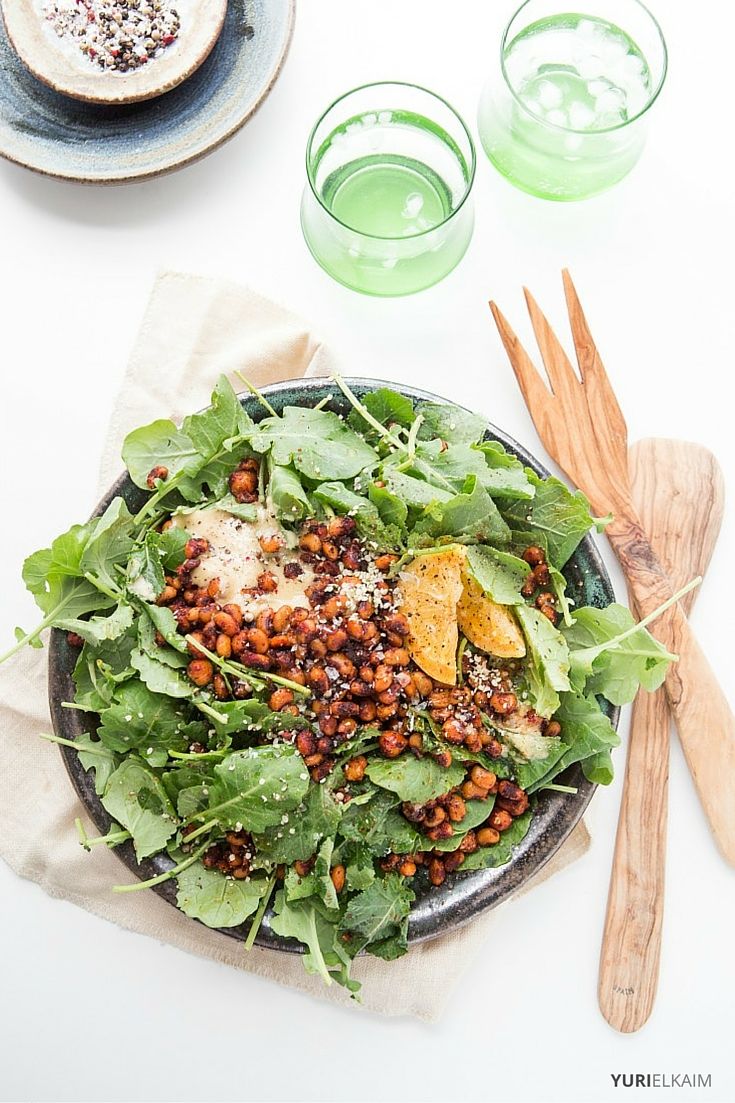 If you're a fan of Caesar salad, you'll love this vegan version, which has major health benefits. Crunchy kale holds up well under the deliciously creamy garlic lemon dressing, and chickpeas offer plant-based protein for an amazingly tasty lunch or dinner.
Find the recipe here: Yuri Elkaim
14. Chickpea Avocado Garden Salad
Use this garden salad as a base and add in your favorite veggies and greens. It's loaded with healthy fat from avocado, and super-seed toppings add crunch and extra nutrition as well.
Find the recipe here: I Food Real
15. Super Summer Detox Salad
Eat clean with this "detox" salad. It's loaded with crunchy kale, bright cherries, walnuts, quinoa, artichokes, lemon, and protein-rich chickpeas. It tastes great and gets your body one step closer to optimal wellness.
Find the recipe here: Well Plated
16. Mediterranean Chickpea Salad with Citrus Dressing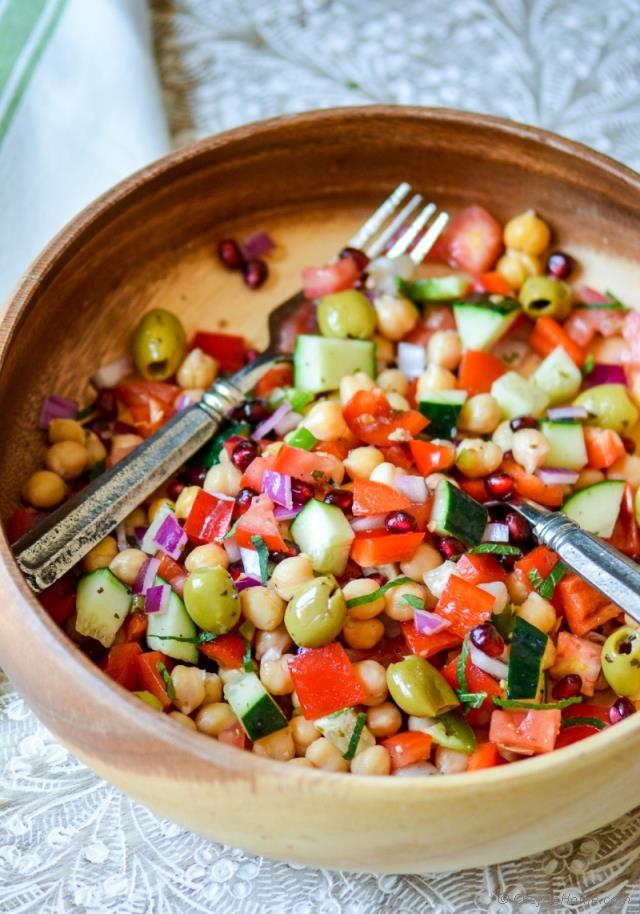 Oregano and mint give this salad a fresh, bold flavor. This 10-minute dinner has a good serving of vegan protein and is low in fat to keep your health on track.
Find this recipe here: Chef de Home
17. Kale Salad with Butternut Squash, Chickpeas, and Tahini Dressing
If you crave sweet and savory, this one is for you. Roast the butternut squash while you're prepping the salad, and you'll have a warm salad that comes together easily and tastes delicious.
Find the recipe here: Foodie Crush
Easy, Quick, Tasty Salads
Fall in love with garbanzo bean salads for exceptional nutrition using easy-to-make recipes.
Assemble any of the 17 easy garbanzo bean salad recipes above to fill you up for lunch or dinner, or share with friends for a scrumptious addition to any picnic or potluck.
Want More Fast (Homemade) Food?
Check out the All Day Energy Diet Community Cookbook, a compilation of 67 of the most popular quick-to-table, allergen-free, "clean" meals of my online community. Get these real-world-tested recipes – for FREE! – by clicking the banner below.