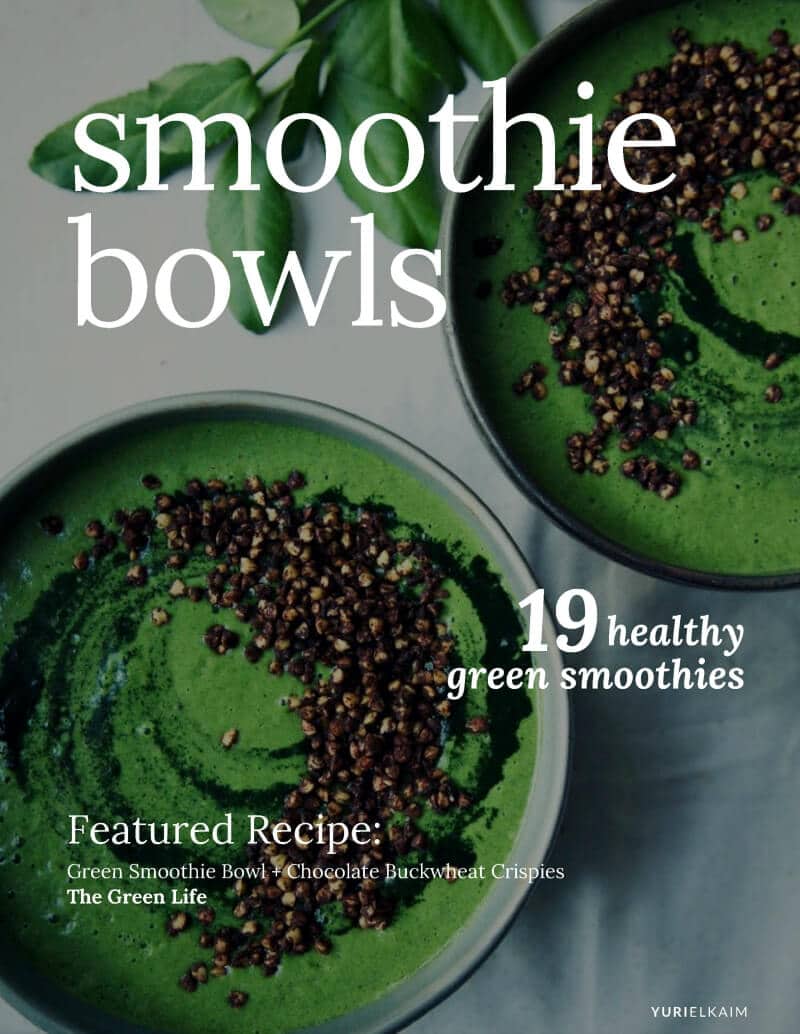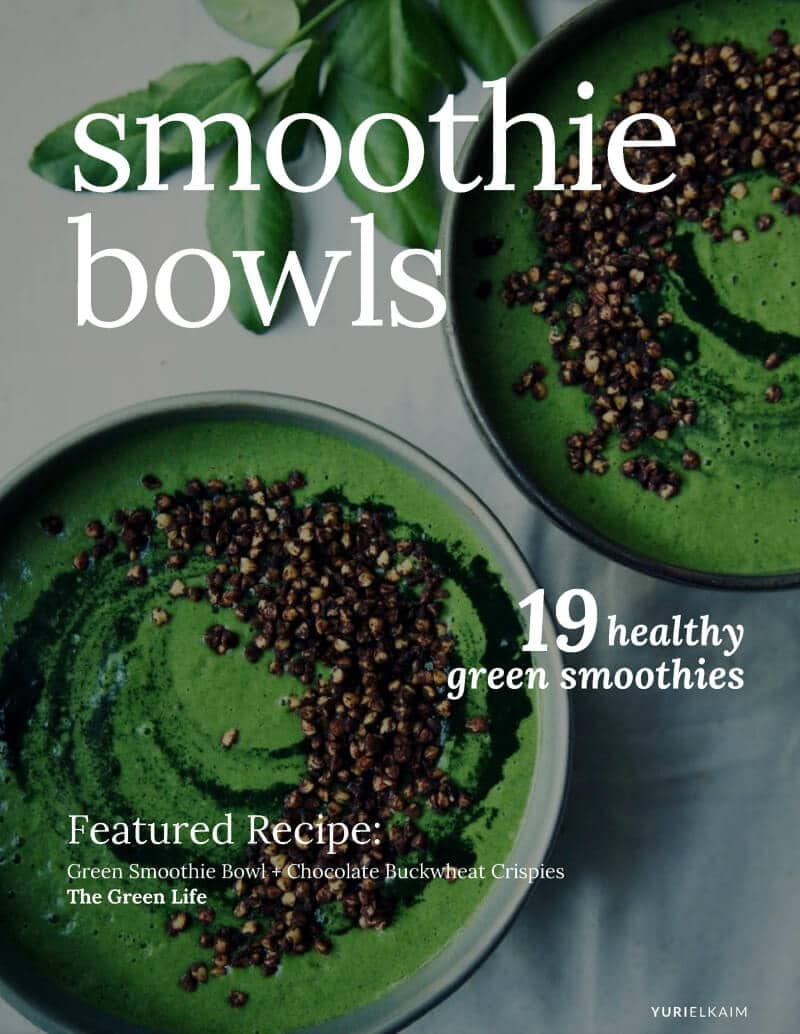 Do you ever have those days when you feel more like eating a meal or snack, instead of just drinking your green smoothie?
Problem solved! Stand by for some amazing smoothie bowl recipes, which combine the best of both worlds.
Why smoothie bowls?
We all know that green smoothies are awesome. They're a convenient (and delicious) way to get in your daily dose of greens, fiber, and nutrients.
But sometimes you want just a little more. That's where smoothie bowls come in. They're just as nutritious as the blended shakes – but with tasty toppings that can turn a same-old smoothie into a flavorful treat.
I've rounded up 19 of the healthiest green smoothie bowls out there. They are rich in fiber and protein, low in sugar, and delicious.
19 of the Best Green Smoothie Bowl Recipes
1. Summer Green Smoothie Bowl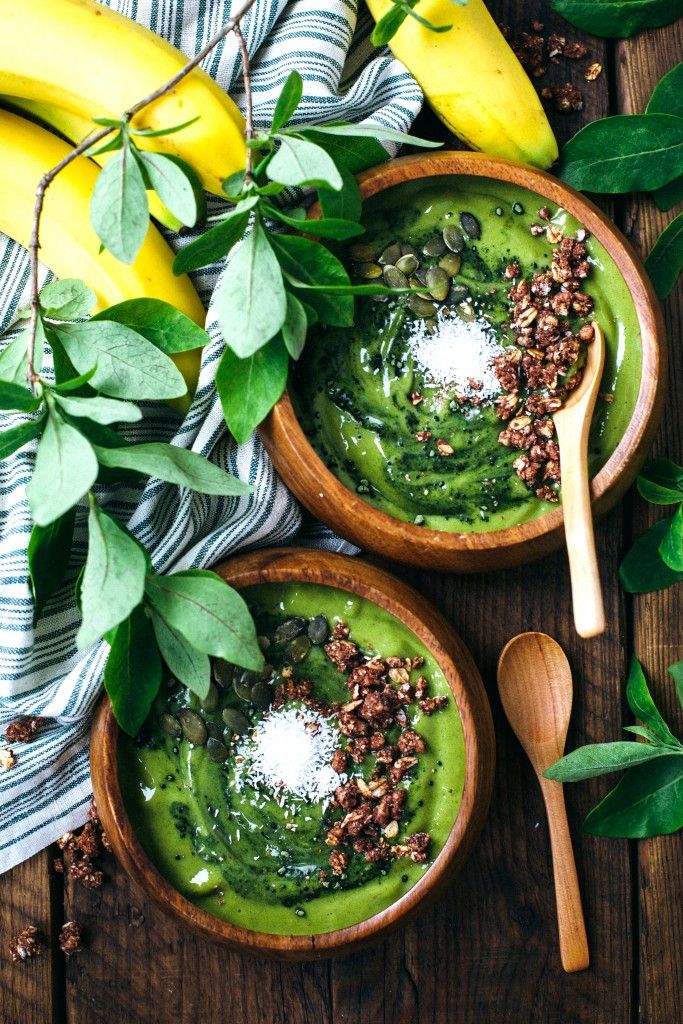 Creamy, light, and summery, this is a green smoothie bowl that should make it to your table as soon as possible.
Featuring healthy, fiber-filled ingredients like cucumber, kale, mango, and hulled hemp seeds, this recipe has another trick up its sleeve: moringa powder.
Derived from a small tree from India, Pakistan, and Nepal, moringa is well known for its anti-inflammatory and health-promoting properties, making it an awesome addition to any smoothie bowl.
Find the recipe here: The Glow Within
2. The Best Green Smoothie Bowl
Delicious and full of health-promoting ingredients, this recipe deserves its title as one of the top green smoothie bowls.
With just a few simple ingredients, it's easy to prepare and you can customize it to suit your tastes. It's also full of nutrients, including heart-healthy fats from the avocado plus tons of fiber from the spinach and chia seeds.
Find the recipe here: The Balanced Berry
3. Rainbow Green Smoothie Bowls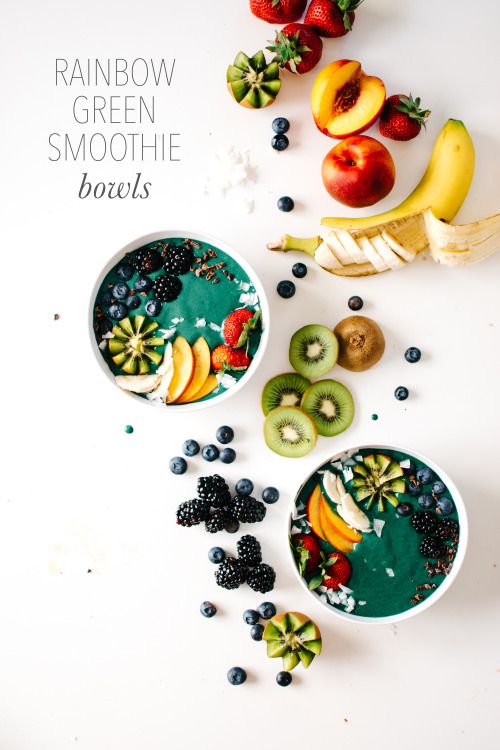 This smoothie bowl makes the perfect addition to your menu: it's delicious, nutritious, and it also happens to be beautiful to look at.
Spirulina gives this its signature blue hue, plus boosts its nutrient content with antioxidants, protein, and B-vitamins. Plus, with other superfood ingredients like hemp seeds and raw cacao nibs, this smoothie bowl knocks it out of the park when it comes to nutrition.
Find the recipe here: Kale and Caramel
4. Clean Green Smoothie Bowl
You only need four basic ingredients to whip up the base of this tasty smoothie bowl, making it a staple for every smoothie aficionado.
Top this with some kiwi fruit, coconut flakes, and sunflower seeds to bump up the fiber content and balance the creamy texture of the smoothie bowl with a bit of crunch.
Find the recipe here: Down Shiftology
5. Beet + Berry Smoothie Bowls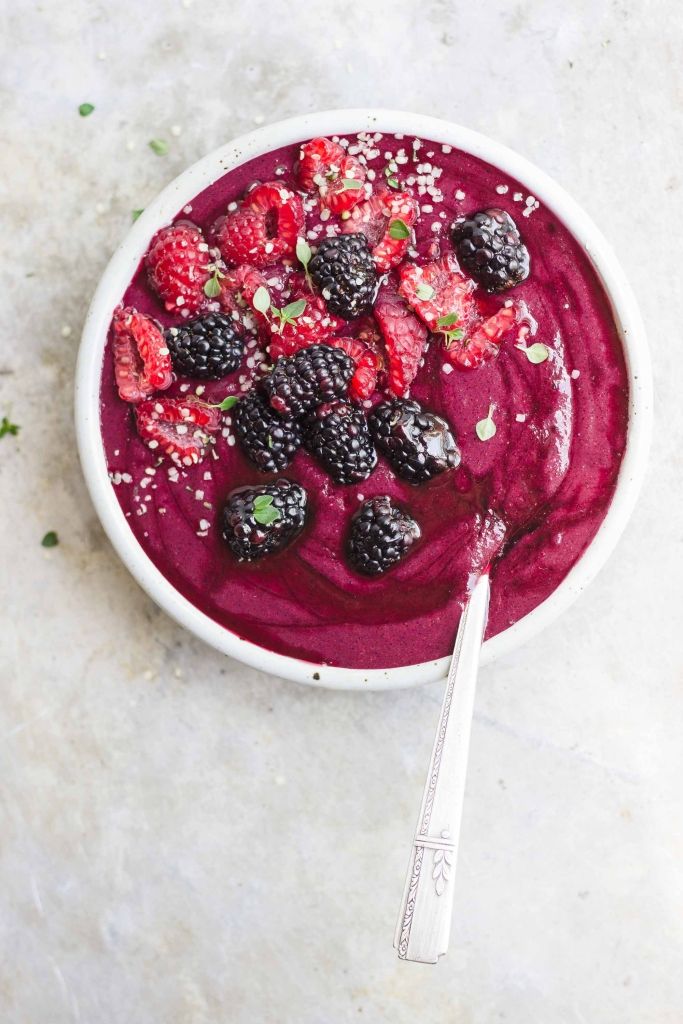 Simple yet delicious, it's not hard to guess where this smoothie bowl gets its vibrant red color from.
Adding a half-cup of beets not only adds a pop of color to this beautiful smoothie bowl, but it also delivers a hefty dose of betanin. This phytonutrient is responsible for the red pigment in beets, but it's also full of potent antioxidants and inflammation-busting properties.
Find the recipe here: With Food and Love
6. Green Smoothie Bowl
This gut-healing smoothie bowl manages to effortlessly strike the perfect balance between flavor and nutrition.
The recipe stealthily sneaks in a serving of kefir, providing a burst of probiotics to promote digestive health and keep you feeling great. Plus, it tastes great with flavorful ingredients like banana, mango, pineapples, and sliced kiwi.
Find the recipe here: Kitchen Confidante
7. Green Smoothie Bowl with Blueberries and Acai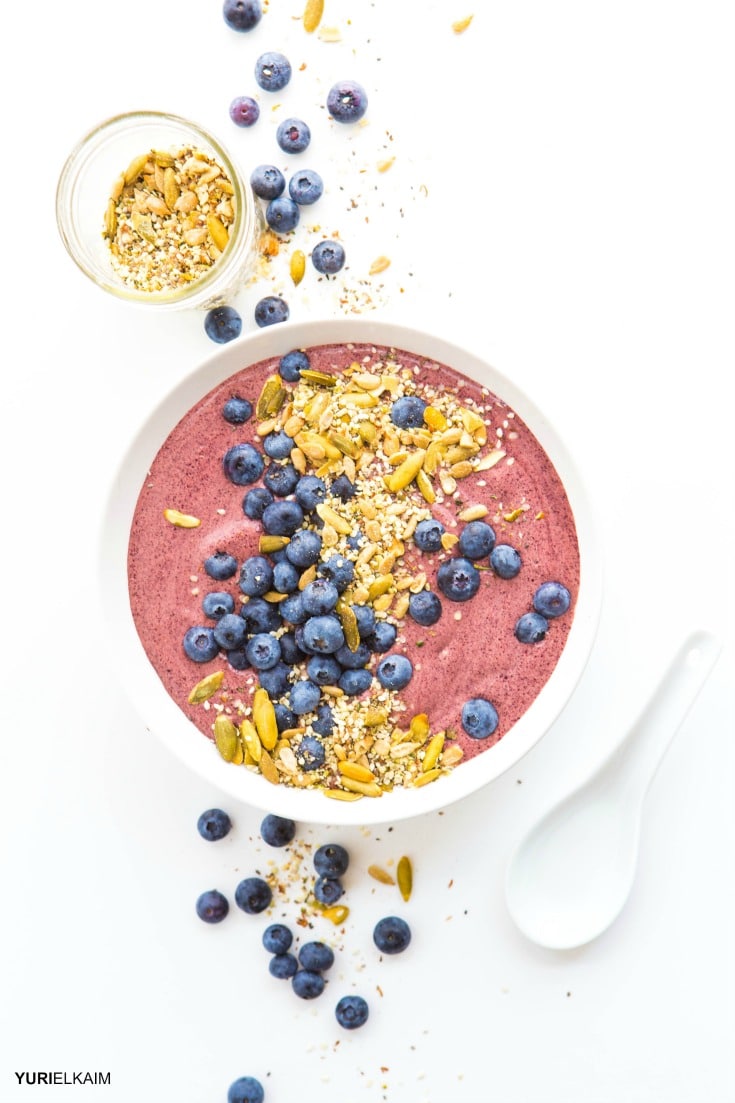 Refreshing, sweet, and super healthy, this acai smoothie bowl delivers a satisfying crunch.
Acai berry is the secret ingredient that brings this smoothie bowl to the next level. With double the antioxidant level of blueberries, a quick sprinkle of acai powder makes this recipe a must-have in your smoothie routine.
Find the recipe here: Yuri Elkaim
8. Stripped Green Smoothie Bowl
With two types of greens plus several other vegetable varieties, this is one of the most nutrient-dense smoothie bowls I've seen.
Brimming with vitamins and minerals, this recipe contains some serious nutrition all-stars, like kale, romaine, celery, and apples. It's also seasoned with anti-inflammatory turmeric, cayenne, and cinnamon, boosting its nutrient profile even more.
Find the recipe here: Nutrition Stripped
9. Chocolate Mint Green Smoothie Bowl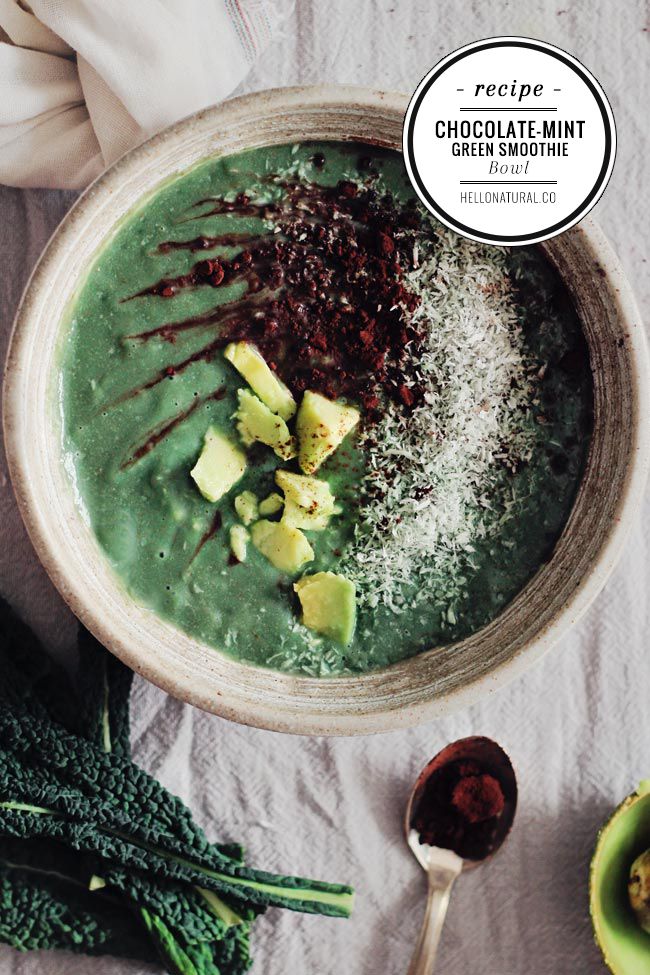 This green smoothie bowl brings you the flavors of chocolate and mint: a match made in heaven.
With tasty ingredients like shredded coconut, cacao powder, and peppermint extract, your tastebuds might think you're indulging in a decadent treat. Disguised under the deliciousness, however, you're getting a long list of vitamins, minerals, and health benefits of kale leaves and avocado.
Find the recipe here: Hello Glow
10. The Green Smoothie Bowl
Looking to kick mid-morning cravings to the curb? Blend up a batch of this green smoothie bowl for breakfast.
This recipe uses a scoop of protein powder plus chia seeds to keep you feeling full all morning long. Add in some a few fiber-rich ingredients, like kale and spinach, and you're sure to stay satisfied.
Find the recipe here: The Nutrition Addiction
11. Berry Superfood Smoothie Bowls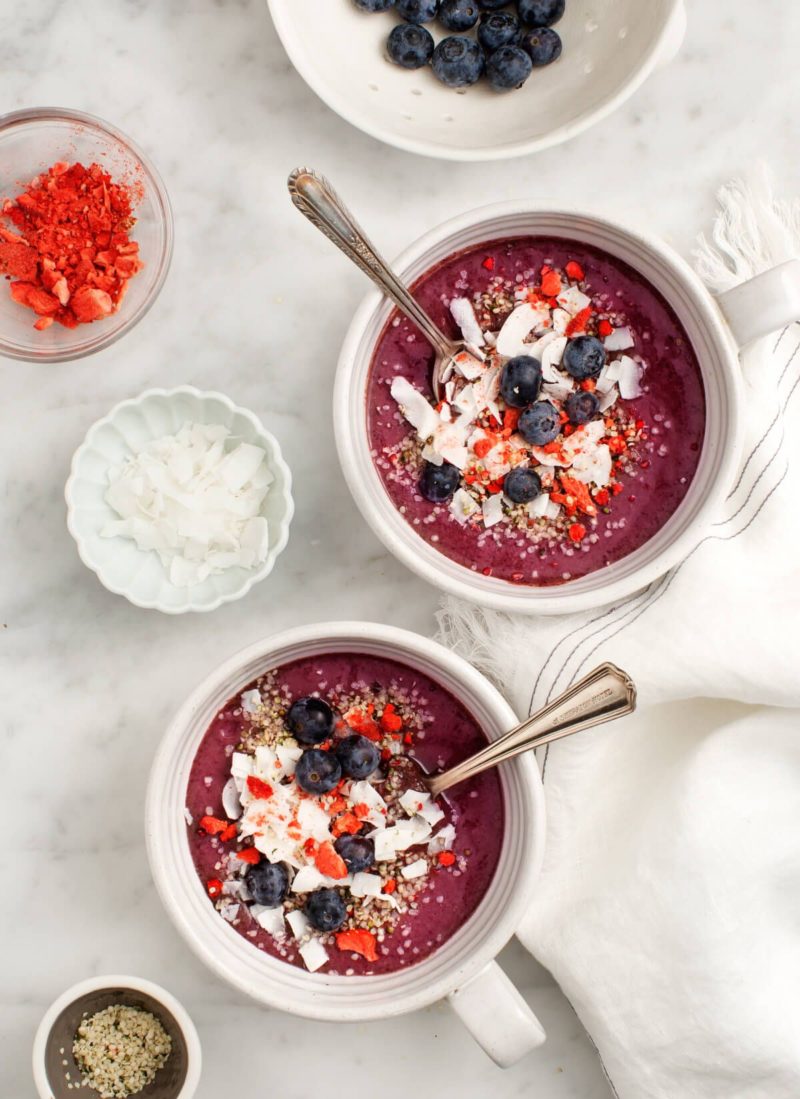 Bright and colorful, this smoothie bowl really does taste as good as it looks.
Add in a teaspoon of acai powder for a serious surge of antioxidants. Then top it off with some fiber-packed hemp seeds and coconut flakes to get even more health benefits with every spoonful.
Find the recipe here: Love and Lemons
12. Blue Morning Smoothie Bowl
If you're tired of only using bananas and avocados to thicken up your smoothie bowls, you'll  want to check out this recipe.
A frozen zucchini is used to give this smoothie bowl a velvety thick texture, plus make it lower in sugar and carbohydrates. This bowl gets a good chunk of protein from chia seeds and cashew butter, but feel free to add some protein powder to give it a nutritious upgrade.
Find the recipe here: Nutrition Stripped
13. Green Smoothie Bowl + Chocolate Buckwheat Crispies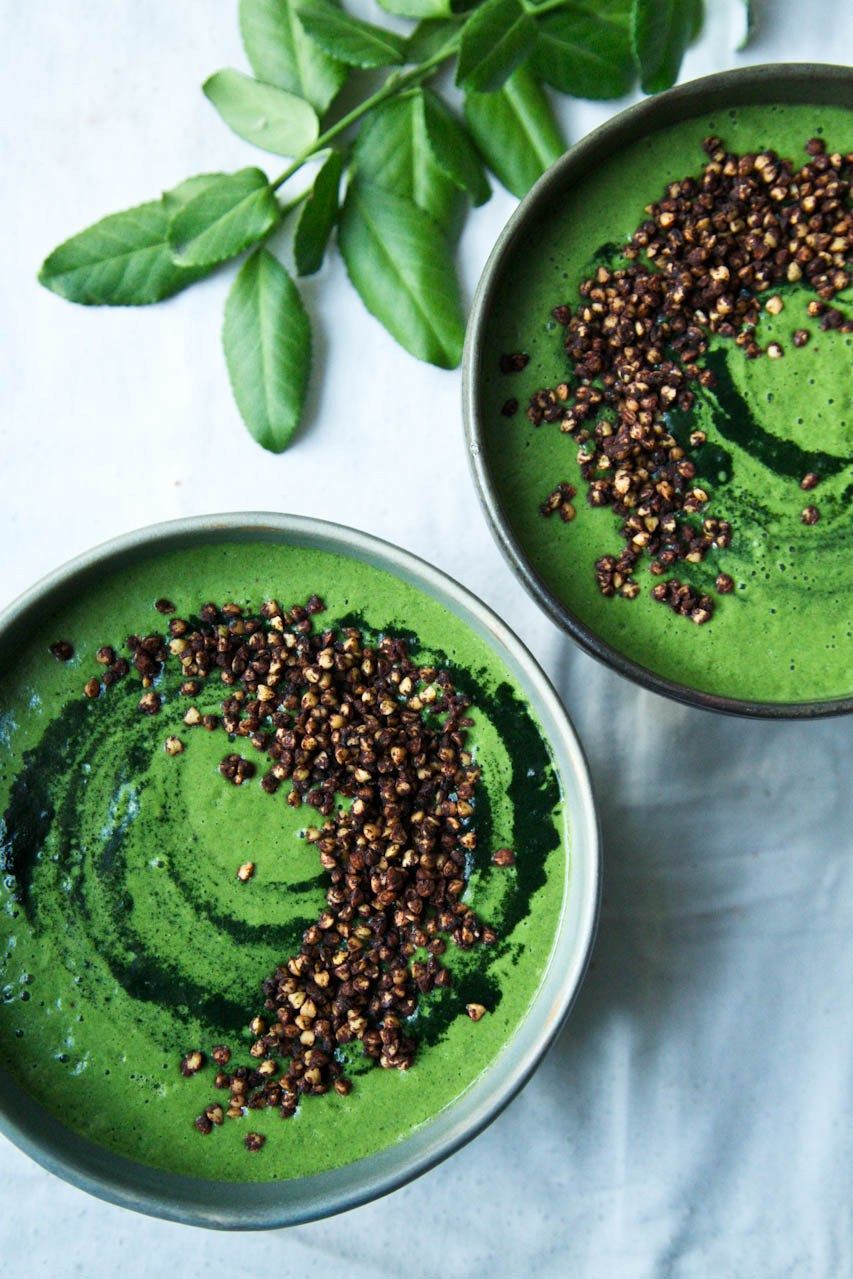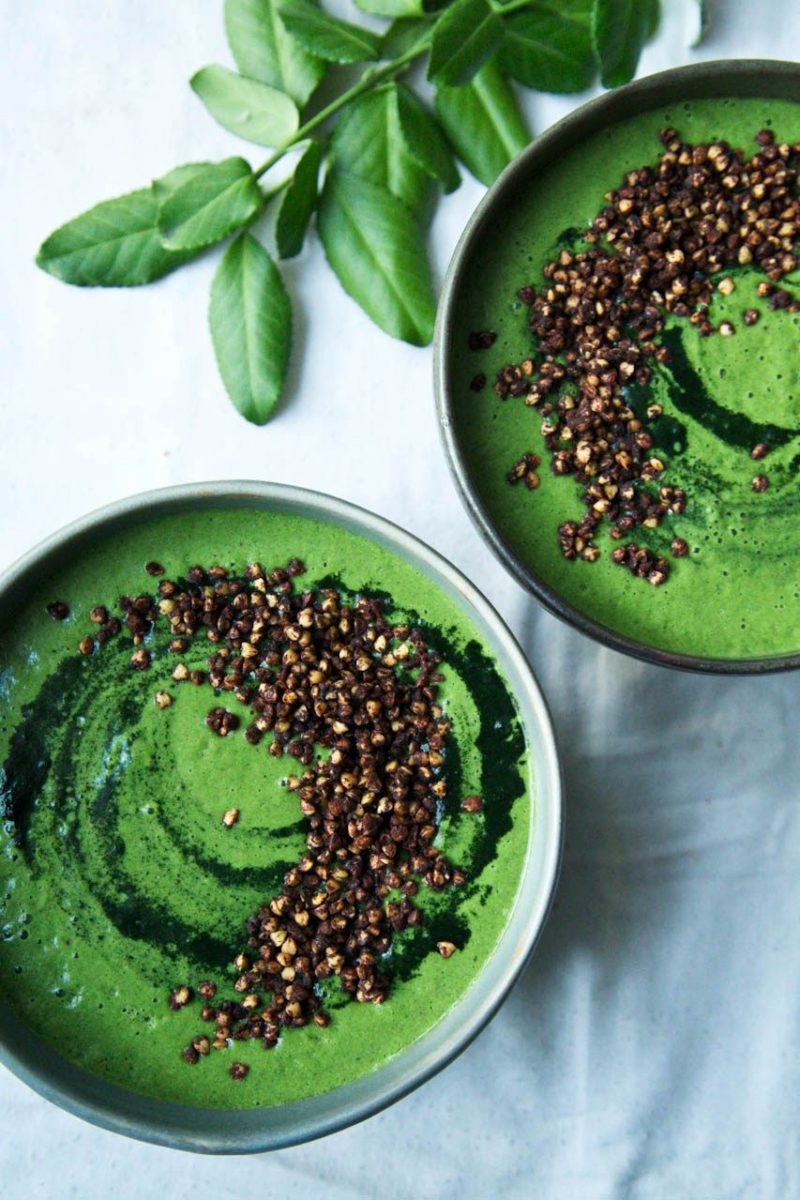 A creamy green smoothie bowl topped with scrumptious chocolatey buckwheat crispies? Yes, please.
This recipe gets its greens from a few different sources, including kale, cucumber, and spirulina. Paired with almonds, hulled hemp seeds, and buckwheat groats, this smoothie bowl is bursting with fiber, protein, and flavor.
Find the recipe here: The Green Life
14. Green Smoothie Bowl with 2-Ingredient Raw Granola
Filled with protein and health-promoting ingredients, this smoothie bowl can be enjoyed as an energizing breakfast or a satisfying snack.
With a good amount of both spirulina and chlorella, this smoothie bowl packs a big nutritious punch. Plus, frozen mango and banana add sweetness and flavor to each bite.
Find the recipe here: Running on Real Food
15. Carrot Cake Smoothie Bowl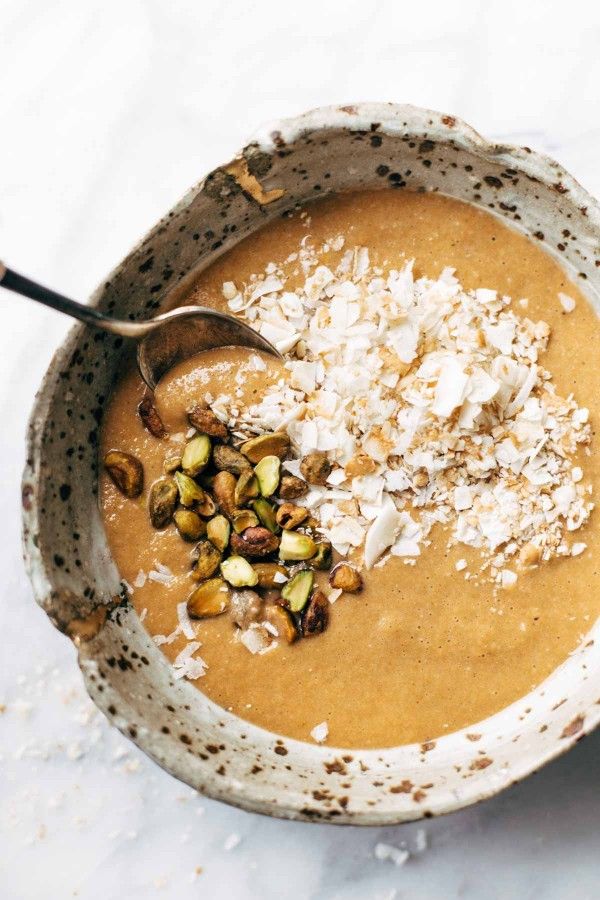 A green smoothie bowl that tastes just as good as a rich slice of carrot cake? Who knew it could be done?
With this recipe, your tastebuds will  be fooled. It features raw carrots, romaine, clementines, and pineapple, making it a healthy and fiber-filled treat you will love.
Find the recipe here: Pinch of Yum
16. The Ultimate Green Smoothie Bowl
With peanut butter, chia seeds, and creamy avocado, you'll want to make a second batch of this delectable smoothie bowl.
Cooked quinoa kicks this recipe up a notch, giving it a boost in protein and fiber content. Finish it off with some gluten-free granola and you're all set to dig in.
Find the recipe here: Simply Quinoa
17. Super Green Smoothie Bowl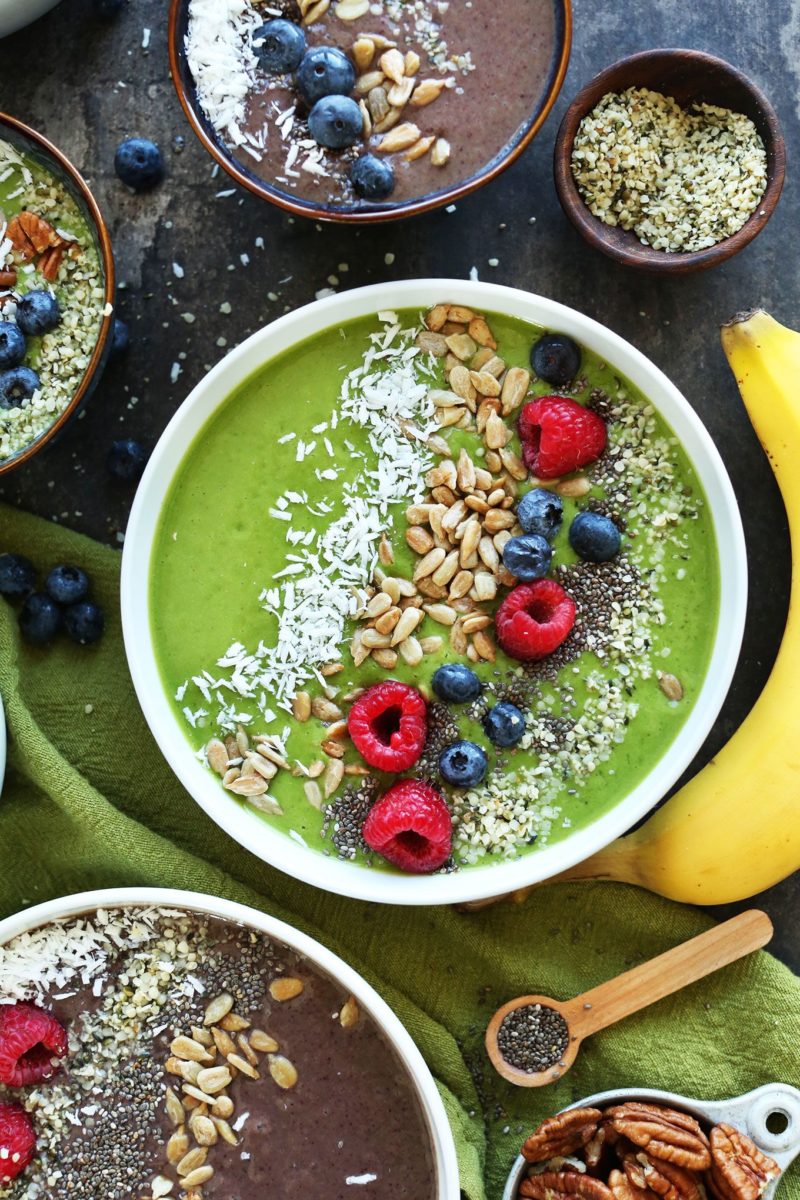 This super smoothie bowl has it all: healthy fats, fiber, protein, and tons of nutrients.
Avocado, spinach, kale, and mixed berries make the mouthwatering base of this bowl. Best of all, it's totally customizable with topping options like shredded coconut, fresh berries, and crunchy hemp seeds.
Find the recipe here: Minimalist Baker
18. Vegan Spinach Ginger Smoothie Bowl
Who would have guessed that a smoothie bowl could taste this great and be awesome for your health too?
Ginger brings its anti-inflammatory properties to this dish, plus gives it a distinct and flavorful twist. Banana, oats, and maple syrup mask the taste of the spinach, making it a tasty treat the whole family will love.
Find the recipe here: My Food Story
19. Berry Beet Energizing Smoothie Bowl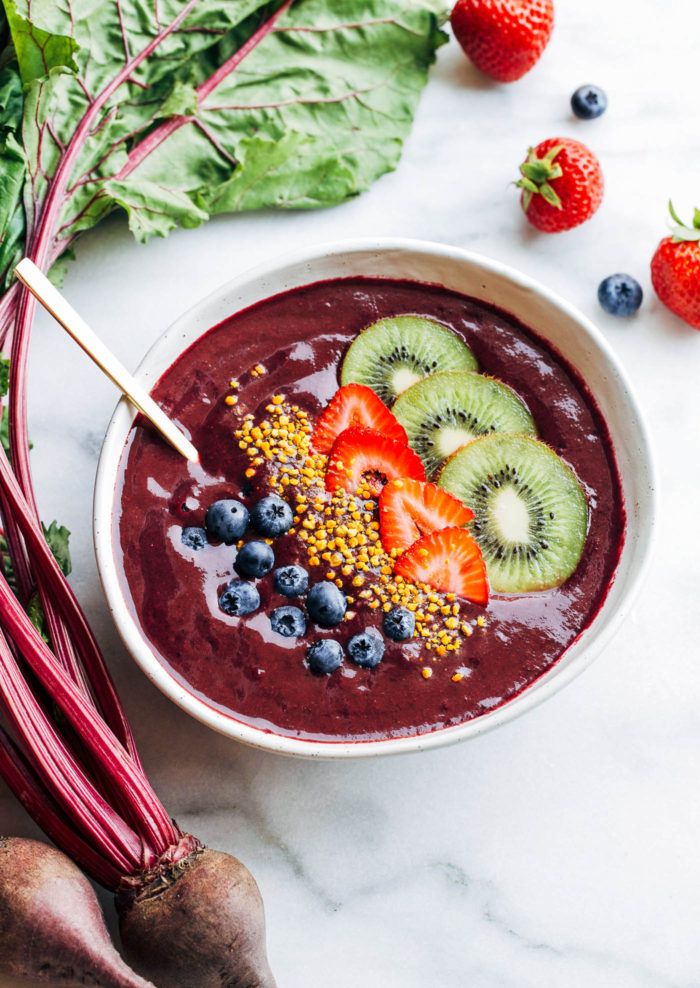 Serve up this bright smoothie bowl and the entire family will be begging for seconds in no time.
Beets bring the protective power of betanin while strawberries, blueberries, and spinach add some extra fiber. Sweeten it up with antioxidant-rich maple syrup and your tastebuds are in for a treat!
Find the recipe here: Making Thyme for Health
Dig in to a Smoothie Bowl
Regardless of taste or preference, there's a smoothie bowl out there for everyone.
Green smoothie bowls are the perfect way to start the day or stay full between meals. With a concentrated dose of fiber, protein, and nutrients, you can't go wrong by adding a healthy green smoothie bowl into your day.
The Recipe for Perfect Smoothies
Want to know how to make the perfect green smoothie – without having to follow a set recipe or make a special trip to the store to pick up specific ingredients?
Download the free 1-Page Perfect Green Smoothie printable. It contains the ultimate formula that lets you mix-and-match ingredients for nutritious and delicious smoothie recipes.
You can get it right now – for FREE! – by clicking the banner below.