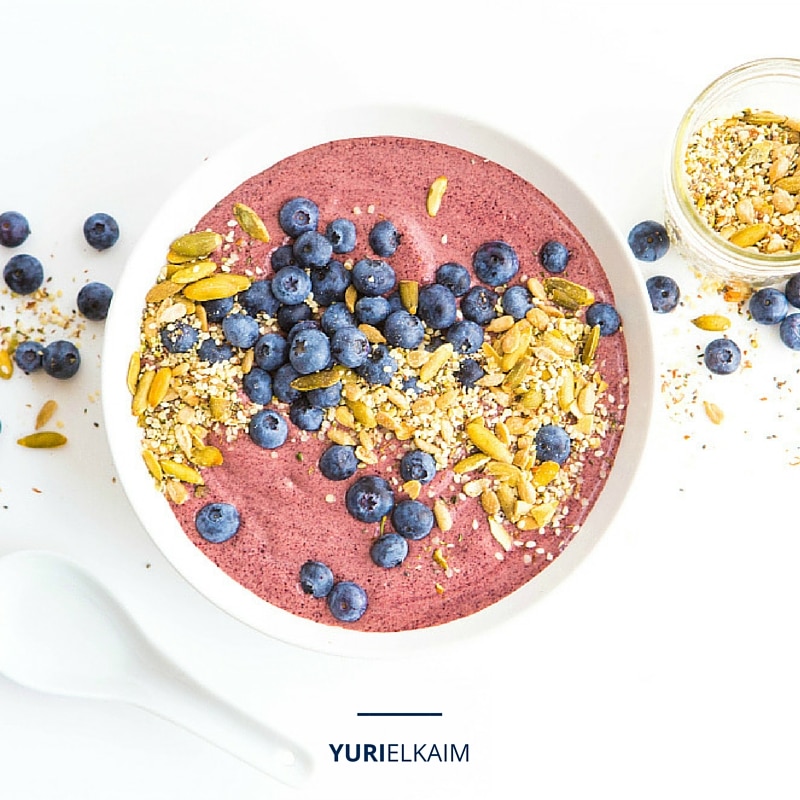 Who says you have to drink your healthy smoothies? Turn your morning sipper into a vibrant, violet-colored spooner with this delightful superfood smoothie bowl!
You may have seen the acai bowl becoming all the rage at your local coffee shops and health food joints. Chock full of nourishing acai, these smoothie bowls are an awesome swap for cereal.
[Get My Secrets for Making the Perfect Green Smoothie Every Time]
That said, why buy them when it's so easy (and more affordable) to blend them up at home?
They're ridiculously tasty and the health benefits are definitely worth the initial investment in a bag of acai powder (which can run between $17-40 per pouch).
What Makes This Acai Smoothie Bowl so Great?
If you're new to acai powder, it's time to give it a try! Tangy and delicious when paired with other fruits and veggies, it's so easy to add to your daily diet. This simple smoothie bowl recipe is proof of that.
The acai berry has a high capacity for neutralizing free radicals, and contains more than double the antioxidant level of blueberries. Add a little of the powder to your smoothies every day for a faster recovery time after workouts.
The super seed mix adds a delicious crunch to the top of your smoothie bowl, and has powerful anti-inflammatory properties that help ward off a host of chronic diseases.
This mix also has a high fatty acid profile that helps to stabilize insulin levels and promotes healthy cell growth.
On top of that, this smoothie bowl is also high in fiber, which is important for a healthy digestive system and to keep you feeling full after eating.
Switch Up Your Green Smoothie Routine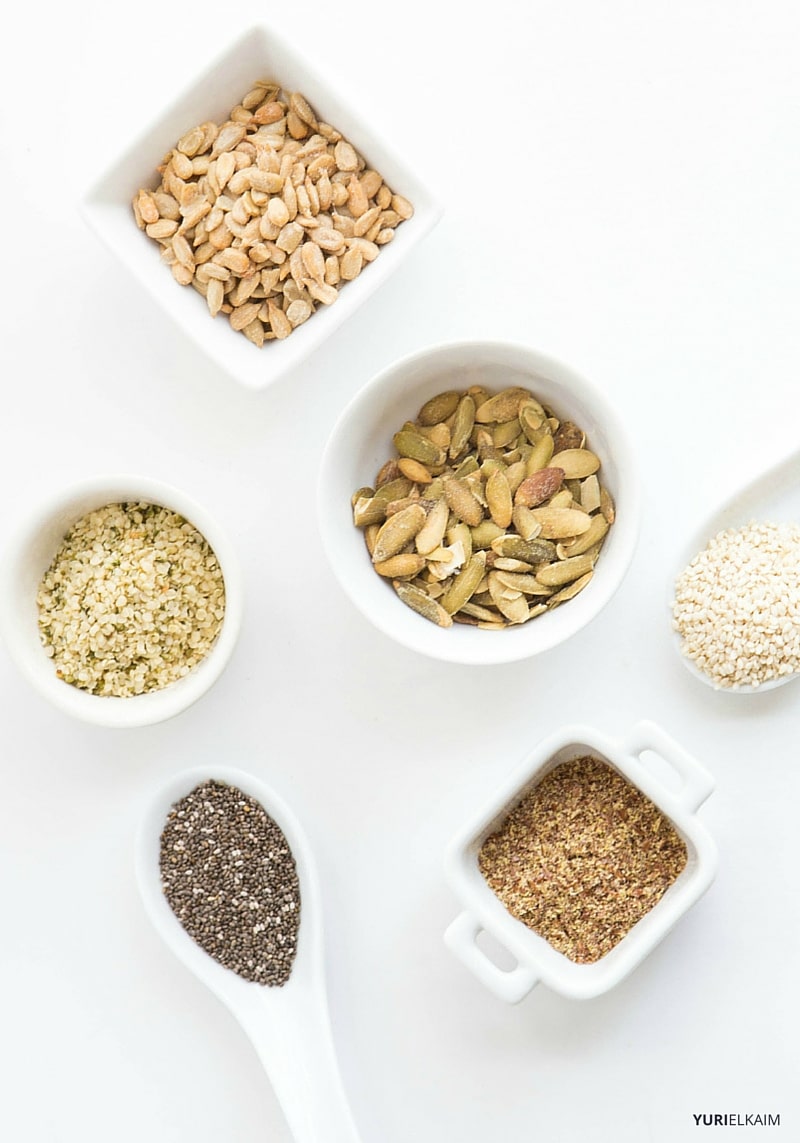 Smoothies can get a bit boring every now and then, so a smoothie bowl is definitely a fun way to go if you want to chew instead of slurp. Plus, you can top it with fruits and seeds which can really liven it up.
Rather than granola (which is traditionally high in sugar), top your smoothie bowl with a sprinkling of super seeds.
Packed with antioxidants, polyphenols, vitamins and minerals, chia seeds, pumpkin seeds, flaxseeds and sunflower seeds have a natural concentration of important nutrients and provide a broad spectrum of nutrition not found in many other foods.
Plus, they just add a satisfying crunch and great flavor.
I've included my recipe for my own "Super Seed Sprinkle" below. This stuff is awesome. It's like a healthy, quick and simple homemade granola, chock full of so many seeds you need in your life.
Mix up a big batch and sprinkle this stuff on everything from smoothies to salads. You can even add it to cookies or mix it into shakes.
This super seed sprinkle is a simple way to supercharge just about any meal with plant-based protein and serious nutrients.
I hope this smoothie bowl recipe excites you. Blend one up tomorrow and kick your day off right!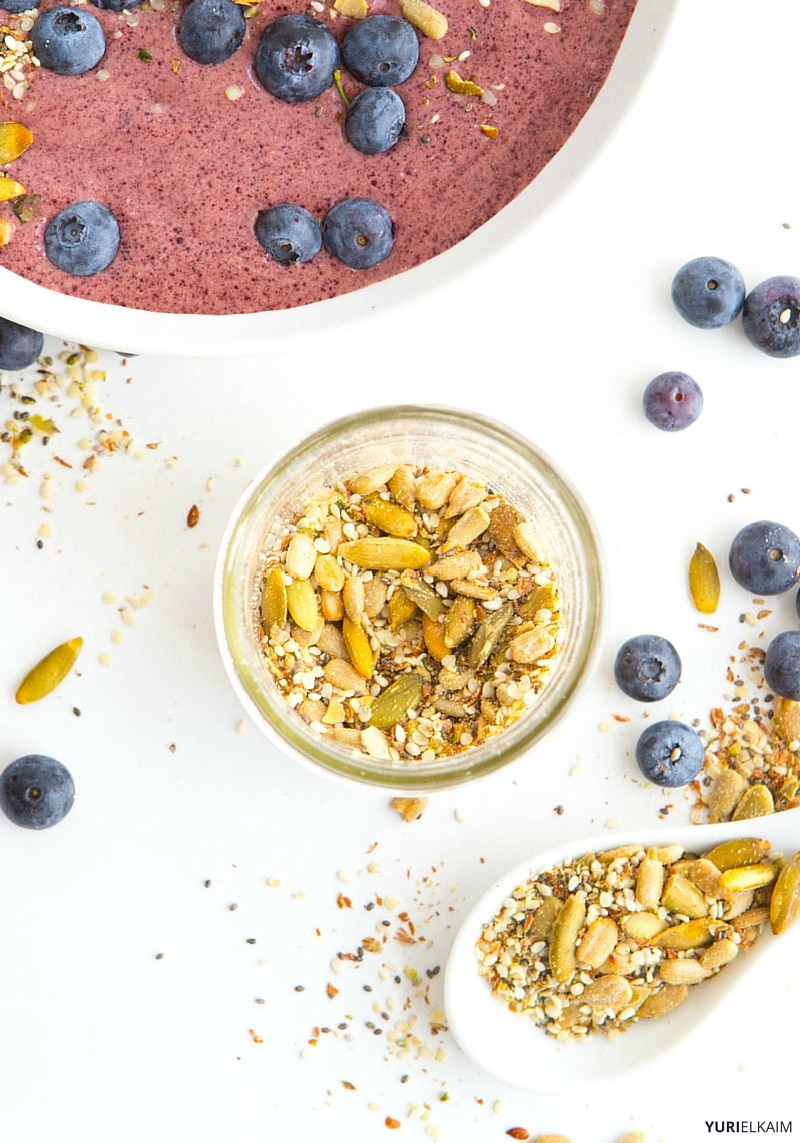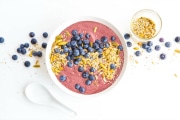 For the Super Seed Sprinkle
| | |
| --- | --- |
| For the Super Seed Sprinkle | |
In a blender, blend frozen banana, blueberries, strawberries, kale, almond milk, acai powder, vanilla and cinnamon.

Top with fresh blueberries and and super seed sprinkle.