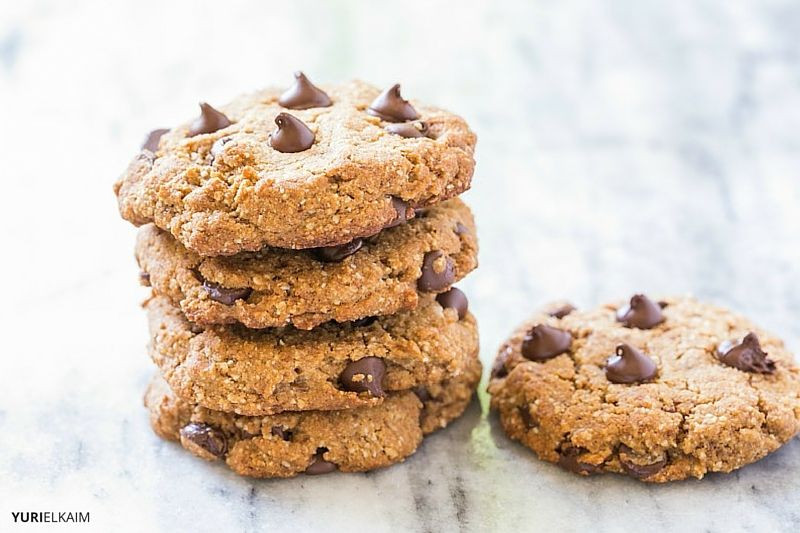 There's nothing better than biting into a warm, gooey chocolate chip cookie, fresh out of the oven, full of sweet, chocolaty goodness.
Does that sounds too good to be true for health-conscious eaters like me and you?
Nah – it's 100 possible. You just need the right sort of recipe.
Gluten-free? Done. No added sugar? Done. Perhaps even a smidge of healthy protein. These are the sorts of cookies that clean eaters and paleoites can get behind.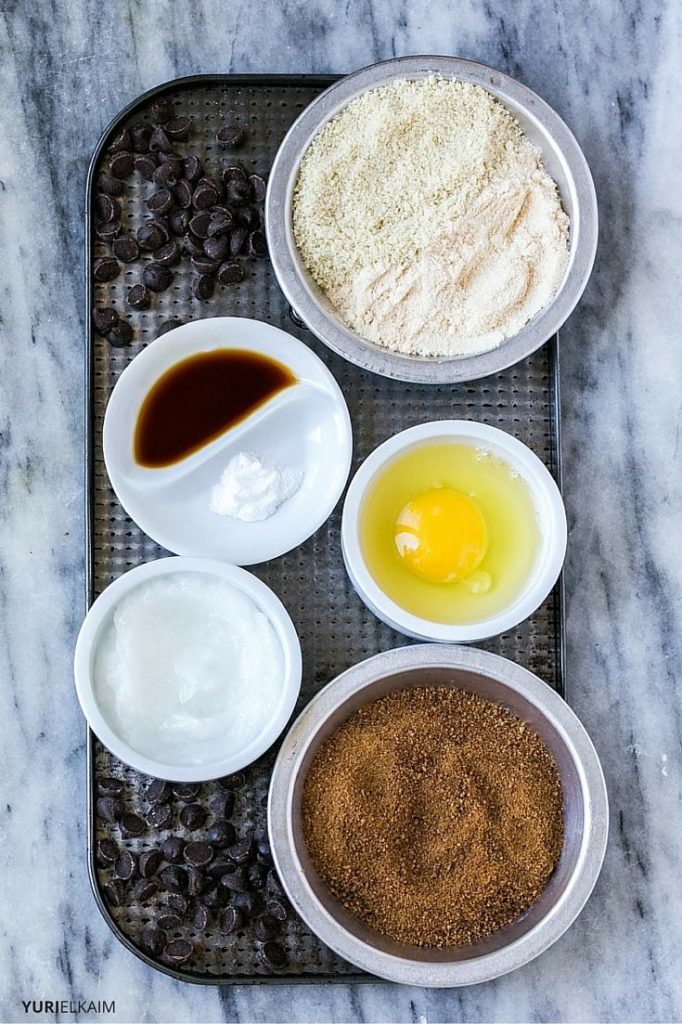 But seriously: a chocolate chip cookie without flour and sugar?
Yes, seriously: When you understand the science of gluten-free and no-sugar baking, it's surprisingly easy to make killer delicious goodies without all of the junky stuff.
Case in point…
… and this paleo chocolate chip cookie recipe I'm about to blow your mind with.
This healthy eating recipe works because coconut and almond flour replace the usual refined white flour, coconut oil substitutes for butter, and coconut sugar steps in for white sugar.
You'll be doing a happy dance once you taste this recipe. It's like Grandma's. Or Mom's. Or whoever in your home is the baker.
Only better. Because these cookies are good for you.
Paleo Chocolate Chip Cookies
Here's why: coconut flour is a wheat alternative that's actually not flour at all. It's made from the fleshy meat found inside the coconut, which is baked at a low temperature before being ground into a flour-like substance.
This "flour" is high in fiber, ringing in at 20 grams in one-half cup. Refined white flour contains only 1.3 grams of fiber per half cup, so that's a big difference.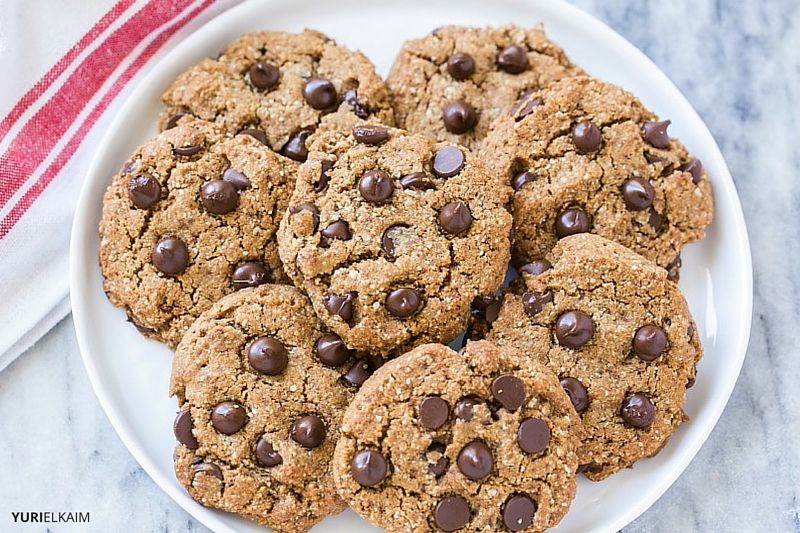 The average Western diet contains only around 10-14 grams of fiber per day, while the recommended amount is between 25 and 38 grams. Fiber is important for maintaining healthy digestion and keeping you regular.
Coconut flour is also high in protein and healthy fats, and it's naturally gluten-free, making coconut flour a good choice for paleo followers who want a flour-like ingredient without the digestive issues and bloating from grains.
I've counterbalanced the flavor and texture of these cookies by adding almond flour. It's packed with protein (one cup has 24 grams), fiber, and healthy fats. Almond flour is also an excellent source of antioxidants, including vitamin E.
A 2006 study found that oxidative damage markers were decreased in subjects who consumed almonds at mealtime (1). Reducing oxidative damage while eating chocolate chip cookies sounds good to me.
Almonds also help to stabilize blood sugar, so these cookies won't have you on a sugar roller coaster.
Healthy Fats for Healthy Cookies
Added bonus: I've taken the butter out of the classic cookie recipe and added coconut oil instead.
Coconut oil is a unique saturated fat that has a medium-chain triglyceride formation. A 2009 study compared coconut oil to soybean oil and found that coconut oil was shown to reduce both total and LDL "bad" cholesterol levels while increasing "good" HDL levels, thus decreasing the risk of heart disease (2).
Coconut oil also contains lauric acid, which can help balance your intestinal flora and help prevent infections both topically and internally. On top of that, coconut oil can help balance your blood chemistry, boost your immune function, improve your energy levels, and protect you from a wide assortment of degenerative conditions.
Boom. Good stuff.
Tuck away that old family favorite recipe and give this recipe a try. It may be the best "healthy" treat you eat all week.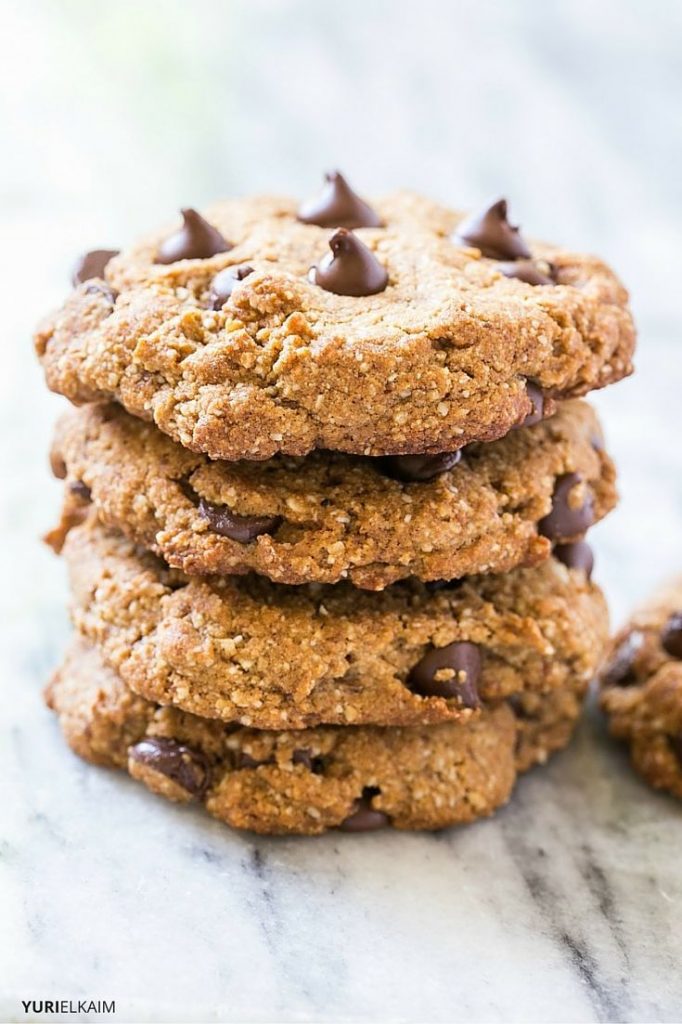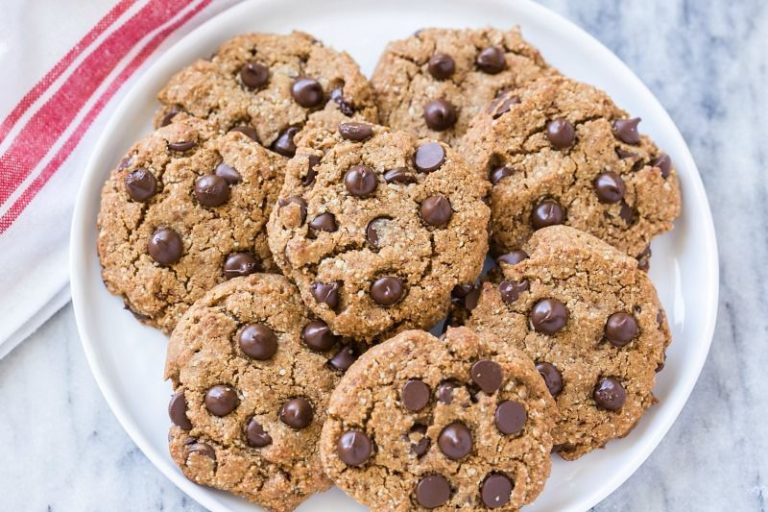 | | |
| --- | --- |
| | |
Preheat oven to 350 degrees F.

In a large bowl, mix together the egg, vanilla extract, coconut sugar, and coconut oil; stir until combined.

Add the almond flour, coconut flour and baking soda to the egg mixture and stir until thoroughly combined. Fold in the chocolate chips.

Drop tablespoons of the cookie dough onto a baking sheet that has been lined with parchment paper. Gently flatten the dough with your hand.

Bake for 11-12 minutes or until edges are slightly golden brown.

Cool on the pan for 5 minutes then transfer the cookies to a cooling rack.
Decadent Treats that Aren't
Think the words "dessert" and "healthy" don't belong in the same sentence? Surprise! They do – especially when you're talking about the 8 energy-boosting desserts included in my FREE Healthy Desserts eBook.
Gluten-free, dairy-free, low in sugar – and so tasty you won't even miss the junk. You can download it right now by clicking the banner below.