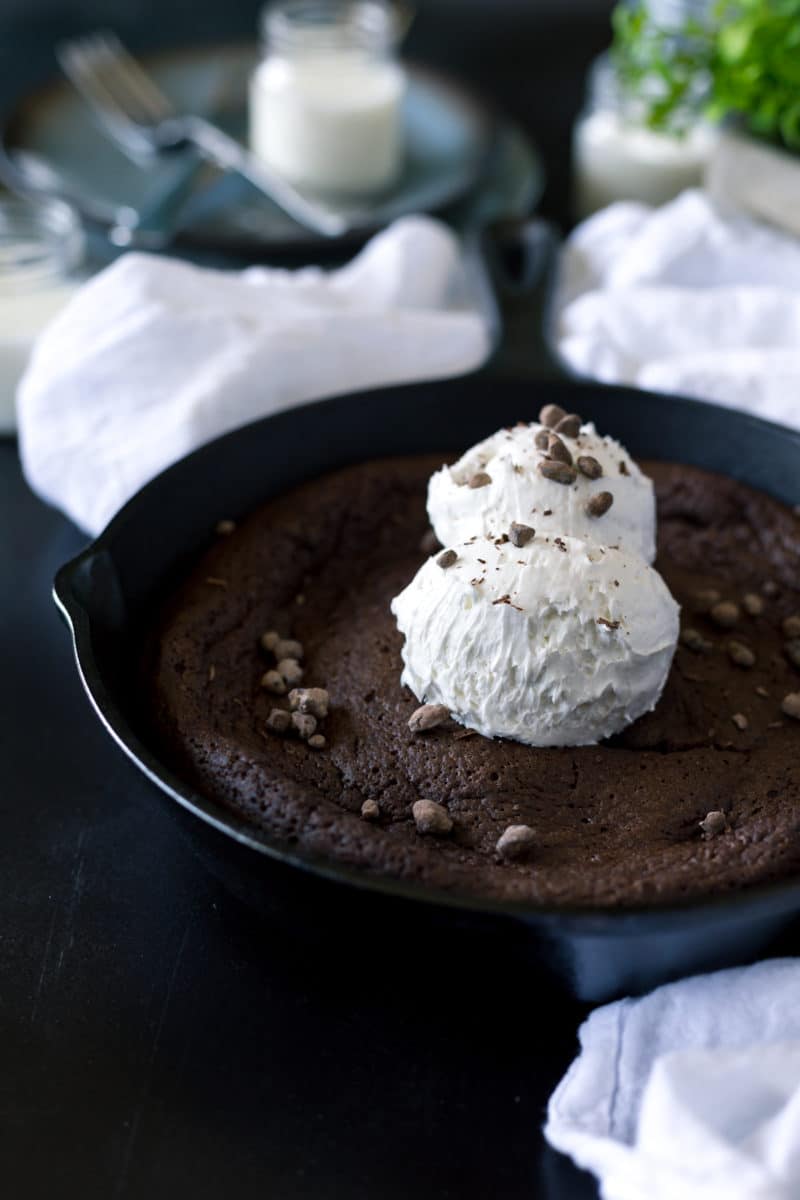 Like most people, I crave the occasional treat. Sometimes it's because I was super successful at something and I want a reward, and sometimes it's because … well, who doesn't want the occasional treat?
Especially if it's a fudgy, rich, and decadent treat. You know, like brownies.
And since it's clear – between the popularity of our protein brownies and black bean brownies – that you all love brownies too, I thought I would bring you another awesome brownie recipe to add to your arsenal: skillet keto brownies!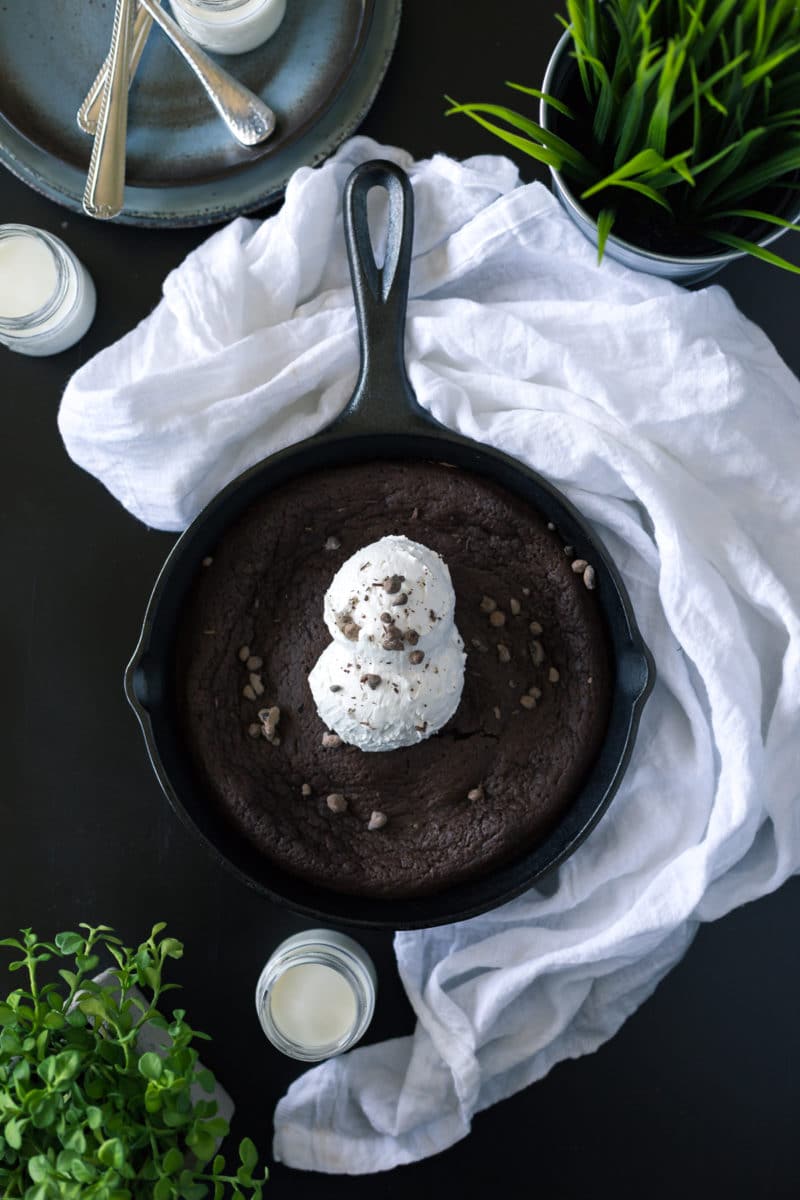 Hello, sweetness!
Keto Brownies
In all honesty, making a keto brownie that was worth eating was hard work. More often than not, they came out too much like a cake, which is totally not like a brownie.
Working with some simple brownie rules, like using liquid oils and kicking leavening agents to the curb, I had to find the right balance of gluten-free flours and sugar substitutes in order to make a brownie that was both tasty and fudgy.
The sweetener used in this recipe, erythritol, naturally occurs in some fruits, as well as fermented foods, and it can be found most often in the natural foods section of health food stores and even regular, well-stocked grocery stores.
It's important to look for packages that are labeled as USDA Organic, or Non-GMO Project-certified, to be sure you are getting erythritol that isn't derived from genetically modified cornstarch. Erythritol is not as sweet as cane sugar, at about 80 percent sweetness, but when used with chocolate, it doesn't leave a bitter aftertaste in the way stevia does.
When it came to choice of fats in these brownies, even though butter is very keto-friendly I wanted to try coconut oil instead, to steer away from dairy.
I went with unsweetened chocolate for the same reason: to eliminate dairy.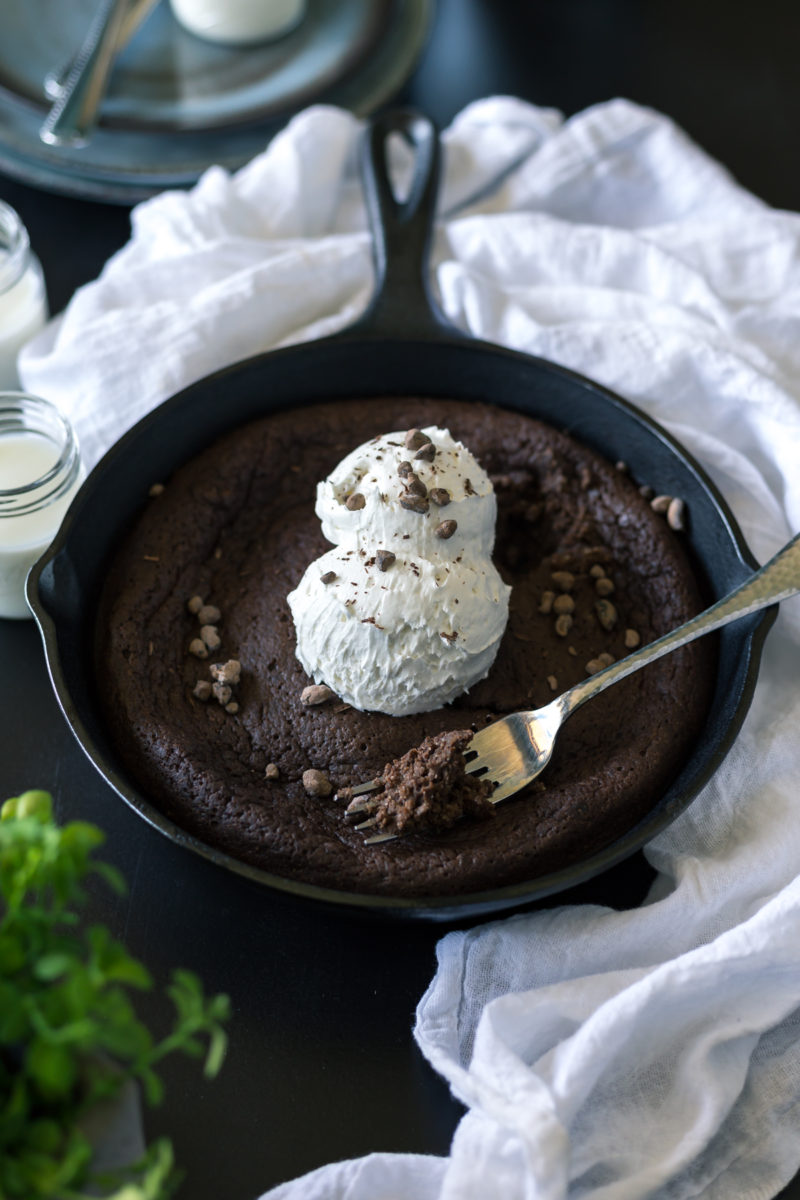 The interesting part about baking this skillet brownie is that a toothpick test won't work for doneness. You really just need to jiggle the pan a bit and see if the brownie wiggles or not. You're ready when it stops moving, because that means the center is set.
The batter is similar to a standard chocolate sheet cake, which is quite thin and almost runny, but it produces a brownie so fudgy, you'll be happy to make it again and again.
The lesson here is that keto treats that you can enjoy eating and feel good about are possible, with a little experimenting.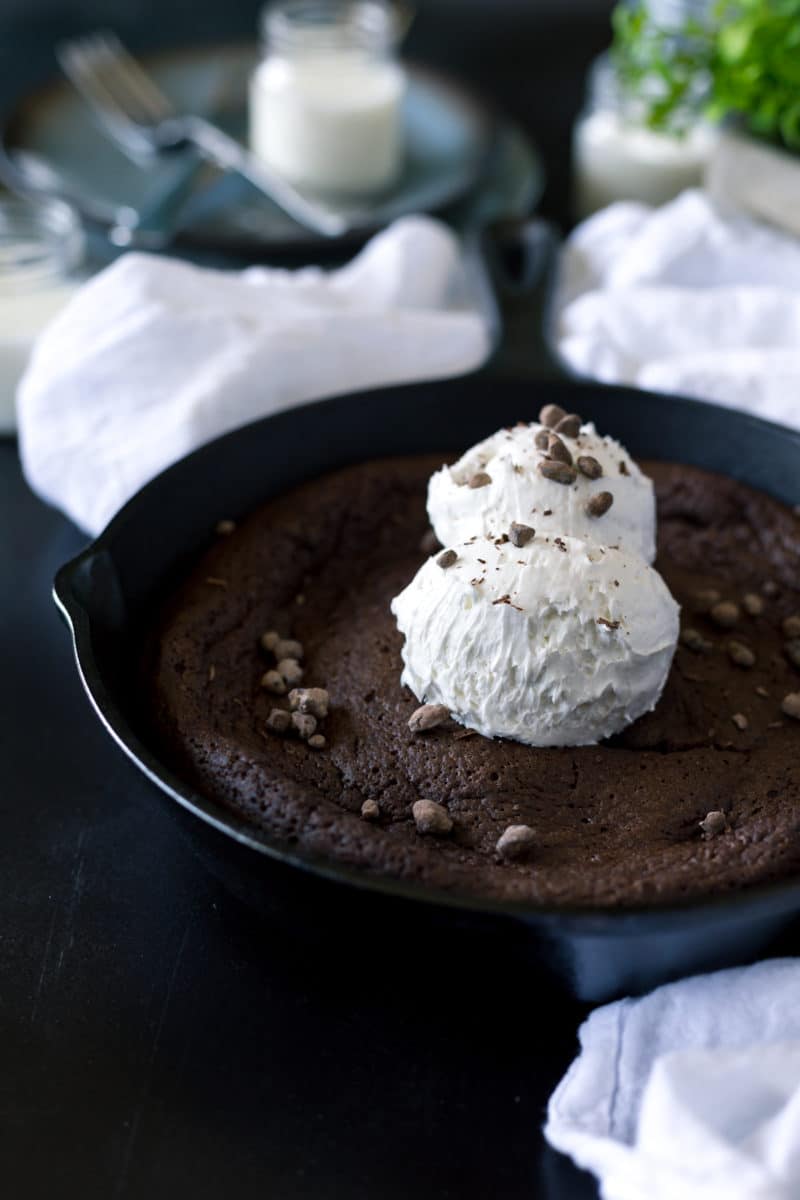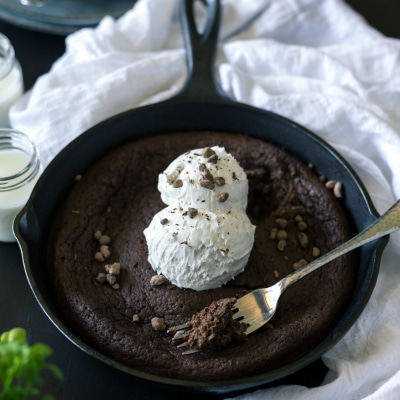 | | |
| --- | --- |
| | |
Preheat oven to 325 degrees.

In a small bowl, whisk together the almond flour, cocoa powder, and sea salt. Set aside.

In an 8-inch cast iron skillet over medium-low heat, melt the coconut oil. Remove from heat and stir in the baker's chocolate until melted.

Add the erythritol and stir until combined. When the skillet is cool enough to touch, add the eggs, one at a time, until thoroughly combined. Stir in the vanilla extract.

Add the flour mixture and stir until completely mixed. Batter will be runny.

Place skillet in the center rack of the oven and bake for 50-60 minutes, or until the brownie doesn't wiggle when the skillet is nudged. Allow to cool slightly before serving.
Want More Sweet Treats?
Get my FREE Healthy Desserts eBook!
Enjoy 8 gluten- and dairy-free desserts that are so tasty you'll swear they are bad for you.
Just click the image below for your copy!