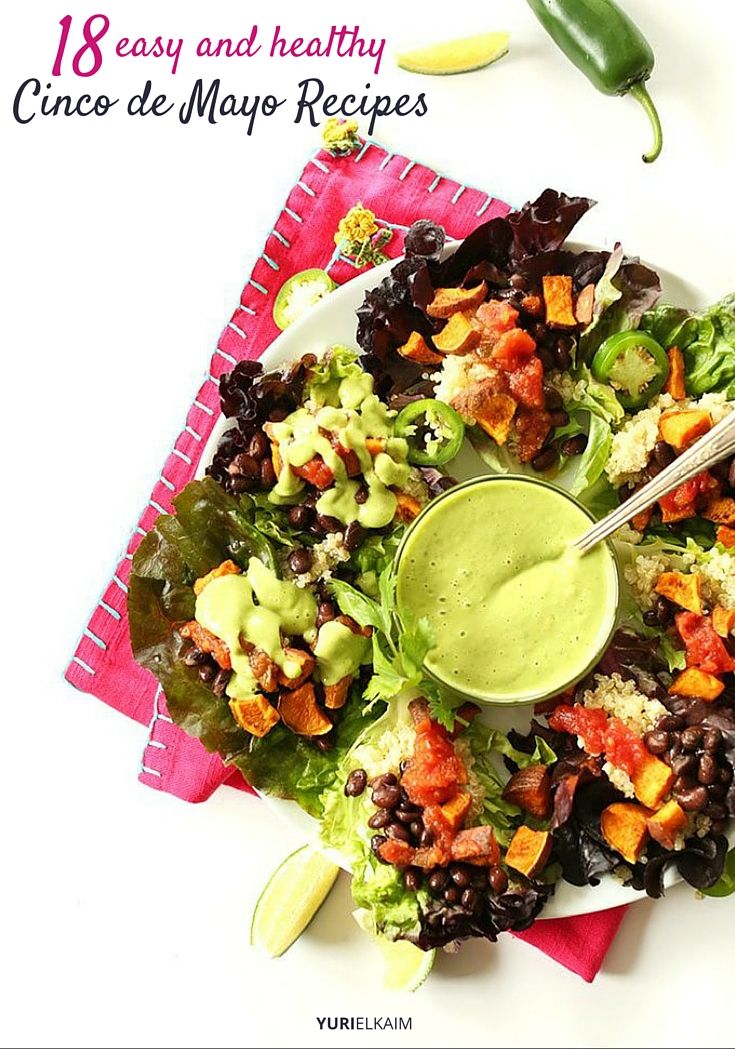 Cinco de Mayo is a time to celebrate Mexican culture, slather salsa on your food, and get your fiesta on.
But the question is: Can your healthy lifestyle handle all that Mexican food doused in cheese and wrapped in flour tortillas?  Probably not.
That's where the importance of healthy eating recipes comes in. Dairy and gluten can wreak havoc on your system, especially if you've sworn them off for any period of time… and you definitely don't want to experience stomach distress mid-celebration!
Healthy Recipes for Healthy Bodies
Three-quarters of the world's population is lactose intolerant, and dairy consumption is linked with certain cancers, so why risk it?
And refined grain tortillas have very little nutritional value, absorbing quickly into the digestive system and causing a rapid spike in blood sugar.
Most traditional tortillas also contain gluten, which can allow allergens and toxins to leak into the bloodstream through tiny holes in the intestinal walls.
Eating shouldn't make you sick, so choosing the right foods can steer you towards your best self.
Let's celebrate Cinco de Mayo the healthy way – without all the dairy, gluten, corn, and soy that wreaks havoc on our systems.
We've found 18 incredibly tasty recipes that are perfect for serving on Cinco de Mayo that use only healthy fats and are free from dairy, gluten, and other irritants.
Your body and tastebuds will love these.
Easy Cinco De Mayo Recipes
1. Foolproof Pork Carnitas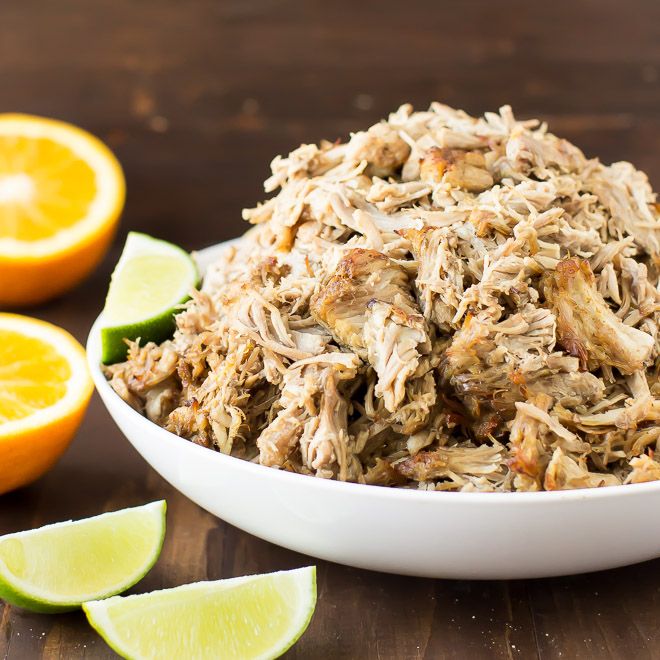 Pork carnitas and Cinco de Mayo go hand-in-hand.
Having a big pot at the ready for your celebration will please all your meat-eating friends.
This foolproof pork carnitas recipe is melt-in-your-mouth good, and can be tossed in with just about any Mexican recipe out there.
Find the recipe here: Culinary Hill
2. Lentil-Walnut Tacos
Lentil-walnut taco "meat" is the perfect solution for anyone wanting a high-protein, taco-meat texture without the actual meat.
This recipe works for vegans, vegetarians, and those looking for Meatless Monday meals.  Share these veggie-loaded lettuce wraps for Cinco de Mayo, and you'll feel the love for these tasty tacos.
Find the recipe here: Oh She Glows
3. Avocado Jalapeno Soup
This chilled avocado soup is pumped up with garlic and jalapeno for a major taste explosion. Toss in a handful of cilantro, lime juice, and fresh tomato for a perfectly balanced soup.
Find the recipe here: Treehugger
4. Salsa Verde Chicken
We heart slow cookers, and so should you. It's so easy to fire up your slow cooker in the morning and come home to a hot, cooked meal.
This salsa verde chicken is utterly tender and delicious, and can be used as protein in a quinoa bowl or on a taco salad.
Find the recipe here: Balanced Bites
5. Sweet Potato Black Bean Vegan Chili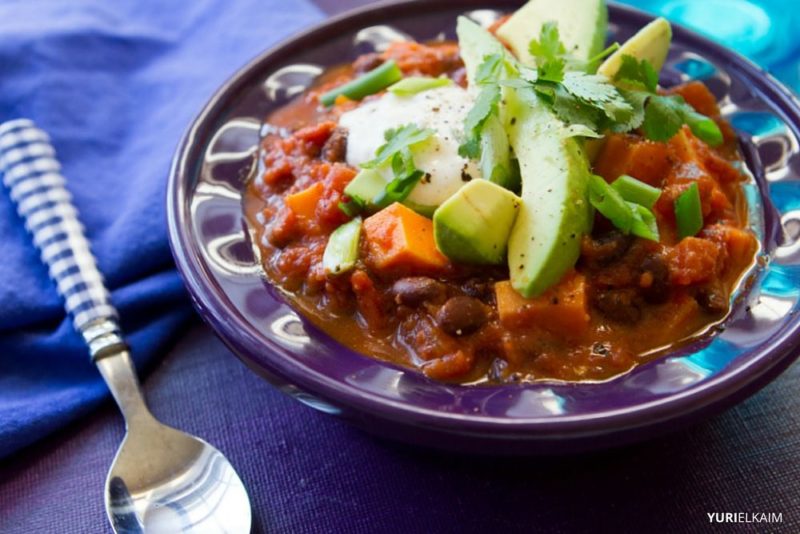 Hearty and delicious, this healthy chili is full of tasty goodness.  Simple, healthy, and delicious, it's both vegan and paleo-friendly, and absolutely perfect for Cinco de Mayo.
Find the recipe here: Yuri Elkaim
6. Chili Lime Chicken
This simple, flavor-packed chicken with a hint of chili and lime can be eaten as is, stuffed in a lettuce leaf taco, or tucked in a veggie bowl for added protein.
It's perfect for lunch, dinner, or your favorite Cinco de Mayo celebration.
Find the recipe here: Raya Malaysia
7. Sweet Potato Black Bean Quinoa Bowl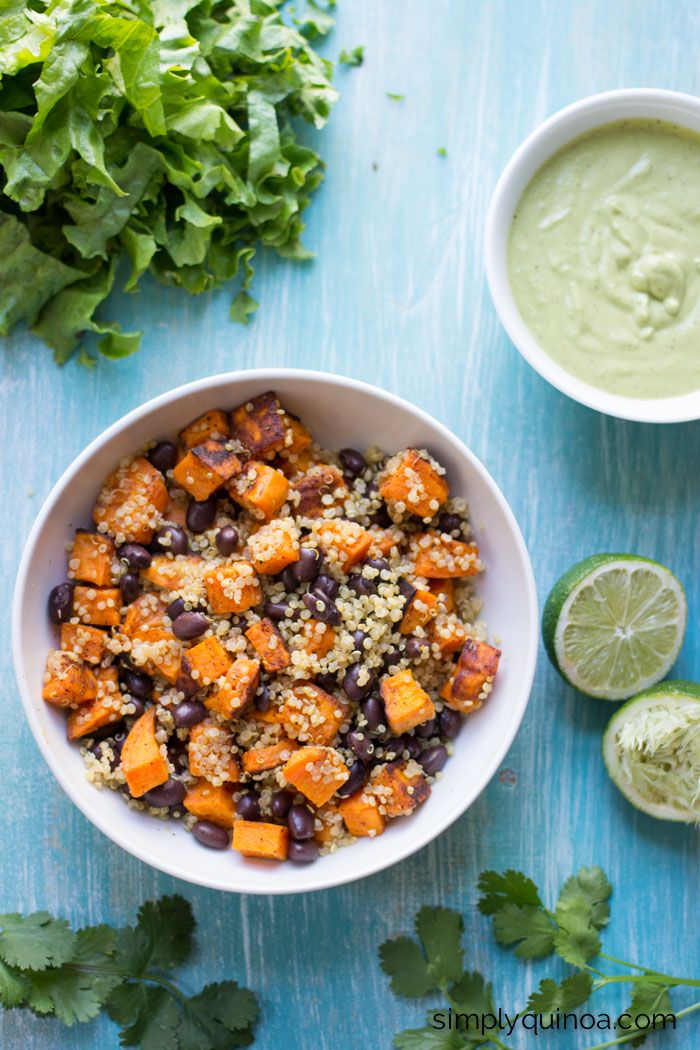 Make this loaded sweet potato black bean quinoa bowl the star of your Cinco de Mayo celebration.
You'll love the creamy, dairy-free dressing that's made with avocado, cashews, and the perfect blend of spices. What's not to love about a tasty bowl loaded with gluten-free, dairy-free goodness?
Find the recipe here:  Simply Quinoa
8. Paleo Casserole
This recipe makes over a classic Mexican casserole to keep it healthy yet utterly comforting and delicious.
Elbow macaroni is replaced with spiralized sweet potato, and a spicy tomato sauce makes this casserole a dairy-free winner.
Find the recipe here: That Paleo Couple
9. Paleo Stuffed Peppers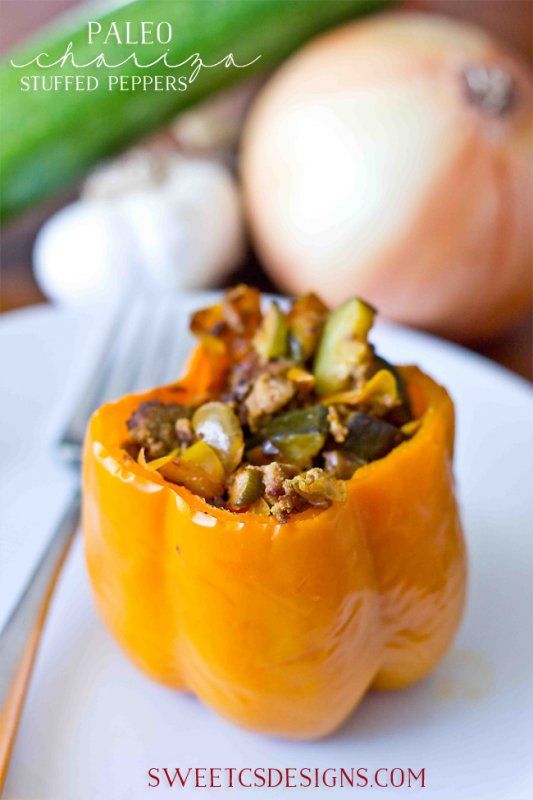 Enjoy stuffed peppers the dairy-free, gluten-free way with these tasty paleo chorizo stuffed peppers. They're bursting with flavor from anti-inflammatory spices and chorizo sausage.
Find the recipe here: Sweet C's Designs
10. Black Bean Quinoa Bowl with Honey-Lime Dressing
Need fiesta food?  This black bean quinoa bowl topped with a tasty cilantro lime vinaigrette is perfect for a party.
Vibrant veggies and fresh herbs really make this dish pop with colors and flavors.
Find the recipe here: Veggie and The Beast
11. Chicken Avocado Lime Soup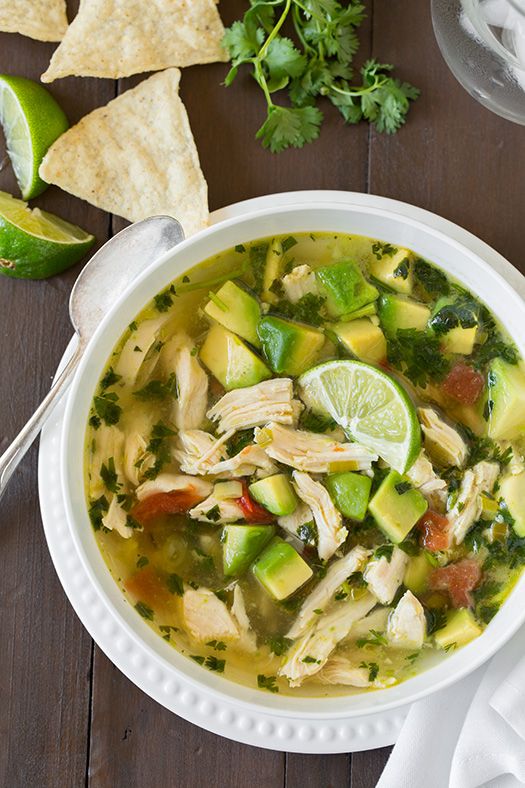 This chicken, avocado, and lime soup gets everything right – it's perfectly spiced with cumin and jalapeno, has a tasty lime-infused broth, and is loaded with chunks of chicken, tomato, and avocado.
Get your Cinco de Mayo party started with this festive soup.
Find the recipe here: Cooking Classy
12. Sweet Potato- and Kale-Stuffed Poblanos
Roasting poblanos gives them a smoky, earthy flavor that can't be beat.  Paired with antioxidant-loaded kale and beta-carotene rich sweet potatoes, these peppers pack a healthy punch.
Find the recipe here: Big Eats Tiny Kitchen
13. Fajita Quinoa Bowls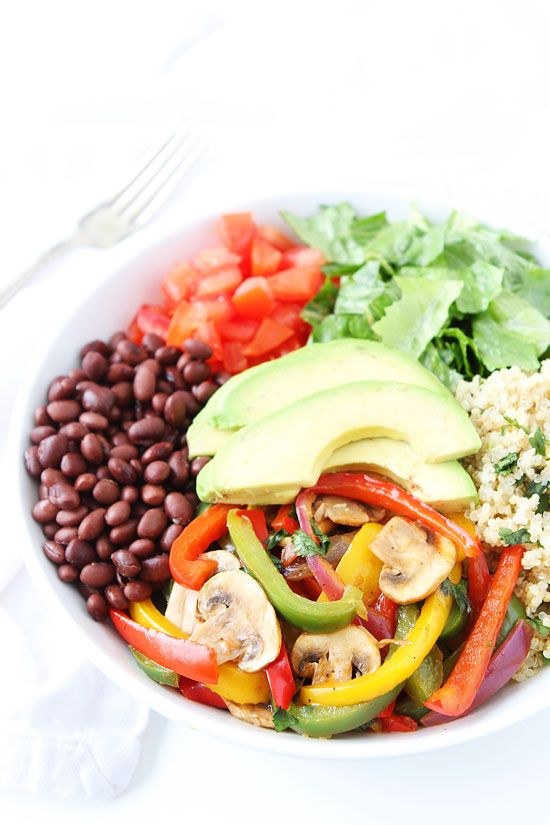 Stuff a fajita into a bowl with this clever recipe. You'll get loads of stir-fried veggies, fiber-rich black beans, and a heaping of cilantro lime quinoa.
This quick and easy meal idea is the perfect answer if you're stumped for what to make for dinner.
Find the recipe here: Two Peas and Their Pod
14. Paleo Chili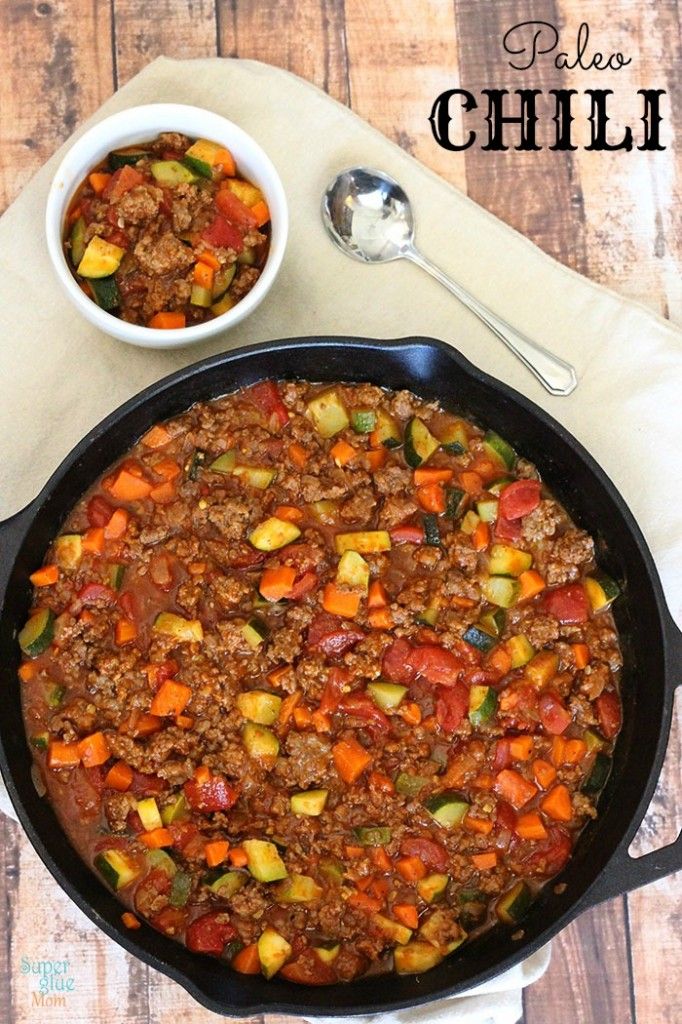 Serve this paleo chili with a healthy toppings bar loaded with green onions, diced avocado, fresh tomato, cilantro, and any other healthy goodies to pump up the flavor.
Thick and hearty, this protein-packed chili will keep you full for hours.
Find the recipe here: Laura Fuentes
15. Black Bean Quinoa Bowl
Need a low-carb, high-protein replacement for your traditional black beans and rice?
This cilantro lime black bean quinoa bowl has you covered. It's quick, easy, healthy, and calls for only 5 simple ingredients.
Find the recipe here: Simply Quinoa
16. Mexican Cauliflower Rice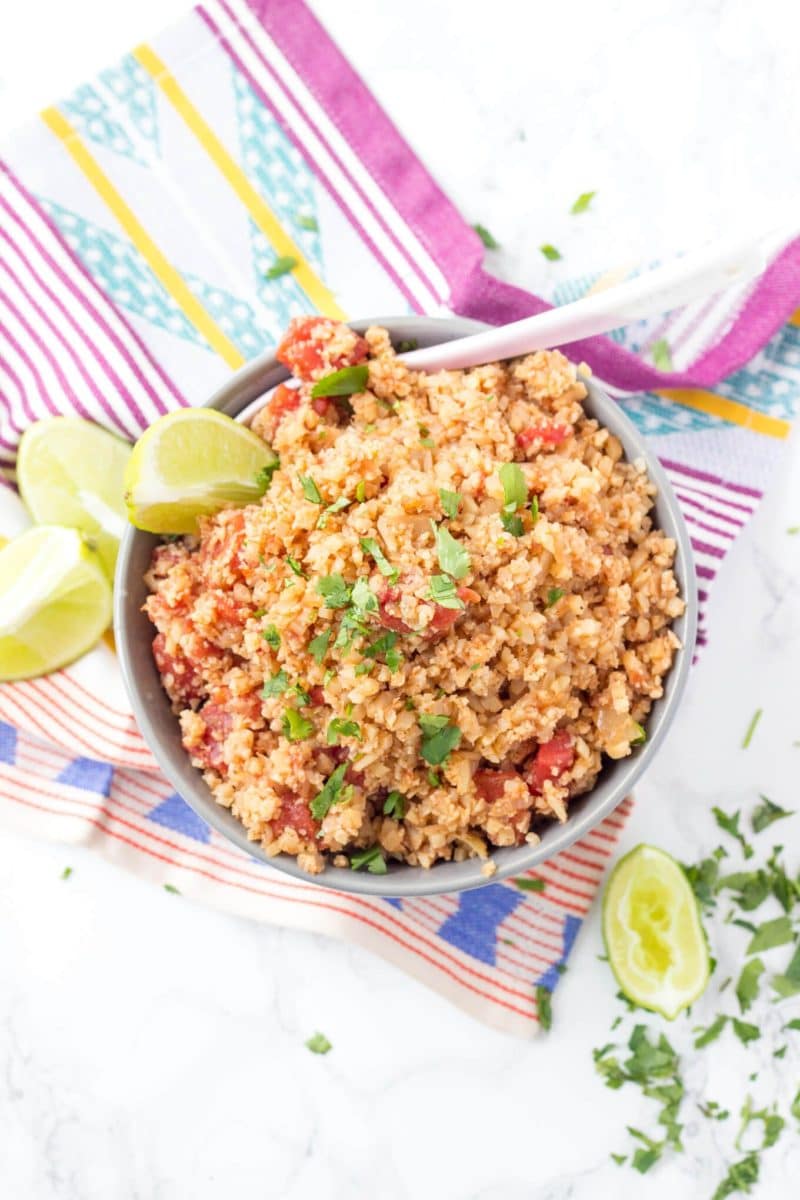 This is low-carb Mexican rice, made with cauliflower, spices, and diced tomatoes for a festive, healthy take on traditional rice.
Serve it as-is or top with black beans, shredded chicken, avocado, and zesty salsa. You'll sneak in all the health benefits of cauliflower in a tasty rice-like dish.
Find the recipe here: Wicked Spatula
17. Avocado Soup
Get your Cinco de Mayo party started with small bowls of avocado soup.  Simple, elegant, yet festive in every way. It's a healthy, delicious alternative to the traditional fatty fare at most parties.
Find the recipe here: Green Kitchen Stories
18. Mexican Quinoa Salad Cups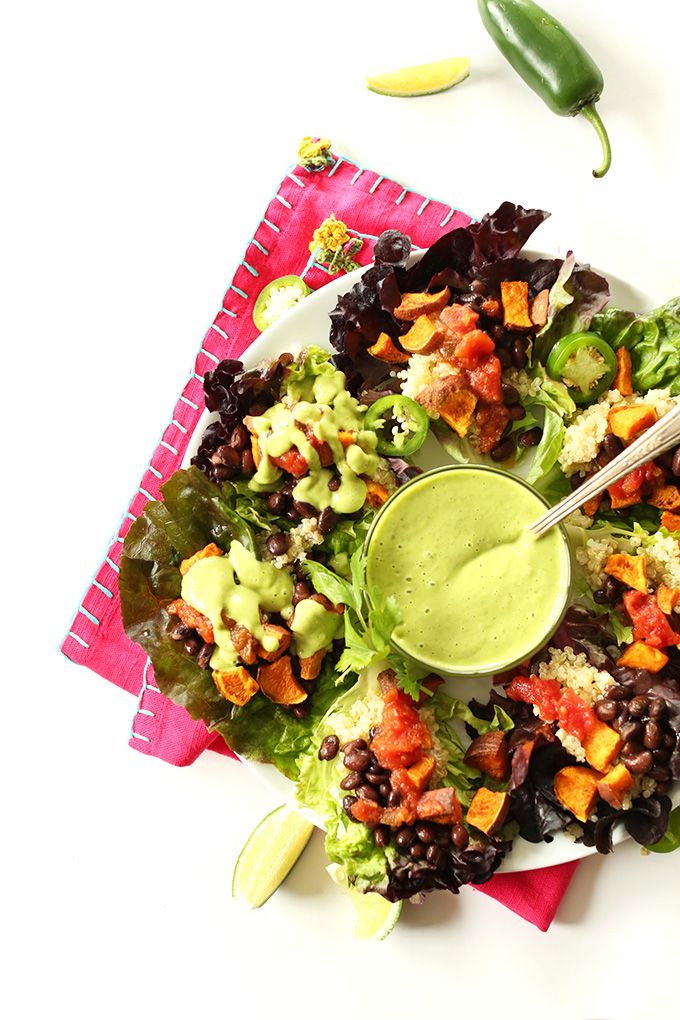 There's so much to love about these little Mexican quinoa salad cups.
They're the perfect vegan, gluten-free, dairy-free appetizer … and they're loaded with flavor and nutritious goodness in every bite.
Find the recipe here: Minimalist Baker
Mexican Tastiness Can Be Healthy
There's no reason to pass up a celebration just because you've chosen a healthy lifestyle.
Throw a party and set out an impressive spread of gorgeous, healthy food that tastes amazing.
Fresh herbs, spices, and veggies add a depth of flavor to your Cinco de Mayo menu that will surprise you. You won't miss the fatty cheese and high carb tortillas, we promise.
Want Even More?
Looking for more delicious, allergen-free meals that will leave you feeling vibrant and energized?
Check out the All-Day Energy Diet Community Cookbook, which features 67 recipes that take less than 15 minutes to make. Get it FREE by clicking the banner below!