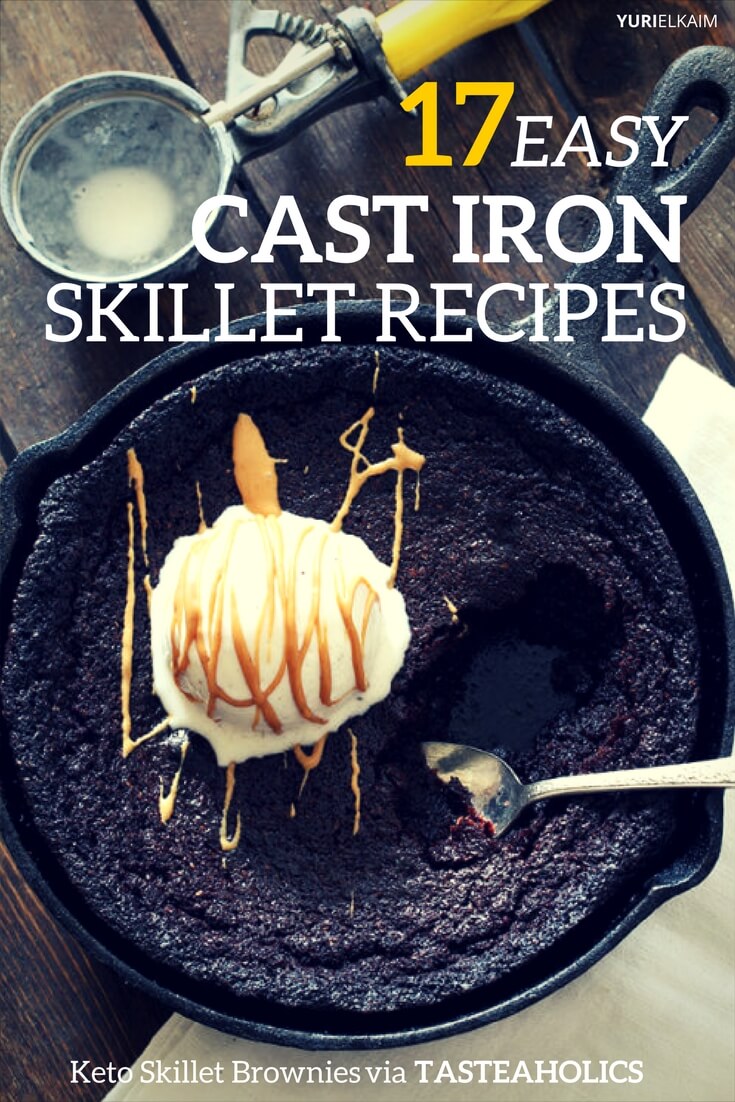 If you're like most people, you probably have pretty long to-do list going most of the time.
Between work, family, and keeping up with the long list of responsibilities, getting dinner on the table can sometimes turn into a real challenge.
Plus, finding dishes that are fast, simple, and actually good for you can seem like just another thing to put on your list.
That's why I came up with this list of easy cast iron skillet dinner recipes that you can incorporate into your weekly rotation. They're easy to prepare and many of them just use one pan – your trusty cast iron skillet.
From brownies to breakfast skillets, there's a little something for everyone.
17 Easy Cast Iron Skillet Recipes
1. Kitchen Sink Breakfast Skillet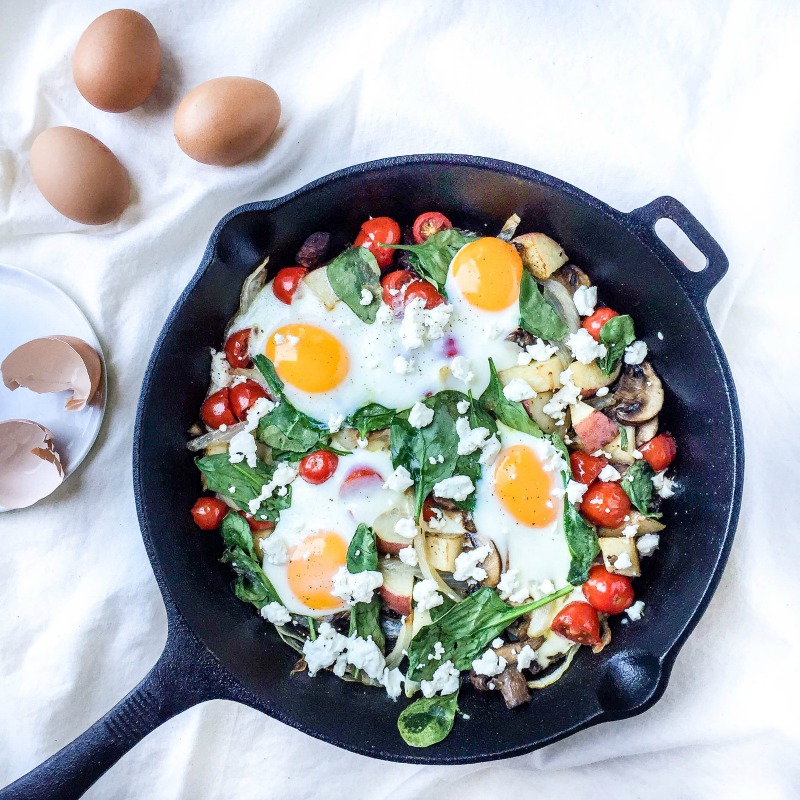 Looking for a delicious and nutritious way to use up those extra veggies sitting in your fridge at the end of the week? This simple cast iron skillet recipe gets the job done.
This recipe not only tastes great, but it takes less than half an hour from start to finish. Just throw in your favorite veggies, add a few eggs, and get ready to enjoy.
Find the recipe here: Simply Taylor
2. Pan-Seared Filet Mignon
If you thought that cooking a juicy filet mignon would require a lot of time, effort, and equipment, think again.
You don't need a grill to make these tasty steaks, just a cast iron skillet and you're all set. Sear your filets, transfer to the oven, and coat it with a savory garlic and herb butter for a simple but super delicious meal.
Find the recipe here: Kitchen Swagger
3. Hearty Vegetarian Skillet with Kale and Garbanzo Beans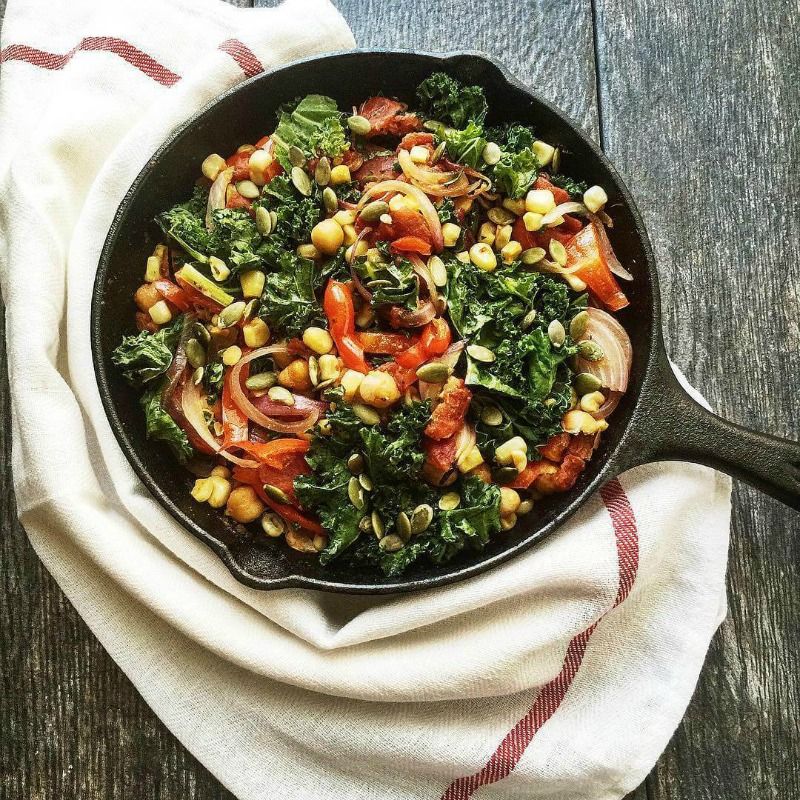 Looking for a fast and nutritious meal that can be ready to serve in just 15 minutes? Here's a good one.
Thanks to the addition of garbanzo beans, kale, bell peppers, and crushed tomatoes, this dish is filled with plenty of protein, fiber, and nutrients. I recommend cutting out the corn to keep it GMO-free and anti-inflammatory.
Find the recipe here: Posh Journal
4. Grilled Chicken and Vegetable Skillet
This recipe takes just a few steps, but has a big payoff when it comes to both taste and nutrition.
Sweet potatoes, Brussels sprouts, garlic, and onions create complex flavors in this dish, while adding vitamins, minerals, and fiber.
Paired with some juicy grilled chicken breast, you can have a complete meal ready in no time.
Find the recipe here: Kendall Jackson
5. Keto Skillet Brownies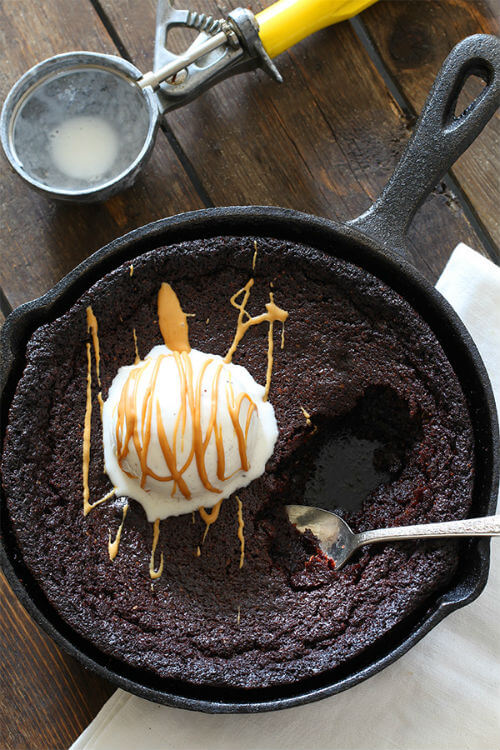 If you love sweets but don't love all the carbs and calories that come along with them, you'll definitely want to try this recipe.
Thanks to the addition of erythritol, a sugar alcohol that has fewer calories and carbs than sugar, a single serving of these brownies contains just 3 grams of carbohydrates and 6 grams of protein.
Top it off with a peanut butter drizzle for an added dose of heart-healthy monounsaturated fats and a boost of flavor.
Find the recipe here: Tasteaholics
6. Sausage Tomato Basil Frittata
Whether you serve it for breakfast, lunch, or dinner, this yummy frittata makes a delicious paleo-friendly meal.
The core ingredients are pork sausage, spinach, fresh basil, tomatoes, and eggs. With a dash of crushed red pepper and onion powder sprinkled in the mix, this dish doesn't only taste good, but also contains plenty of fiber.
Find the recipe here: Paleo Running Momma
7. Cast Iron Skillet-Seared Salmon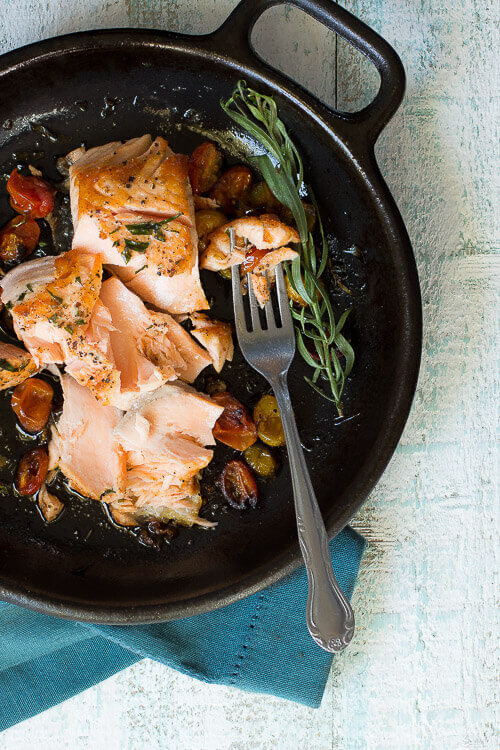 This cast iron skillet recipe is healthy, quick, easy to make, and delicious.
Salmon takes center stage in this recipe, bringing a hefty dose of heart-healthy omega-3 fatty acids along with it.
This simple but classic dish can go from the kitchen to the dinner table in just 17 minutes. And with just six ingredients, it won't make a big dent in your busy schedule.
Find the recipe here: Foodness Gracious
8. Honey Mustard Rosemary Chicken
Whip up this simple one-pan dish for your next dinner party and your guests are sure to be impressed.
Roasted potato slices are topped with chicken breasts and a decadent honey mustard sauce, bringing a depth of flavor to this dish. Garnished with a few sprigs of rosemary, this simple cast iron skillet dish really does taste as good as it looks.
Find the recipe here: Matters of the Belly
9. One-Pot Lemon Chicken and Asparagus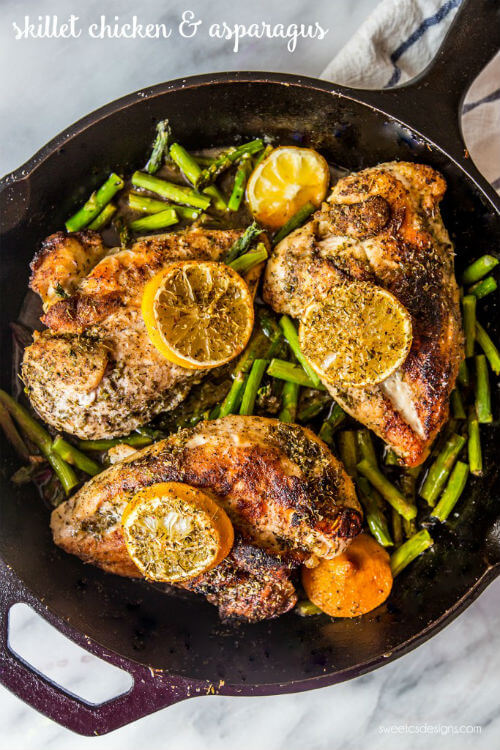 Here's the perfect example of what a one-pot meal should be: toss in all your ingredients, cook, and bam! A main course and side dish all in one, ready to be devoured.
This meal uses just six basic ingredients and requires only three minutes of prep time. Simply brown the chicken, add a few spices, and cook it in the oven with the asparagus.
Find the recipe here: Sweet C's Designs
10. Tuscan White Bean Skillet
This skillet meal is fast, easy, and tastes amazing, making it a great option for your next meatless Monday dinner.
Best of all, this recipe uses mostly ingredients you probably already have in your pantry, like canned beans, diced tomatoes, and artichoke hearts. Add some mushrooms, onion, and garlic and you have a well-rounded, nutritious meal in just half an hour.
Find the recipe here: The Wanderlust Kitchen
11. Fudgy Paleo Skillet Brownie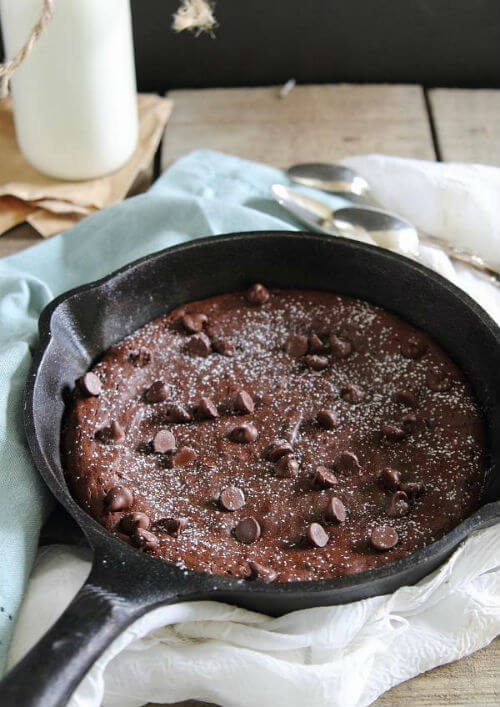 Because I love chocolate so much, brownies needed another appearance…
And this chocolatey, sweet, and indulgent paleo brownie is sure to make your tastebuds happy.
Coconut oil and mashed banana give it a creamy, smooth texture while dark chocolate chips and vanilla extract bring just the right amount of sweetness. If you're looking for the chocolate-filled way to polish off your dinner, you really can't go wrong with this cast iron skillet dessert.
Find the recipe here: Running to the Kitchen
12. One Skillet Vegetarian Fried Forbidden Rice
Vibrant and packed with veggies, this rice dish is ready in less than 20 minutes.
Carrots, snap peas, scallions, and spinach bring the color (and health benefits) to this tasty dish. Meanwhile, the addition of eggs, liquid aminos, and hemp seeds give it just enough protein to add a heartiness that will keep you feeling full.
Find the recipe here: Rachl Mansfield
13. Cast Iron Skillet Brussel Sprouts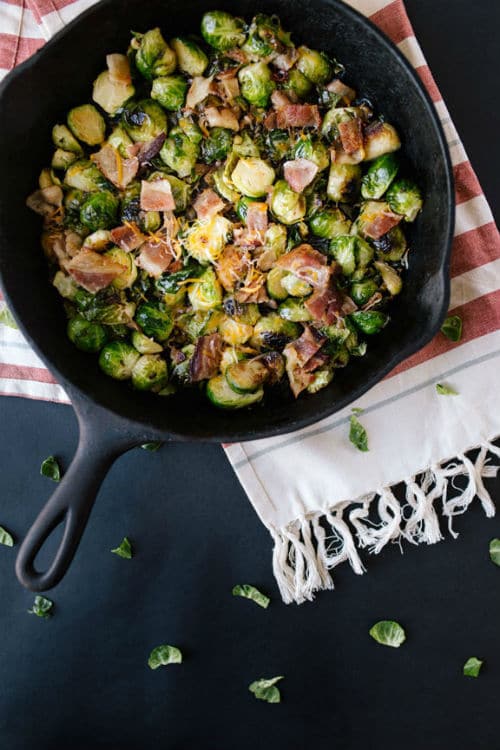 Thick bacon, prosciutto, and Brussel sprouts – yes, please!
This dish is packed with protein and fiber, making for an amazing side dish or even a main course. I recommend taking out the cheese to keep it dairy-free and anti-inflammatory.
Find the recipe here: Lights Camera Catwalk
14. Skillet Honey Lime Chicken
This baked chicken entree takes only 15 minutes and is loaded with flavor.
The honey lime glaze is what makes this recipe a star when it comes to taste. Swap the soy sauce for tamari to keep it healthy and soy-free.
Find the recipe here: The Recipe Critic
15. Red Lentils and Spinach in Masala Sauce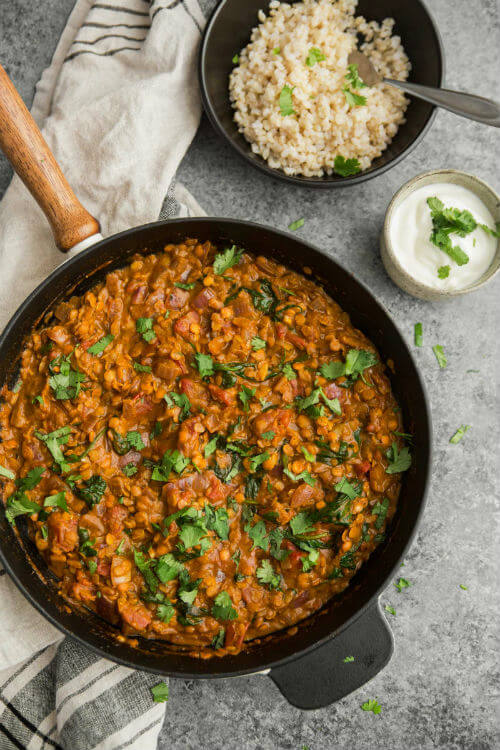 Flavorful, healthy, and super satisfying, this plant-based meal deserves a place as a staple in your weekly dinner rotation.
High-fiber, protein-rich lentils give this vegetarian dish a nutritious upgrade while ginger, garlic, and cumin seeds bring their own inflammation-busting benefits. Serve over your choice of grains (or cauliflower rice) for a filling dinner that takes just 15 minutes of prep time.
Find the recipe here: Naturally Ella
16. Grain-Free Mixed Berry Crisp
Vegan, gluten-free, and guilt-free, this berry crisp is equal parts healthy and delicious.
Fresh berries provide vitamins and minerals while maple syrup adds sweetness and antioxidants. Finish it off with a high-fiber crumble topping using walnuts, sunflower seeds, and chia seeds. You'll definitely want seconds.
Find the recipe here: Free People
17. Cast Iron Skillet Crispy Potato Wedges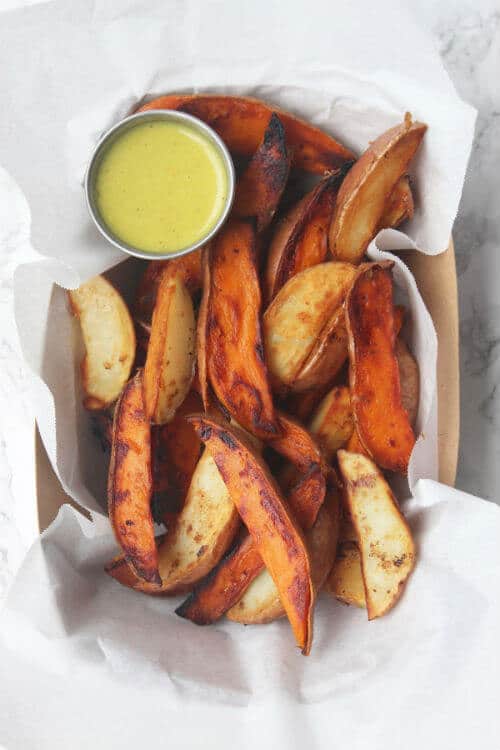 Here's a side dish we can all agree on: crunchy potato wedges baked to crispy perfection.
This recipe uses a mix of baked sweet potatoes and red potatoes to add a bit of variety. Sprinkle on a bit of avocado oil for some healthy fats and you have a nutritious side dish that you can actually feel good about eating.
Find the recipe here: Eat the Gains
One Pan, No Problem
When life gets hectic, these easy cast iron skillet recipes can take the stress and time commitment out of cooking, allowing you to enjoy a healthy home-cooked meal without sacrificing the rest of your schedule.
Want More Fast, Easy, and Yummy Meals?
Have you reserved your FREE copy of the All Day Energy Diet Community Cookbook yet?
It contains 67 quick and delicious recipes that will help you look and feel better.
Just click the image below to get your copy!