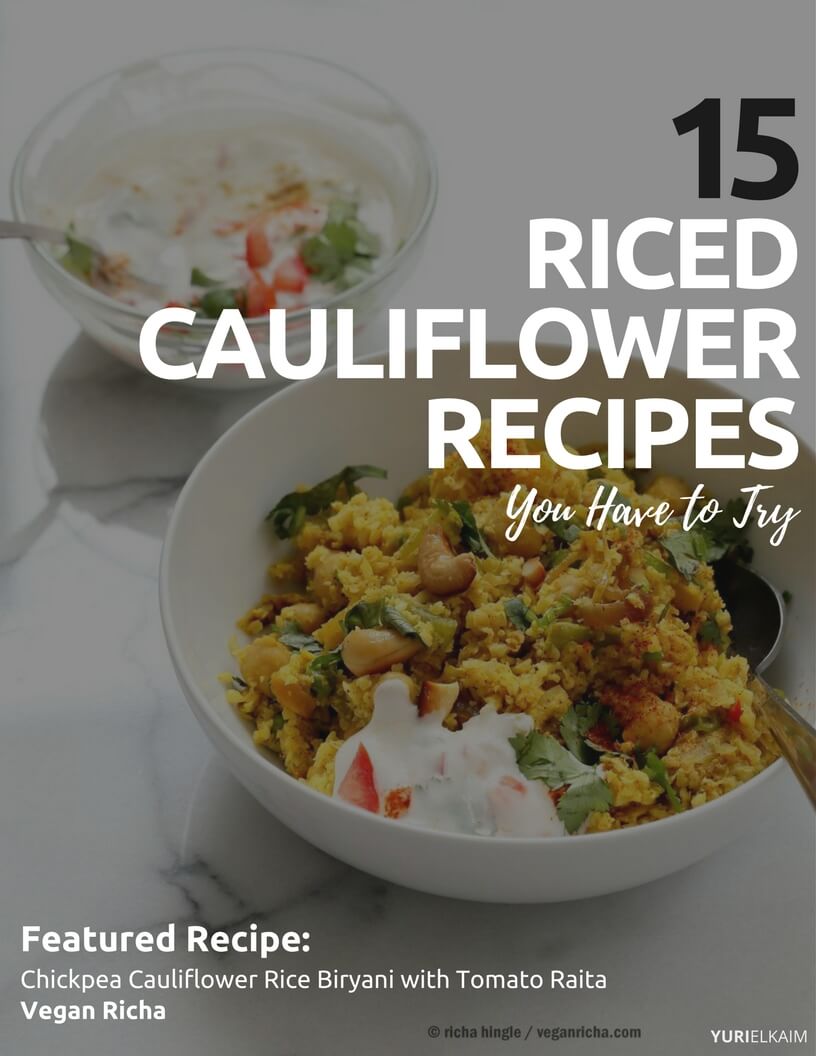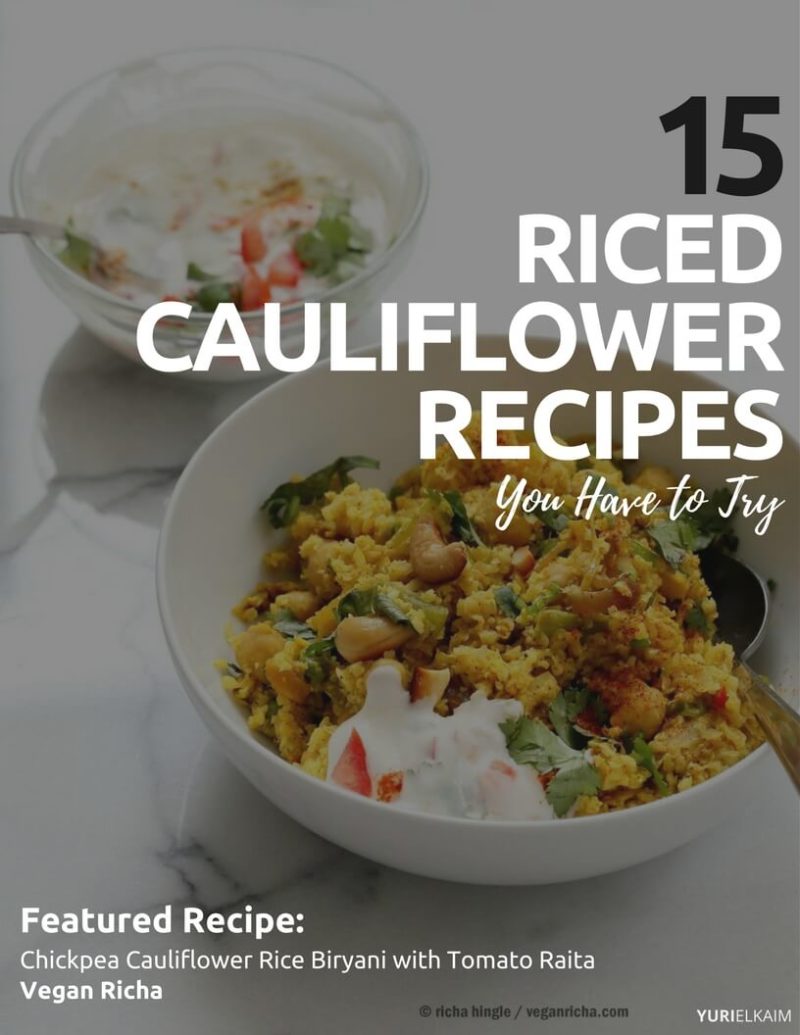 There's a reason everyone is talking about cauliflower rice.
It fits into nearly every diet: paleo, low-carb, low-calorie, or just plain delicious.
Plus, it's quick to make and easily mimics the texture and consistency of regular rice. All you have to do is throw it in your food processor and pulse until it has a consistency similar to couscous.
A cup of cauliflower has about 25 calories and 5 grams of carbohydrates. Compare that to 218 calories and 46 grams of carbohydrates in a cup of brown rice and it should be pretty clear who the winner is when it comes to nutritional density.
Whether cauliflower rice is already one of your go-to side dishes or you're curious and want to give it a try, you're sure to find at least a few new favorite recipes from the list I've compiled for you.
15 Riced Cauliflower Recipes
1. Curried Cauliflower Rice Kale Soup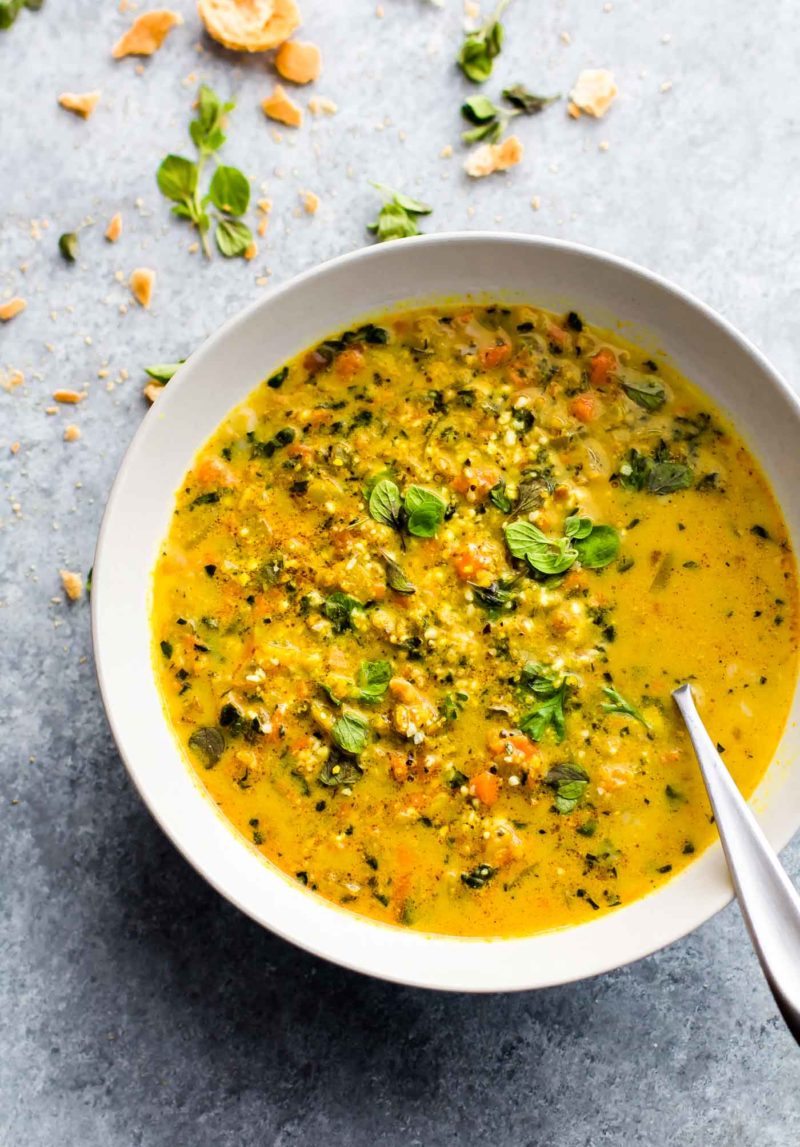 Rain or shine, we all know that sometimes nothing beats a piping hot bowl of creamy soup.
This soup can be enjoyed by everyone. It's paleo, vegan, gluten-free, and 100 percent delicious.
Did I mention it's also customizable? The recipe suggests using kale and carrots, but you can change it up and add whatever vegetables you have on hand.
Find the recipe here: Cotter Crunch
2. Cauliflower Rice Risotto with Asparagus and Mushrooms
This dish takes traditional risotto and makes it healthy and low-calorie by using cauliflower rice.
Mushrooms and asparagus give this dish a rich and full-bodied flavor. Meanwhile, using nutritional yeast, coconut milk, and vegetable broth keep it vegan – and delicious.
Find the recipe here: Cookies to Kale
3. Cheesy Cauliflower Broccoli Bake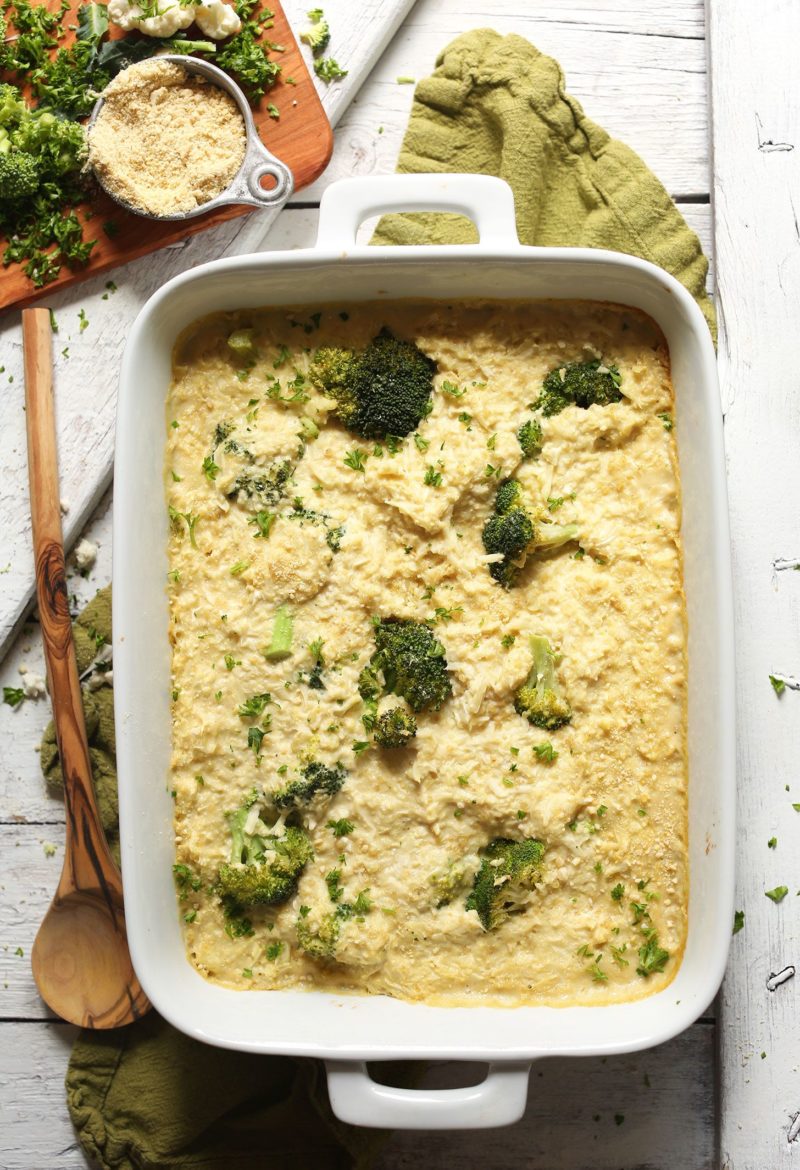 Satisfying and – yes – cheesy, this dish manages to give comfort food a healthy makeover.
Nutritional yeast adds a cheesy taste and brings a hearty dose of protein to this recipe, but you can add chickpeas or quinoa to bump it up even more. Throw in some chopped kale and you have the perfect healthy weeknight meal.
Find the recipe here: Minimalist Baker
4. Fried Cauliflower Rice
Next time you're craving Chinese food, skip the takeout and try this recipe instead.
This recipe gives fried rice a nutritious twist by subbing the white rice for cauliflower rice and adding more fiber-filled veggies to make it a well-rounded meal. Swap the soy sauce for tamari to stay gluten-free – and feel free leave out the bacon if you want to make it meatless.
Find the recipe here: The Kitchn
5. Chickpea Cauliflower Rice Biryani with Tomato Raita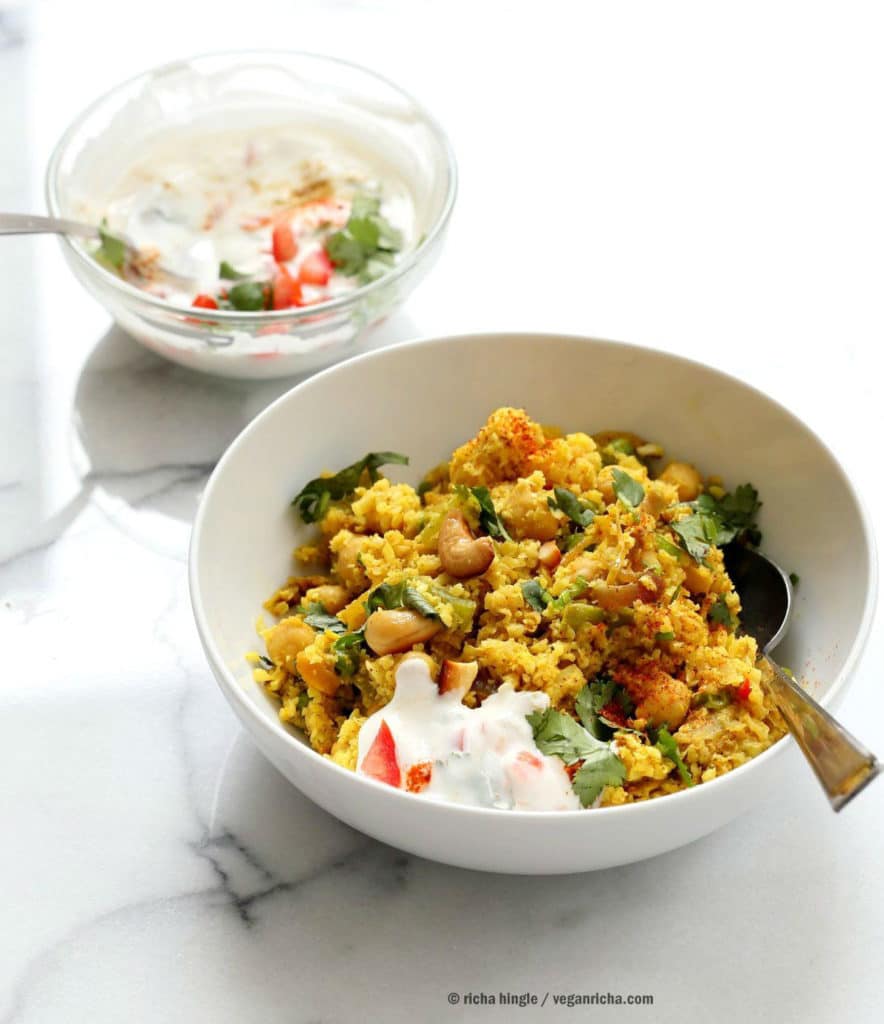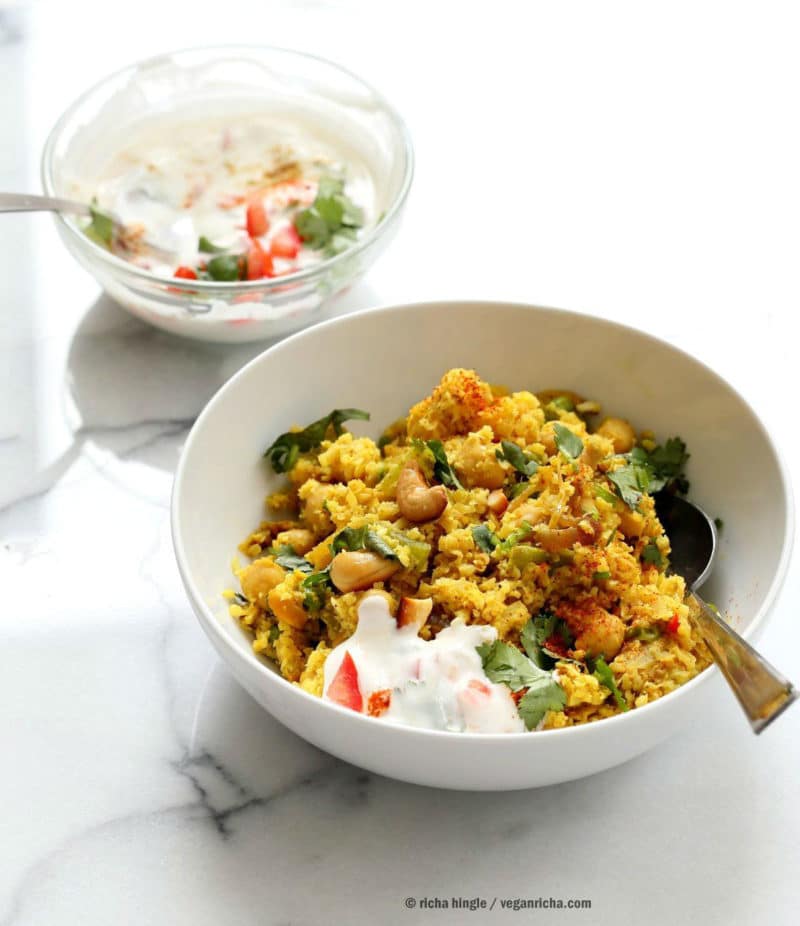 This dish is all the proof you need that healthy can taste very, very good.
This flavorful Indian dish kicks up the nutrient profile of traditional Biryani by adding chickpeas, piles of chopped veggies, and, of course, cauliflower rice. Topped off with a bit of tomato raita (a condiment made from non-dairy yogurt, herbs, and spices), you'll definitely want a second (or third) helping of this dish.
Find the recipe here: Vegan Richa
6. Mexican Style Cauliflower Rice
Simple but scrumptious, this recipe is a great starting place for cauliflower rice newbies.
It only takes a few simple ingredients to whip up a batch of this rice. Add just the right blend of flavors and really bring this recipe to the next level by making your own homemade fajita seasoning mix.
Find the recipe here: The Pinning Mama
7. Coconut Lime Cauliflower Rice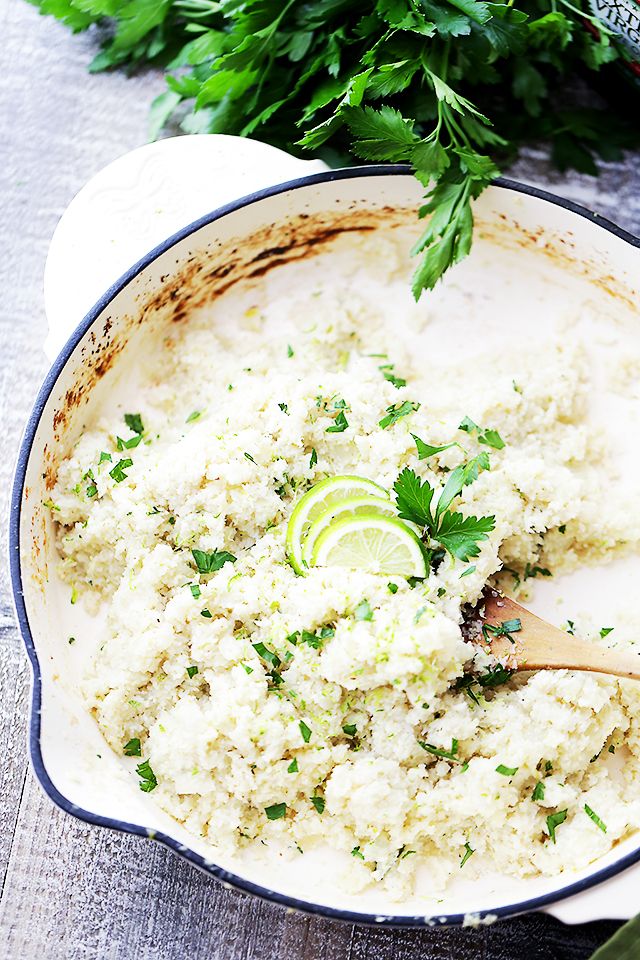 This cauliflower rice recipe makes an easy-to-prepare side dish that takes just minutes.
Onions, garlic cloves, lime, and coconut milk enhance the flavor and make it a recipe you'll want to cook again and again.
Find the recipe here: Diethood
8. Chicken Korma with Cauliflower Rice
Cauliflower rice is the perfect way to spice up pretty much any of your favorite recipes, turning them into something new and interesting. Case in point: this dish.
Cauliflower rice plus potatoes, carrots, bell peppers, onions, and peas make up the base of this recipe while coconut milk, cashews, and ginger provide a burst of delicious flavor in the korma sauce.
Find the recipe here: Paleo Leap
9. Cauliflower Rice Burrito Bowl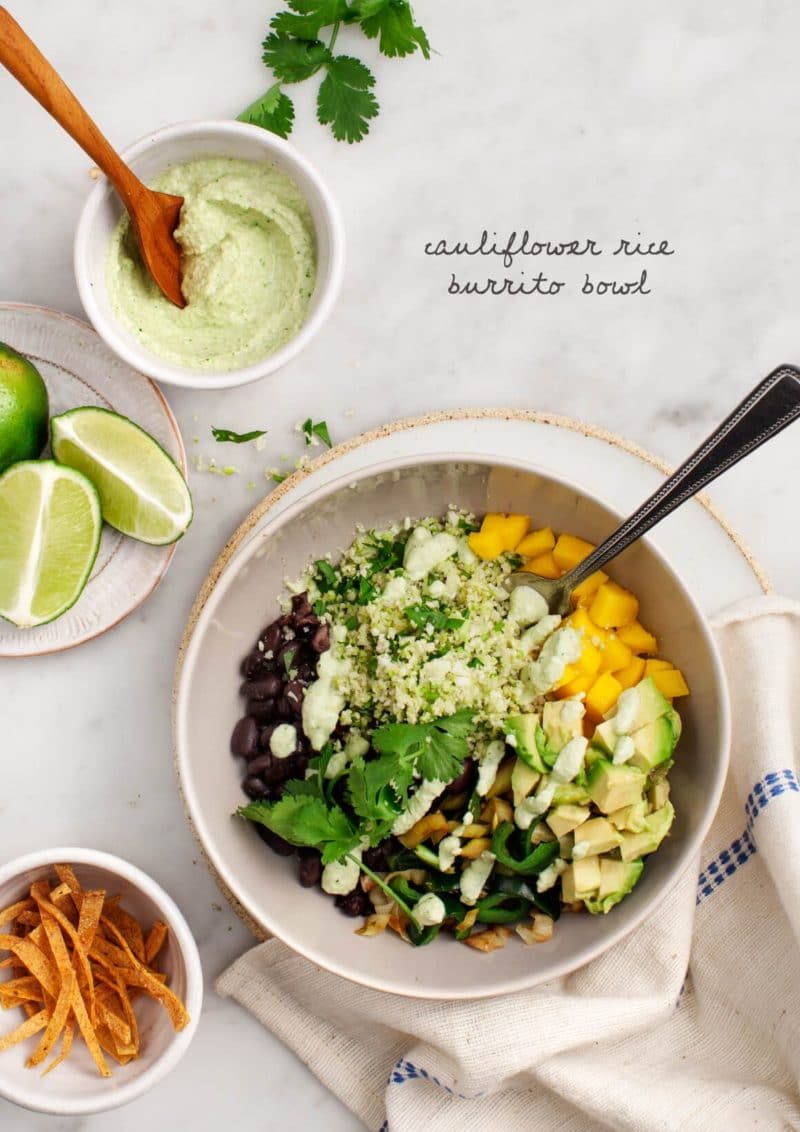 Who needs to go out and order a burrito bowl when you can make this tasty and nutritious version right in your own kitchen?
With ingredients like poblano peppers and mangoes, this recipe strikes the perfect balance between spicy and sweet. The green chile cashew cream brings it all together, adding just the right amount of zest to this flavor-filled dish.
Find the recipe here: Love and Lemons
10. Cauliflower Rice Risotto with Mushrooms and Rosemary
The secret to this cauliflower risotto dish is the seasoning. A few fresh springs of rosemary make this a delicious and satisfying recipe.
Meanwhile, sliced mushrooms create a meaty "bite" while peas add a little sweetness.
Find the recipe here: One Ingredient Chef
11. Cauliflower Rice Lettuce Cups with Sriracha Peanut Sauce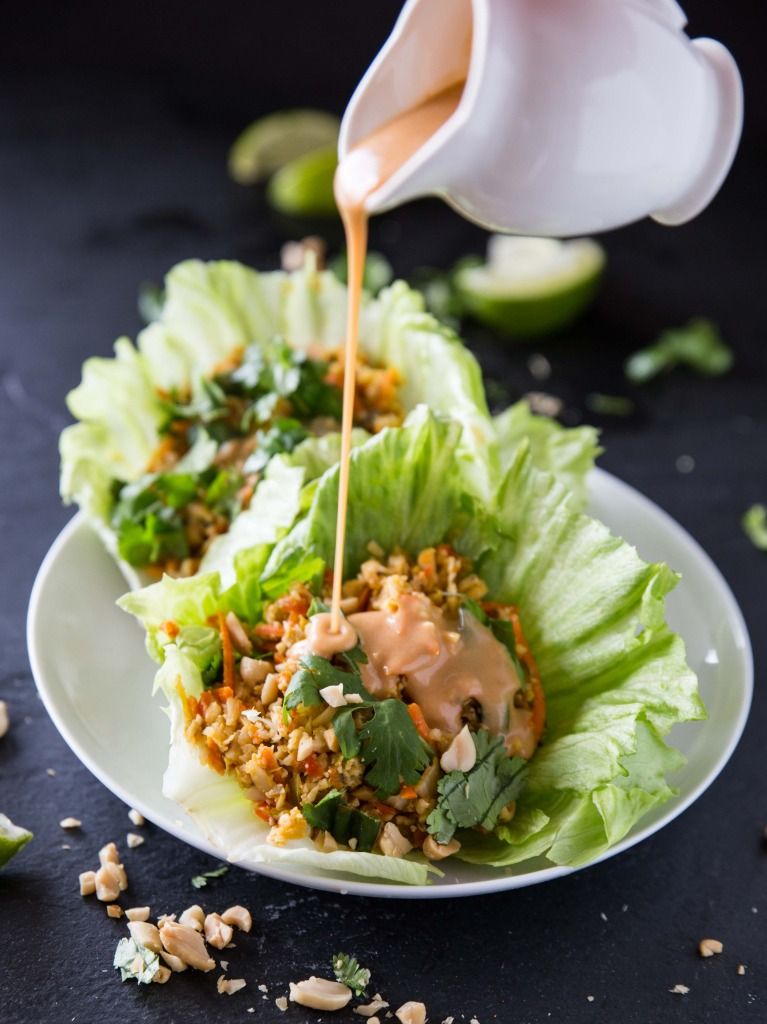 Crisp lettuce cups filled with yummy ingredients and topped with a spicy peanut sauce? Yes, please!
Each lettuce wrap is teeming with nutrients, thanks to the addition of a whole host of veggies. Mix in some peanut sauce made with coconut milk, peanut butter, honey, and sriracha for an awesome fusion of flavors.
Find the recipe here: Veggie and the Beast Feast
12. Almond Coconut Cauliflower Rice
This dish serves double duty. It can make a delicious side dish, or you can turn it into a main course when adding a protein source.
With shredded coconut, blanched almonds, and a mix of savory spices, this recipe blends a delicious array of textures and tastes.
Find the recipe here: The Healthy Foodie
13. Thai Salad and Cauliflower Rice Wrap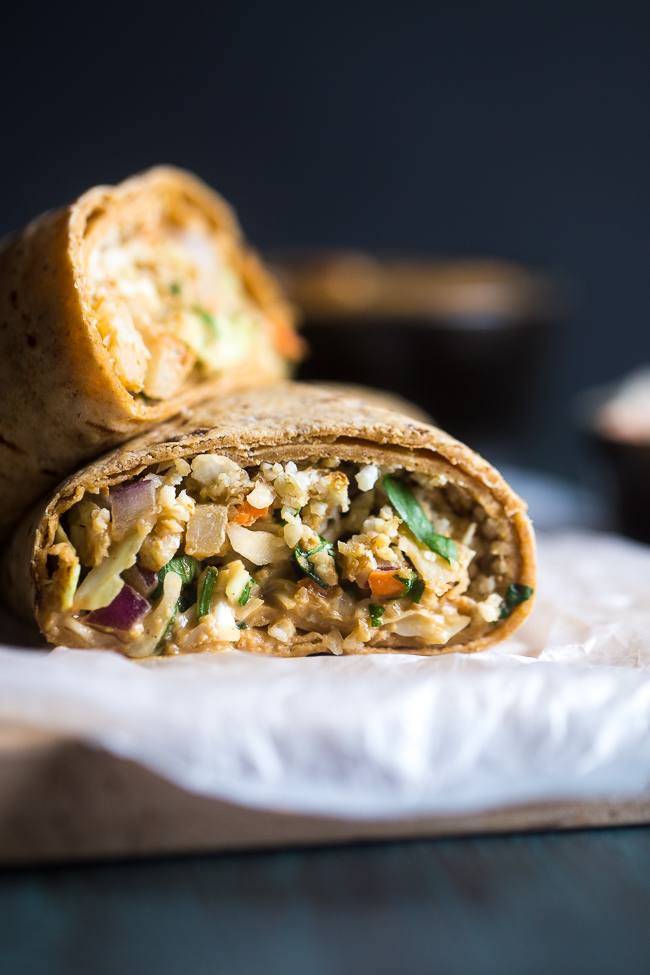 Perfect for a portable meal on-the-go or a simple dinner that comes together in a flash, this Thai salad wrap delivers both taste and nutrition.
Just combine cauliflower rice with a simple Thai salad, and drizzle on peanut sauce. Swap the flatbread wrap for a delicious collard wrap to upgrade the health benefits of this yummy meal.
Find the recipe here: Food Faith Fitness
14. Indian Cauliflower Fried Rice with Chicken and Roasted Chickpeas
Combine chicken, cauliflower rice, and chickpeas with aromatic spices and you'll get this nutritious and delicious dish.
This recipe boasts a whopping 30 grams of protein and 10 grams of fiber per serving. Plus, with anti-inflammatory ingredients like turmeric, cumin, and ginger, this is a healthy dinner you can feel good about serving your family.
Find the recipe here: Jo Cooks
15. Cauliflower Rice Sushi Roll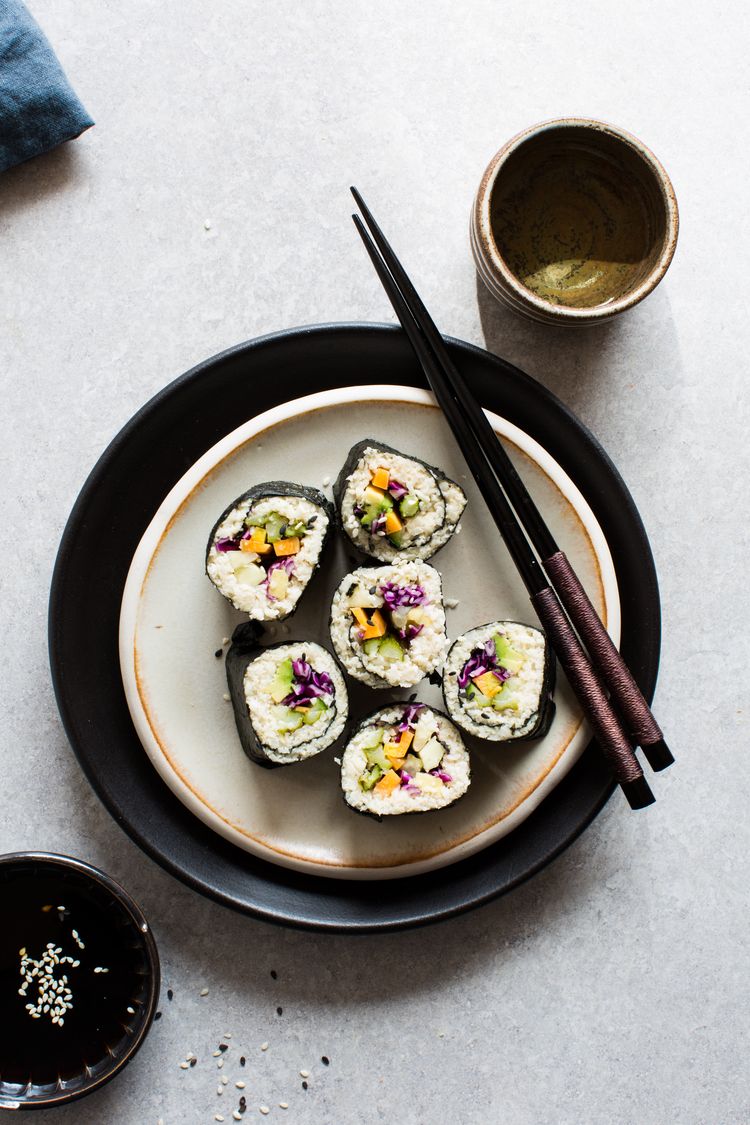 Sure, regular sushi is good. But who wants to make regular old sushi when you can try this cauliflower rice sushi instead?
Preparing the cauliflower rice is simple. After it's blended up, mix it with rice wine, maple syrup, tahini, and salt to help it get a little sticky. Then just fill it with your favorite ingredients, roll, and enjoy!
It doesn't get easier (or tastier) than that.
Find the recipe here: 8th and Lake
Fewer Carbs, More Flavor
As you can see, cauliflower rice works well with lots of different styles of cooking – Asian, Indian, and even Mexican.
Try out a few of these recipes and see for yourself. Or try swapping cauliflower rice for regular rice in your own recipes for a nutritious, carb-cutting twist.
Get my Free Cookbook!
Tired of answering the "what's for dinner?" question?
I have an answer – and it's in the FREE All Day Energy Diet Community Cookbook.
The cookbook, which contains 67 gluten- and dairy-free recipes, was created by busy people just like you.
The recipes are clean, filled with whole foods, and are designed to take 15 minutes to prepare.
Get your copy of the cookbook by clicking the banner below!