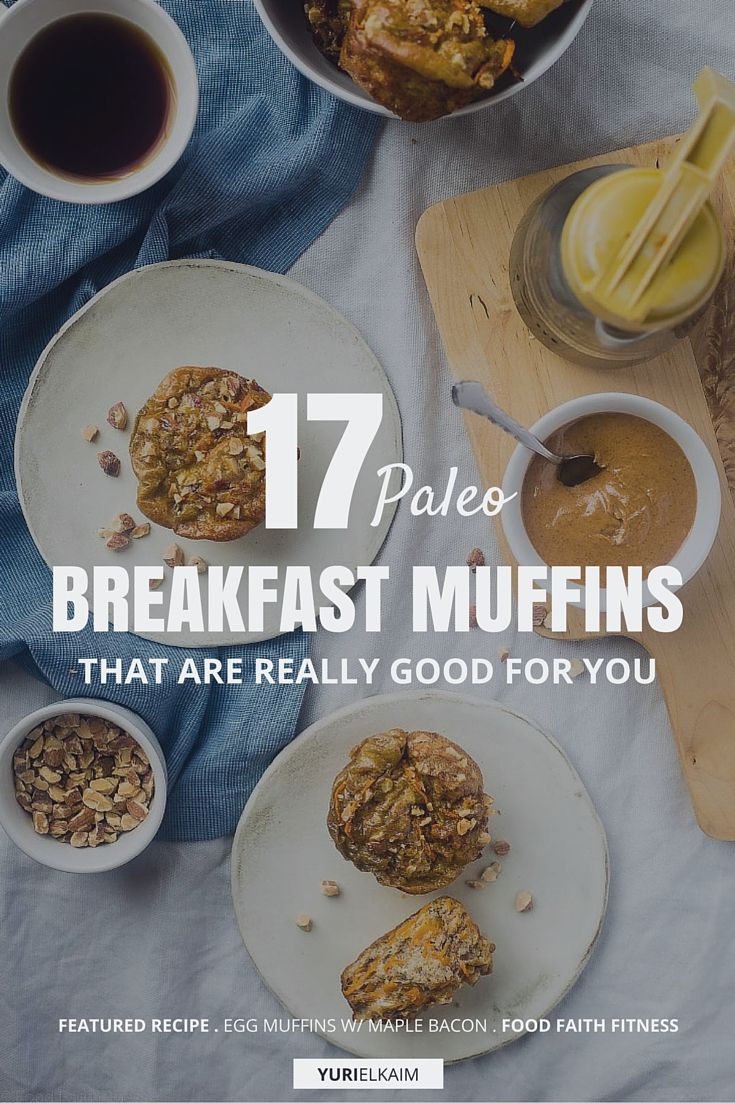 When you're rushing around in the morning getting ready to start your day, it's tempting to grab a quick breakfast like a bagel or toaster pastry.
Here's the thing: you'll be hungry again before lunch.
What's a good breakfast option when you're short on time but want something nutritious (aside from this breakfast bowl and this chia seed pudding)?
Paleo muffins!
They're high in protein, healthy fats, and fiber, making perfect grab-and-go healthy breakfast recipes for hectic, rushed mornings.
Easy, nutritious, and fast, paleo muffins have everything you need to feel like you're starting your day off right.
Whether you're paleo, vegan, or somewhere in-between, protein should be a hallmark of your breakfast, no exceptions.
Protein provides fuel for the body, and eating a high-protein muffin for breakfast will keep you going for hours.
You can sneak protein into your muffins with savory egg and meat options, or you can make sweet options with nut butter and protein powder.
Paleo muffins can be stored in the fridge or freezer and heated up or served cold.
We've made it easy to incorporate a healthy breakfast into your everyday routine with this roundup of 17 incredible paleo breakfast muffin recipes.
17 Paleo Breakfast Muffins to Eat When You're in a Rush
1. Egg Muffins with Maple Bacon and Sweet Potato Noodles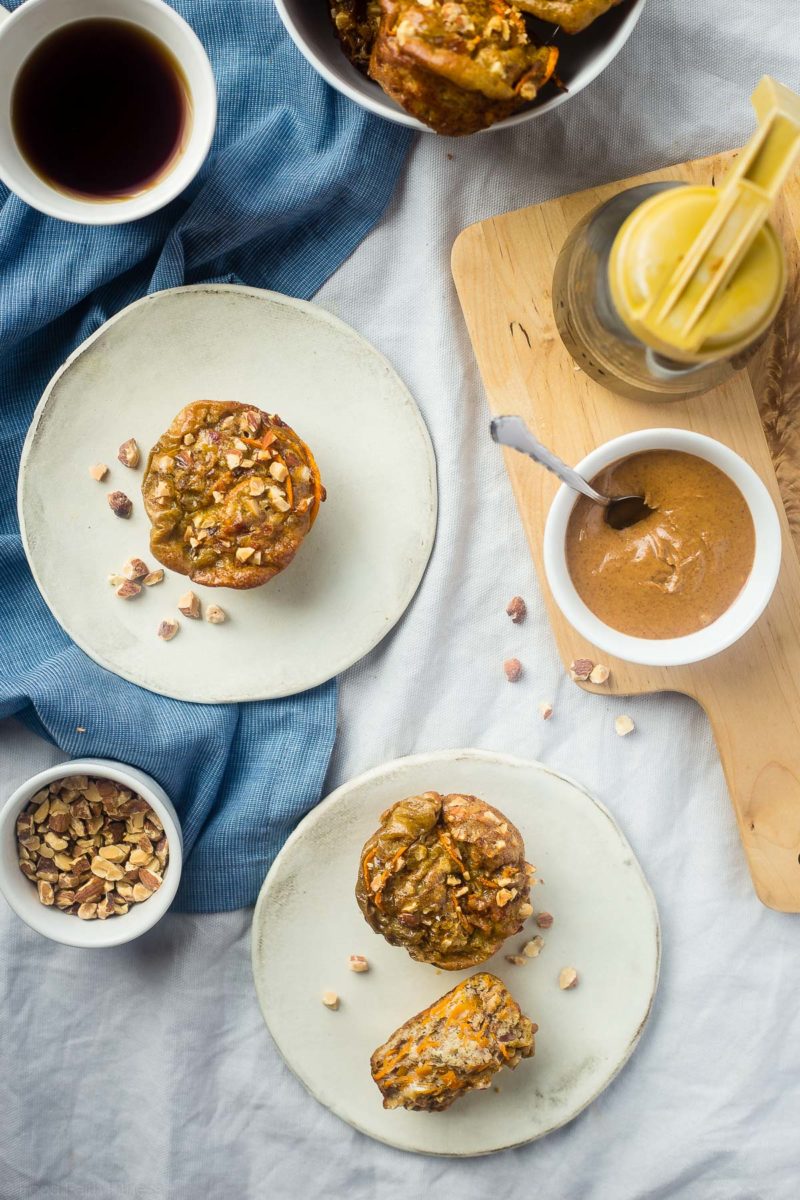 This recipe features spicy, smoky-sweet egg muffins that are packed with perfectly tender sweet potato noodles, along with a surprising crunch to satisfy your tastebuds. These muffins are an amazing blend of sweet and savory.
Find the recipe here: Food, Faith, and Fitness
2. Paleo Mini Quiches
These little quiches are stuffed with turkey bacon, diced red pepper, and green onion – but you can add whatever healthy ingredients you have on-hand.
An almond flour egg crust adds a bit of bulk while keeping it gluten-free.
Find the recipe here: Paleo Grubs
3. Quinoa Coconut Banana Muffins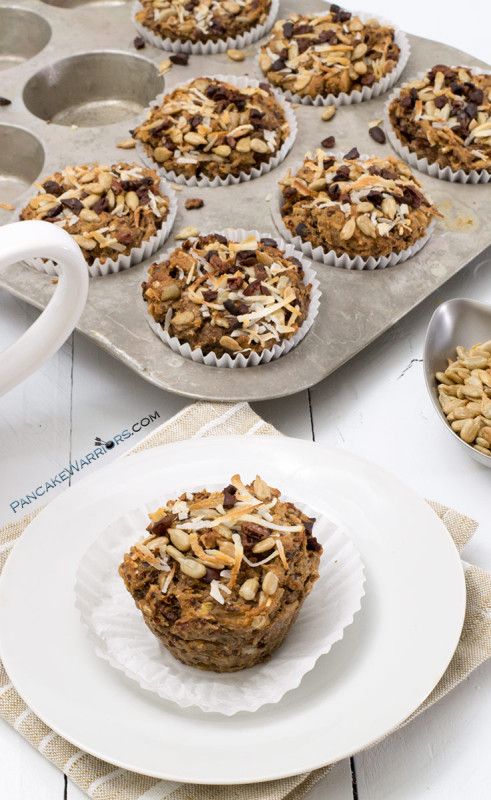 Want to make the ultimate muffins? These Quinoa Coconut Banana Muffins have the perfect texture, are packed with protein, naturally sweetened, full of fiber, vegan, gluten free, and will have your kids begging for more!
Plus, you'll only need one bowl.
Find the recipe here: Pancake Warriors
4. Pumpkin Protein Muffins
Delicious and high in protein, these pumpkin-flavored muffins are not only perfect for fall, but anytime you want a nutritious breakfast. They're made with protein powder, bananas, and, yes, pumpkin.
Find the recipe here: Jennifer Meyering
5. Paleo Egg Muffins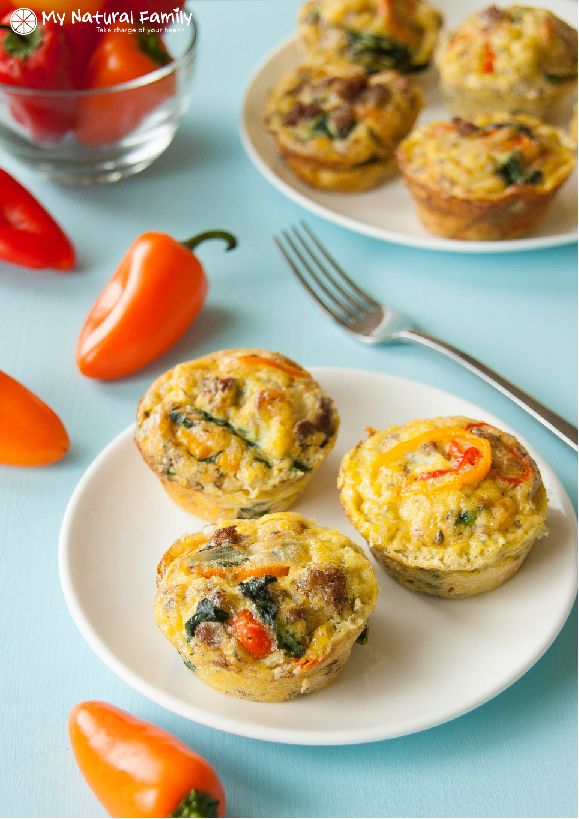 Wake up to muffins that are full of color, texture, and healthy ingredients including sausage, spinach, and peppers. High in protein and low in carbs, these muffins are great alone or along with a green smoothie.
You can either bake them up fresh or make them ahead of time and reheat them for breakfast.
Find the recipe here: My Natural Family
6. Bacon Spinach Breakfast Frittata Muffins
Almond flour, ground flax, and coconut flour are the base for these savory muffins. They're paleo, full of protein, and make a great healthy addition to any breakfast menu.
Find the recipe here: Running to the Kitchen
7. (Berry) Paleo Breakfast Muffins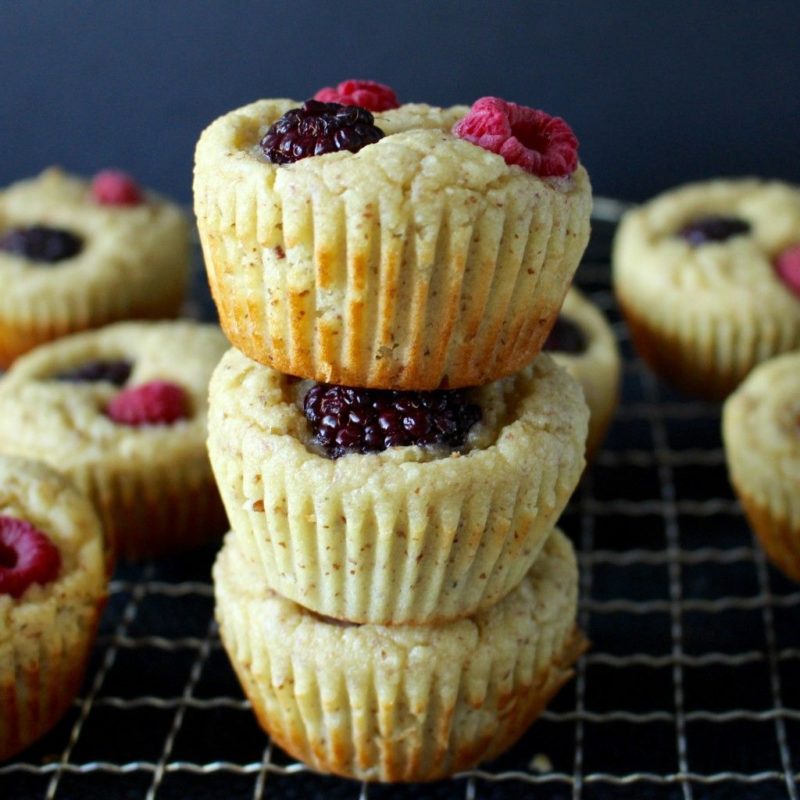 Coconut flour, almond flour and eggs add healthy protein for a tasty breakfast that'll keep you going for hours.
Find the recipe here: Jays Baking Me Crazy
8. Paleo Breakfast Muffins
Whole, clean ingredients make this recipe simple and delicious. These mouthwatering savory muffins are packed with egg, sausage, peppers, and kale for a nutritious protein-packed breakfast.
Find the recipe here: Gal on a Mission
9. Five-Minute High-Protein Muffins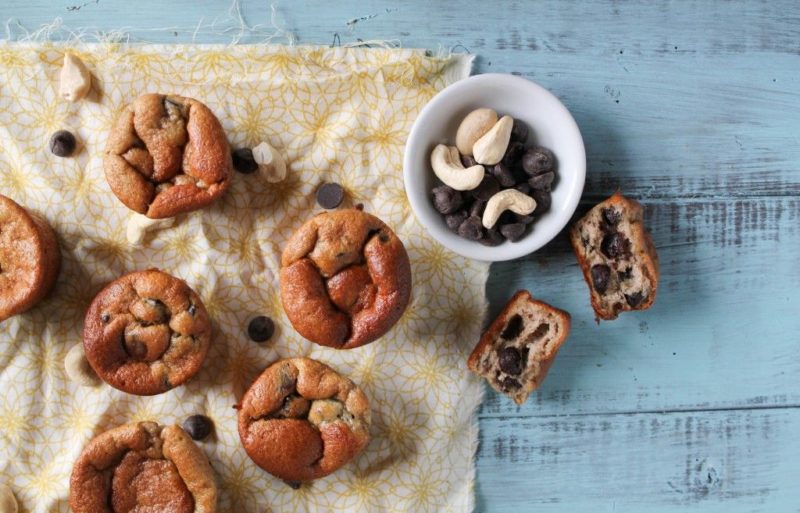 You can whip up these grain-free, sugar-free, gluten-free, dairy-free muffins in 5 short minutes. Although they're free of many ingredients normally found in muffins, they are high in taste.
A generous cup of nut butter and eggs make these muffins fluffy and nutritious.
Add nuts, sunflower seeds, dark chocolate chips, or serve as-is for an easy breakfast option.
Find the recipe here: Tessa the Domestic Diva
10. Orange Cranberry Muffins
Cranberries offers powerful health benefits, and these muffins are packed with phytonutrients that can help ward off inflammatory conditions.
If you're a fan of orange cranberry bread, you'll love this gluten-free muffin recipe that uses almond and coconut flour.
Find the recipe here: Comfy Belly
11. Raisin Bran Muffins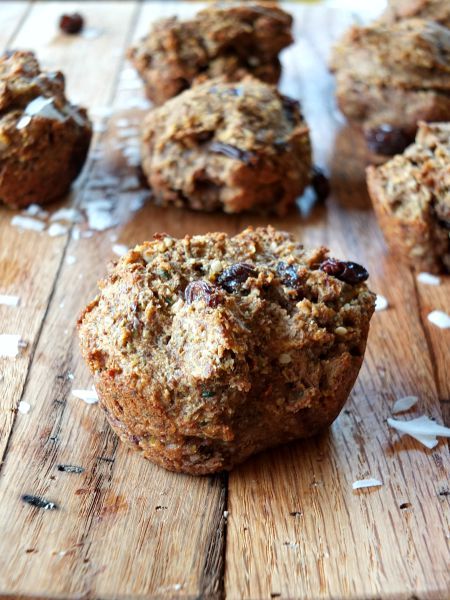 If you have an egg or nut allergy but still want healthy muffins, try this delicious variation. These muffins are packed with hemp seeds and ground flax, and have everything you need for a paleo-friendly breakfast.
Find the recipe here: Cook It Up Paleo
12. Flourless Peanut Butter Protein Muffins
Need extra protein in your morning? These muffins call for vanilla protein powder, which ups the protein count, keeping you full and giving you fuel for the day.
Find the recipe here: Knead to Cook
13. Peanut Butter and Jelly Quinoa Egg Muffins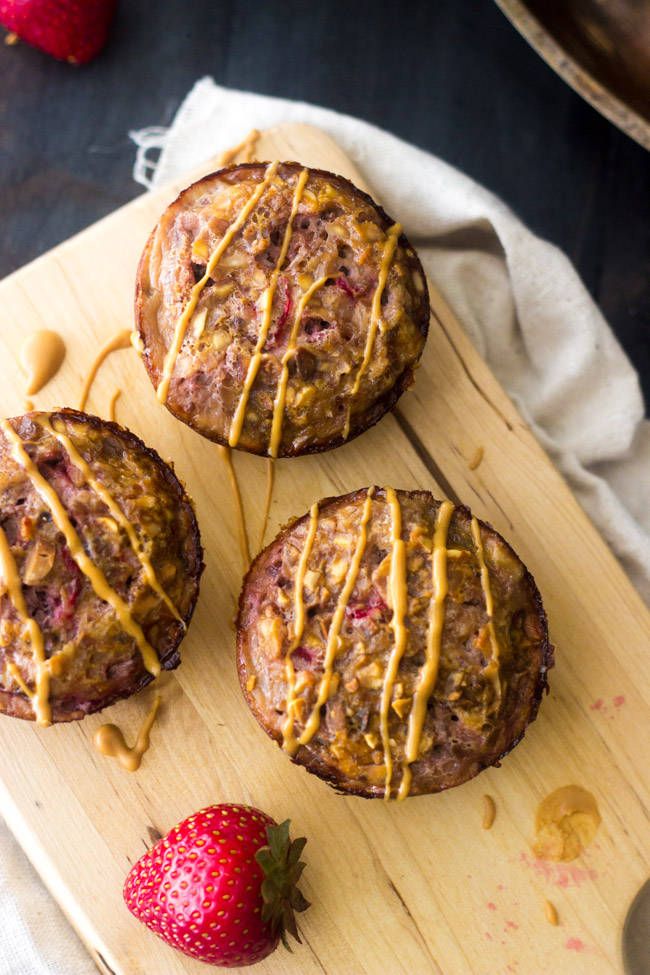 This egg muffin recipe tastes like a peanut butter and jelly sandwich – and it's healthy, quick, easy, and portable. Plus, they're kid-friendly, protein-packed and low carb.
Find the recipe here: Food, Faith, and Fitness
14. Mango Muffins with Coconut Lime Streusel
These muffins offer a taste of the tropics. Fresh mangoes, coconut, and limes mix with eggs, coconut flour, and flaxseed meal to make healthy and flavorful muffins topped with a sweet and crunchy streusel.
Find the recipe here: Living Healthy with Chocolate
15. Eggs in a Nest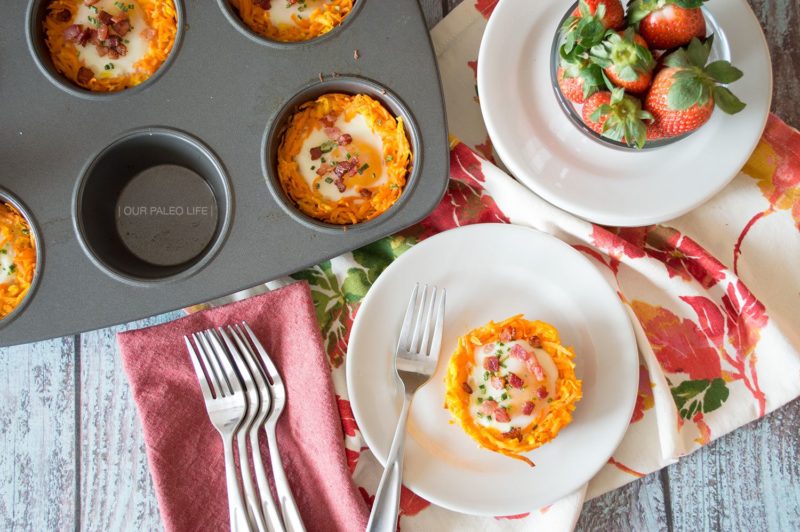 Unique and packed full of good-for-you ingredients, these "eggs in a nest" muffins feature eggs nestled in a sweet potato apple crust and dusted with crumbled bacon.
You're really going to love this twist on your usual eggs and bacon.
Find the recipe here: Our Paleo Life
16. Quinoa Salsa Egg Muffins
Loaded with flavor and spice, these muffins make a quick and easy protein-packed breakfast for on-the-go.
Feed your body protein first thing in the morning to prevent overeating later in the day.
Find the recipe here: Skinny Fitalicious
17. Grain-Free Coconut Flour Pumpkin Muffins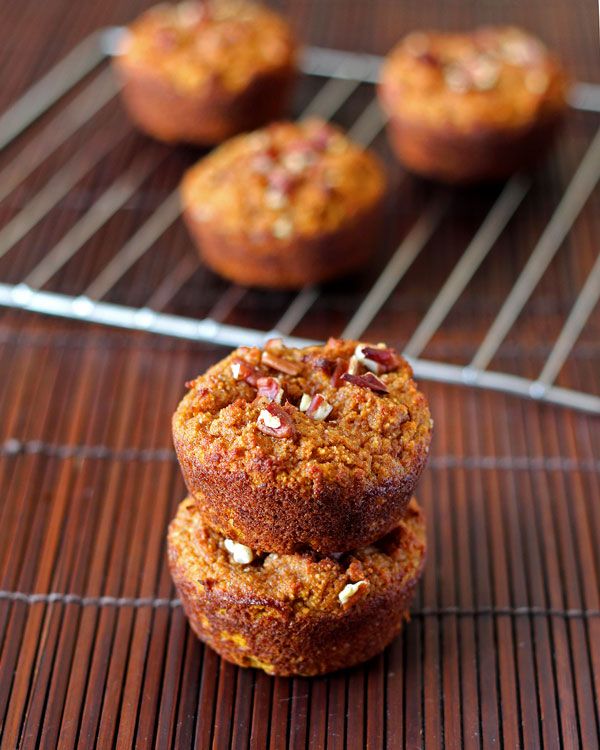 Skip the coffeeshop and enjoy these delicious muffins instead. They're sweetened with maple syrup and flavored with fall spices to make them extra yummy.
Serve with a smear of almond butter for extra protein and healthy fats.
Find the recipe here: Leelalicious
Healthy, Satisfying Breakfast
These paleo breakfast recipes will bring health and convenience to your morning routine.
You can make up a batch either the night before or on the weekend and reheat for an easy breakfast.
With a proper balance of protein, fiber, healthy fats, and a small amount of carbs in the morning, you're going to have a great day.
Fast, Easy, Healthy Eating All Day
Think eating healthy means spending hours in the kitchen, preparing your meals? It doesn't have to be that way – in fact, I have 67 real-world-tested recipes to prove it!
You can get my All Day Energy Diet Community Cookbook for FREE, and see for yourself. It features gluten- and dairy-free recipes that also are low in allergens, and take 15 minutes to prepare.
Click the banner below to get it!