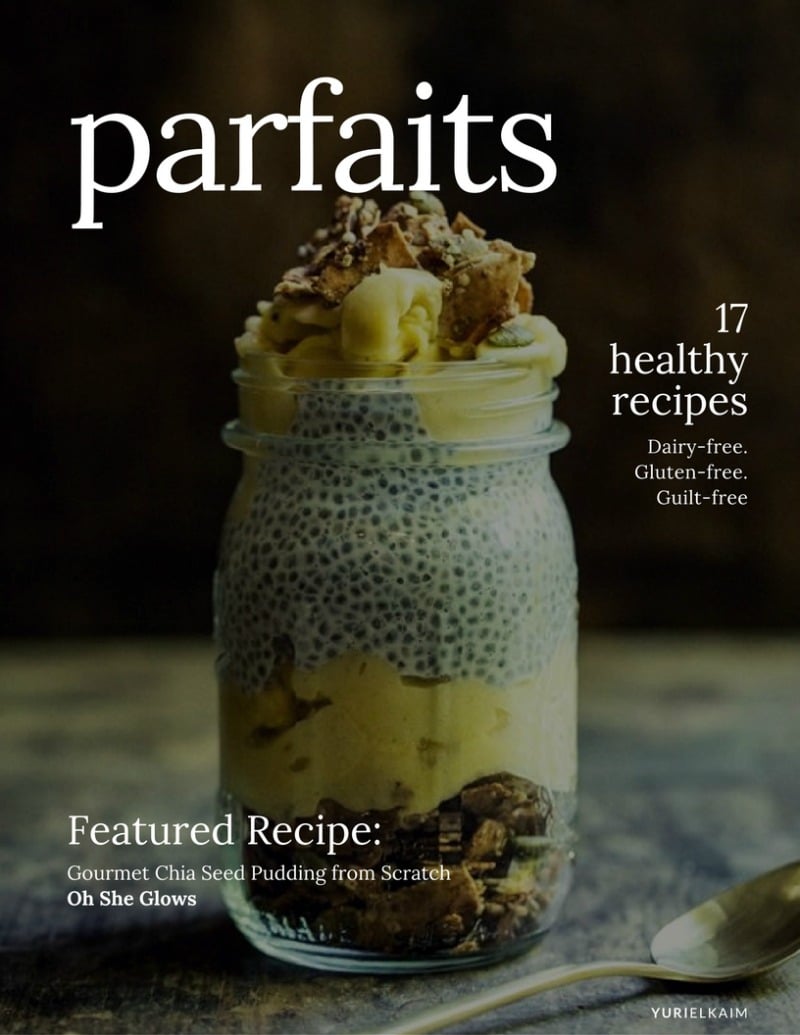 In French, the word "parfait" literally means "perfect."
And in English, parfait translates to a delicious, universally loved dessert with layers of scrumptious ingredients.
Believe it or not, this is one dessert that can actually be made healthy. By cutting out the dairy and refined sugar, plus adding plenty of nutritious ingredients, enjoying the occasional parfait can easily fit into a healthy diet.
I've gathered a list of 17 recipes so that you can enjoy this delicious treat without the guilt. Check it out below and give one of them a try next time you find yourself craving something sweet!
17 Healthy Parfait Recipes
1. Dairy-Free Pumpkin Cheesecake Mousse Parfait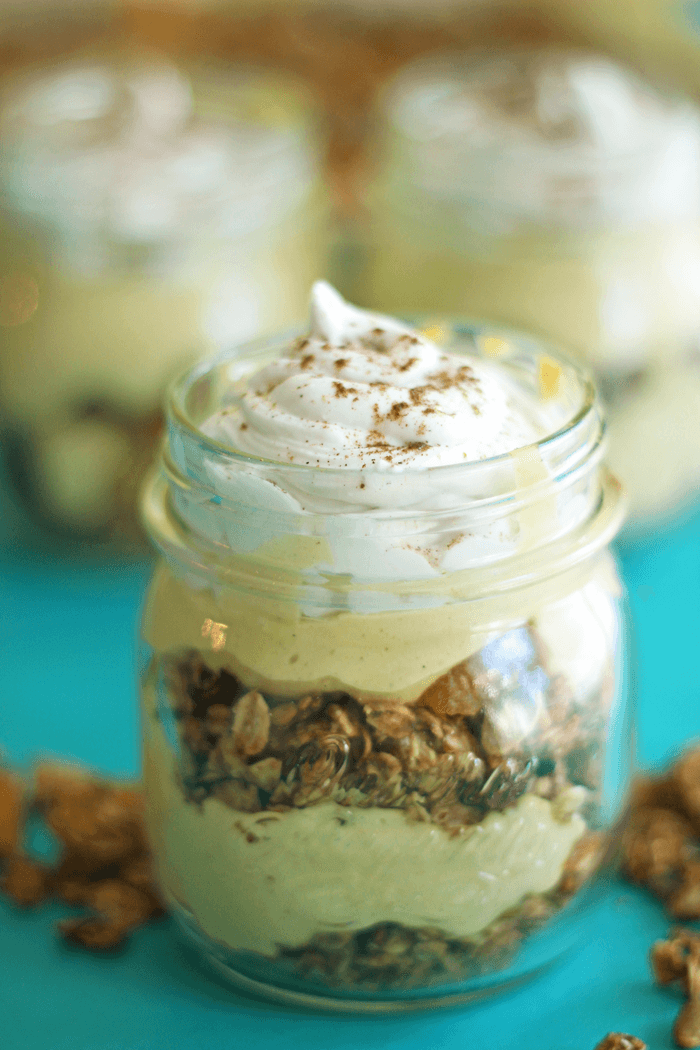 You'd be hard-pressed to find someone who wouldn't enjoy a few bites of this tasty pumpkin cheesecake parfait.
Topped with a homemade coconut whipped cream, it looks and tastes indulgent, but it's actually full of health-promoting ingredients. Swap out the soymilk for your favorite milk alternative and you're good to go.
Find the recipe here: HealthNut Nutrition
2. Superfood Chia Seed Pudding Parfait
This mouthwatering pudding parfait packs a powerful punch when it comes to nutrition.
Full of superfoods like chia seeds, antioxidant-rich maple syrup, bananas, and blood oranges, this is a dessert that you can definitely feel good about eating.
Find the recipe here: The Pretty Bee
3. Gourmet Chia Seed Pudding from Scratch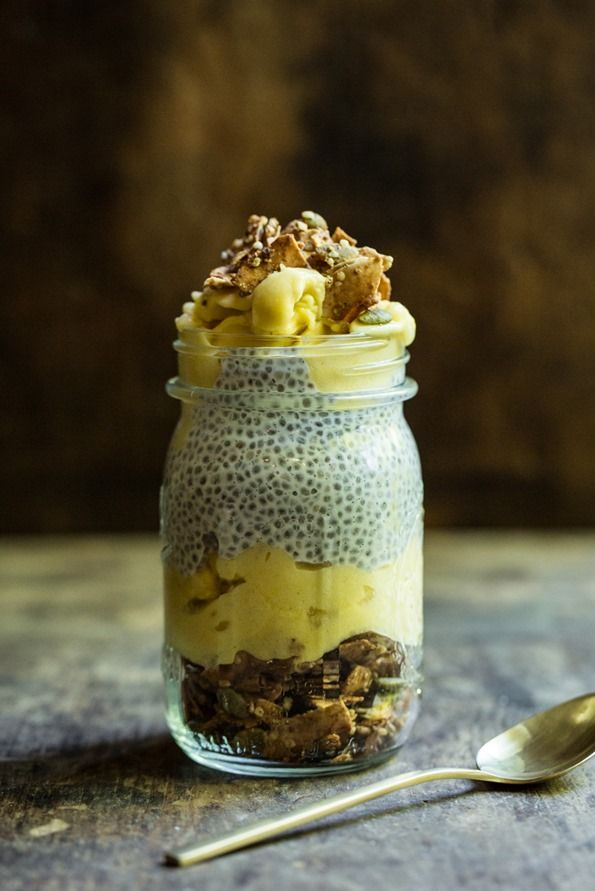 When a recipe has "gourmet" in the title, you know it has to be good. Luckily, this one does not disappoint.
It's a simple recipe – almond milk (homemade if you want!), vanilla, maple syrup, sea salt, chia seeds – that makes a huge batch, so you can freeze what you don't eat now to enjoy later.
If you make the almond milk from scratch, this one requires some soaking time for the almonds, but otherwise it takes just 10 minutes to make. And the actual prep is super easy. Serve it to a group of guests and they'll surely be convinced you've spent all day in the kitchen.
Find the recipe here: Oh She Glows
4. Blueberry, Vanilla and Mango Chia Protein Parfait
Colorful and vibrant, these parfait cups really are as delicious as they look.
Filled with orange zest, fresh blueberries, and mango, this is an awesome (and tasty) way to get in a few servings of fruit and knock out a good chunk of your fiber intake for the day. Plus, a few tablespoons of protein powder brings this recipe to a new level when it comes to nutrition.
Find the recipe here: Epicurean Eva
5. Pumpkin Pie Parfait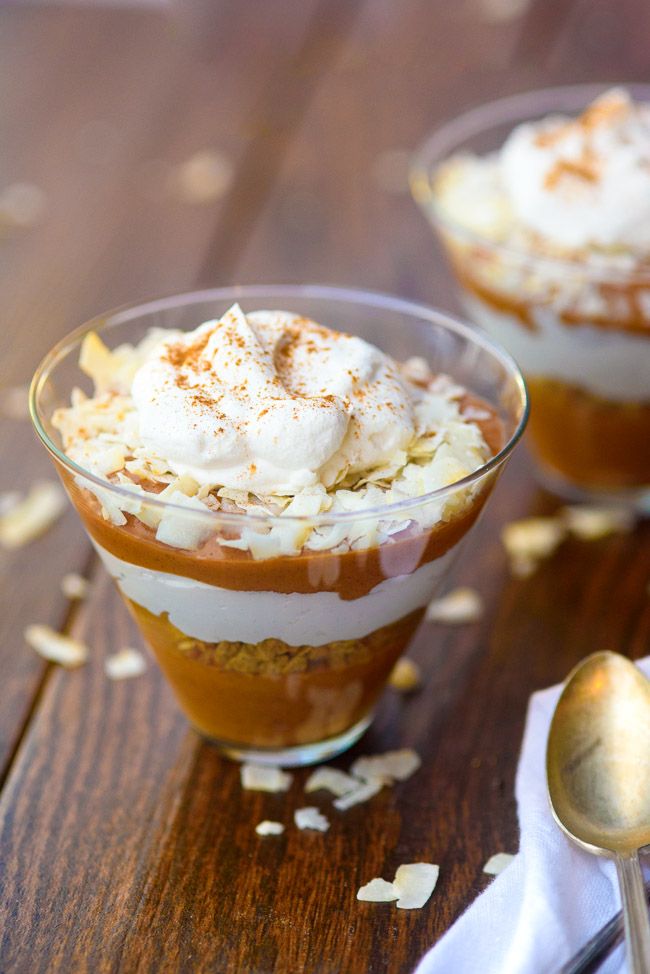 Who says pumpkin pie is only for the holiday season? This pumpkin pie parfait proves that it can be enjoyed year-round.
Take a creamy, smooth pumpkin pie smoothie and layer it with gluten-free granola, coconut flakes, and coconut whip and you have this instant crowd (and tastebud) pleaser.
Find the recipe here: Kimberly Snyder
6. Raw Cheesecake Parfait
Combine equal parts cheesecake and parfait, mix it into a healthy snack, and voila! Introducing the raw cheesecake parfait.
Naturally sweetened with pitted dates, this recipe features some big-time nutrition superstars like coconut oil, rolled oats, and sunflower seeds. With this parfait, you'll feel like you're feasting on a decadent cheesecake, guilt-free.
Find the recipe here: Nutrition Stripped
7. Peanut Butter Mousse & Chocolate Crumble Parfait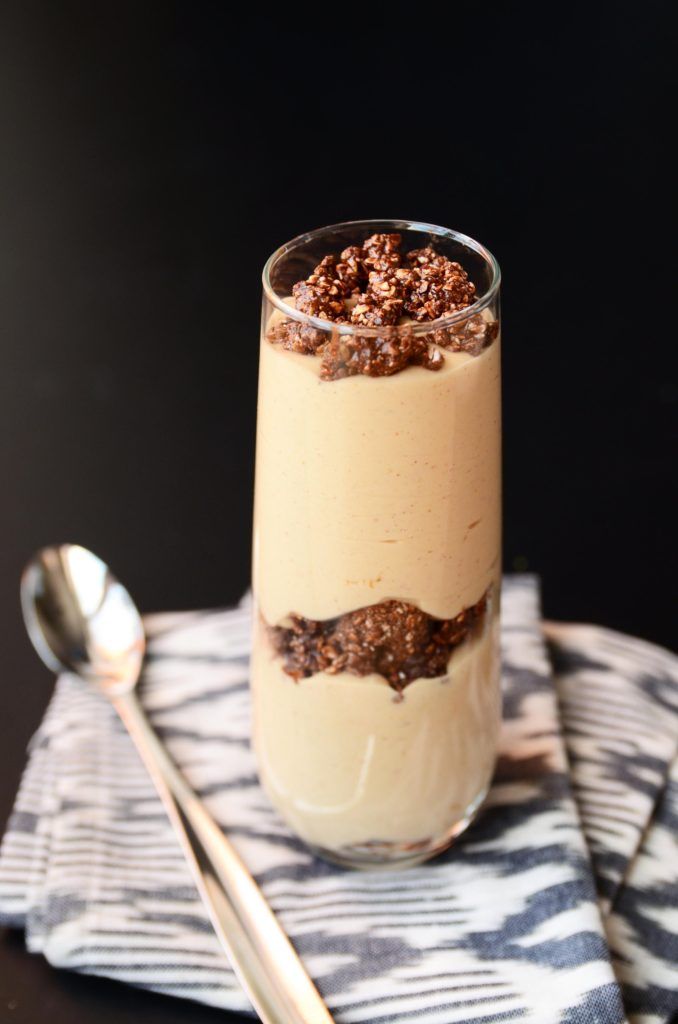 Peanut butter and chocolate? Yes, please! Especially when they are combined in a healthy, finger-licking-good crumble parfait.
The peanut butter mousse is made with delicious ingredients like coconut cream, coconut oil, and pure maple syrup. Topped with raw buckwheat oats and cacao, this parfait is a guaranteed new family favorite.
Find the recipe here: Blissful Basil
8. Peach Crisp Chia Pudding Parfaits
Sweet, juicy, and flavorful, a taste of this peach parfait will bring you right back to summertime.
With its rolled oats, almond butter, and roasted peaches, this recipe might just convince you you're biting into a delicious peach crisp, but with way less calories, sugar, and fat.
Find the recipe here: Connoisseurus Veg
9. Banana Chocolate Chia Pudding Parfait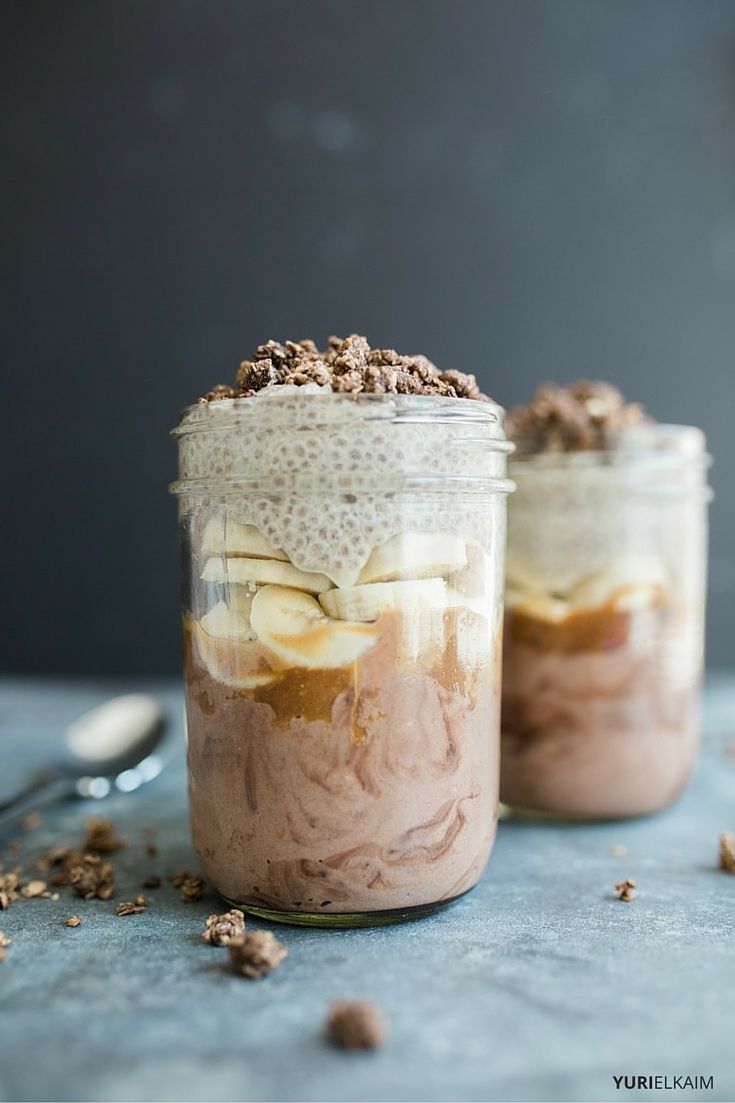 Another amazing taste combination, chocolate and banana are a match made in heaven. In fact, it's so good, you probably will want to double up on this one when you try it.
Not only does it taste good, but it's also good for you. Just one serving packs in an astonishing 30 grams of protein, helping you stay satisfied and cut cravings throughout your day.
Find the recipe here: Yuri Elkaim
10. Superfood Chia Pudding
Delicious and literally brimming with nutrients, this chia pudding is the perfect way to start your day.
What makes it so awesome? Besides featuring protein-packed chia pudding, this recipe includes fiber-filled blueberries, heart-healthy avocado, and antioxidant-rich spirulina powder. Bon appetit!
Find the recipe here: The Awesome Green
11. Chocolate Pumpkin Pudding Parfait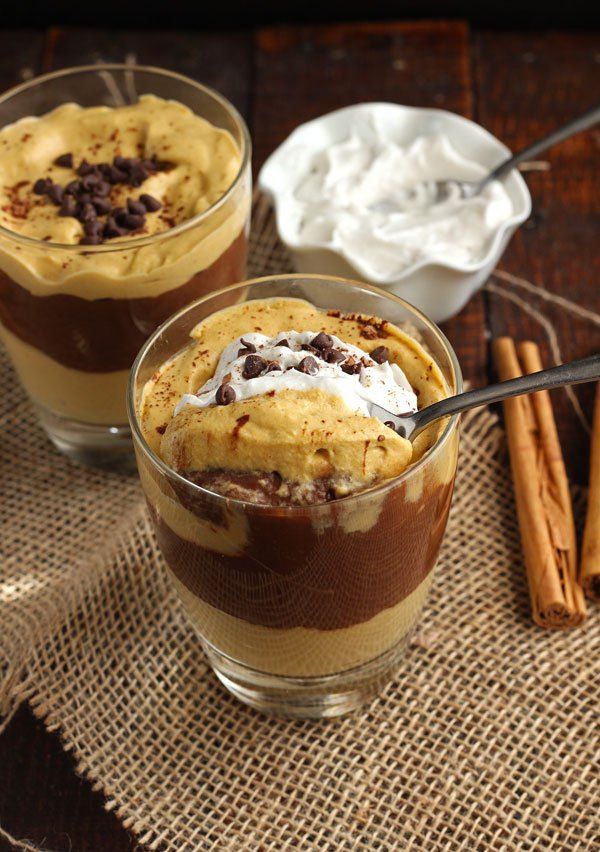 This pudding parfait might feature the signature pumpkin flavor of fall, but you'll love this vegan and paleo parfait recipe all year long.
Layers of pumpkin and chocolate pudding make this parfait just as easy on the eyes as it is on your stomach. Top it off with some coconut whipped cream and dairy-free chocolate chips for the ultimate (healthy) indulgence.
Find the recipe here: Katalyst Health
12. Caramel Apple Pie Chia Seed Pudding Parfait
This vegan parfait recipe looks and tastes like a big slice of caramel apple pie, but it's actually healthy for you.
The base of this chia pudding comes together in a flash with just four simple ingredients. Topped with a layer of warm, drizzly caramel and a layer of apple-cinnamon compote, this recipe will leave your tastebuds satisfied.
Find the recipe here: Blissful Basil
13. Paleo Blueberry & Peach Parfaits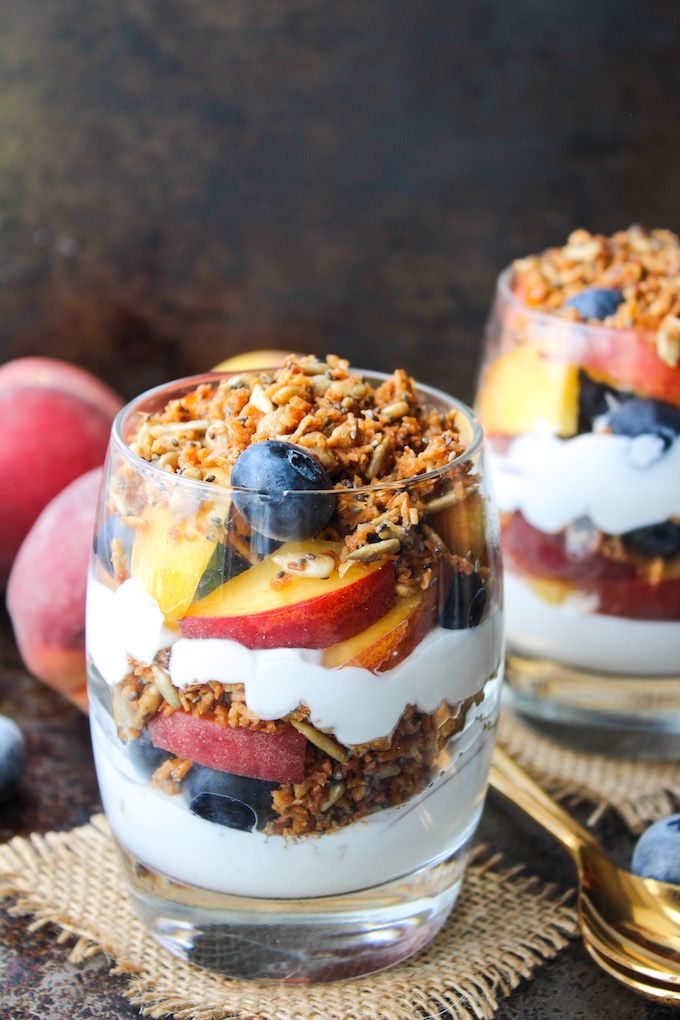 Blueberries, peaches, and grain-free granola … does it get any better than this?
This parfait comes together in a cinch and you definitely don't need a culinary degree to cook up a tasty batch. Six ingredients plus a little mixing and you have a dairy free parfait ready to be devoured.
Find the recipe here: A Saucy Kitchen
14. Chocolate Berry Paleo Parfaits
Chocolatey, fruity, and oh-so-delicious, this parfait is paleo-friendly and full of flavor.
This dessert has it all: decadent cocoa powder, shredded coconut, and sweet mixed berries cooked down into a thick and velvety jam. A serving of this parfait provides a tantalizing treat for your tastebuds.
Find the recipe here: Cook It Up Paleo
15. Raw Banana Brownie Parfait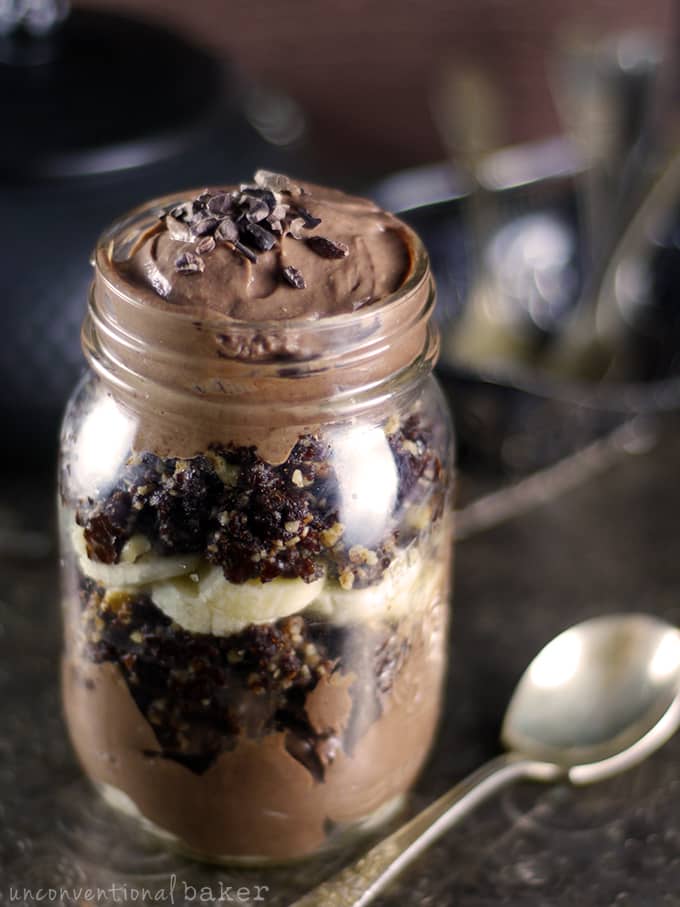 Looking for a healthy way to satisfy your sweet tooth? Look no further.
This brownie parfait is packed with good stuff, like walnuts, packed dates, vanilla bean powder, and maca powder. It might be good for you, but it will definitely trick your tastebuds into thinking that it's not!
Find the recipe here: Unconventional Baker
16. Chocolate Peanut Butter Chia Breakfast Parfait
Who doesn't love a breakfast that could double as a dessert?
This recipe brings the best of both worlds by combining raw cacao powder with creamy peanut butter. Trade in the soymilk for coconut milk and add a scoop of protein powder to kick it up a notch and you're all ready to start your day off right.
Find the recipe here: Oh My Veggies
17. Coconut Yogurt Chia Seed Pudding Parfaits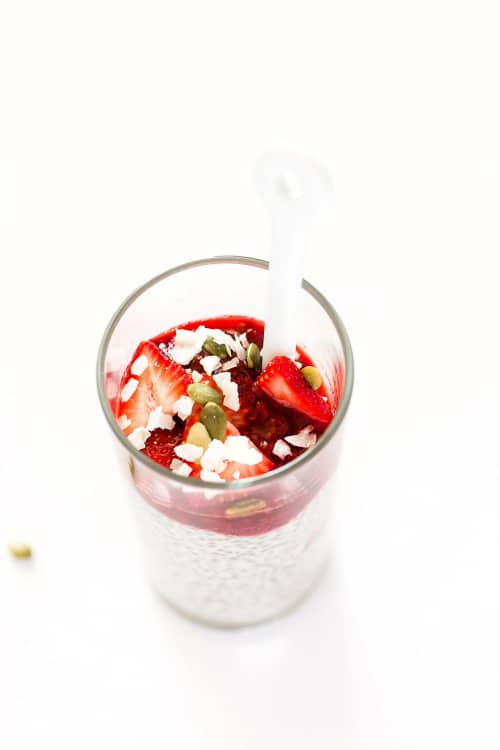 Blend coconut yogurt with a simple two-ingredient strawberry jam and you get this delicious and nutritious creation.
Featuring chia seeds, coconut flakes, strawberries, and pepitas, this dairy-free parfait is almost too pretty to eat … almost.
Find the recipe here: Blissful Basil
Plan Ahead for Healthy Desserts
It's undeniable: parfaits make an awesome snack or dessert, perfect for piling on the nutrients with every delicious layer.
Plus, knowing you can enjoy indulgent dessert flavors can go a long way to helping you maintain a healthy, nutritious diet.
Give a few of these healthy parfait recipes a try. Or make up your own! Load up on the nutritious superfood ingredients and you can become a seasoned parfait chef in no time.
Even More Healthy Desserts
Love making your own homemade desserts? It's especially satisfying when your desserts leave you feeling energized and healthy rather than stuffed and bloated.
I have 8 energy-boosting dessert recipes so tasty that you'll swear they're bad for you. Bonus: they're low in sugar and allergens, and contain no gluten or dairy.
Download my FREE Healthy Desserts eBook right now. Just click the banner below to get it for FREE!