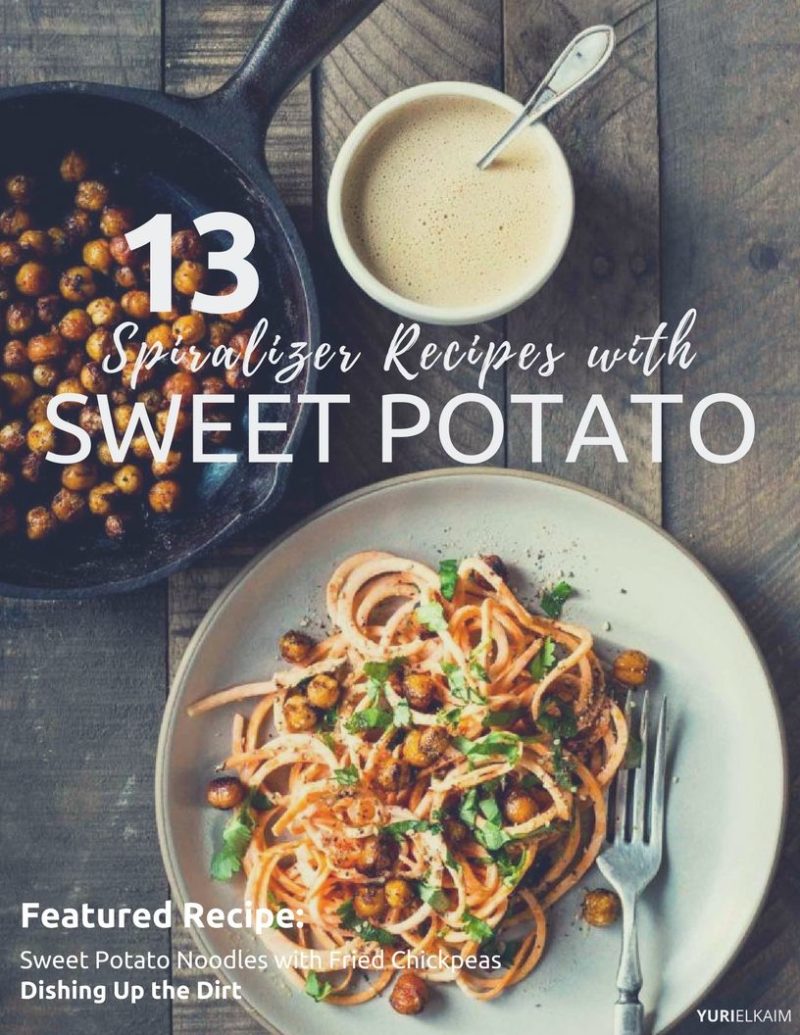 From sweet potato fries to sweet potato pie, most of us can agree that life is a little better thanks to this delicious (and nutritious) veggie.
But just when you thought you might have exhausted the sweet potato possibilities, along comes an incredible creation: the spiralized sweet potato.
If you haven't seen them yet, basically they are noodle-ized versions of sweet potatoes, run through a spiralizer.
Sweet potato spiralizer recipes are awesome because they can easily replace traditional noodles in any dish, bringing you both the health benefits and flavor of the sweet potato.
Plus, the opportunities aren't just limited to pasta dishes. They can be used in everything from breakfast bowls to curries, too.
13 Tasty Spiralizer Sweet Potato Recipes
All you need is a spiralizer to get started with any of these recipes.
This inexpensive kitchen gadget can transform pretty much any vegetable into noodle form, making it a must-have for your kitchen shelf.
I recommend the Paderno Spiral Slicer, which is both powerful and durable, and comes with an affordable price tag.
Once you've got your spiralizer, you're all set! Give it a try – you can't go wrong with any of the delicious spiralizer sweet potato recipes from the list below.
1. Creamy Spinach Sweet Potato Noodles with Cashew Sauce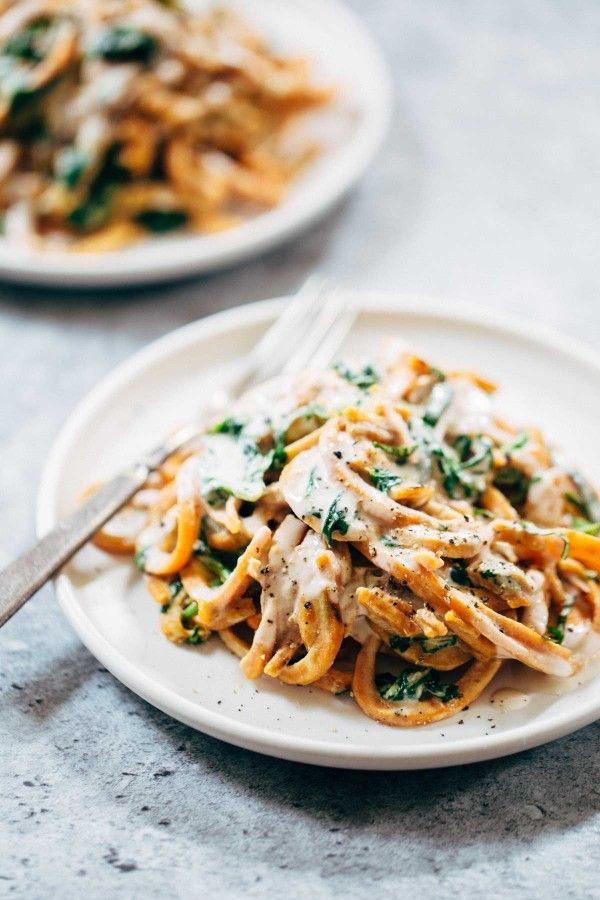 Who said gluten-free and dairy-free means you can't enjoy the occasional creamy dish of noodles?
This recipe gets its irresistible texture from cashew sauce. Meanwhile, spinach and fresh basil add a splash of color and a long list of nutrients to this yummy recipe.
Find the recipe here: Pinch of Yum
2. Thai Peanut Chicken and Sweet Potato Noodles
You definitely don't have to be a chef to throw together this dish, but it will certainly taste like you've spent hours in the kitchen whipping it up.
The base of this dish is simple enough, with sweet potato noodles, chicken, broccoli, and your choice of toppings. But the Thai peanut sauce is what really takes it over the edge, and makes this recipe a keeper.
Find the recipe here: Iowa Girl Eats
3. Sesame Sweet Potato Noodles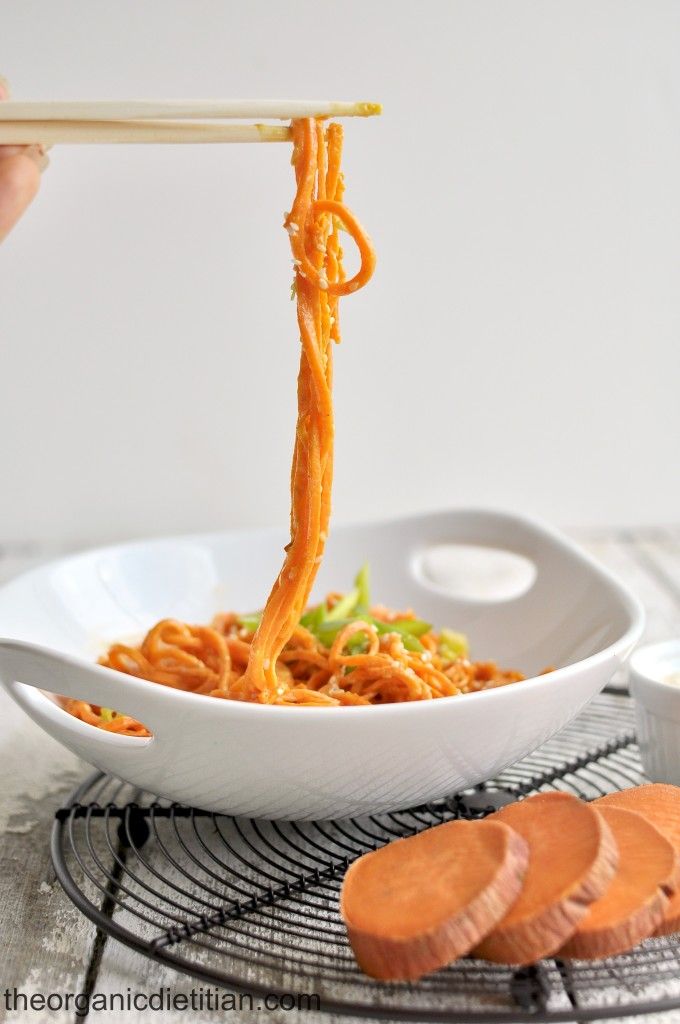 Looking for a low-calorie, high-fiber pasta that fills you up and keeps you going all day long? You'll want to try this one out.
Toasted sesame oil, tahini paste, and sesame seeds add a hearty dose of flavor to this dish. Add in some raw apple cider vinegar and antioxidant-rich maple syrup and you have a well-rounded nutritious dinner.
Find the recipe here: The Organic Dietitian
4. Carrot + Sweet Potato Noodles with Asian Almond Butter Sauce
With both carrot and sweet potato noodles, this recipe proves that more is better when it comes to spiralized veggies.
The super-secret ingredient in this recipe is softened almond butter, which provides a smooth texture. Plus, almond milk, coconut oil, and ginger give this recipe a taste and nutrition upgrade.
Find the recipe here: My Healthyish Life
5. Sweet Potato Noodles with Chorizo Roasted Red Pepper and Spinach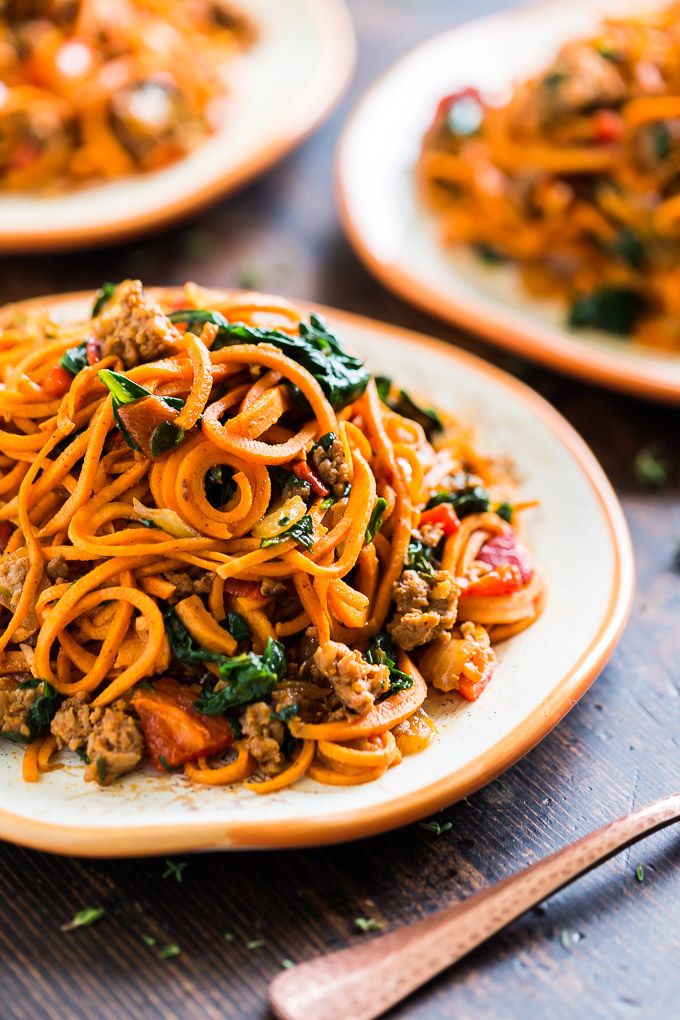 Who wouldn't love a combo of sausage, red pepper, and sweet potato noodles? This hearty but healthy recipe will make even the most skeptical eater happy.
Combine chorizo sausage with onions, garlic, red peppers, and baby spinach to get the perfect chorizo-veggie mixture. Paired with a plate of sweet potato noodles, this is a delicious comfort-food dish.
Find the recipe here: Get Inspired Everyday
6. Thai Peanut Sweet Potato Noodles
Sweet potato noodles are infused with a Thai twist to create this tasty dish.
The authentic Thai flavor comes from peanuts, creamy peanut butter, lemongrass, and coconut milk. Anti-inflammatory ginger and garlic take it to the next level in terms of both taste and health benefits.
Find the recipe here: The Fitchen
7. Coconut Curry with Sweet Potato Noodles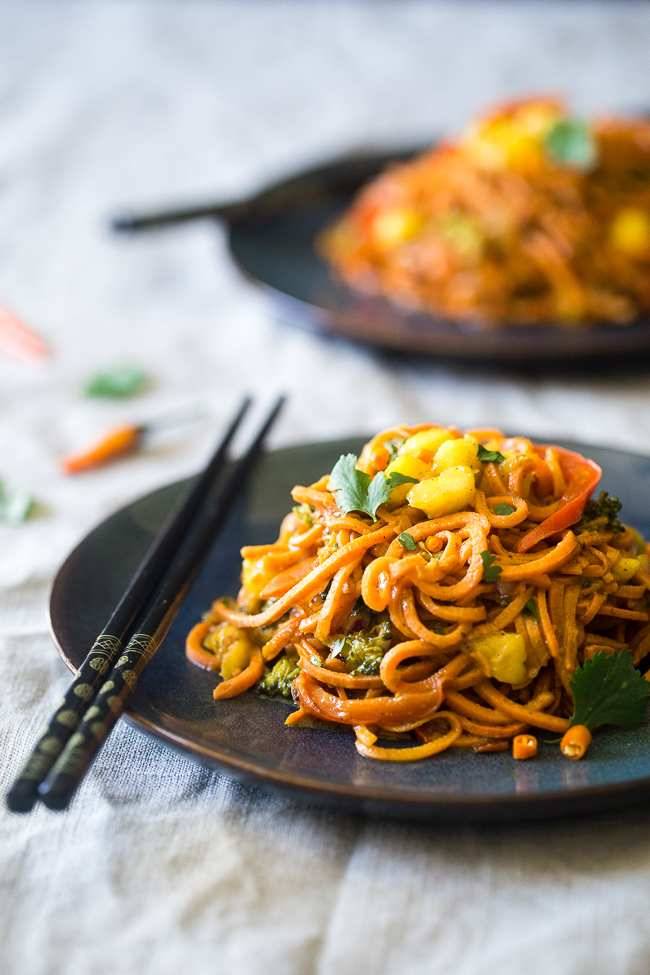 This recipe will take your spiralizer wizardry to the next level with a sophisticated layering of tastes: curry, mango, and sweet potatoes.
This recipe features a creamy and flavorful coconut curry, perfectly al dente sweet potato noodles, and a zesty mango salsa to top it all off. Mix all three together and enjoy.
Find the recipe here: Food Faith Fitness
8. Thai Red Curry with Sweet Potato Noodles
This simple one-pot meal not only tastes great, but you can make it in under 30 minutes.
Among the star-studded super foods in this recipe are nutrient-rich kale, inflammation-busting ginger, and immune-boosting garlic.
Throw in some chicken, bone broth, and, of course, sweet potato noodles and you'll have a mouthwatering curry.
Find the recipe here: Savory Lotus
9. Sweet Potato Noodles with Fried Chickpeas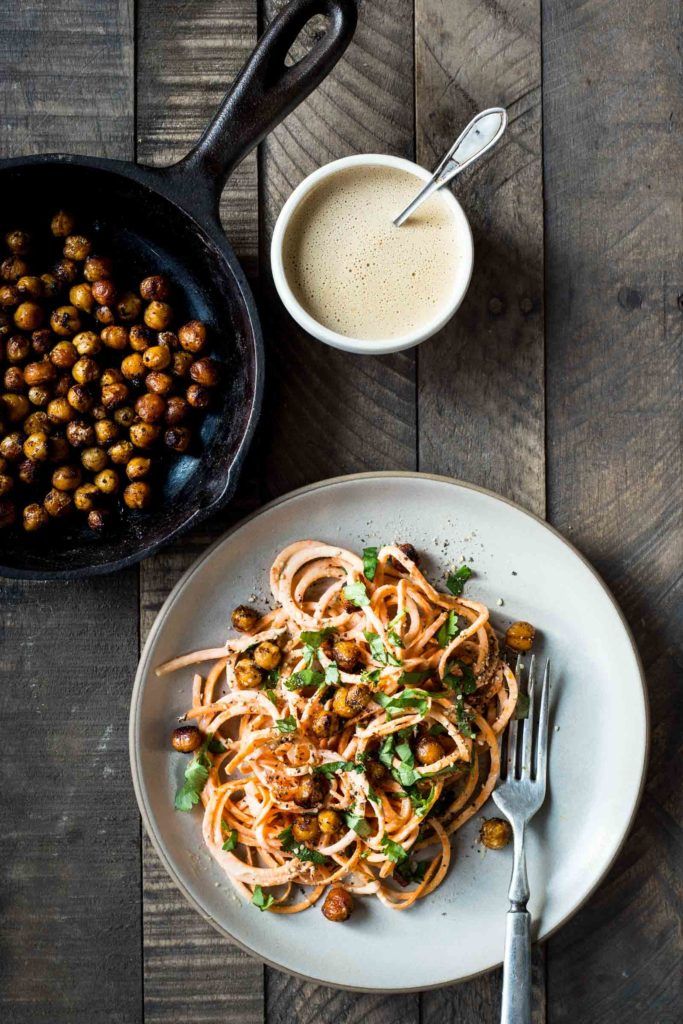 This recipe is brimming with fiber and protein, both of which help cut cravings and keep you feeling full for hours after you eat.
It's all thanks to the fried chickpeas, which are high in protein and add just the right amount of crunch. Ginger, honey, and tamari amplify the flavor, making this recipe a hit.
Find the recipe here: Dishing up the Dirt
10. Sweet Potato Spaghetti with Chunky Lentil Sauce
Attention classic spaghetti lovers: here's a healthier version that will satisfy your cravings – and it's actually good for you!
The chunky lentil sauce kicks this recipe up in both protein and fiber content. Apple cider vinegar, carrots, bell peppers, and garlic all finish the job and take this recipe from good to incredible.
Find the recipe here: Emilie Eats
11. Egg Muffins with Maple Sweet Potato Noodles
These gluten-free muffins boast a pretty yummy list of ingredients.
Between the hickory smoked bacon, the maple syrup, and just a dash of cinnamon, you're going to want to break out your biggest muffin tins for these.
Find the recipe here: Food Faith Fitness
12. Sweet Potato Noodle Breakfast Bowls
This balanced and delicious meal contains heart-healthy fat from avocado, lots of protein from eggs, and complex carbohydrates thanks to the sweet potato noodles.
But despite having "breakfast" in its title, I'd recommend saving this tasty dish for later on in the day (check out why here).
It's a winner, though, with just the right balance between flavor and nutrition.
Find the recipe here: Fashionable Foods
13. Brussels Sprouts and Sweet Potato Noodle Bowl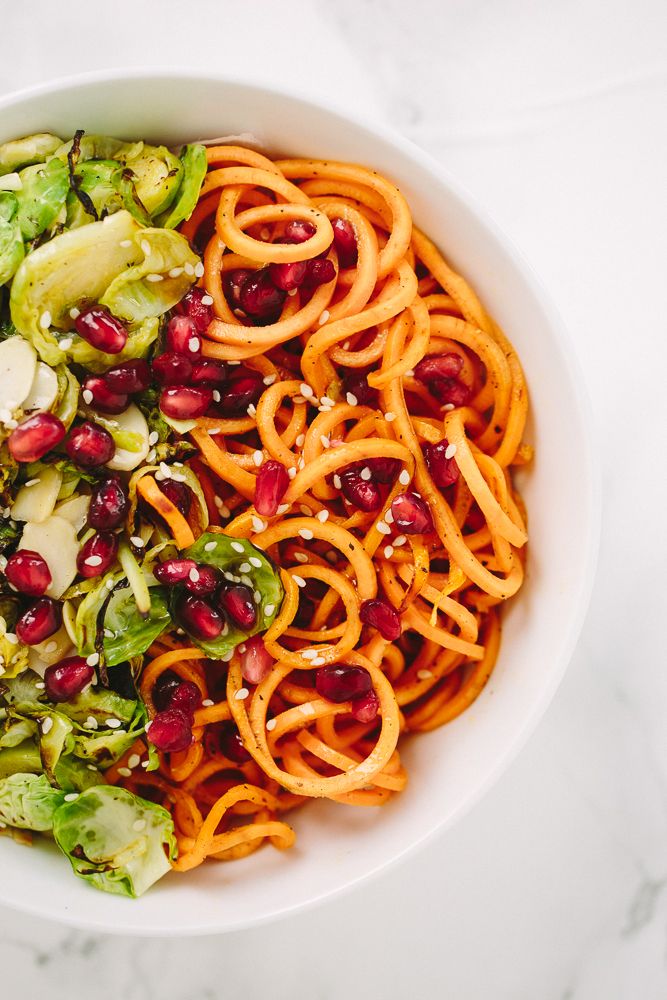 With a long list of health-promoting ingredients, this sweet potato noodle bowl is perfect for the whole family.
Sweet potato, pomegranate arils, Brussels sprouts, and almonds make this recipe a rock star when it comes to nutrition. Substitute the soy sauce for tamari to keep it gluten-free and even better for you.
Find the recipe here: Inspiralized
Start Spiralizing
Try out a few of these spiralizer sweet potato recipes and you might just find that veggie pasta will replace regular pasta in your dinner rotation.
From muffins to noodles and everything in between, if you haven't tried spiralizing, give it a try and see what you're missing.
Easy, Fast, Delicious Weekday Cooking
Need quick dinner recipes that are both nutritious and tasty? Be sure to get your FREE copy of the All Day Energy Diet Community Cookbook.
It features 67 gluten- and dairy-free meals that also are low in sugar and high in allergens. Even so, they taste great and can be on the table in about 15 minutes.
To get your copy, just click the image below.