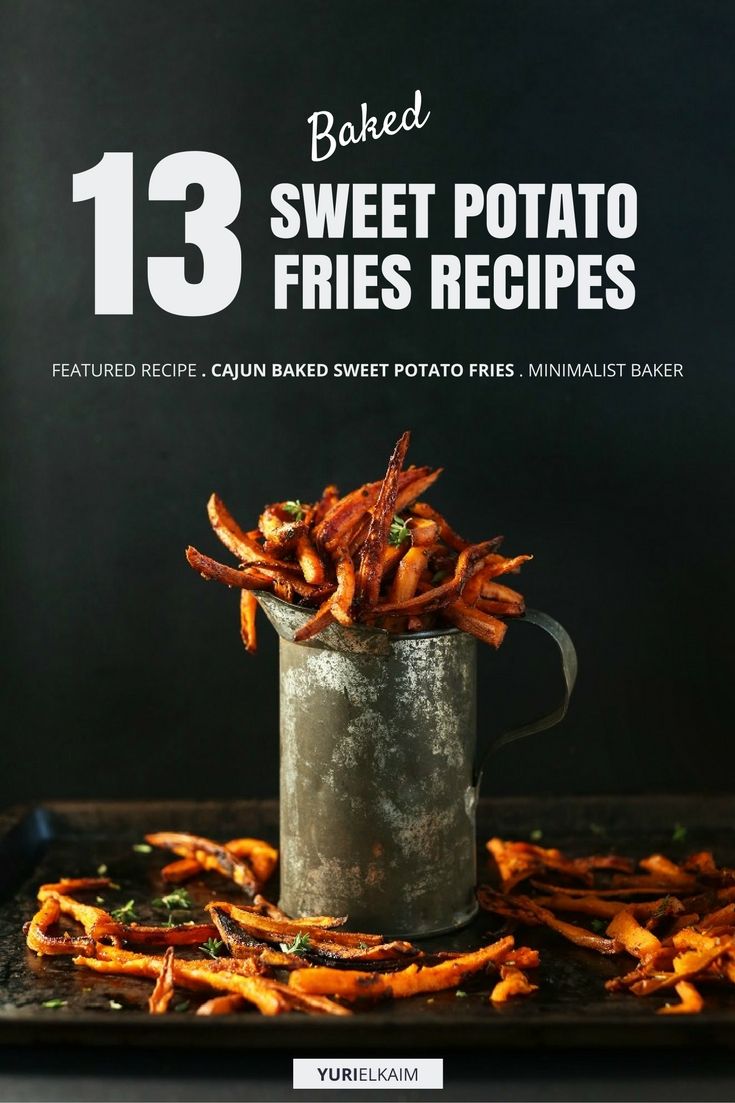 Crispy and flavorful with just a hint of sweetness, a good batch of sweet potato fries can rival even the best French fries.
Sweet or spicy, they can be seasoned to create hundreds of unique combinations, all incredibly delicious.
And best yet: sweet potatoes boast an excellent nutrient profile that makes them a worthy addition to any diet.
Their high fiber content means they keep you feeling full and satisfied – and the fact they are loaded with vitamin A means they've got extra health benefits, including being good for your eyesight.
Swapping out your white potatoes for this sweet variety is a great way to make sure you're getting the most nutritional bang for your buck.
Take Your Fries Over the Top
A few tips for how to bake sweet potato fries and guarantee the best batch possible:
Cut your baking time significantly by cutting them into smaller chunks. Cutting them down to about ¼-inch decreases your chance of biting into a big chunk of raw potato on the inside.
Soak them before baking to maximize crispiness. This draws out excess starch and allows them to cook better through.
Always line your pan with aluminum foil to prevent sticking. Skip this step and there's a good chance you'll be stuck trying to scrape chunks of potato off your pan for hours. Not fun.
Wait until after baking to sprinkle any salt over top otherwise you might end up with floppy, wilted fries.
Avoid putting too many fries on one pan or your fries might not end up cooked thoroughly. Spread them out and flip halfway through baking for the best results.
Baked Sweet Potato Fries Recipes
1. Simple Sweet Potato Fries with Turmeric Tahini Dip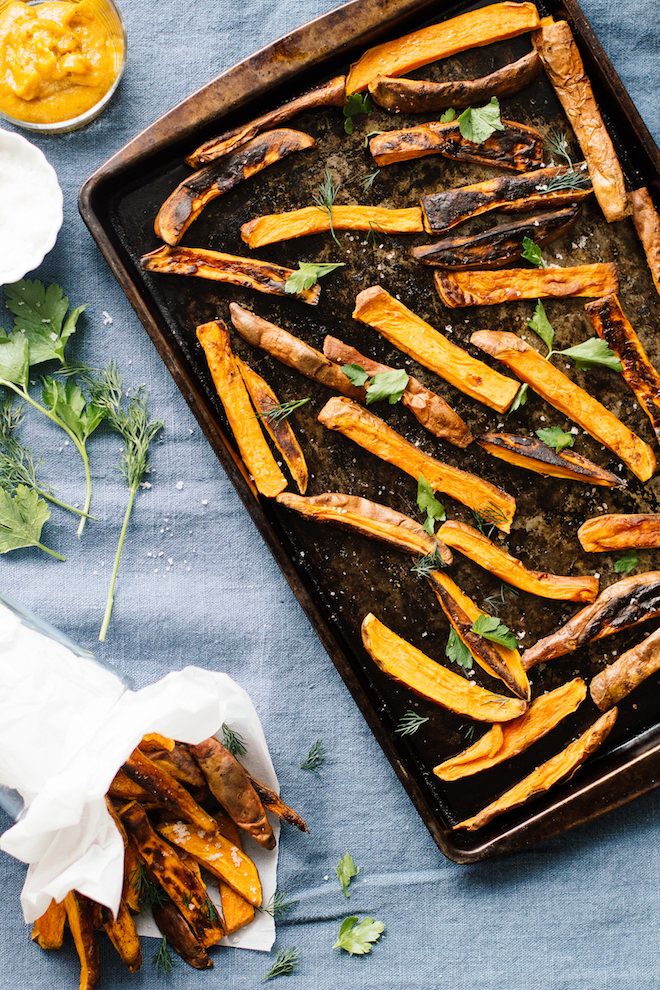 These fries are packed with nutrients, from the fat-busting powers of coconut oil to the potent anti-inflammatory effects of turmeric.
Best of all, this recipe is perfect for any level of cooking experience; even the most novice of chefs can perfect this delicious dish.
Find the recipe here: Nutrition Stripped
2. Crispy Oven Baked Sweet Potato Fries
Nothing is worse than a batch of soggy, limp fries. This simple recipe promises fries that are extra crispy and completely foolproof.
Coated in coconut or avocado oil and a sprinkle of tapioca flour, these fries deliver the perfect amount of crunch.
Find the recipe here: Nurture my Gut
3. Cumin Spiced Sweet Potato Fries
A dash of cumin and a sprinkle of chili powder make these seasoned fries super savory and delicious.
Coupled with a refreshing avocado garlic dip, this recipe is also packed with antioxidants and heart-healthy fats.
Find the recipe here: Paleo Gluten Free
4. Crispy Baked Sweet Potato Fries with Garlic Aioli Dipping Sauce
These sweet and smoky sweet potato fries are perfectly paired with a zesty garlic aioli sauce that is loaded with flavor.
Plus, because it's packed with the antioxidant benefits of garlic, it's totally okay to have seconds … right?
Find the recipe here: Dishing Delish
5. Cajun Baked Sweet Potato Fries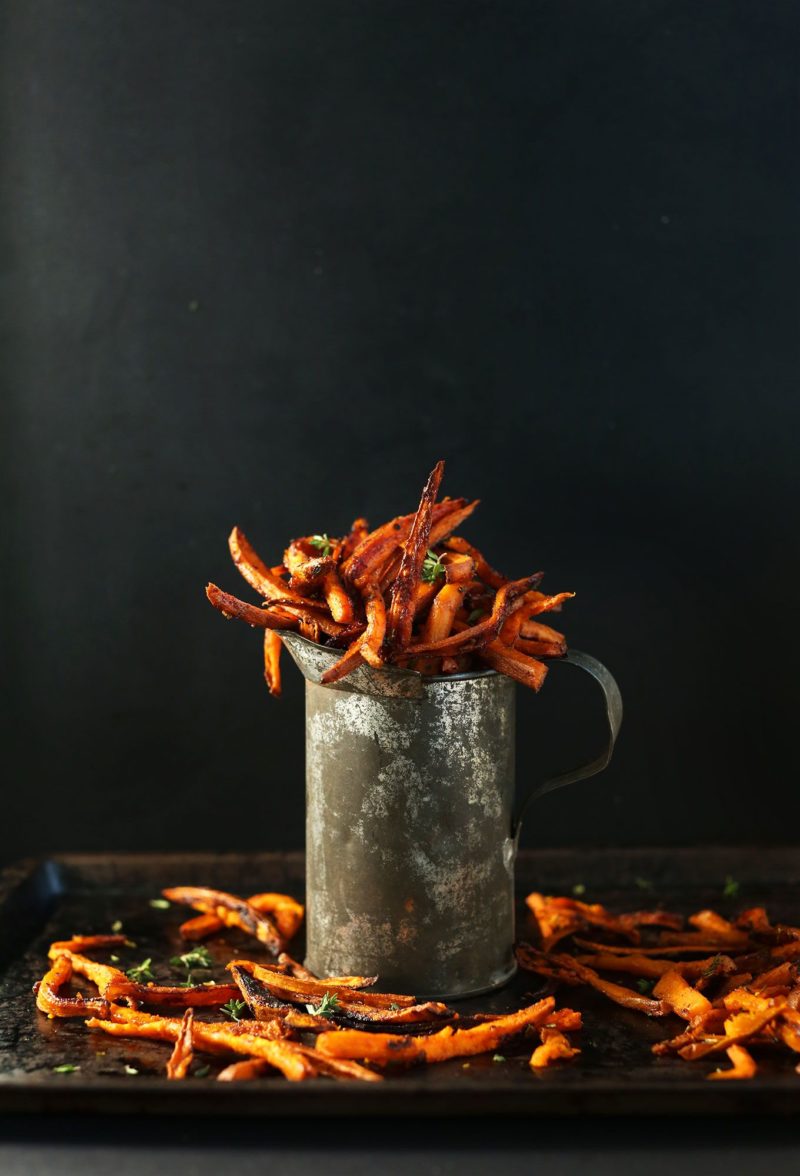 Sweet mixed with a little spicy — it just doesn't get any better.
This Cajun mix is super simple, savory, satisfying, and makes the perfect side dish to a hearty vegan burger.
Find the recipe here: Minimalist Baker
6. Extra Crispy Rosemary Sea Salt Sweet Potato Fries
The beauty of this recipe is in its simplicity. Just three ingredients come together to make these oven baked sweet potato fries absolutely irresistible.
Pair it with a delicious dipping sauce and you'll be scrambling for a second helping of these scrumptious sweet potato fries.
Find the recipe here: Baker by Nature
7. Smoky & Spicy Baked Sweet Potato Fries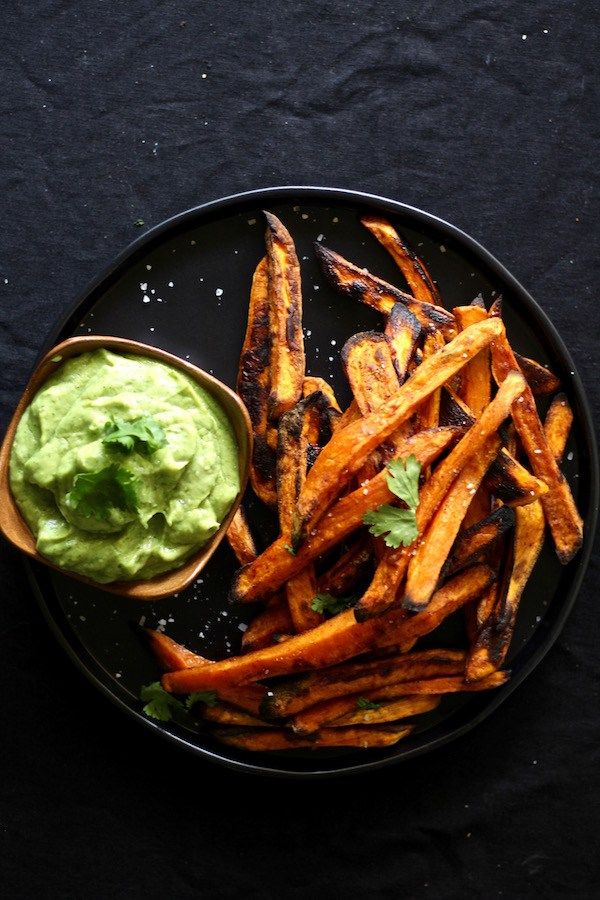 Are your taste buds ready for a treat?
Super spicy and flavorful sweet potato fries are balanced with a fresh avocado, cilantro, and lime dip in this tasty recipe. Plus, the splash of unsweetened coconut milk makes the dip dairy-free and delicious.
Find the recipe here: Bessie Bakes
8. Indian Spiced Sweet Potato Fries with Parsley Cashew Dip
Ready to take your sweet potato fries to the next level?
This recipe uses a mix of Indian spices to make one seriously good batch of fries. Combined with a delicious garlic parsley cashew sauce, you won't be able to put these sweet potato fries down.
Find the recipe here: Crazy Vegan Kitchen
9. Crispy Baked Shoestring Sweet Potatoes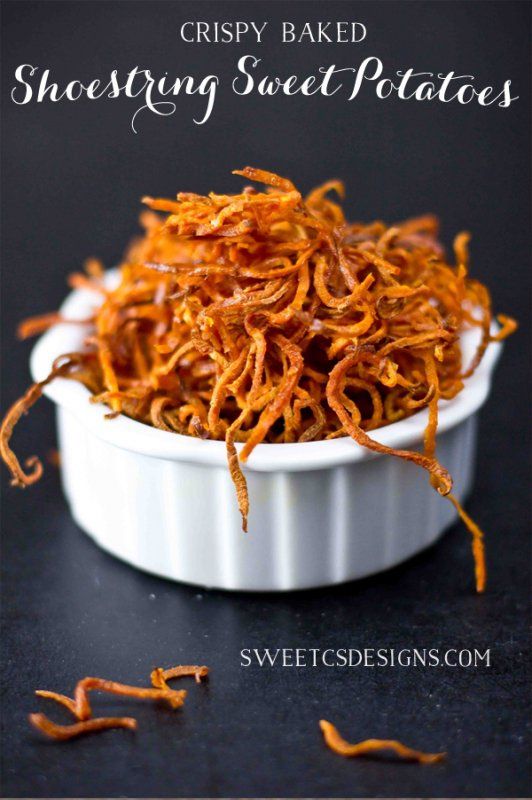 For a healthier alternative to curly fries, look no further.
This recipe uses a veggie slicer to give traditional baked sweet potato fries a makeover.
Delicious and simple, this version of curly fries is sure to become a family favorite.
Find the recipe here: Sweet C's Designs
10. Cinnamon and Coconut Sugar Sweet Potato Fries
For an occasional indulgence, you can make sweet potato fries even sweeter.
Cinnamon and coconut sugar come together to give these sweet potato fries a tasty upgrade. Plus, the coconut oil gives these fries extra crispness.
Even though coconut sugar has less of an immediate effect on your blood sugar levels (thanks to the fiber inulin), sugar is still sugar and should be limited.
Find the recipe here: The Roasted Root
11. BBQ Baked Sweet Potato Fries with Honey Mustard Sauce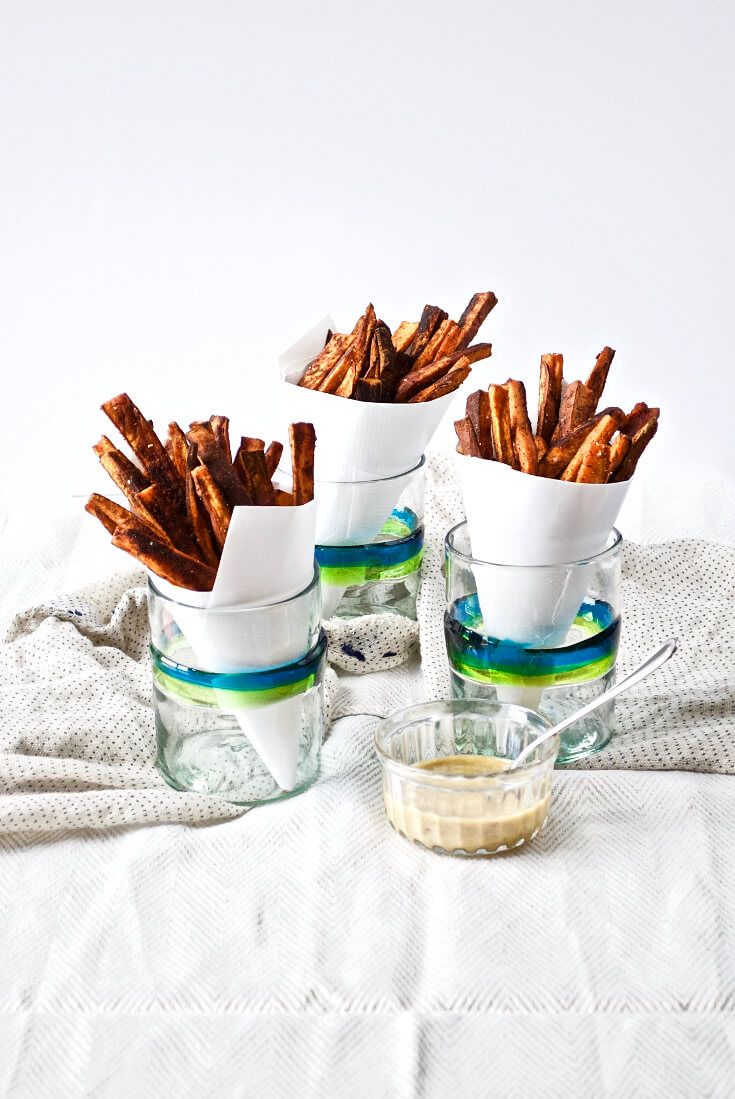 This recipe brings the smoky, savory taste of a barbecue straight to your plate.
Enjoy this delectable dish alongside a juicy burger (or veggie burger) or enjoy it all on its own. It's sure to satisfy you either way. Bon appetit!
Find the recipe here: Modern Granola
12. Loaded Guacamole Sweet Potato Fries
Combine two things you thought couldn't get any better — guacamole and sweet potato fries — and bam! You get this mouthwatering creation.
With a mix of cilantro, cumin, lime, and avocado, your tastebuds will thank you after this delicious dish.
Find the recipe here: The Healthy Maven
13. Spicy Baked Sweet Potato Wedges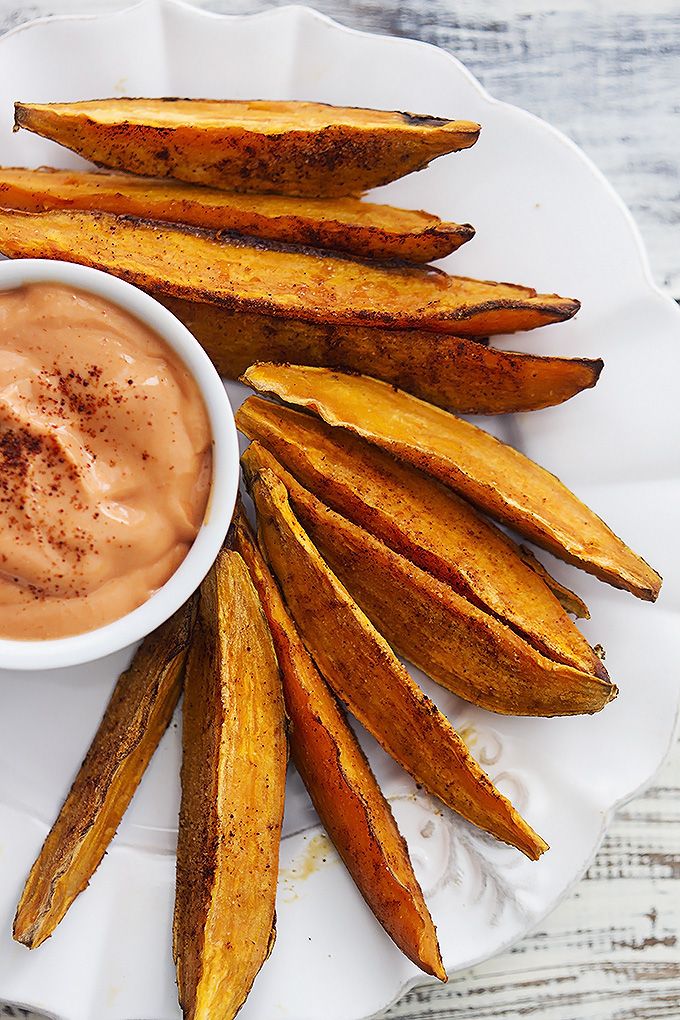 If you're not afraid of a little heat, this may be the perfect recipe for you.
These sweet potato wedges kick up the spiciness with a sprinkle of chili powder and a flavor-packed sriracha sauce dip.
Make sure you have a glass of water nearby when you're crunching on these.
Find the recipe here: Le Crème De La Crumb
Baked Sweet Potato Fries for Everyone
Using the tips and recipes above, you're sure to come up with several go-to healthy side dishes that will not only satisfy your own cravings for fries, but also are guest-worthy.
Experiment and see which ones are your favorites!
Yummy, Fast, and Easy Dinners
Feeling mealtime frustration? Stumped about finding quick and delicious gluten- and dairy-free meals that keep you feeling satisfied?
Search no more. The All-Day Energy Diet Community Cookbook will help. It features 67 meals that are low in allergens and designed to be ready in 15 minutes.
And you can get it – for FREE! – by clicking the banner below.