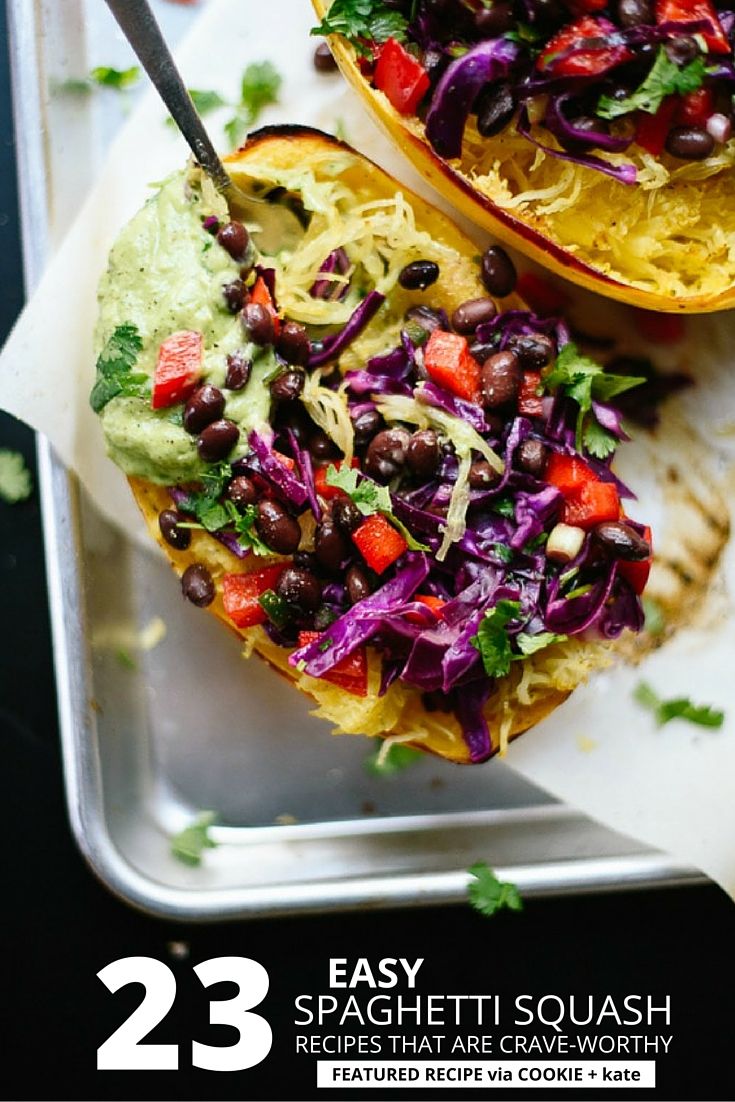 Satisfy your pasta cravings the healthy way with spaghetti squash.
Don't let the hard outer shell of spaghetti squash fool you – once cooked, the inside becomes tender, pasta-like strands that lend well to the sauces that typically accompany pasta.
Since the flavor is subtle, you'll be able to substitute spaghetti squash in a wide range of recipes, including Italian, Asian, and Mexican.
Even though spaghetti squash is harvested in the fall and winter, you can find it year-round in grocery stores and local markets. Look in the produce section where you would buy other squash, and make sure to purchase spaghetti squash that's firm and fairly heavy. You'll be glad you gave this wonderful squash a try.
Why is Spaghetti Squash Healthy?
Brimming with nutrients and fiber, spaghetti squash makes the perfect replacement for enriched white pasta. Swap out your carb-heavy pasta in these healthy eating recipe alternatives and you'll shave off calories and gain major nutrition.
How does it compare to pasta?
One cup of cooked spaghetti squash has only 42 calories and 10 grams of carbohydrates compared with white pasta, which has about 220 calories and 42 grams of carbohydrates.
Cup for cup, spaghetti squash and white pasta have about the same amount of fiber, but with low-cal spaghetti squash, you'll feel full after eating without the extra calories that white pasta has.
The orange hue of spaghetti squash comes from carotenoids that convert into vitamin A in the body, giving you healthy vision and skin while combatting the free radicals that cause cell damage. By making the swap from white pasta to spaghetti squash, you'll not only get a nutritional boost, it's great for weight loss too.
Although spaghetti squash takes some time to cook, you can keep prep quick and easy by cooking your spaghetti squash ahead of time. Store it in the fridge until ready to use.
Here's how to perfectly precook your spaghetti squash:
Cut the spaghetti squash in half and place it face-down in a baking dish with a little water added to the pan.
In an oven preheated to 400 degrees F, cook your spaghetti squash for 30-45 minutes, or until fork-tender.
Once done, scrape the insides with a fork, producing spaghetti-like strands.
Store the cooked strands in a covered dish in the fridge for up to a week.
Simply add the cooked spaghetti squash to your recipe for a quick, easy, low-carb dinner.
Whether you're vegan, paleo, gluten-free, or just want to eat healthier, we've found 23 easy spaghetti squash recipes that are crave-worthy and nutritious.
23 Easy Spaghetti Squash Recipes
1. Spaghetti Squash Sausage Quiche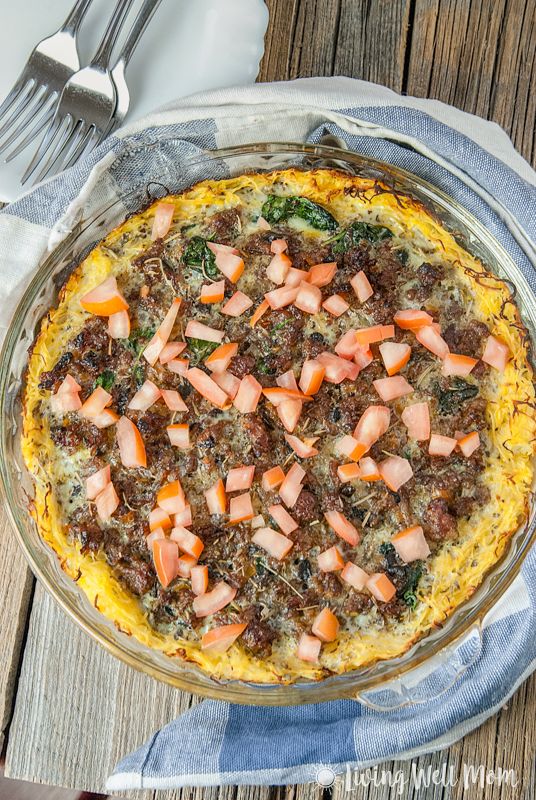 If you've never had a quiche with a spaghetti squash crust, now's the time to try it. This sausage quiche has an amazing combination of eggs, sausage, vegetables, and seasoning that result in an incredible dish that doesn't taste "healthy" at all.
Find the recipe here: Living Well Mom
2. Spaghetti Squash with Basil and Creamy Cauliflower Sauce
This recipe replaces traditional alfredo sauce for a smooth, creamy, and flavorful sauce made with cauliflower. Carb-heavy pasta is also swapped out for nutritious, low-calorie spaghetti squash.
You're left with a healthy meal that's brimming with flavor.
Find there recipe here: The Healthy Family and Home
3. Spaghetti Squash Noodle Bowl with Lime Peanut Sauce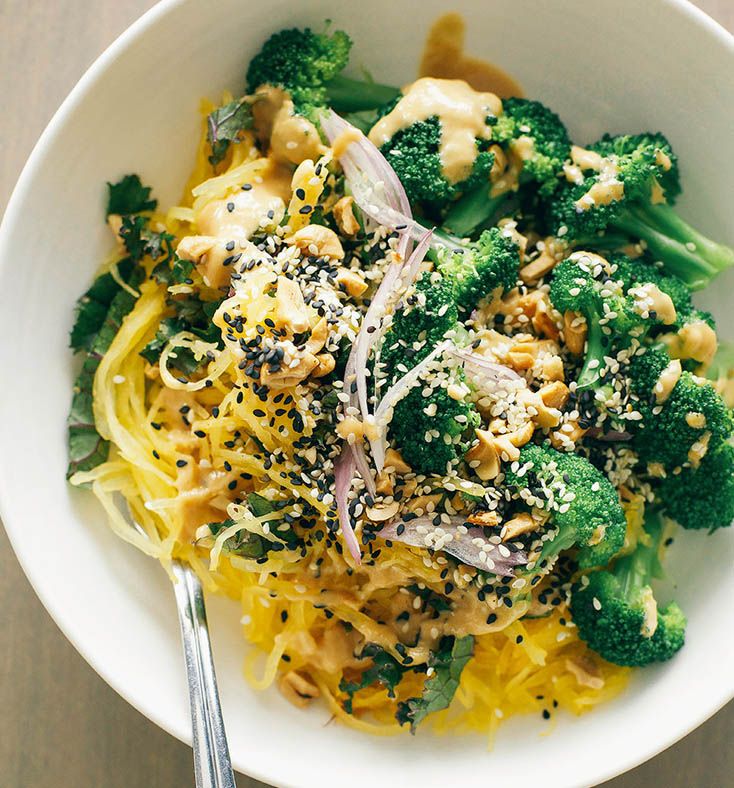 When spaghetti squash goes Asian, the results are amazing. This spaghetti squash noodle bowl hits all the right notes with a scrumptious sauce and piles of fresh veggies. Break out your chopsticks for this paleo spaghetti squash meal.
Find the recipe at here: The First Mess
4. Paleo Spaghetti Squash
Fresh garden tomatoes make this recipe a summer must. Spaghetti squash is tossed in a tasty dairy-free pesto with roasted sweet cherry tomatoes.
Quick, easy, and delicious, this recipe will become a weeknight staple.
Find the recipe here: My Natural Family
5. Healthy Portobello Stuffed Spaghetti Squash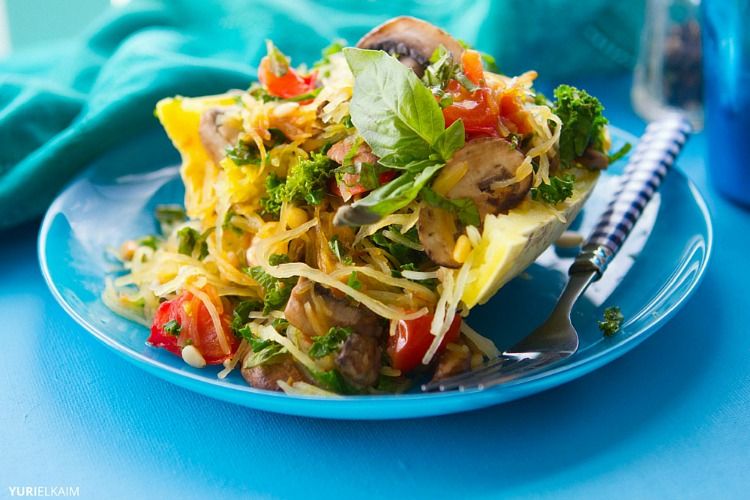 If you want a healthy Italian meal without a carb-fueled blood sugar spike, ditch the pasta and give this portobello-stuffed spaghetti squash recipe a try.
Spaghetti squash separates into spaghetti-like ribbons when cooked, and it tastes amazing smothered with Italian herbs and veggies. It will satisfy whatever craving you have for those troublesome carbs that come with a plateful of pasta.
Find the recipe here: Yuri Elkaim
6. Spaghetti Squash with Swiss Chard, Dried Cranberries, and Dijon Vinaigrette
You'll find a hint of fall flavors in this delicious meal. The powerful antioxidants, iron, and calcium in Swiss chard will give you an extra nutrition boost, and you can add cashews or almonds for plant-based protein.
Find the recipe here: Cookin' Canuck
7. Spaghetti Squash Burrito Bowl
This recipe is easy to make and so good for you, too: it's vegan, gluten-free, and absolutely delicious. Cabbage and black bean slaw are slathered in salsa verde to give this dish amazing Southwestern flavor.
Find the recipe here: COOKIE + Kate
8. Creamy Lemon Basil Spaghetti Squash
Healthy comfort food to the rescue.
This meal will satisfy your need for warm, creamy, comforting food without the guilt. It's loaded with fresh heirloom tomatoes, heart-healthy avocado, and beta-carotene-packed spaghetti squash for an Italian meal that's packed with flavor.
Find the recipe here: Jessi's Kitchen
9. Spicy Spaghetti Squash Stir-Fry
Chock full of healthy ingredients like red pepper, purple cabbage, and avocado, this spicy stir-fry makes a perfect, easy weeknight meal. Add spicy pepper and cilantro to jazz up this detox-friendly meal.
Find the recipe here: The Honor System
10. Quinoa Lentil Bolognese with Spaghetti Squash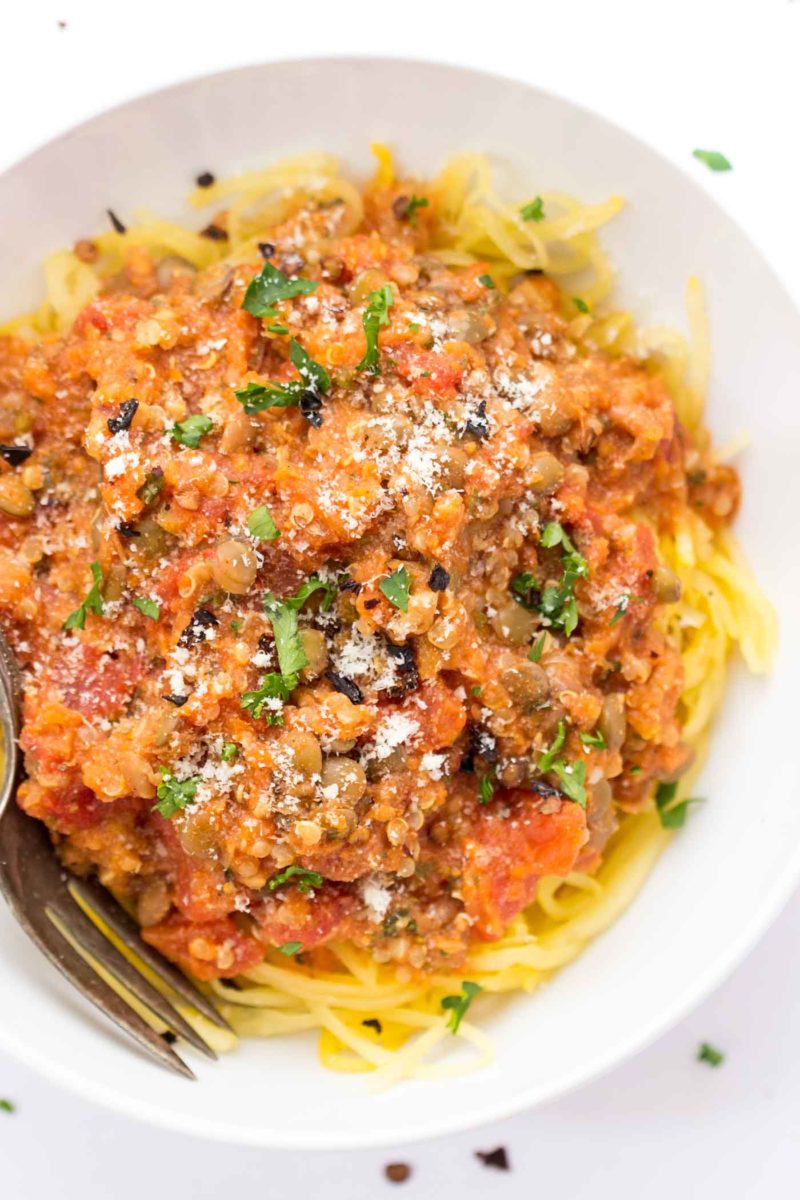 The base of this healthy meal is tomatoes, carrots, and shallots, and the "meatiness" comes from lentils and quinoa.
Quinoa helps thicken the sauce, but also provides the illusion of ground meat. Serve the delicious plant-based sauce over spaghetti squash.
Find the recipe here: Simply Quinoa
11. Spaghetti Squash with Thai Peanut Sauce
These delicious noodles with spicy peanut sauce are topped with tasty extras like nuts, toasted coconut, cilantro, and hot chili oil. You'll love the flavor of this take on the traditional Asian dish.
Find the recipe here: Marla Meredith
12. 6-Ingredient Fresh Spring Rolls with Spaghetti Squash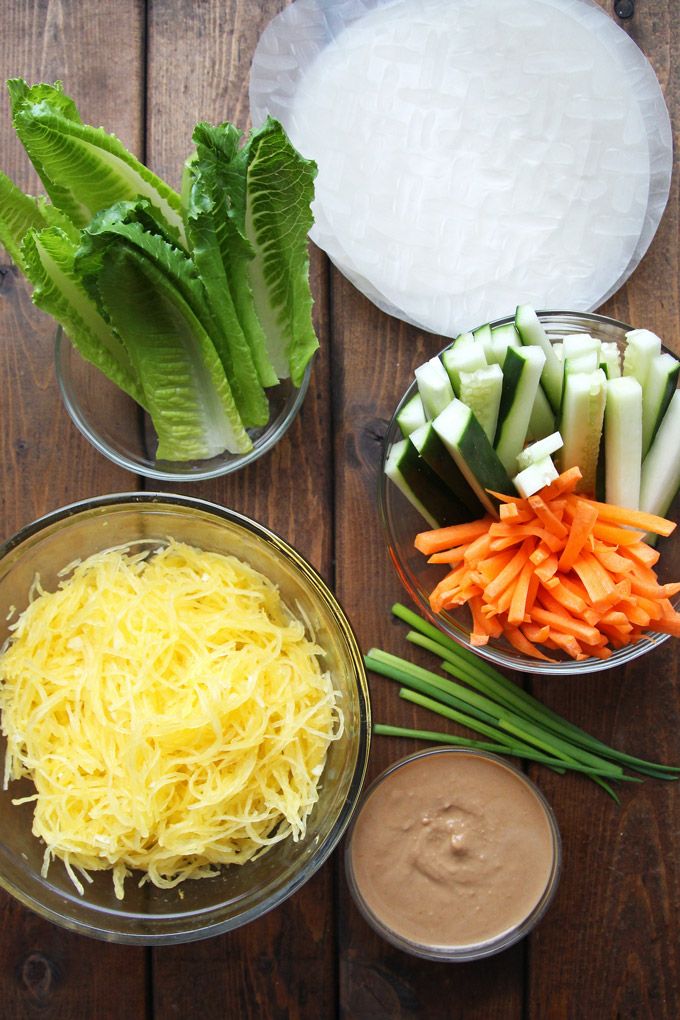 These spring rolls are filled entirely with healthy veggies. Spaghetti squash takes the place of rice noodles, and these nutritious rolls are perfect with a peanut dipping sauce. Swap out the rice wrappers for collard leaves for extra nutrition.
Find the recipe here: Leelalicious
13. Roasted Spaghetti Squash with Chickpeas and Kale Bowl
This recipe just may become a healthy weeknight favorite. The roasted squash strands are lightly tossed with olive oil, garlic, rosemary, and a good squeeze of lemon. Chickpeas and kale make it a full meal and the toasted pine nuts add a satisfying crunch.
Find the recipe here: Love and Lemons
14. Pesto Spaghetti Squash with Spicy Roasted Chickpeas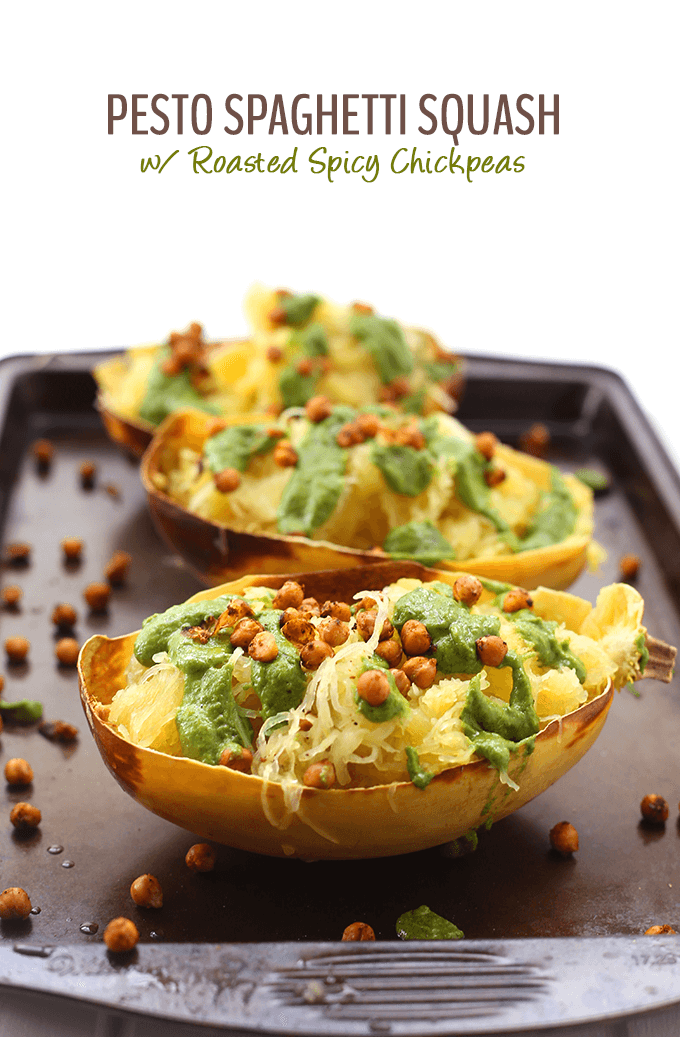 Swap your pasta for a low-carb alternative. This vegan, gluten-free dinner is high in fiber and protein, but certainly doesn't lack in flavor.
Find the recipe here: The Healthy Maven
15. Spaghetti Squash Frittata
Every cook should have a frittata recipe in their repertoire, and this frittata is a keeper. It's full of healthy kale, mushrooms, and spaghetti squash, and is also gluten-free, dairy-free, and paleo-friendly.
Find the recipe here: The Happy Hungry Yogi
16. Red Lentil Coconut Curry Stuffed Spaghetti Squash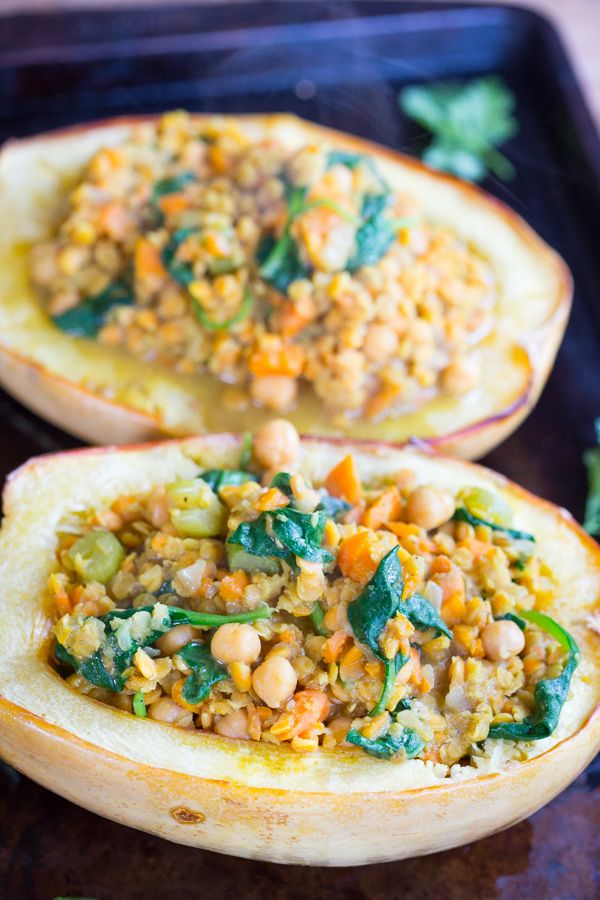 This recipe makes a warm, comforting meal. It's full of anti-inflammatory spices, creamy coconut milk, and fiber-rich lentils for a hearty, flavorful dinner.
Find the recipe here: Greens & Chocolate
17. Spaghetti Squash Comfort Bowl
This dish is full satisfying flavors: hearty spaghetti squash, warm and buttery cannellini beans, and soothing steamed veggies. You'll also find plenty of broccoli, carrots, and protein-packed almonds, and is dressed with a creamy tahini-based sauce.
Find the recipe here: Sprinkle of Green
18. Spaghetti Squash Pad Thai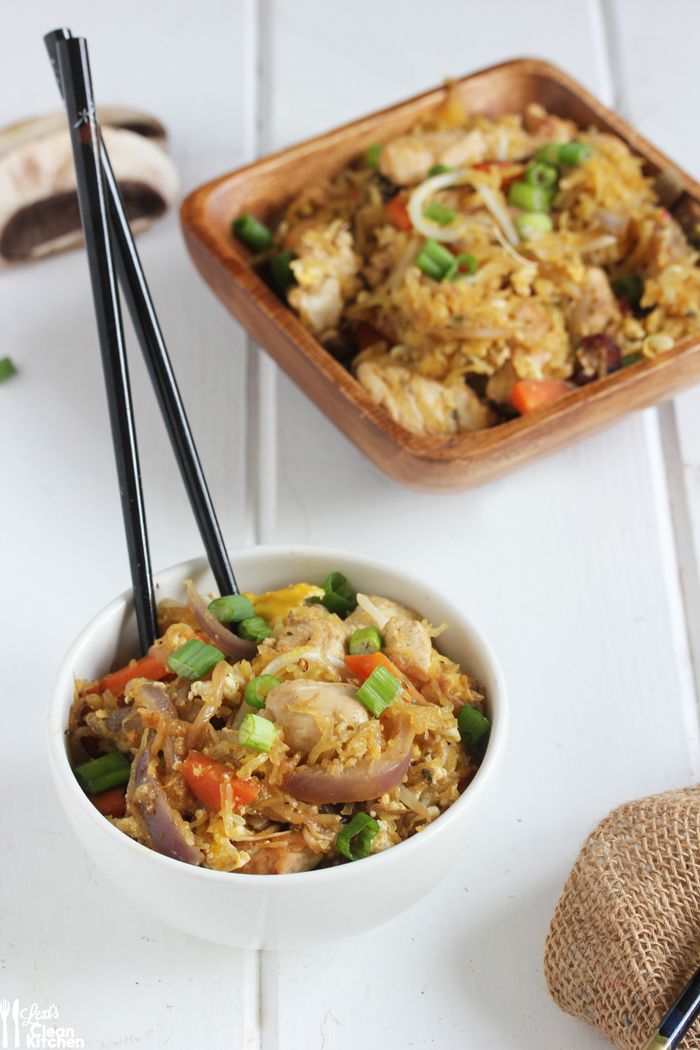 Shrimp, chicken, and eggs give this recipe plenty of protein. Loaded with mushrooms, carrots, and sprouts, this will stop your takeout cravings for good.
Find the recipe here: Lexi's Clean Kitchen
19. Egg and Avocado Spaghetti Squash Boat
Need a quick weeknight meal that's satisfying, nutritious, and big on taste? This is a perfect choice. With just 5 ingredients, you'll get a quick and easy vegetarian and gluten-free meal that's healthy and delicious.
Find the recipe here: I Food Real
 20. Paleo Spaghetti and Meatballs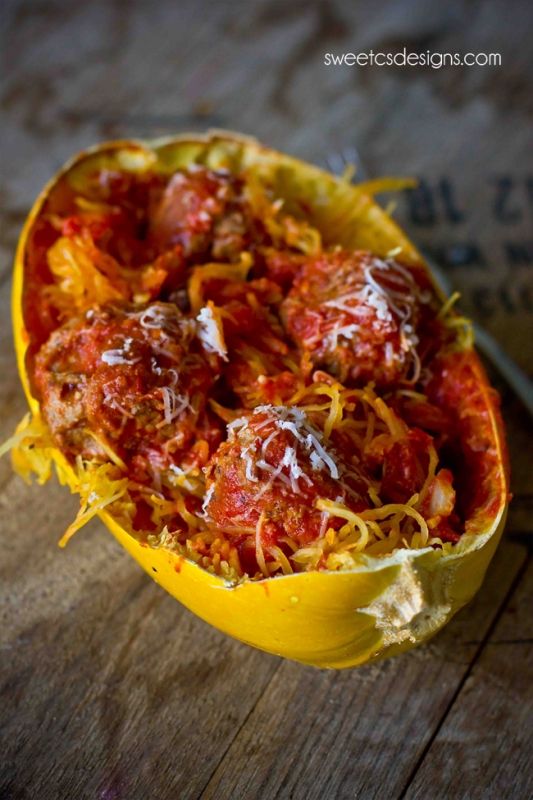 Those on a low-carb or paleo diet will love this go-to easy meal that works well as leftovers and can be made in a big batch. This spaghetti and meatballs recipe is gluten-free and tastes just as good as the real thing, but is packed full of delicious, fresh and healthy ingredients.
Find the recipe here: Sweet C's Designs
21. Easy Spaghetti Squash with Marinara
Pair spaghetti squash with a hearty marinara sauce for a wonderful grain-free and gluten-free meal perfect for any day of the week. This recipe is the perfect substitute for the usual pasta with ground beef and red sauce.
22. Spaghetti Squash Chow Mein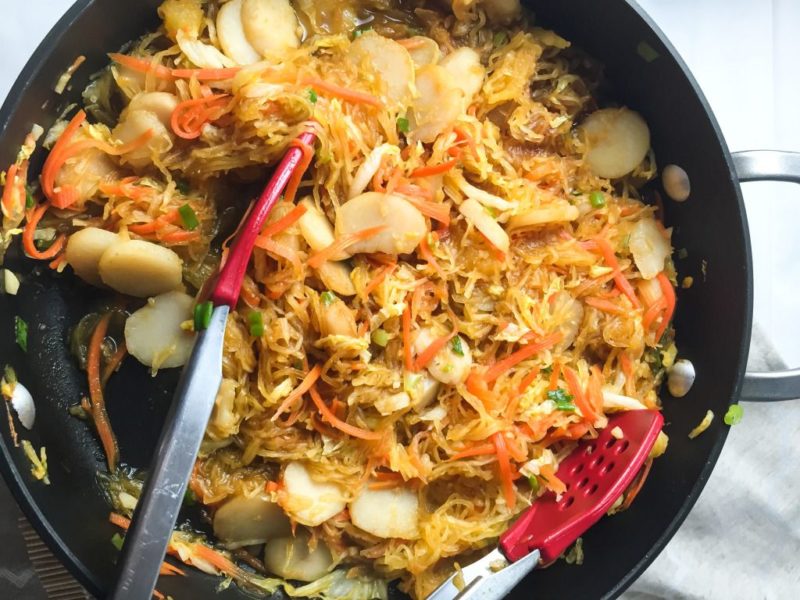 This recipe is a healthy twist on the classic Chinese noodle dish. The spaghetti squash "noodles" are a delicious, crave-satisfying alternative to heavy egg or grain-based noodles, and this dish is so much healthier than takeout.
Find the recipe here: Petite Canteen
23. Creamy Coconut Cashew Spaghetti Squash 'Alfredo' with Roasted Cauliflower
You'll never believe this creamy, delicious sauce is vegan.
It's a blend of coconut milk and cashews, and it's not only easy to whip up, it's got incredible flavor, too. Add an egg or keep it vegan, but either way, this recipe is a dreamy pasta dish that you've gotta try.
Find the recipe here: Half Baked Harvest
Enjoy Paleo Spaghetti Squash Recipes Guilt-Free
Replace white pasta with spaghetti squash for a low calorie, high nutrition, gluten-free way to enjoy a healthy meal.
When you have precooked spaghetti squash on hand, these recipes are a snap to throw together. Add any of these recipes above to your menu for a satisfying way to serve up this amazing pasta-like veggie.
Get More Quick and Healthy Meals
Want even more super-fast, super-delicious, super-healthy meals to feed yourself and your family?
Get the All-Day Energy Diet Community Cookbook, which features 67 meals that take less than 15 minutes to make. Get it now – for FREE – by clicking the banner below.