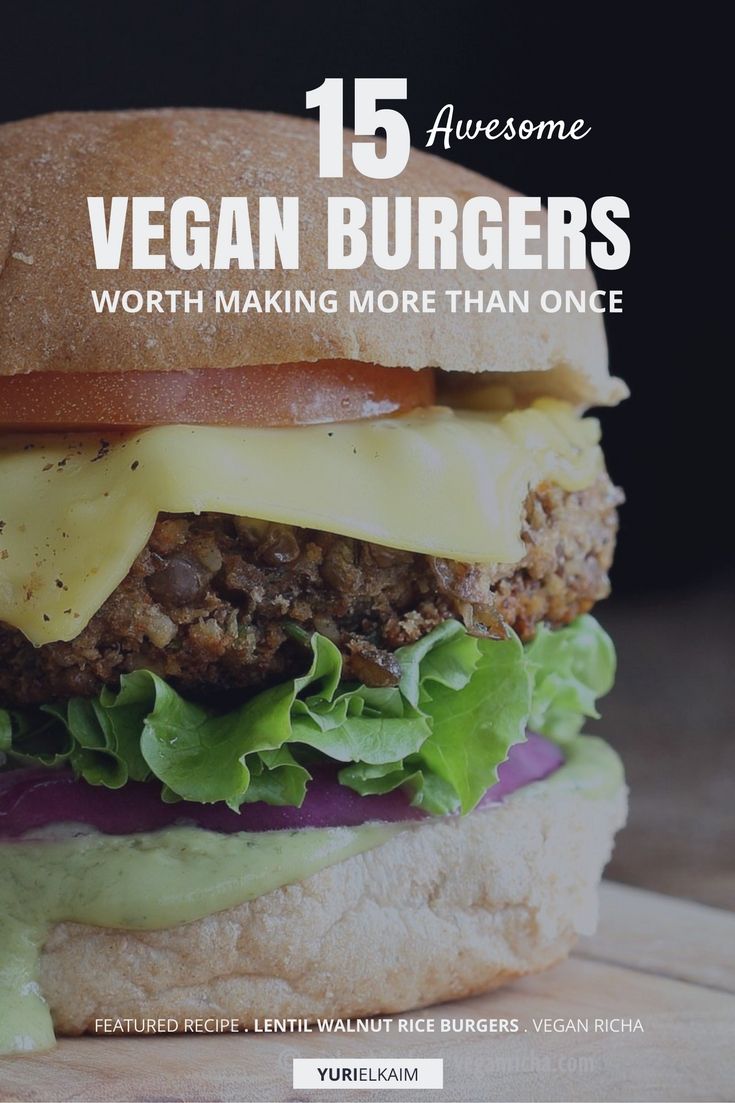 If you think vegan burgers taste like mushy – or super dry – pucks, it's time to give them another try.
Even though I'm a meat eater, I like to mix it up with vegan burgers. But like most people, I'm not a fan of the dry, chewy veggie burgers of yesteryear.
But I do like the moist, delicious, and flavorful burgers we've learned how to make. And I also like the fact they come in flavors that satisfy almost every taste craving you might have.
Classic meat burgers may deliver on protein, but vegan burgers offer plant-based protein, fiber, antioxidant-rich veggies, and healthy fats. They're a great addition to your list of healthy eating recipes.
While they may not taste exactly like the real thing, vegan burgers can be every bit as delicious, and they're ready to be stacked with your favorite burger toppings.
I serve mine with lettuce, fresh tomatoes, and avocado slices on gluten-free buns, or sometimes wrapped in a large lettuce leaf.
They're amazing on the grill, but can also be fried or baked. My whole family loves vegan burgers, and I think you will too!
Vegan Burger Recipe Tips
Here are a few tricks to keep your vegan burgers moist and appealing to even the finickiest eaters:
Use a binder to keep your ingredients together, such as ground flax or chia seeds. When you combine the seeds with liquid, a gelatinous mixture forms, which holds the veggie burger together without having to use egg.
Starch-like ingredients such as cooked quinoa, oats, and beans can be pureed and work nicely to hold a burger together.
Beware of raw veggies, which can quickly turn a burger into mush. Raw veggies hold a lot of water, so try using cooked veggies, or grate and squeeze the moisture out of any raw veggies you use – like beets or carrots.
Season away! Don't forget to add fresh or dried herbs, spices, and salt. Consider giving the mixture a taste before forming patties so you'll know if anything's missing. You may even want to lightly salt each side of the burger after forming each patty.
A food processor is your friend. Biting into a burger with big chunks can be unappealing, and a food processor makes quick work of all your ingredients and saves time on chopping.
Vegan Burgers for Everyone
From south-of-the-border fiesta to Indian spice, vegan burgers can take on a wide range of flavors.
Stuffed with nutritious ingredients, I've found 15 of the best vegan burger recipes around that will satisfy your burger cravings the healthy way.
1. Sun-Dried Tomato Chickpea Burger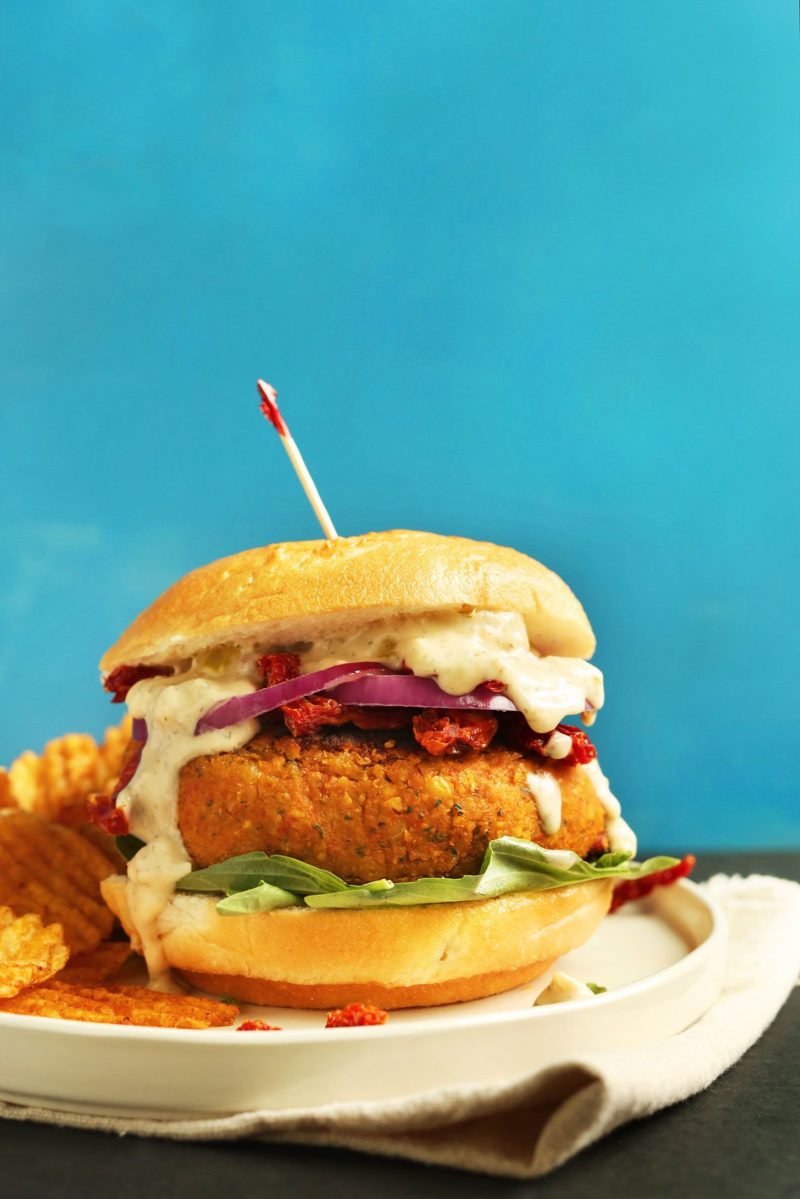 This flavorful veggie burger uses chickpeas as a base and is infused with sun-dried tomatoes for a savory, sweet tomato flavor that's balanced with fresh garlic and herbs.
These hearty patties are perfect for cookouts or easy weeknight meals.
Find the recipe here: Minimalist Baker
2. Sweet Potato Black Bean Brown Rice Veggie Burgers
Yes, the name of this recipe is a mouthful – and these burgers definitely will fill you up. Topped with an amazing curry cilantro vegan mayo, these burgers are the ultimate in delicious vegan food.
Blend all ingredients in the food processor and they'll be ready in a flash.
Find the recipe here: She Likes Food
3. Savory Lentil Mushroom Burgers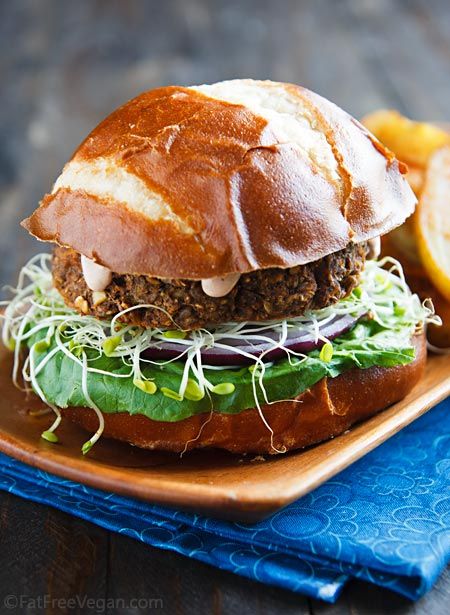 Mushrooms, chia seeds, lentils, oats, and dried spices make these vegan burgers just what you need for a simple, tasty dinner.
If you use precooked lentils, these burgers will come together in a snap for a fast weeknight meal.
Find the recipe here: Fat Free Vegan
4. Garden Vegan Zucchini Burgers
These garden patties will use up your summertime zucchinis and everyone in your family will love the result.
They hold together well and yet have a great texture – the key is squeezing the grated zucchini dry before mixing it in and then letting the burgers chill so that they hold together better.
Find the recipe here:  Apron Strings
5. Black Bean Quinoa Burgers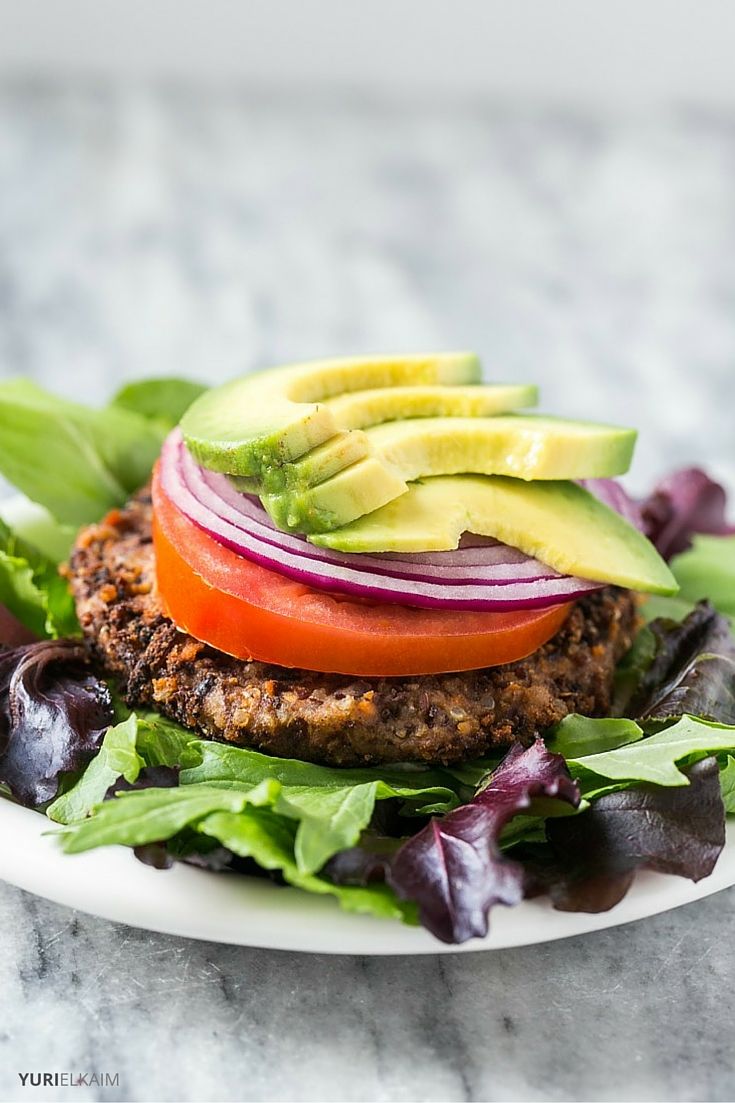 Perfect for grilling season, these quick and easy black bean quinoa burgers are served with classic burger toppings like lettuce, tomatoes, onions or avocado.
Find the recipe here: Yuri Elkaim
6. Garlicky Kale Burgers
Kale burgers? You bet. These satisfying vegan kale burgers are made with a flavorful mixture of white beans, crunchy sunflower seeds and lots of garlic.
They're as delicious as they are healthy.
Find the recipe here: Connoisseurus Veg
7. Homemade Vegan Veggie Burgers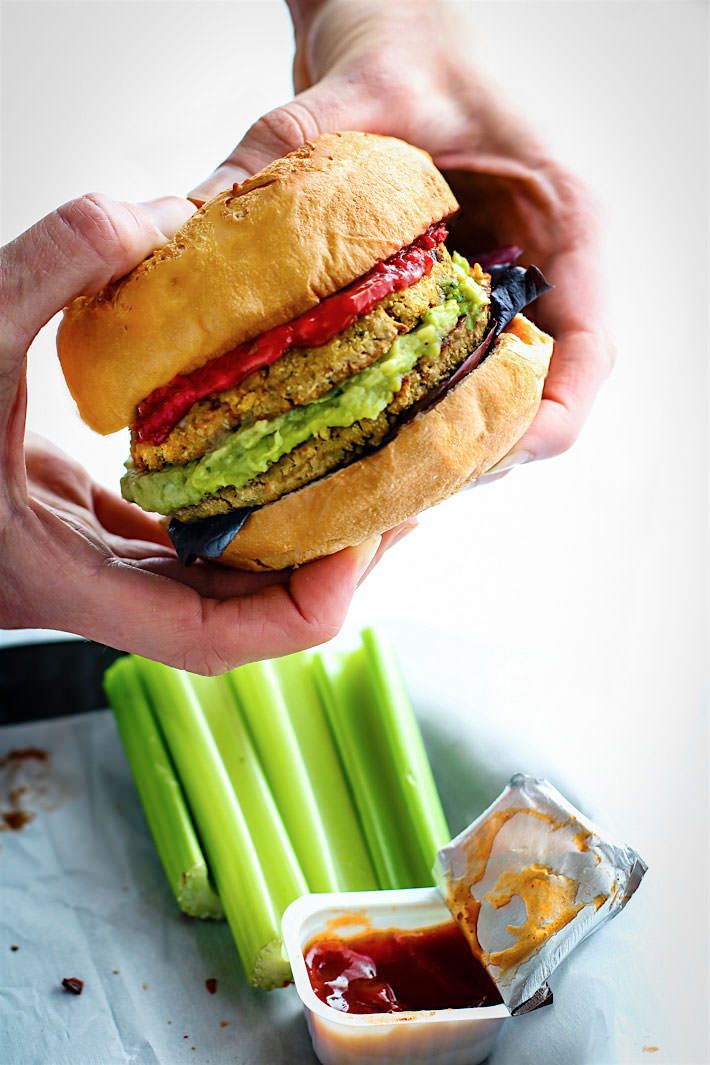 Go for freezer-friendly with these vegan burgers and make your life easier.
These grain-free and gluten-free patties are packed with herbs, seeds, chickpeas, and spices to make for a delicious weeknight meal.
Find the recipe here: Cotter Crunch
8. Butternut Squash Apple Burgers
Serve these butternut squash-apple burgers any time you want a taste of fall.
Flavored with pumpkin seeds and (you guessed it) apples and squash, the sweet and savory flavors in this recipe complement each other perfectly.
Find the recipe here: Veggies Don't Bite
9. BBQ Lentil Veggie Burgers with Mango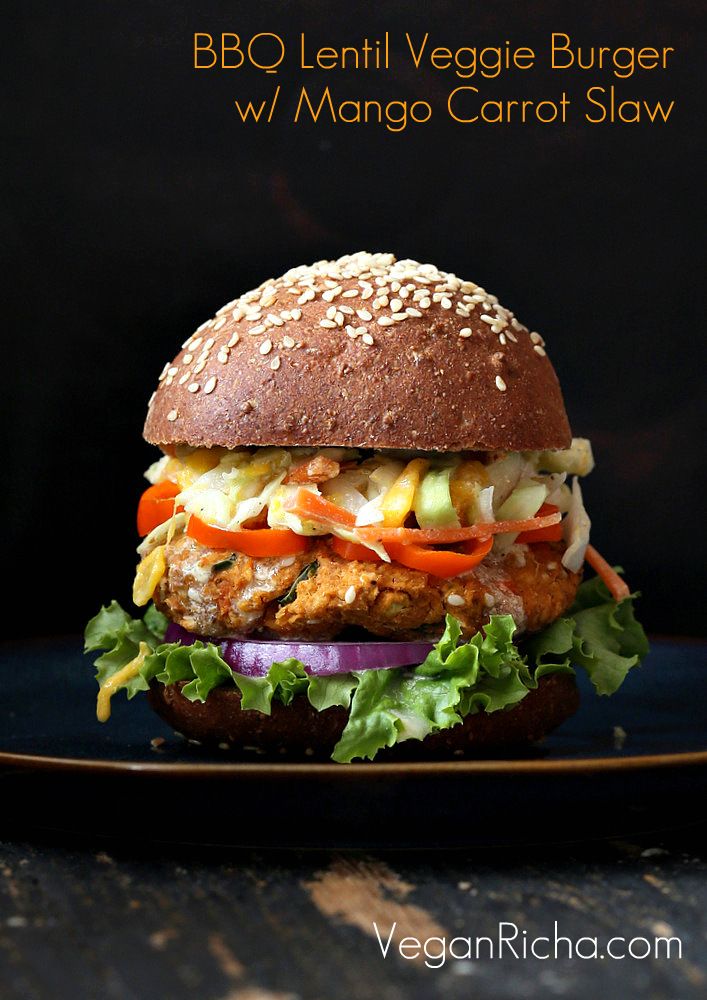 Cook your lentils in barbecue sauce to get a rich, smoky flavor for this vegan burger recipe.
Then, top with a loaded veggie slaw full of ripe mango for a bright and tangy burger topping. You'll love this one.
Find the recipe here: Vegan Richa
10. Indian Spice Burgers
Loaded with the goodness of sweet potatoes, oats, and protein-rich chickpeas, these wholesome burgers taste amazing.
Indian spice gives them an international flair and sets them apart from a classic burger.
Find the recipe here: Monsoon Spice
11. Black Beet Mushroom Walnut Veggie Burgers
These burgers might be pink, but there's no worry of raw meat.
Bright, vibrant grated beets are added to black beans, walnuts, and mushrooms for an amazingly healthy meal.
Find the recipe here: Happy Healthy Life
12. Swiss Chard Lentil Quinoa Burgers
These surprising burgers are a great source of iron, protein, and fiber.
Serve these burgers as-is or with a gluten-free bun and all the healthy fixings you love.
Find the recipe here: Light Orange Bean
13. Smoky Sweet Potato Burgers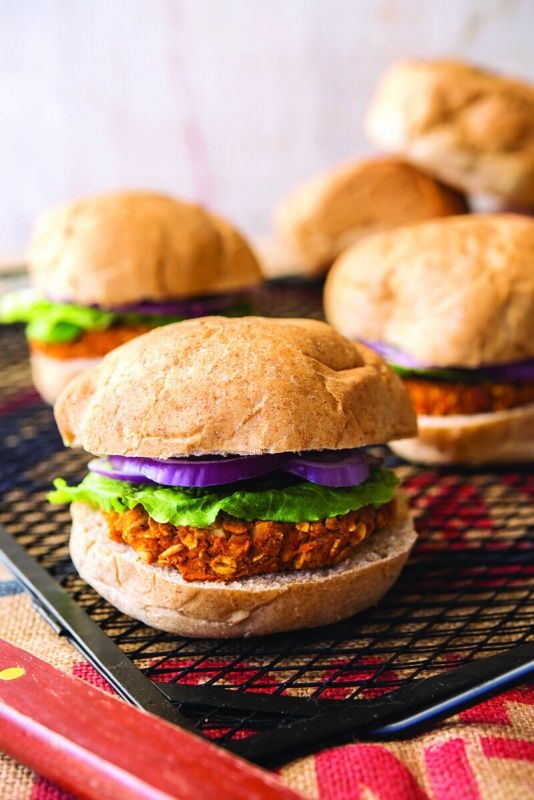 These smoky burgers will dazzle anyone they're served to.
Spice lovers will adore the kick of heat from the chipotle powder.
Find the recipe here: Forks Over Knives
14. Black Bean Fiesta Burger
This veggie burger recipe features a savory spicy black bean patty topped with zippy cilantro jicama fiesta slaw – perfect when you crave south-of-the-border flavor.
We recommend serving crispy sweet potato fries on the side.
Find the recipe here: Happy Healthy Life
15. Lentil Walnut Rice Burgers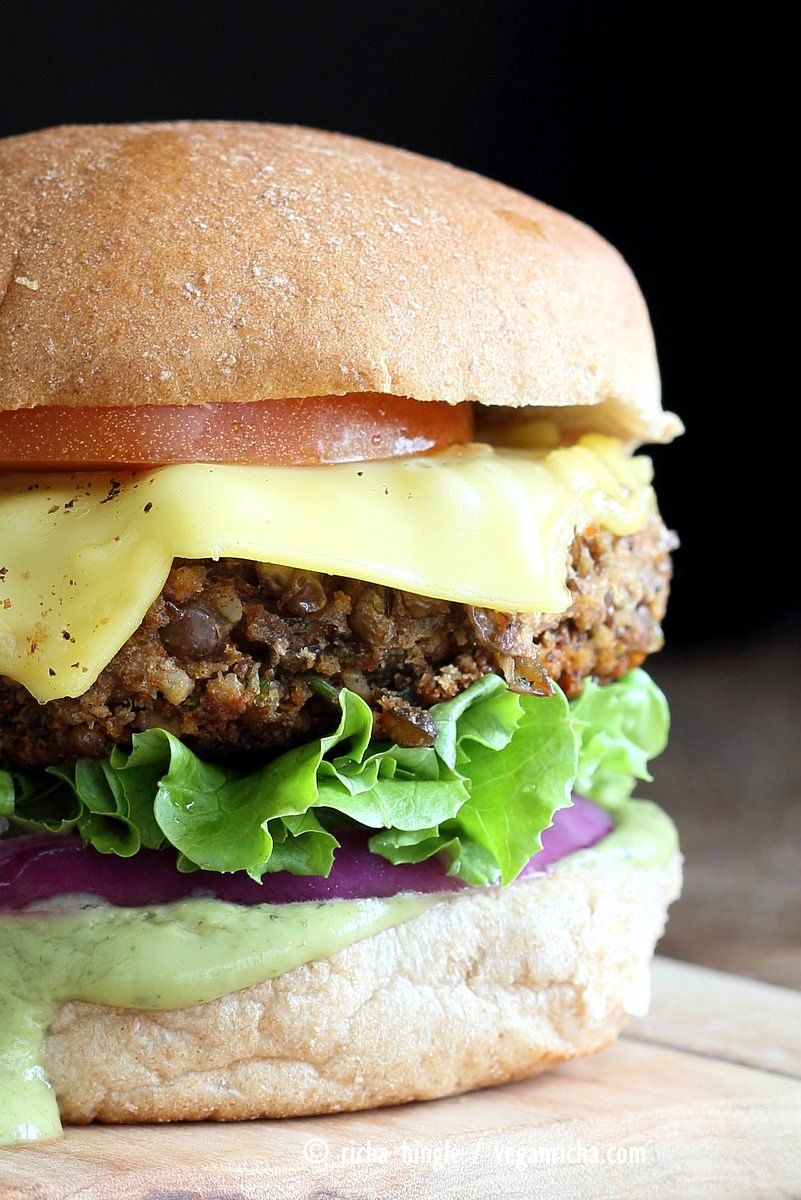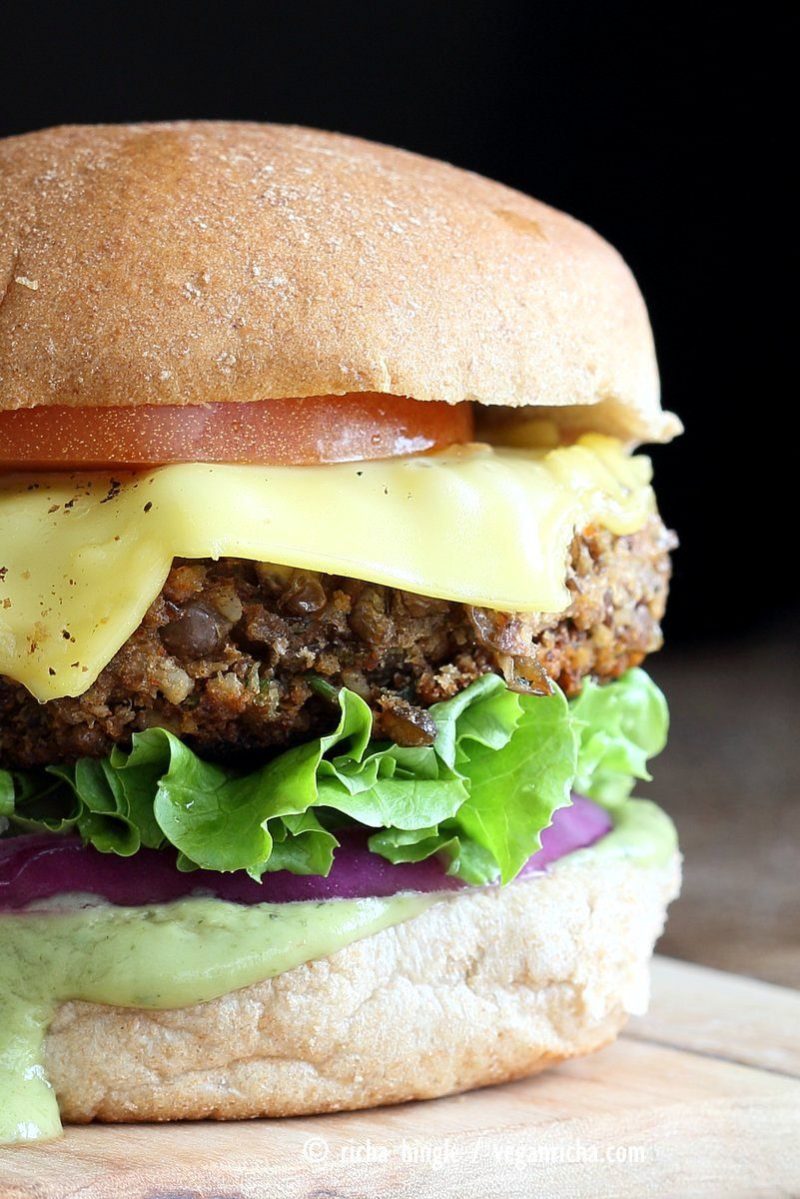 These tasty veggie burgers are lightly spiced with cumin, coriander, and garam masala.
Serve them with lettuce and tomatoes and slather on avocado ranch for a flavorful meal the whole family will love.
Find the recipe here: Vegan Richa
Everyone Loves Burgers
On a bun or on their own with a salad or veggie side dish, these winning vegan burger recipes will make it easy to eat healthy if you're grilling – or even if you're not.
Filled with good-for-you ingredients, the flavor and spices of these recipes will help you eat healthy while still enjoying plenty of taste.
Healthy Meals Made Easy
Looking for more healthy recipe options? Be sure to get our free gift to you, the All Day Energy Diet Community Cookbook, which features 67 gluten- and dairy-free recipes that are low in allergens and high in taste.
They're also designed to be quick to prepare so you can get them on the table on busy nights.
You can get a copy – for FREE! – by clicking the banner below.