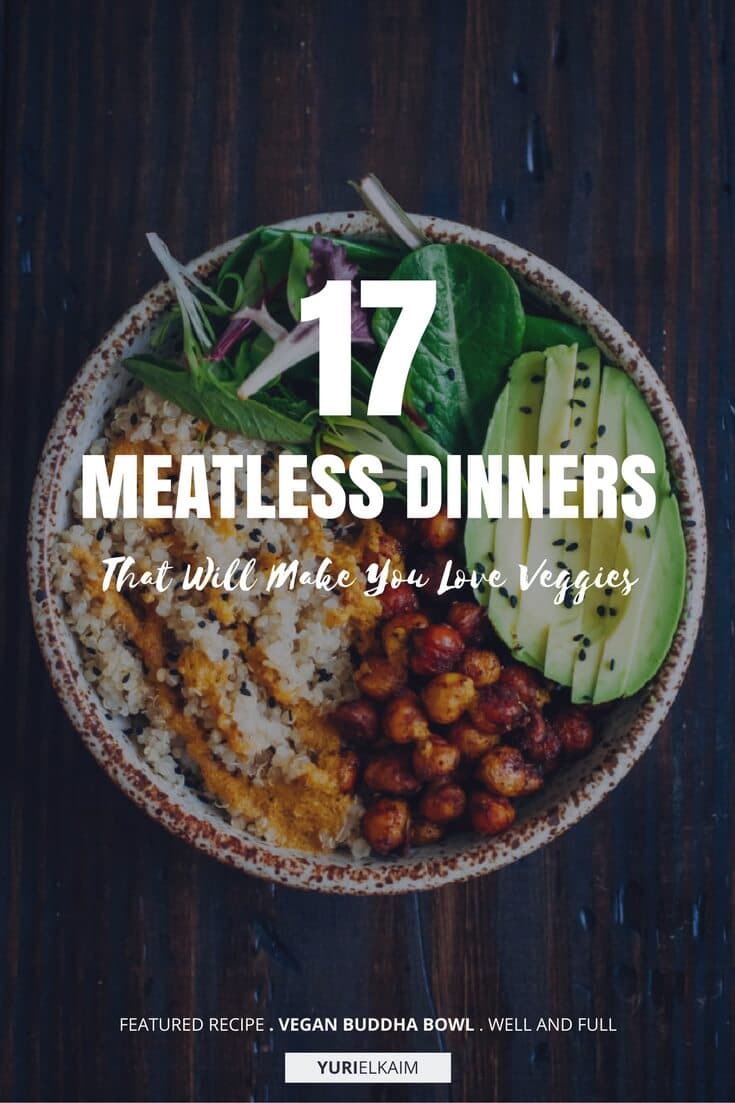 There are plenty of great reasons to include a few meatless dinners (and breakfasts) into your weekly routine.
For starters, it's good for your heart, your health, your waistline, the environment, and even your wallet. Plus with plant-based meals, you typically get an even wider range of vitamins, minerals, and nutritional benefits.
Although a good chunk of my diet is made up of plant-based foods, I'm not a vegan. But I know firsthand that there are many meatless meal recipes that appeal to everyone, not just people who choose not to eat meat.
That's why we put together this list of meatless dinners for you. With a good mix of protein and fiber, these flavorful recipes are a great way to sneak in extra nutrition.
Give them a try and let me know what you think.
17 Meatless Dinners for Everyone
1. The Vegan Buddha Bowl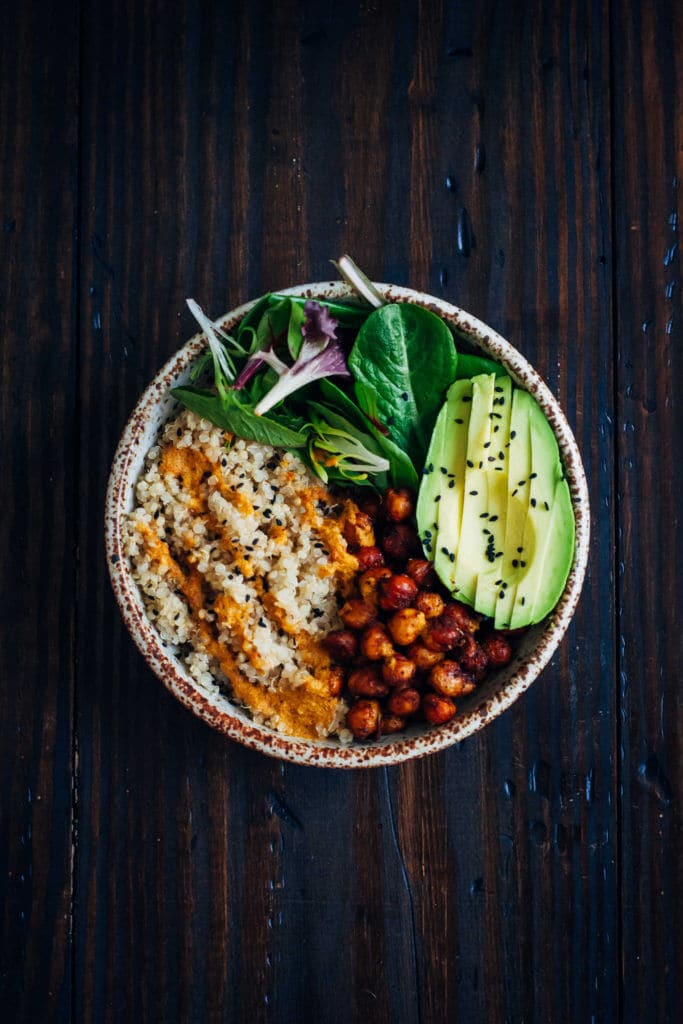 There's something for everyone in this delicious Buddha bowl that's as pretty to look at as it is tasty to eat.
It features fluffy quinoa, savory chickpeas, fresh greens, creamy avocado, and a mouthwatering red pepper sauce to top it all off.
Find the recipe here: Well and Full
2. Vegan Sweet Potato, Chickpea & Spinach Coconut Curry
Rich and flavorful, this recipe is one of my favorite meatless meals for meat lovers.
This delicious curry features chickpeas, spinach, sweet potatoes, and a light coconut milk that make it super satisfying.
Combine it with your choice of quinoa, rice, millet, or sorghum for an instant hit at the dinner table.
Find the recipe here: The Vegan 8
3. Vegan Turmeric Quinoa Power Bowls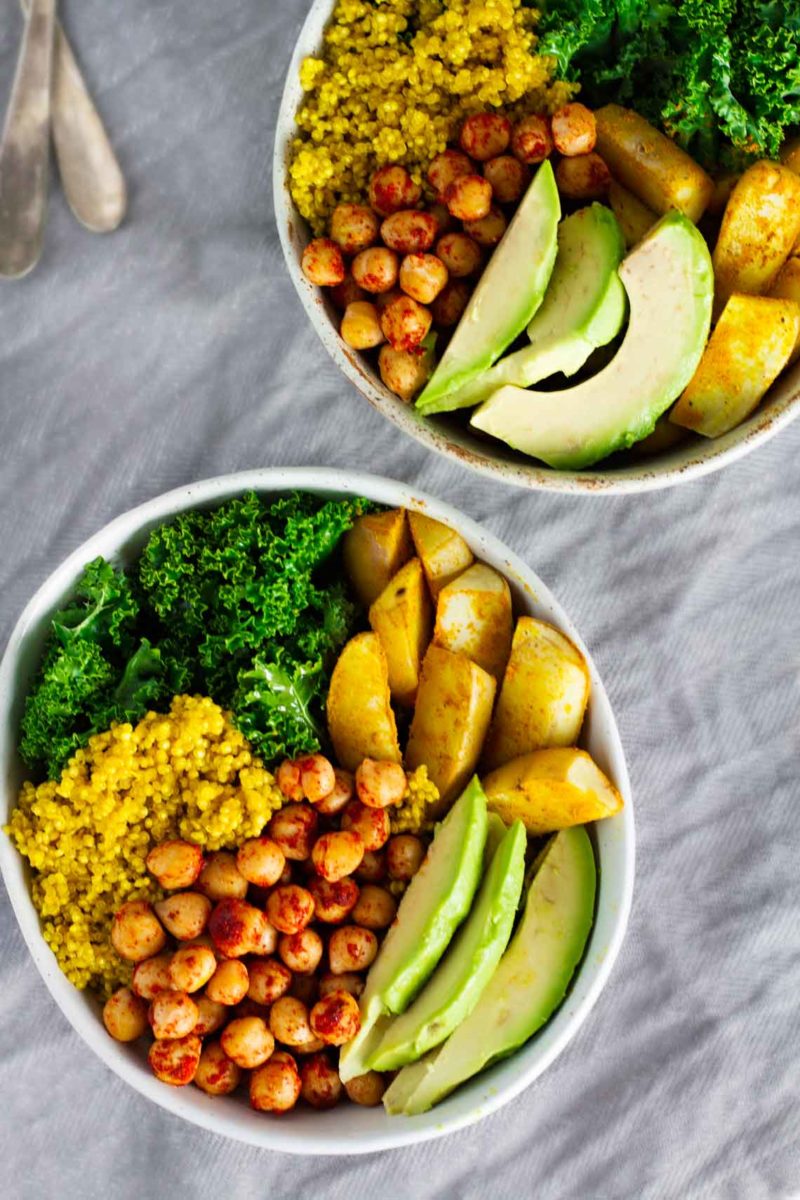 This "power bowl" rightfully earns its name, containing tons of superstar ingredients that will boost your energy and power you through your day.
The anti-inflammatory properties and peppery taste of turmeric shine through in this super nutritious recipe. Combined with kale, potatoes, chickpeas, and quinoa, this dish not only tastes good, but it's good for you.
Find the recipe here: Jar of Lemons
4. Roasted Tomatillos Chickpea Curry
This creamy chickpea curry is simple and delicious, plus ready to be served in just 20 minutes.
Using roasted tomatillos and a poblano pepper, this dish has a little kick to it that makes it irresistible. Served over rice or quinoa, this vegan meal is packed with flavor.
Find the recipe here: Chef De Home
5. Healthy One Pot Vegan Alfredo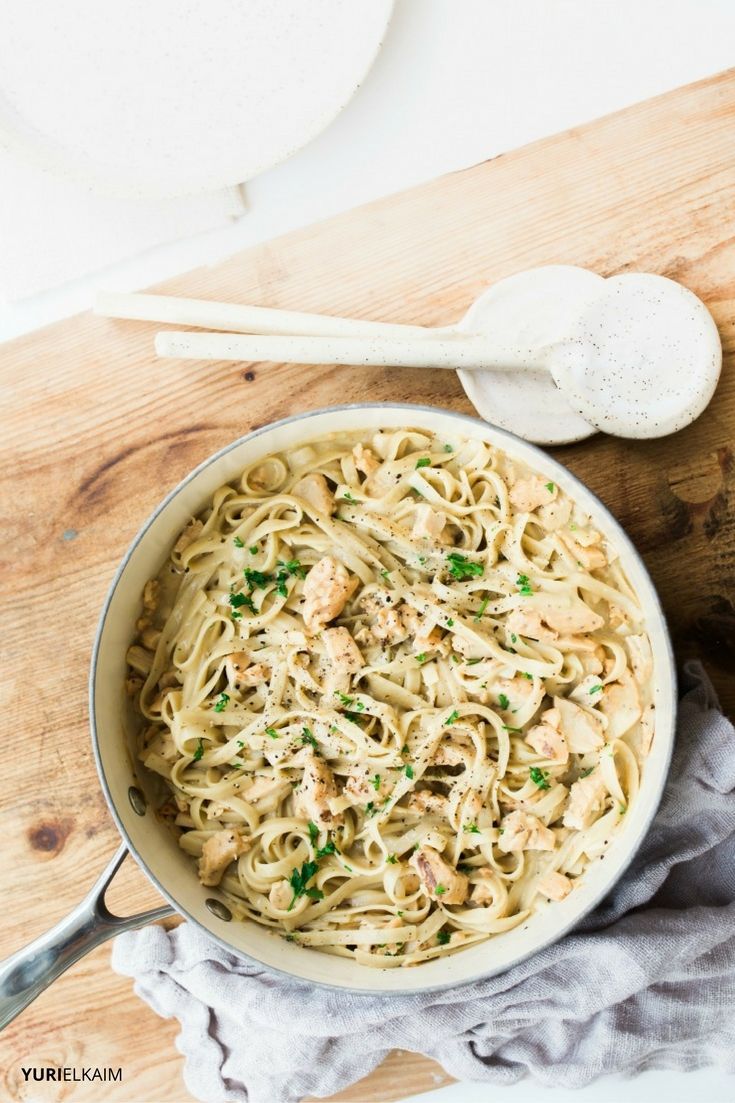 This remake of a classic recipe will become one of your weekly go-tos.
You can turn this alfredo into a vegan meal by nixing the chicken, leaving you with a rich, creamy, and super satisfying dinner that can be whipped up in less than half an hour.
With only a few ingredients and just one pot, this dish comes together in a flash.
Find the recipe here: Yuri Elkaim
6. Vegan Gluten-Free Lasagna
Both vegan and gluten-free, this lasagna tastes indulgent but is actually a healthy dinner option for the whole family.
Decadent layers of zucchini, vegan ricotta, and vegan mozzarella make this one of the tastiest meatless meals for kids that can be enjoyed 100 percent guilt-free by all.
Find the recipe here: Full of Beans
7. Lentil Roast with Balsamic Onion Gravy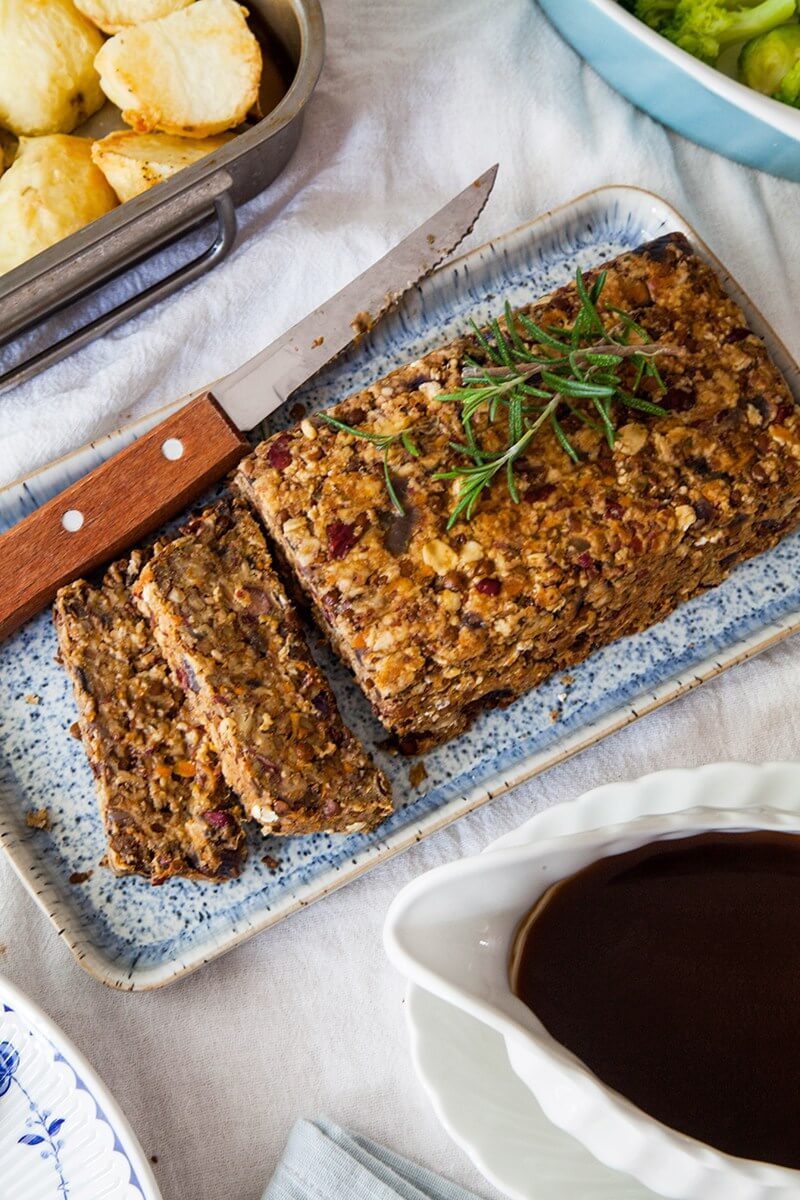 This roast may look and taste like meat, but it's actually vegan, gluten-free, nut-free, and soy-free.
So, what does it have in it? Kidney beans, lentils, and nutritional yeast make this dish high in protein and flavor. Drizzled with balsamic onion gravy, your tastebuds won't be disappointed.
Find the recipe here: Wallflower Kitchen
8. Thai Veggie Quinoa Bowl
Who doesn't love a one-pot meal? Zesty with a bit of a crunch, this one is light, refreshing, and delicious.
Vegetables plus quinoa, peanuts, and a sharp Asian dressing set this vegan bowl apart in terms of taste and nutrients.
Find the recipe here: Avocado Pesto
9. Sweet Potato Chickpea Buddha Bowl
Looking for an easy, stress-free vegan dinner? Look no further!
This recipe requires minimal time in the kitchen, using roasted veggies that you can prep ahead of time. Bonus: it delivers an astonishing 11 grams of fiber per serving, knocking out almost half of your daily fiber requirements in one bowl.
Find the recipe here: Minimalist Baker
10. Sweet Potato, Spinach, & Butter Bean Stew
This warm and hearty stew is so satisfying that you probably won't even notice it doesn't contain any meat.
Spiced with cumin, coriander, and paprika, it's seasoned to perfection. Butter beans bump up the protein content, making this nutritious meal a great addition your dinner rotation.
Find the recipe here: The Flexitarian
11. One Pot Red Curried Lentils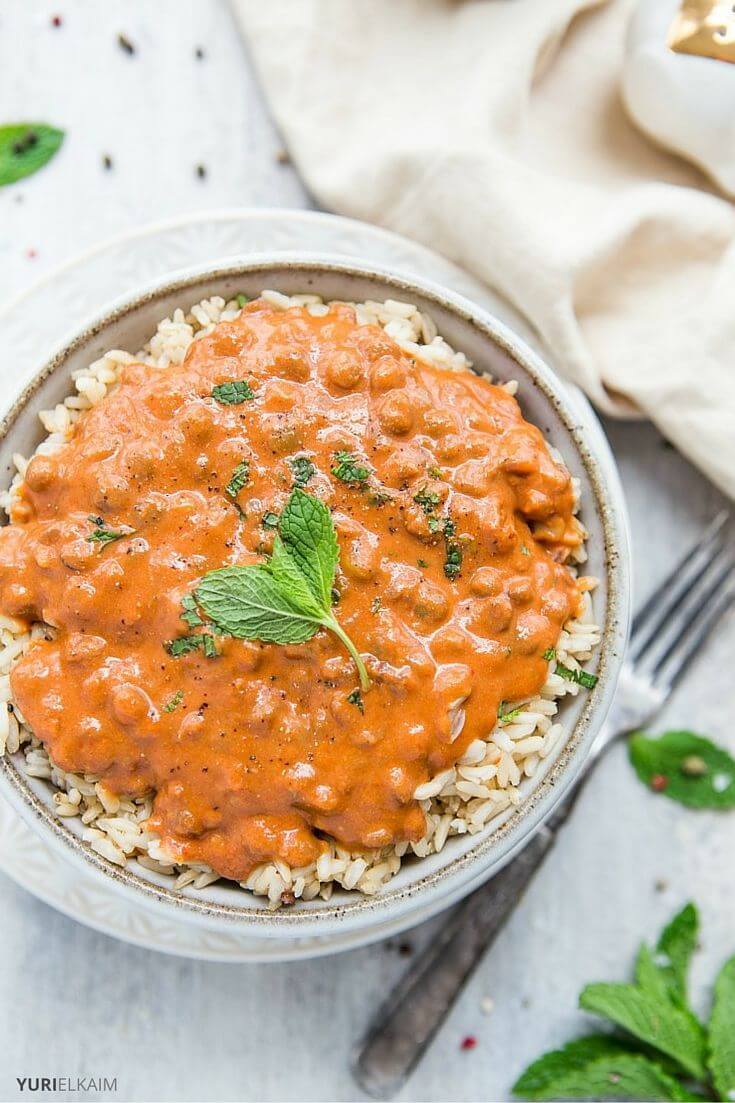 You only need one pot and five ingredients to create this mouthwatering dish, which is brimming with exotic flavors.
Lentils, coconut milk, and Thai red curry paste form this creamy curry, which is served over brown rice or quinoa and garnished with fresh mint.
Find the recipe here: Yuri Elkaim
12. Easy Vegan Gluten-Free Falafel with Tahini Sauce
This recipe is a snap to prepare, and it's so tasty it's bound to become a family favorite.
Filled with protein-rich chickpeas, this vegan falafel is as nutritious as it is delicious. Form the falafels into smaller, bite-size nuggets for a tasty treat for babies and toddlers.
Find the recipe here: Veggies Don't Bite
13. Creamy Coconut Lentil Curry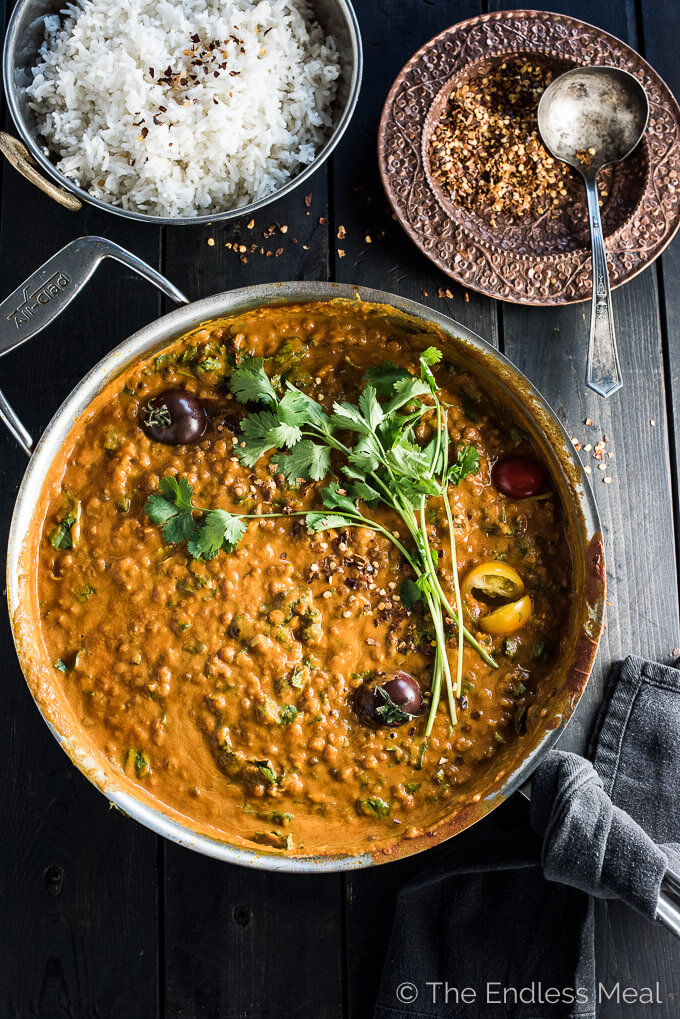 This delectable Indian dish is healthy, delicious, and easy to make in a pinch for a weeknight dinner.
Coconut oil gives it a smooth and velvety texture while lentils pack on the protein and fiber. Perfectly paired with garlic, turmeric, cumin seeds, and coriander seeds, it just doesn't get much tastier than this.
Find the recipe here: The Endless Meal
14. Slow Cooker Masala Lentils
Creamy and nourishing, this meatless dinner brings aromatic spices and flavor to the table – plus a good dose of protein.
Throw the ingredients into your slow cooker and go about your day – just a few hours later, you'll have a hearty, healthy dish ready to be served.
Find the recipe here: The Full Helping
15. Red Lentil Dhal with Turmeric
Turmeric has been a trendy health topic for a few years now, thanks to its anti-inflammatory health benefits. And it also tastes great, adding depth and warmth to this red lentil dahl recipe, which also features ginger.
For a satisfying dinner, serve this with fresh parsley and a bit of coconut milk.
Find the recipe here: Hello Glow
16. 5-Ingredient Black Bean Quinoa Burger
With just five simple ingredients, these meatless burgers rival traditional burgers in terms of both flavor and nutrients.
Black beans and quinoa both bring fiber and protein to the table while carrots offer a boost of beta-carotene. Serve with your favorite burger toppings, like avocado, lettuce, and tomatoes for a well-rounded and flavorful vegan dinner.
Find the recipe here: Yuri Elkaim
17. Tandoori Chickpea Stuffed Sweet Potatoes with Tahini Lime Drizzle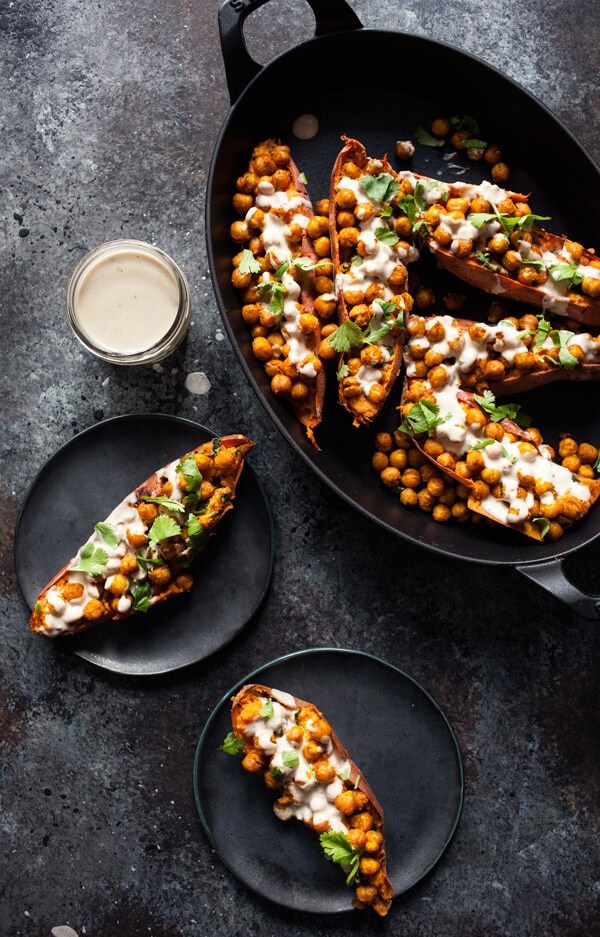 This vegan recipe is so tasty that it might just convert you to go meatless after the first bite.
If you thought sweet potatoes couldn't get any more delicious, think again. These sweet potatoes are stuffed with Tandoori chickpeas and a tahini lime drizzle that brings them from good to out-of-this-world delicious.
Find the recipe here: The Full Helping
Meatless Monday Any Day
Give a few of these meatless dinner recipes a try.
Not only are they delicious, they're also great ways to add more plant-based protein and fiber into your diet. Plus, they're sure to be instant dinner favorites and you might just consider going meat-free a few times a week.
Fast and Healthy Meals
If you're looking for more easy and delicious meals that also are gluten- and dairy-free, you'll want a copy of the All Day Energy Diet Community Cookbook.
With 67 recipes created by members of our online community, these low-sugar and low-allergen meals are tasty and easy to prepare.
You can get the cookbook – for FREE! – by clicking the banner below.