Non-traditional salads are so much fun to make and eat, they should be a staple in every diet.
Take this Mediterranean-inspired spiralized zucchini salad, for instance. By making a simple swap of zucchini for the traditional romaine lettuce, you add a brand-new flavor profile to a classic recipe. And it couldn't be easier.
That's why I decided to take things a step further by pulling out the trusty spiralizer and just straight-up going to town on the veggies in this salad.
Spiralizing veggies adds a fun factor not only to your meals but also to your meal prep. Here's a bonus: It's something you can let the kids do, and they always get a kick out of it.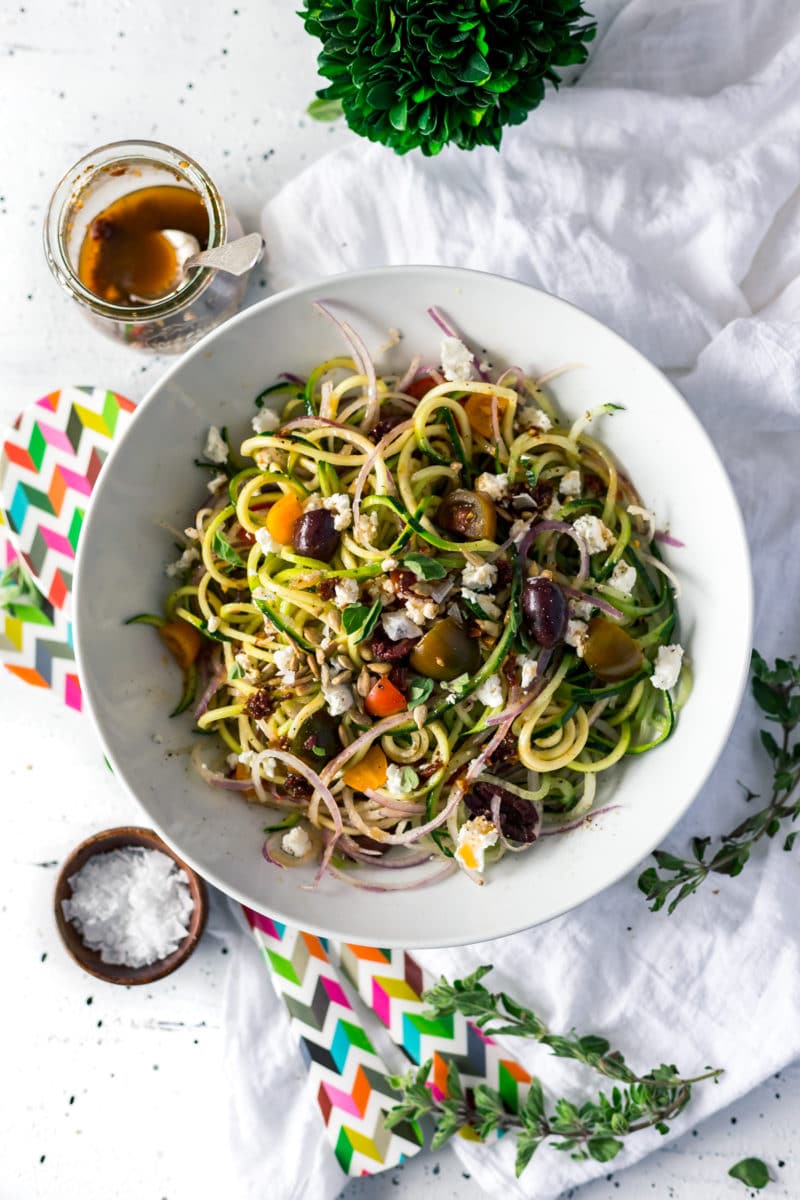 We have a long history of loving spiralized veggies because they can be an easy way to enjoy a lower-carb diet without feeling deprived.
Just check out this epic list of spiralized sweet potato recipes. Seriously, they are delicious.
The one thing I do recommend when it comes to spiralizing veggies is chopping them once or twice. Otherwise you can end up with super-long crazy spirals which, although cool, kind of makes it difficult to divide (or even eat) a salad.
I learned that one the hard way. Don't be like me.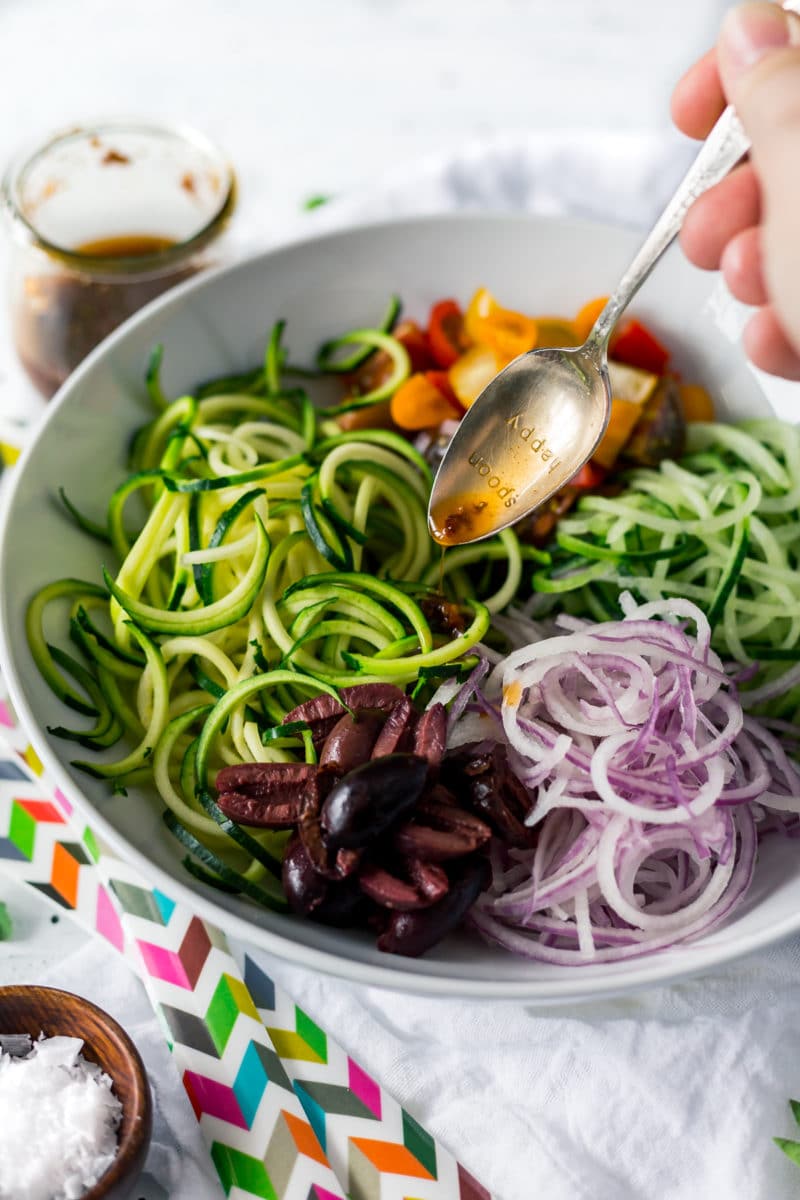 Now, I mention this in the notes of the recipe, but here is something that's worth stressing: be sure to press out the excess liquid in the cucumber spirals.
No one likes a soggy salad, and it's especially important to get rid of that extra liquid if you're preparing this one in advance.
Spiralized Zucchini Salad
If you're not a fan of raw onion, try soaking the spiralized onion in a bowl of water for about 10 minutes to lessen its pungency. I promise, you don't want to miss out on the flavor onion adds to this spiralized zucchini salad, so don't skip it.
And don't forget about the dressing either, because it's a winner with its bold flavors.
I definitely recommend using the food processor when you prepare it, because if you try to chop the sun-dried tomatoes into a fine mince, you won't be happy with the results. I tried to make it work, I really did, because I like to use as few tools as possible, but this one needs the food processor.
But it's so good, it might be my new fave dressing.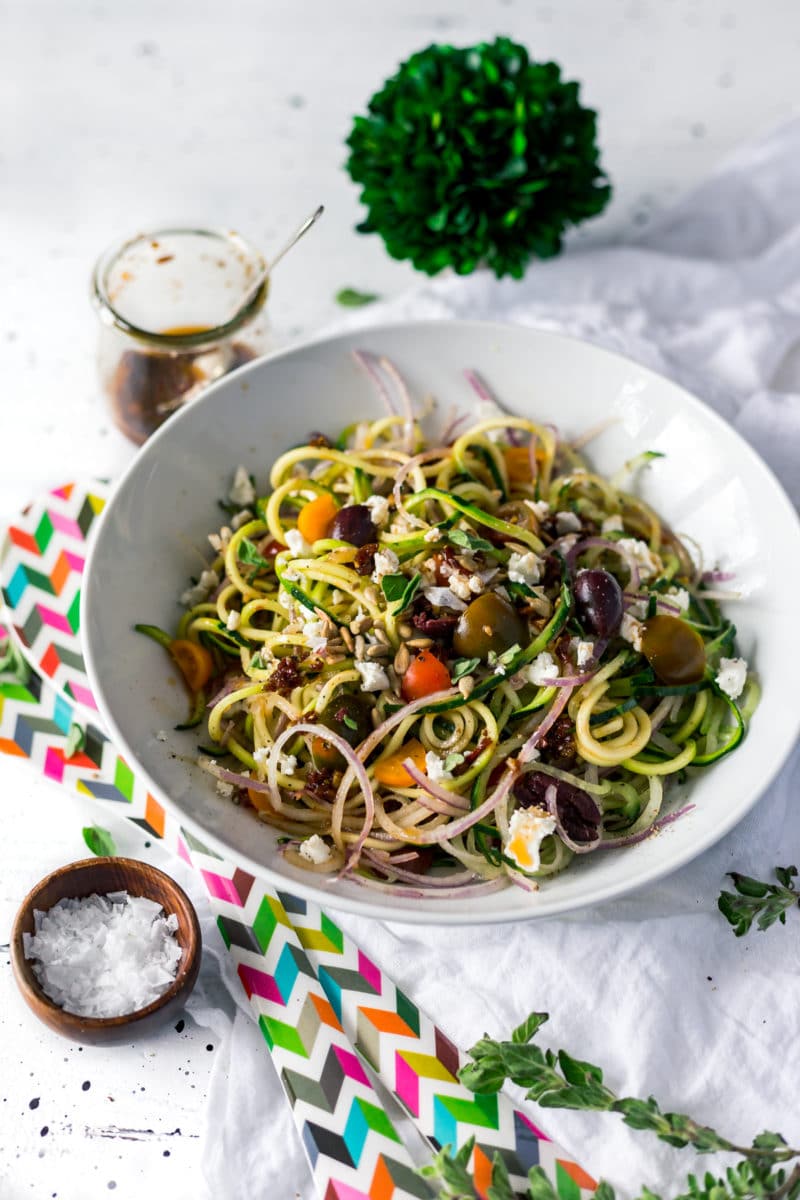 Hello delicious. Get in my belly!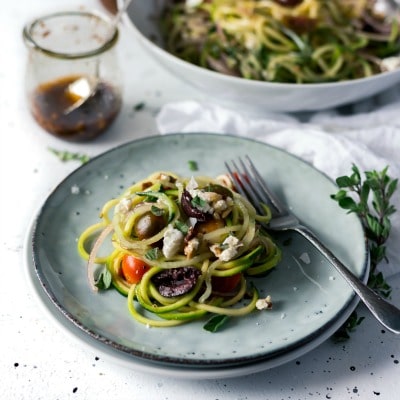 | | |
| --- | --- |
| | |
In a large bowl, add the zucchini, cucumber, red onion, tomatoes, and olives.

In a small food processor, add the sun-dried tomatoes, balsamic vinegar, lemon juice, garlic, and oregano. With the food processor running, slowly drizzle in the olive oil until dressing is smooth. Season with salt and pepper.

When ready to serve, drizzle the dressing over the salad and toss gently to coat. Sprinkle with goat cheese and sunflower seeds if wanted, and enjoy!
When spiralizing cucumber, place the "noodles" between several sheets of paper towels and press down to remove excess liquid. This will help prevent the salad from becoming watered down and soggy.
Fast and Easy Meals
Looking for more healthy and delicious meals that are gluten- and dairy-free? Be sure to get your copy of The All-Day Energy Diet Community Cookbook.
We know you're busy and that's why we compiled this collection of meals – they are designed to take just a few minutes to prepare while still being nutritious and tasty.
The best news: the cookbook is free! Just click the image below to get your copy.