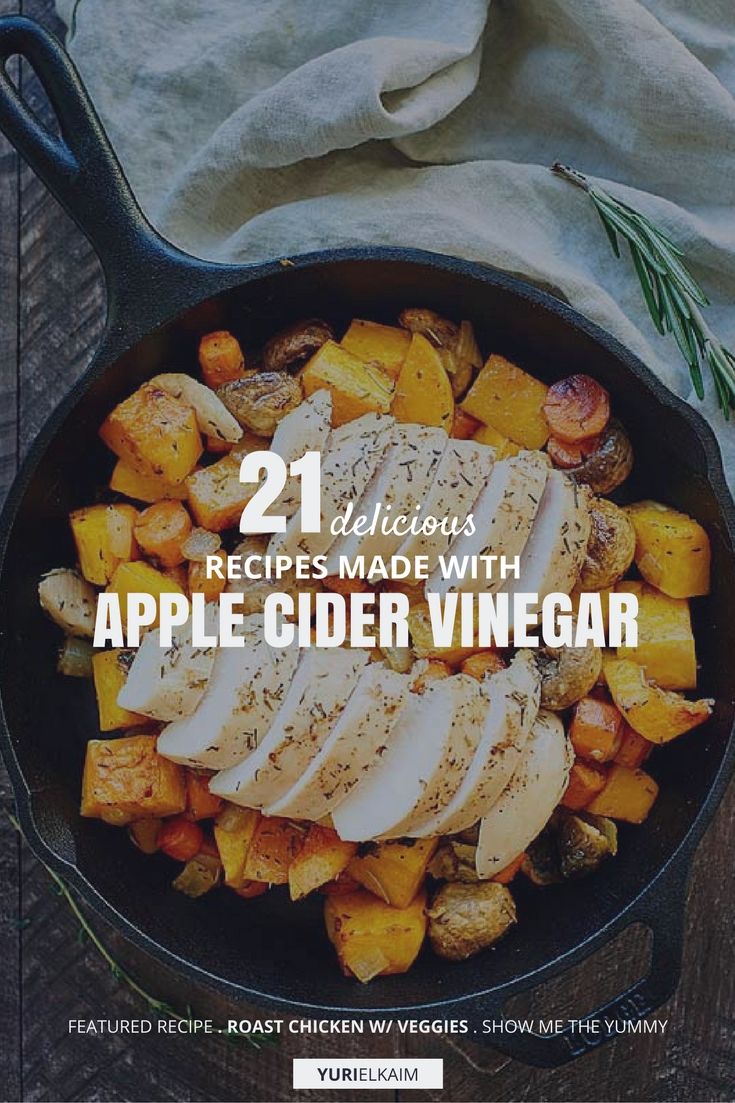 From cleaning your sink to ridding your face of acne, apple cider vinegar can get the job done.
The list of ways to use this pantry staple seems endless, but I'm most excited about the health benefits your body can reap from apple cider vinegar (ACV).
Although its has a long history as a folk remedy, there are now scientific studies that back up the incredible health claims behind this humble liquid.
In recent studies, apple cider vinegar has been shown to stablilize blood sugar levels in people with diabetes (1, 2), lower cholesterol (3), and help with weight loss (4).
Pretty amazing!
But, as much as I love the idea of getting in some daily apple cider vinegar, the thought of chugging it straight just isn't appealing.
I've found that by incorporating ACV into recipes throughout my day, I get serious eating-for-energy benefits without any of the face-puckering side effects.
I'm sharing 21 recipes below that will boost your apple cider vinegar intake and give you a tasty way to get more ACV in your life.
Apple Cider Vinegar Recipes for Every Meal
SALAD AND VEGGIE DRESSINGS
1. Shaved Beet Carrot Radish Dressing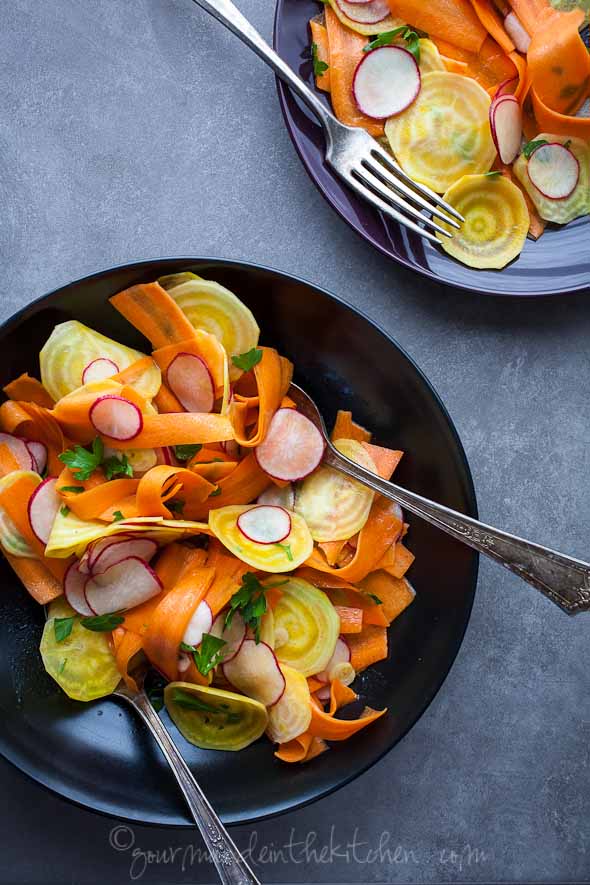 Raw shaved beets, carrots and radishes are dressed up with a lively apple cider vinegar vinaigrette to create a fresh and colorful summer salad.
Visit your local farmer's market or raid your garden for this delicious recipe.
Find the recipe here: Gourmande in the Kitchen
2. Apple Cider Vinegar Salad Dressing (6 Ways)
Add more apple cider vinegar into your diet with this basic recipe.
It's perfect for dressing salads, delivering tons of health benefits … and tons of flavor, too.
Switch out balsamic for apple cider vinegar and give your body a boost!
Find the recipe here: Yuri Elkaim
3. Nutrient-Dense Apple Cider Vinegar Dressing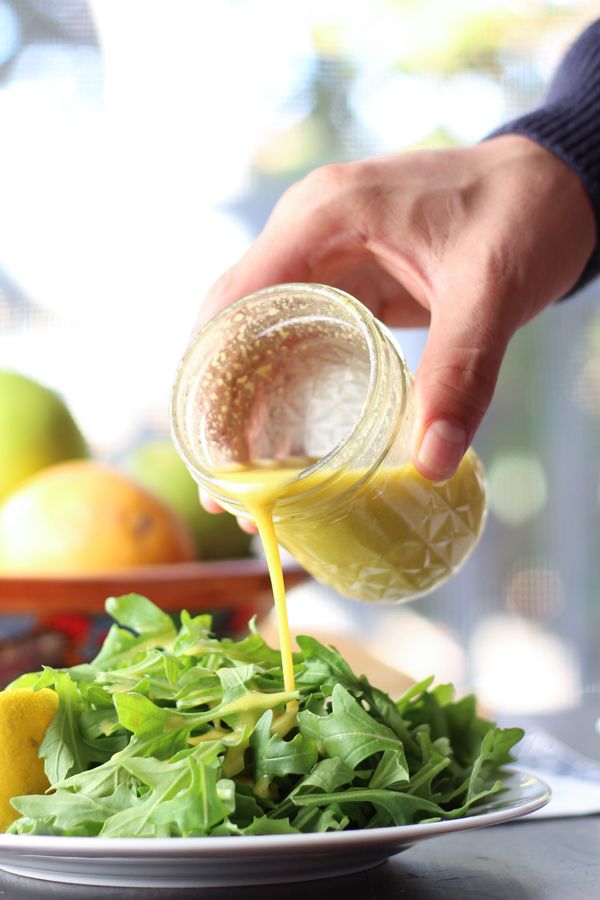 Chockfull of vitamins and minerals – as the name suggests –  this dressing adds a burst of tangy flavor to anything from salads to tonics.
It's lemony, nutty, and full of umani flavor from the nutritional yeast.
Find the recipe here: Fermented Food Lab
4. Vegan Green Goddess Dressing
For a tasty twist on salad, pour this vegan dressing over your veggies.
It's packed with greens, herbs, and apple cider vinegar for a healthy way to dress your salad.
Find the recipe here: Kara Lyndon
SALADS
5. Carrot Beet Apple Salad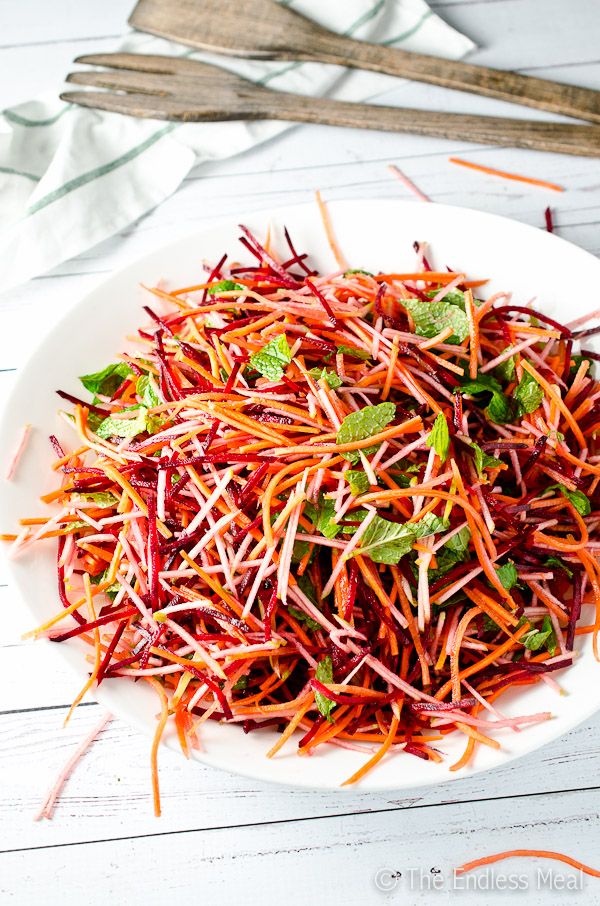 Tart and sweet, this bright salad has plenty of crunch and a fresh, spicy flavor from mint leaves and cumin.
It's perfect as a side salad or stand-alone light lunch.
Find the recipe here: The Endless Meal
6. Quinoa and Black Bean Salad
This fiber- and protein-rich salad makes an easy and nutritious lunch or vegan dinner.
You'll love how its citrus-infused ingredients brightens up your meal.
Find the recipe here: The Kitchn
7. Pineapple Turmeric Sauerkraut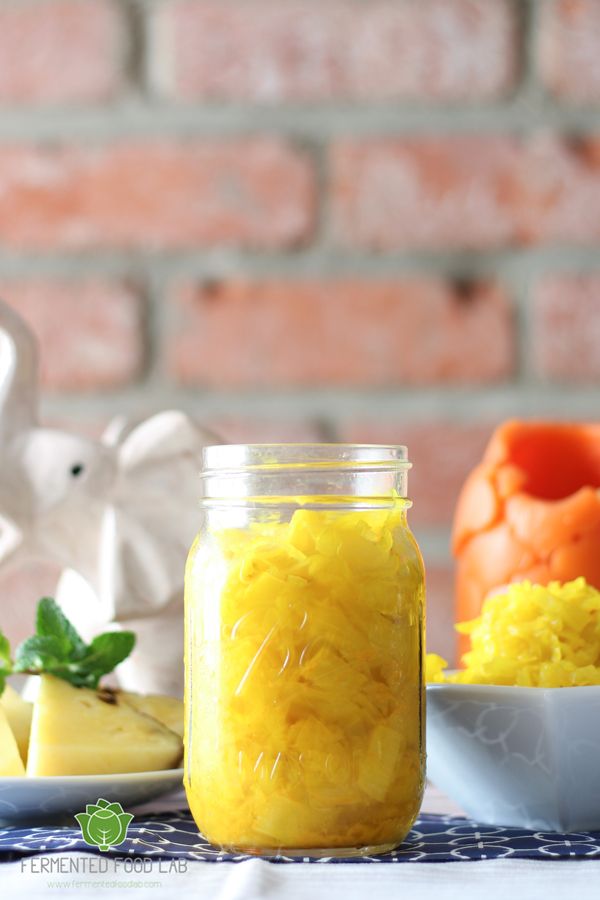 Tangy, sweet, and refreshing, sauerkraut recipe makes a fresh way to enjoy fermented food.
Why is this a good thing? Because fermented foods like sauerkraut and ACV give your body beneficial bacteria and enzymes to help with keep your gastrointestinal system healthy and functioning well.
Find the recipe here: Fermented Food Lab
8.  Zucchini Noodle Salad
Looking for a fresh and tasty light dinner or lunch?
Try this delicious "zoodled" salad tossed with fresh vegetables, basil and an Italian apple cider vinegar dressing that's simultaneously paleo, gluten-free, and vegan.
Find the recipe here: Hold the Grain
9. Autumn Chopped Quinoa Salad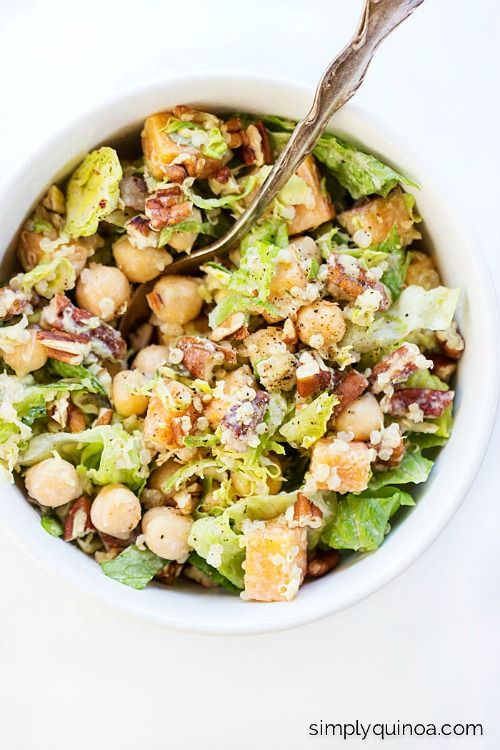 Romaine, raw shredded Brussels sprouts, steamed sweet potatoes, chickpeas, quinoa, and crunchy pecans come together to make a hearty full-meal salad.
A tahini and apple cider vinegar dressing gives this salad a creamy tartness that's perfect for fall.
Find the recipe here: Simply Quinoa
BEVERAGES
10. Apple Pie Apple Cider Vinegar Drink
This tasty apple-powered beverage will give your morning a healthy boost.
Find the recipe here: Eating Bird Food
11. Lemon Chia Apple Cider Vinegar Morning Elixir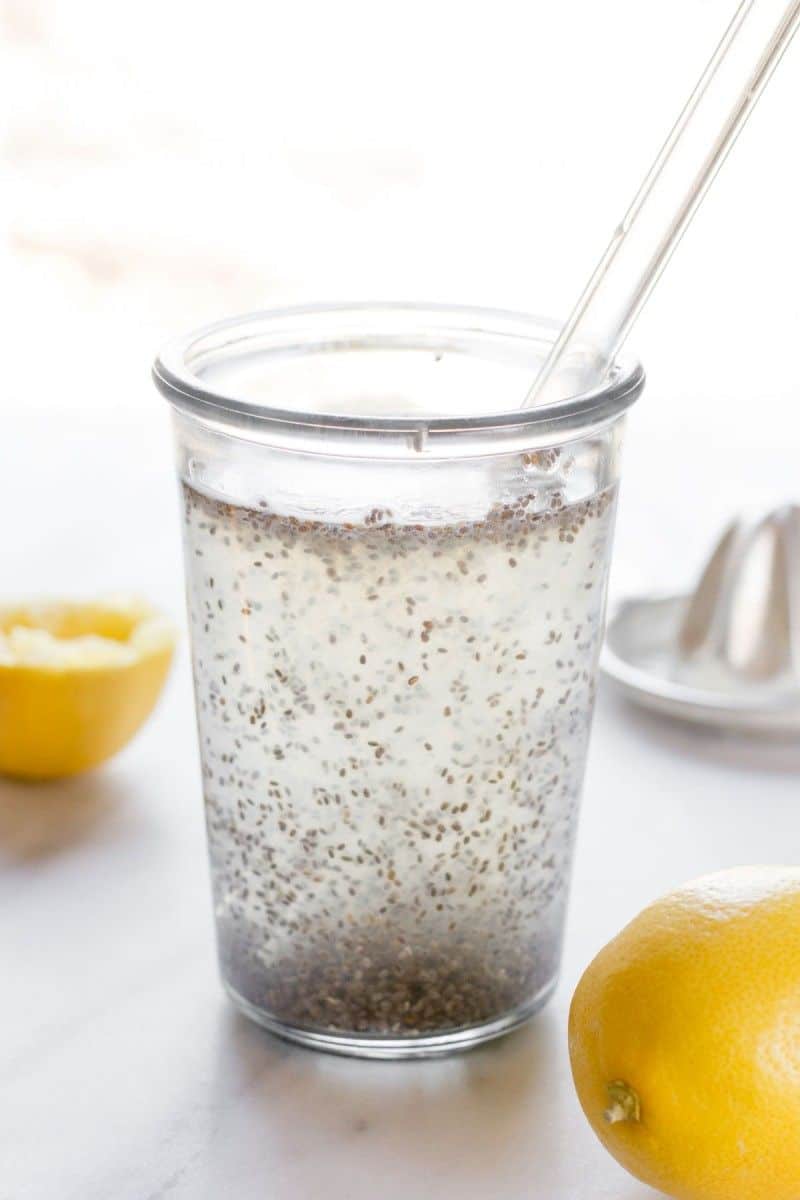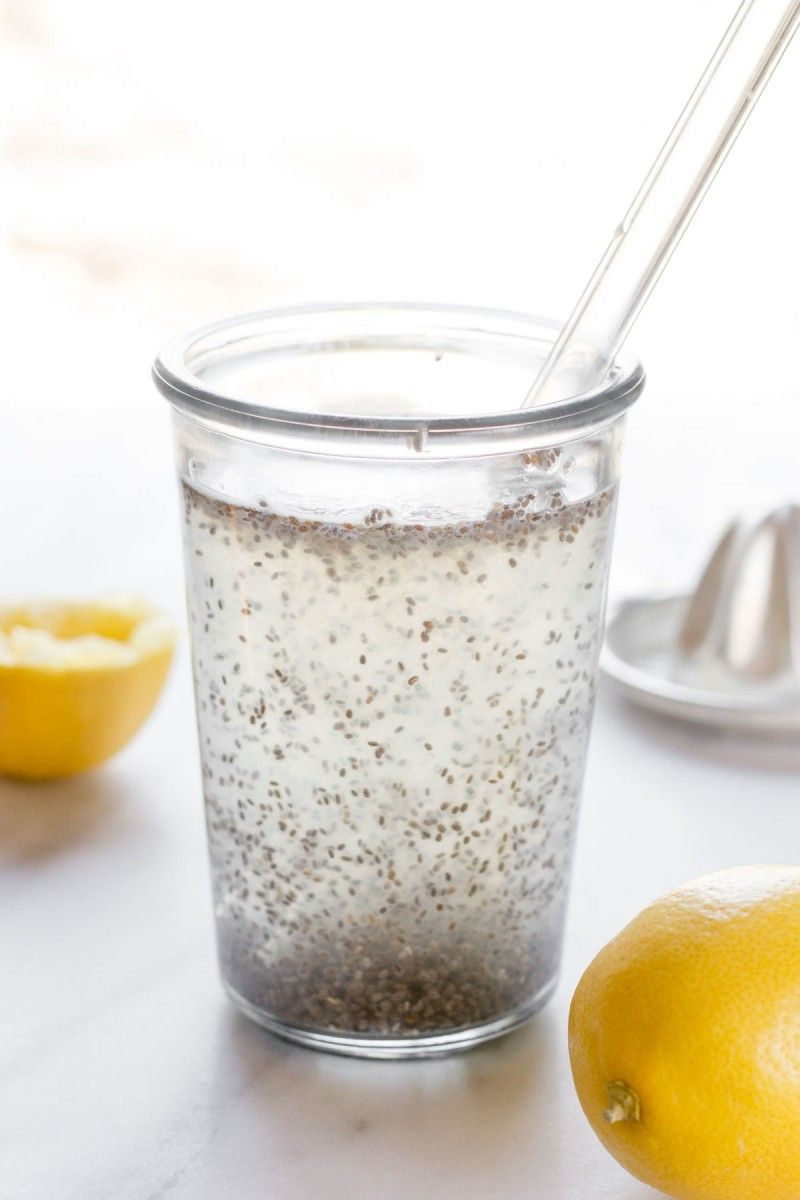 This tonic will get your day off to a healthy start. It's packed with health benefits to reset your body, and thanks to the chia seeds it'll keep you feeling full.
Find the recipe here: Back to Her Roots
12. Hawaiian ACV Drink
This Hawaiian-inspired apple cider vinegar drink has a zippy, sun-kissed flavor and it works to get the cells in your body functioning optimally through detox and balancing your body's pH levels.
So sit back, relax, and sip on this tasty, health-boosting drink, umbrella optional!
Find the recipe here: Yuri Elkaim
MEALS AND SIDE DISHES
13. Roast Chicken with Vegetables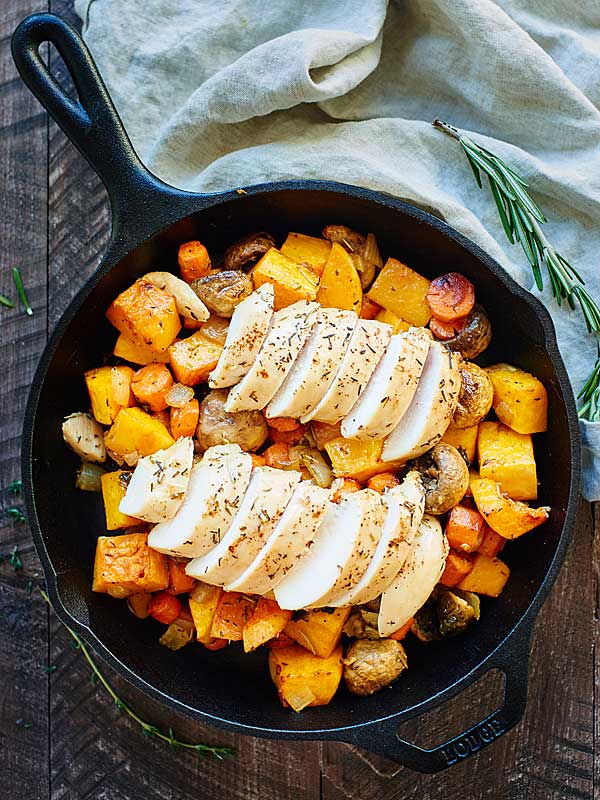 Apple cider vinegar and honey make a delicious marinade for this hearty roast chicken recipe.
Juicy and tender chicken, butternut squash, and Brussels sprouts are perfect when you crave a warm, comforting, yet healthy dinner.
Find the recipe here: Show Me The Yummy
14. Creamy Apple Cider Vinegar Chicken
Made in one pot, this chicken recipe is full of goodness.
Coconut milk and apple cider vinegar come together to give this dish a creamy tanginess that works to keep you healthy.
Find the recipe here: There's a Cook In My Kitchen
15. Honey Roasted Carrots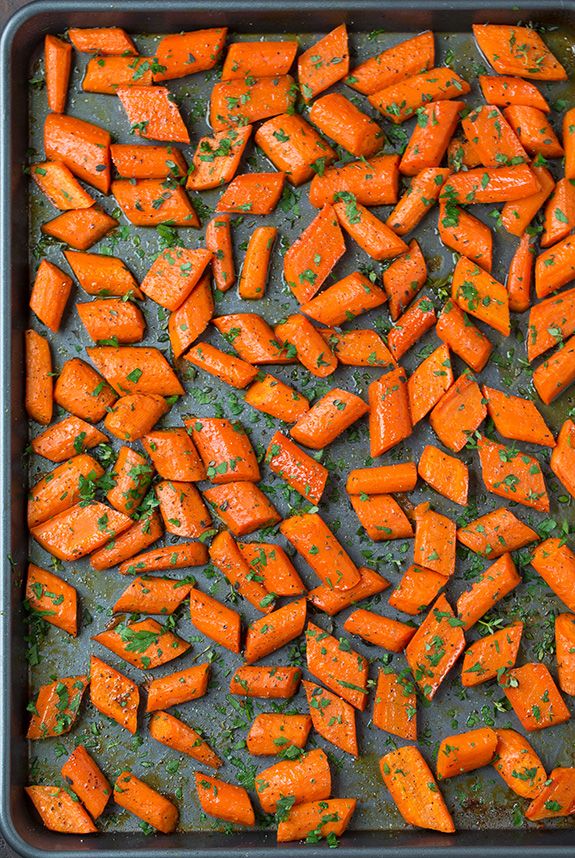 Savory and sweet, these carrots are perfect side dish when you have company (or you just want to treat yourself).
Apple cider vinegar lends a tart contrast to these delightfully sweet root veggies.
Find the recipe here: Cooking Classy
16. Cabbage Lentil Soup
Flavorful and comforting, this soup has health boosting ingredients to jump start a healthy change in your life.
With good-for-you apple cider vinegar, cabbage, and lentils, it's good the day you eat it – and it also makes fabulous leftovers.
Find the recipe here: Eating Bird Food
17. Spicy Squash Soup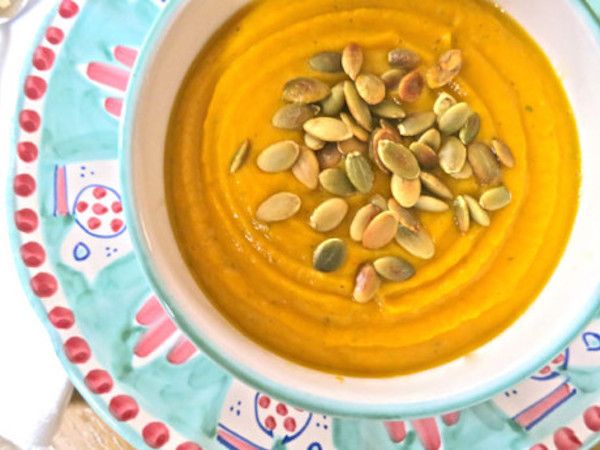 Roasted rosemary, thyme, and jalapeño pepper give this soup an infusion of flavors.
Meanwhile, the tangy apple cider vinegar and a homemade stock form a rich broth, and the squash delivers a healthy dose of beta-carotene.
Find the recipe here: Deliciously Ella
18. Dill Pickled Beans
Turn garden fresh green beans into a savory treat with this easy recipe.
Pickled in apple cider vinegar, you'll get tons of health benefits along with a Mason jar of amazingly tasty beans.
Find the recipe here: That Clean Life
SMOOTHIES AND SNACKS
19. Apple Cider Vinegar Smoothie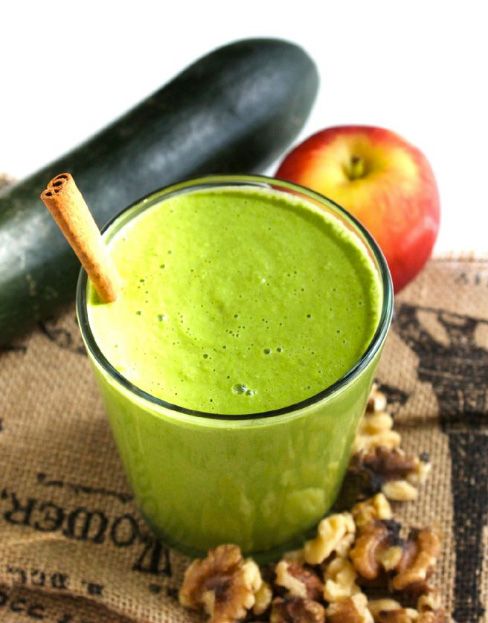 This tastes like both the last days of summer and the first days of fall, all in one healthy green glass.
This cinnamon-spiced smoothie is jam-packed with healthy ingredients for a quick breakfast or delicious snack.
Find the recipe here: Green Blender
20. Oatmeal Cookies with Dried Blueberries and Pecans
Sweetened with mashed banana and organic honey, these cookies are a guilt-free way to start the morning.
Gluten-free and full of ingredients like apple cider vinegar and coconut oil, you'll get unexpected health benefits as you munch.
Find the recipe here: The Devil Wears Parsley
21. Healthy Peanut Butter Banana Milkshake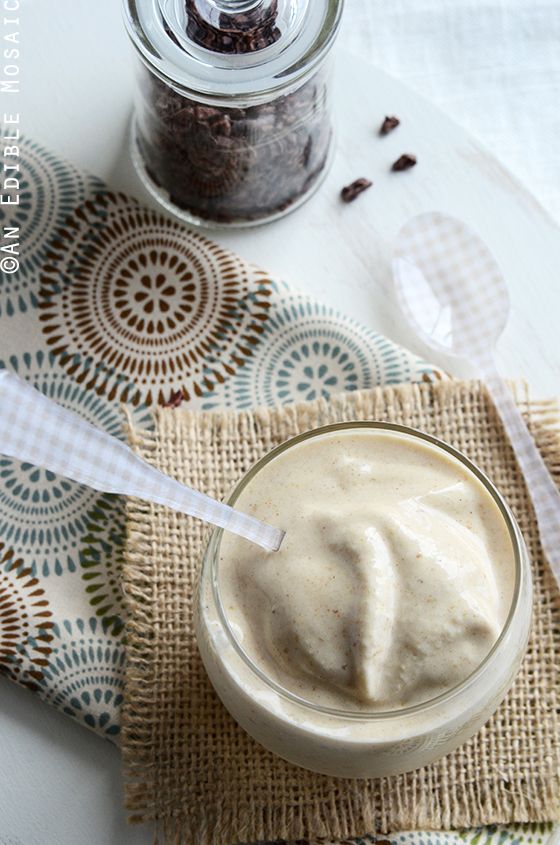 Peanut butter and banana? Yes please!
This recipe sneaks in apple cider vinegar for impressive health benefits.
Creamy and delicious, you'll love everything about this amazing shake.
Find the recipe here: An Edible Mosaic
ACV All Day Long
These recipes are proof that it's easier than you think to sneak apple cider vinegar into your day.
Enjoy the health-boosting benefits of these recipes, which include something for even the finickiest of eaters.
Boost Your Health and Flatten Your Belly
It takes less than a day to go from feeling "blah" to "yeah!"
Bust sugar cravings, restore youthful energy, and drop belly bloat – by tomorrow! – with my 1-Day Detox plan.
Enjoy mouthwatering meals as you naturally "cleanse" your body.
You can get the plan for FREE by clicking the banner below.