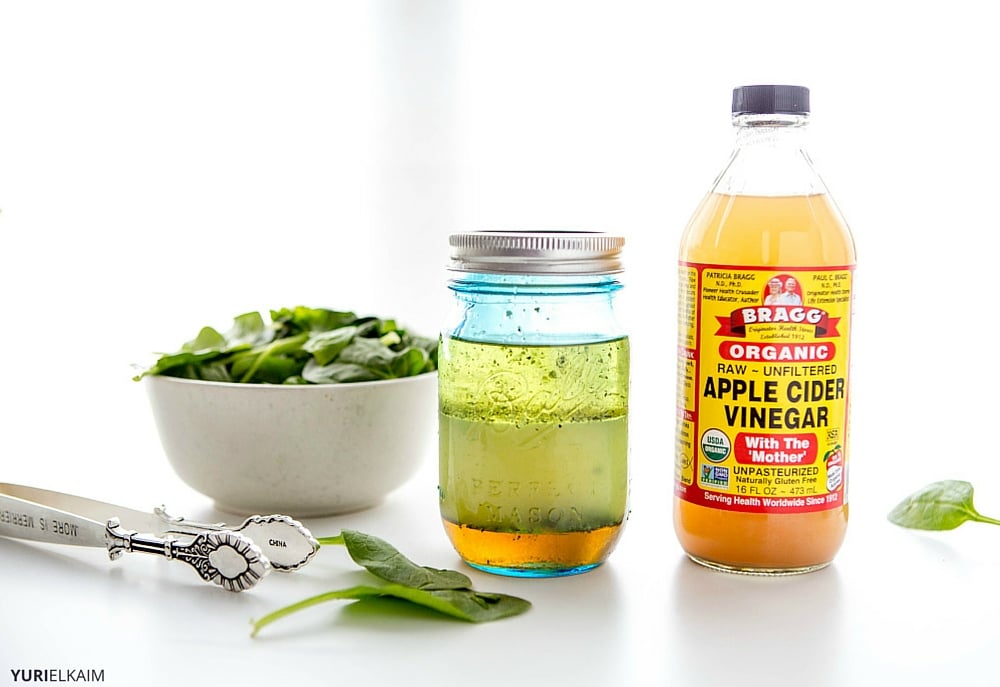 Sometimes small changes can make a big difference in the enjoyment of your day.
Take salad dressing – your go-to bottle of dressing may be getting a bit ho-hum. Try making your own and see for yourself how this simple change can brighten your lunch.
I've created a basic apple cider vinegar dressing that is really amazing on your salad, and I've added 5 variations to keep your salads fresh and your tastebuds happy.
I'm a big fan of apple cider vinegar and use it in recipes on a daily basis, like here, here, and here. If you're using any other kind of vinegar, it's time to make the switch.
Why? The health benefits of apple cider vinegar are too great to ignore, and everyone can benefit from including it in their diet.
By switching to apple cider vinegar in your salad dressing, you're on your way to more stable blood sugar.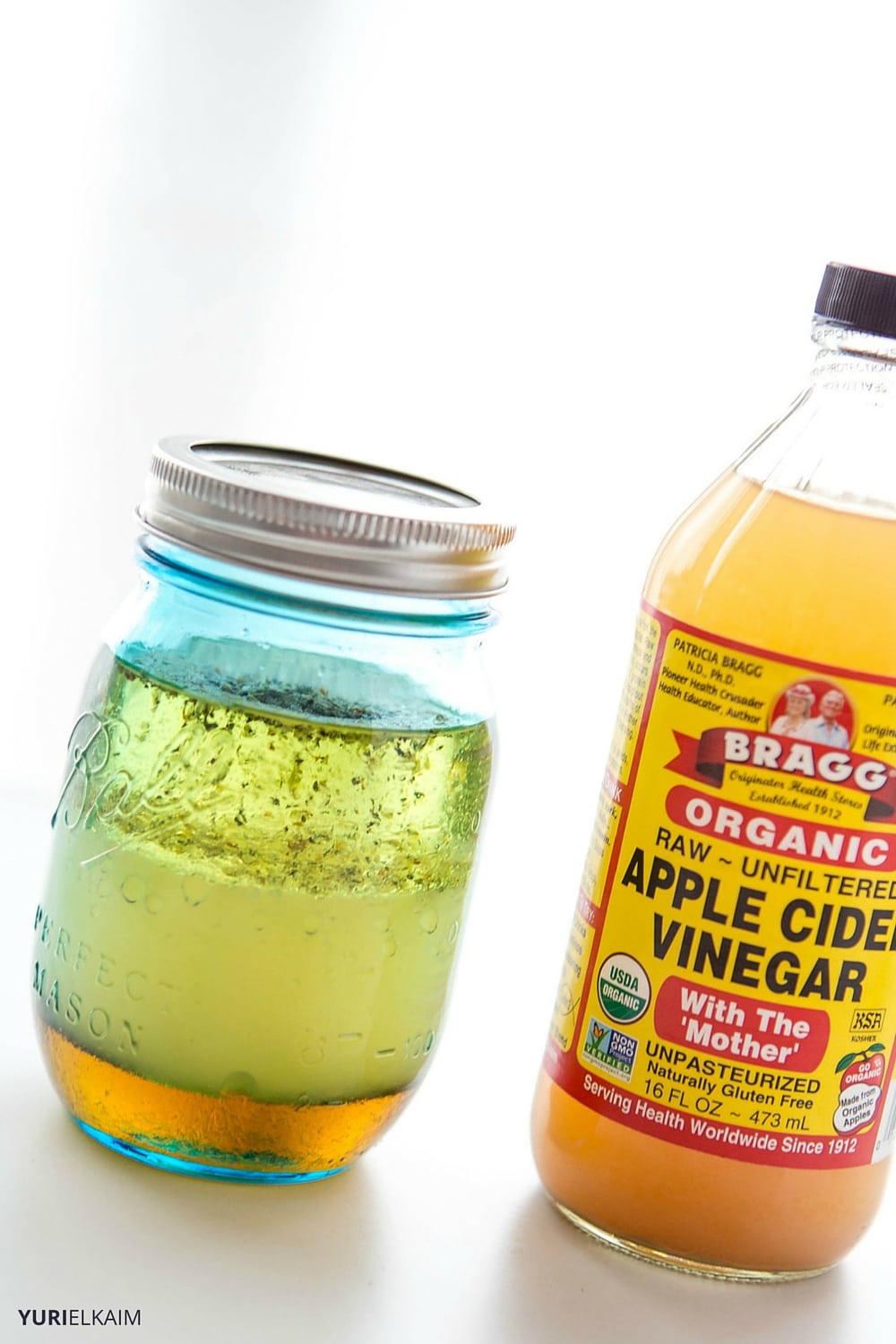 A scientific study in 2007 revealed that the fasting glucose levels of insulin-resistant participants decreased the following morning after ingesting apple cider vinegar along with cheese at bedtime (1).
Even if you're not diabetic, keeping your blood sugar stable is important for your health and your mood.
Need another reason to switch?
Apple cider vinegar aids in weight loss by promoting a feeling of fullness after eating. A 2005 study found that when high carb meals were supplemented with vinegar, study subjects felt more satisfied after eating (2). That's worth it to me!
Just make sure you're buying organic, unpasteurized apple cider vinegar that contains the "mother." It may look strange and cloudy, but it's full of proteins, enzymes and friendly bacteria.
Below you'll find a basic salad dressing recipe that makes enough for a week's worth of salads, and can be stored in a reusable glass container in the fridge. It should keep for about a week.
I recommend using olive oil in this recipe but if you want to switch it out, try MCT oil or a liquid coconut oil (regular coconut oil solidifies at room temperature so would be too chunky and grainy for a smooth dressing). If the olive oil in the dressing hardens, put the container in a bowl of shallow hot water to soften again.
I've also created five extra apple cider vinegar dressing recipes that go beyond the basic recipe, so your salads will never be the same.
Add in any of the five flavor combos to the basic recipe to give your salad a little something extra.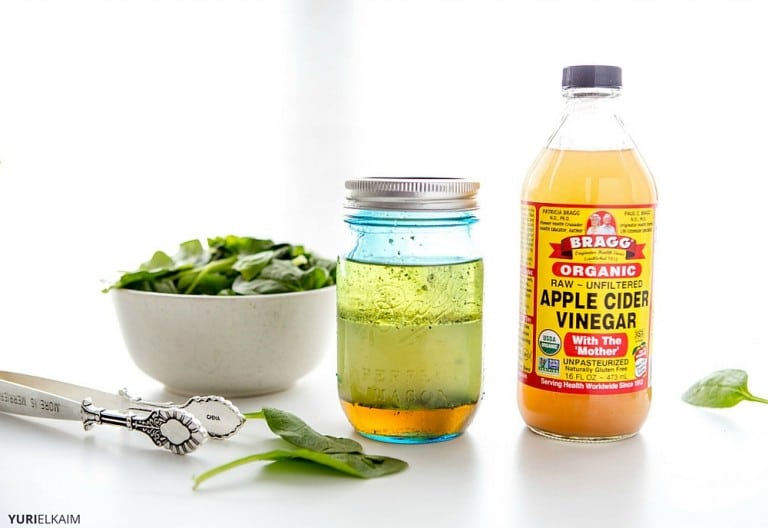 | | |
| --- | --- |
| | |
Whisk all ingredients together. Drizzle over your favorite salad and enjoy!
For freshest flavor, store in fridge and enjoy within 1 week.
 6 Apple Cider Vinegar Salad Dressings You'll Love
 1. The Basic Vinaigrette
Perfect for any type of salad. It tastes delicious on both delicate and hearty greens.
Make up a batch at the beginning of the week and use it on salads or as a marinade for chicken, fish, or pork. I find that a blender or food processor works perfectly to combine all the ingredients.
2. Garden Herb
This variation is fresh, bright and savory.
Add any freshly chopped herbs to the basic dressing above for a delicious flavor combo. Crave Italian? Add fresh basil and oregano. For a south-of-the-border twist, toss in fresh cilantro. Go French bistro with fresh thyme and basil.
. ¼ cup fresh chopped herbs
. ½ cup olive oil
. ½ cup ACV
. 2-­3 tablespoons raw honey
. salt & pepper to taste
3. French
You'll love this homemade French dressing, minus the high sugar content and processed ingredients in the store-bought version. This recipe has a slightly sweet and zesty flavor and makes great use of ACV.
Add a few drops of stevia if you prefer your French dressing on the sweet side. This dressing pairs well with hearty greens such as romaine or baby kale.
. ⅓ cup vegan or no-­sugar ketchup
. 2 tsp paprika
. ½ cup liquid coconut oil
. ½ cup ACV
. 2-­3 tablespoons maple syrup
. salt & pepper to taste

4. Coconut Ranch
Swap out your regular ranch for this coconut ­milk vinaigrette version. It's creamy and delicious. Serve crudité style with thinly sliced veggies for dipping, or toss with shredded cabbage for a tasty twist on coleslaw.
. ½ cup coconut cream
. ½ cup fresh chopped herbs (garlic, dill, parsley, chives)
. ¼ cup liquid coconut oil
. ½ cup ACV
. 1 tbsp unfiltered honey
. salt & pepper to taste
5. Ginger Sesame
Asian flavors really shine through with this dressing. It's perfect over chopped cabbage or coleslaw, paired with shredded carrots and topped with peanuts. Also amazing drizzled over Asian baby greens. Sprinkle fresh cilantro on top for an extra pop of flavor.
. 1-­2 tbsp fresh grated ginger
. 2 cloves fresh chopped ginger
. 1 tbsp sesame seeds
. ¼ cup olive oil
. ¼ cup sesame oil
. ½ cup ACV
. 3 tbsp Braggs aminos
. 1 tbsp maple syrup
6. Raspberry Blush
Dress up a basic green salad with sliced fruit and this tasty raspberry blush dressing. It's slightly sweet, a little tart, and perfect for getting you out of your plain salad rut. Try with sliced apples, pecans and arugula.
. ¼ cup naturally sweetened raspberry jam
. 1 clove garlic
. ½ cup lemon olive oil
. ½ cup ACV
. 2-­3 tbsp maple syrup
What Next?
Did you enjoy these Apple Cider Vinegar Dressing recipes?
You might also like my free "All-Day Energy Diet" Community Cookbook. To get 67 quick and delicious allergen-free recipes that help you look and feel years younger – for FREE – click the banner below.