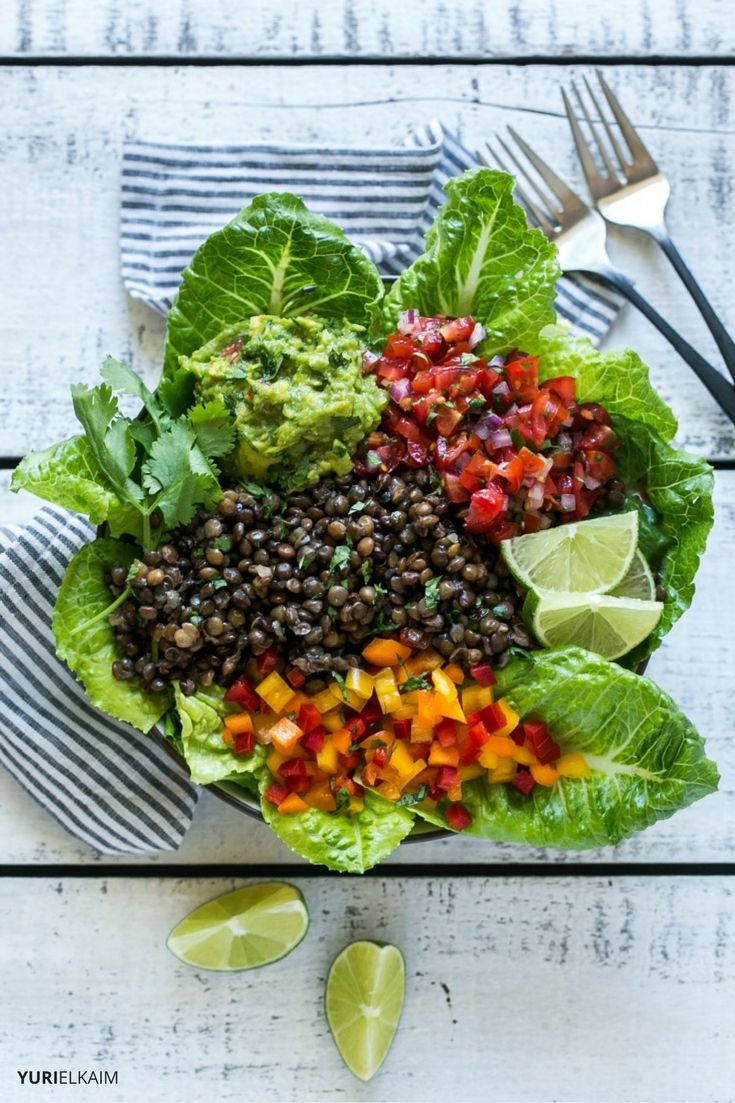 Tacos are, hands down, one of the world's most irresistible street foods.
I'd eat them on a plane. I'd eat them on a train. I'd eat them here or there. I'd eat them … oh, you get the point.
I'd pretty much eat tacos for every meal, if they weren't a bomb of meat and grease.
Which is too bad, because they don't have to be made that way. Sometimes tacos are:
And now, tacos also come in the form of these awesome (and awesomely easy) Lentil Taco Bowls.
Boom! Healthier tacos for everyone!
Fast and Easy Lentil Tacos Recipe
In just 5 minutes, you can have a healthy and delicious vegan meal.
The secret to fast-to-the-table healthy eating recipes is to use ingredients that have already been prepared (we call it pre-prepared).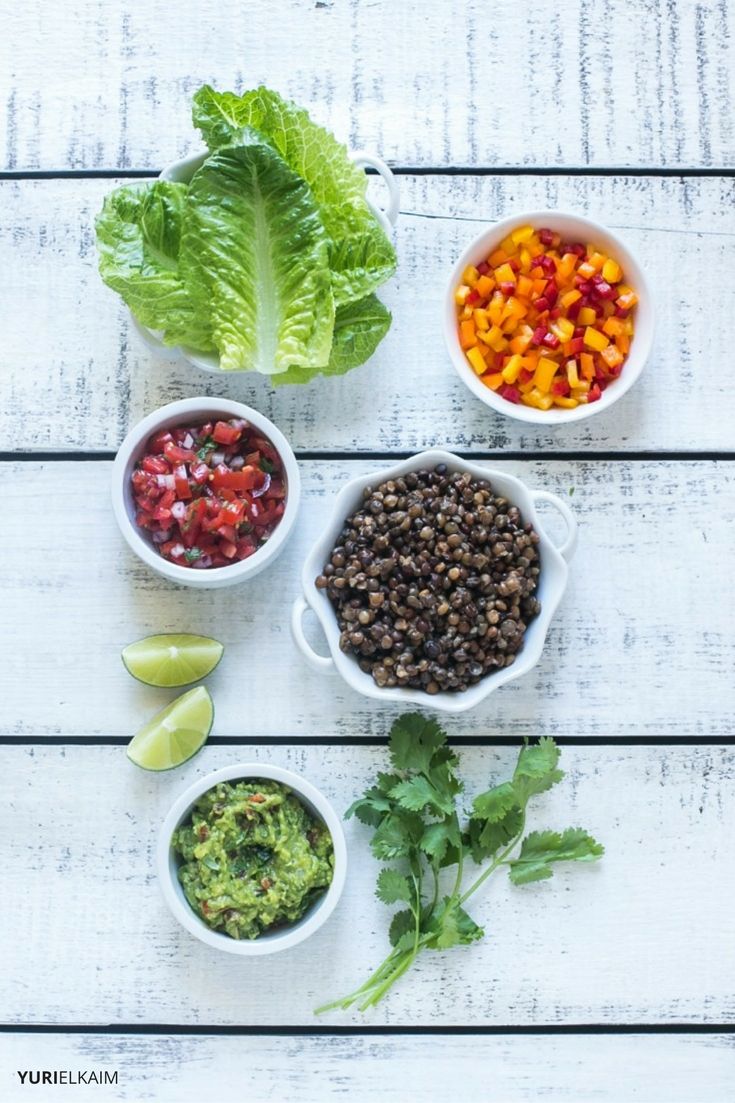 Whether you prepare ingredients on the weekend to use later in the week or you buy pre-made, they can be easily scooped into your bowl for an instant lunch or dinner.
I like to use fresh, organic tomatoes from my garden for the salsa, but you can also buy fresh salsa in the refrigerated section of your grocery store.
Pre-prep saves me a lot of time when my week is busy with work and kid's activities. If I spend a little extra time cutting and chopping on the weekend, or grabbing pre-packaged items from the refrigerated section of my favorite store, I can save precious time on weeknights.
Either way, these lentil taco bowls are delicious, and I'm happy to share this amazing recipe.
And if you don't have any lentils, please use this opportunity to pack your pantry with them. They should be one of your go-to plant-based proteins.
Why We Love Lentils
Lentils are legumes, in the same family as beans. They're high in protein, iron, and fiber, providing long-lasting hunger relief and building lean muscle.
There are many different varieties of lentils to choose from. Green and brown varieties hold their shape better after cooking than the red-colored variety, so I recommend not using red-colored lentils for this recipe.
You can find lentils in the bulk section of most grocery stores, as well as in the grain aisle, next to the dried beans. If you're not into cooking them, you can buy canned lentils in the canned vegetable aisle next to the beans.
Make sure the lentils are organic, and look for lentils in a BPA-free can. It's not hard to cook lentils, and you can use leftovers for other meals.
How to Cook Lentils
Do yourself a favor and prep a big batch ahead, then freezing 1-2 cup servings in freezer bags. That way, you can keep this recipe down to a 5 minute meal.
As a rule of thumb, use two cups of water for every one cup of dried lentils.
Before cooking, rinse lentils in a colander, checking for rocks by sifting through them with your fingers. Transfer to a saucepan filled with the cooking water and bring to a boil. Once boiling, turn the heat to simmer and cook uncovered for 20 minutes. At this point, check for doneness.
If the lentils are still crunchy, add about ½ cup water and boil longer, checking often for tender lentils. Depending on variety, they may need as little as 20 minutes or as much 55 minutes – you'll need to check for tenderness and add more water as it boils off.
Aside from these taco bowls, lentils can be tossed into green salads and grain salads, or added to soups, stews, chili, vegan enchiladas, or the world's second easiest meal – Red Lentil Curry. They make a great meat substitute for veggie burgers and to bulk up meatless meals. They're also tasty served over quinoa or mixed with seasoned vegetables.
No matter what recipe you use them in, lentils are a healthy addition to any meal and are a delicious meat-free option, delivering big on protein and essential nutrients.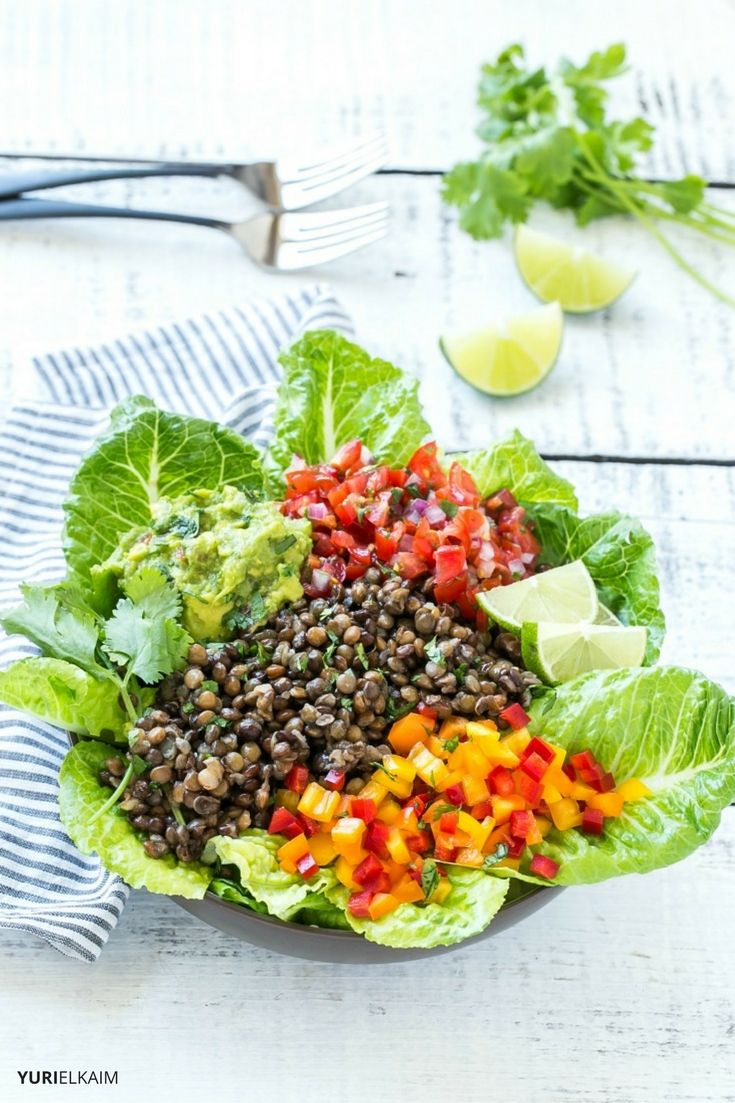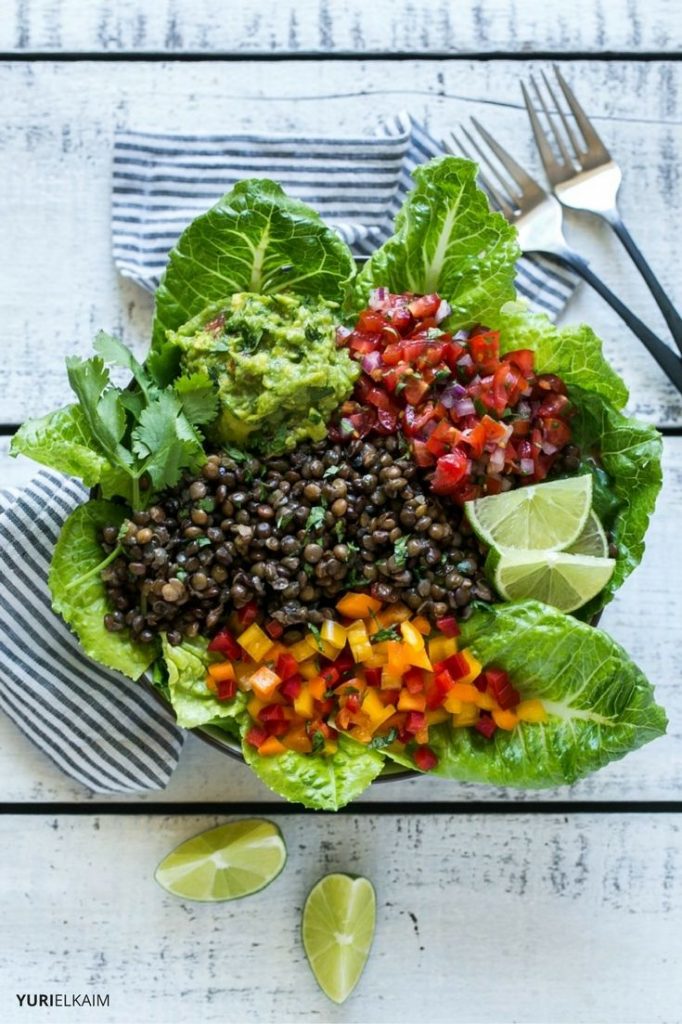 | | |
| --- | --- |
| | |
Divide the lettuce between two bowls.

Top each bowl of lettuce with 1/2 cup cooked lentils, 1/2 cup diced peppers, 2 tbsp of salsa and 2 tbsp of guacamole.

Drizzle the lime juice over the bowls.

Sprinkle with cilantro and salt and pepper to taste, then serve.
Fast, Easy, Healthy Meals
Want more quick and delicious meals? Be sure to get your copy of the All-Day Energy Diet Community Cookbook, which is available for FREE!
It contains 67 meals that are free of dairy and gluten, low in allergens, and high in taste. Plus, they take about 15 minutes to prepare.
You can get it by clicking the banner below.