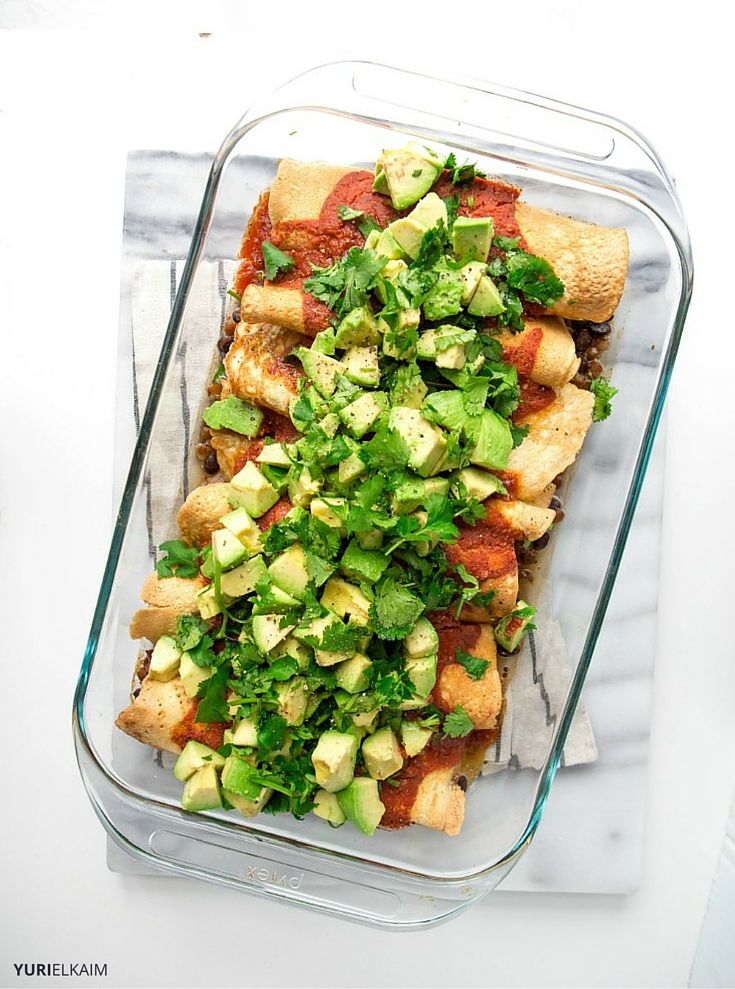 If you're looking for a tasty make-ahead meal that's great for any time of the day, you will love this enchilada bake recipe, which is protein-packed and super delicious.
It also features pulses, which are plant-based protein sources such as dried peas, lentils and chickpeas.
Why are pulses awesome?
They're packed with fiber, which is important for digestive health and for keeping you satiated after eating. A single serving of this enchilada bake will give you half your daily recommended intake of fiber.
A half-cup serving of pulses will give you 9 grams of protein.
They're low on the glycemic index, thus keeping blood sugar stable.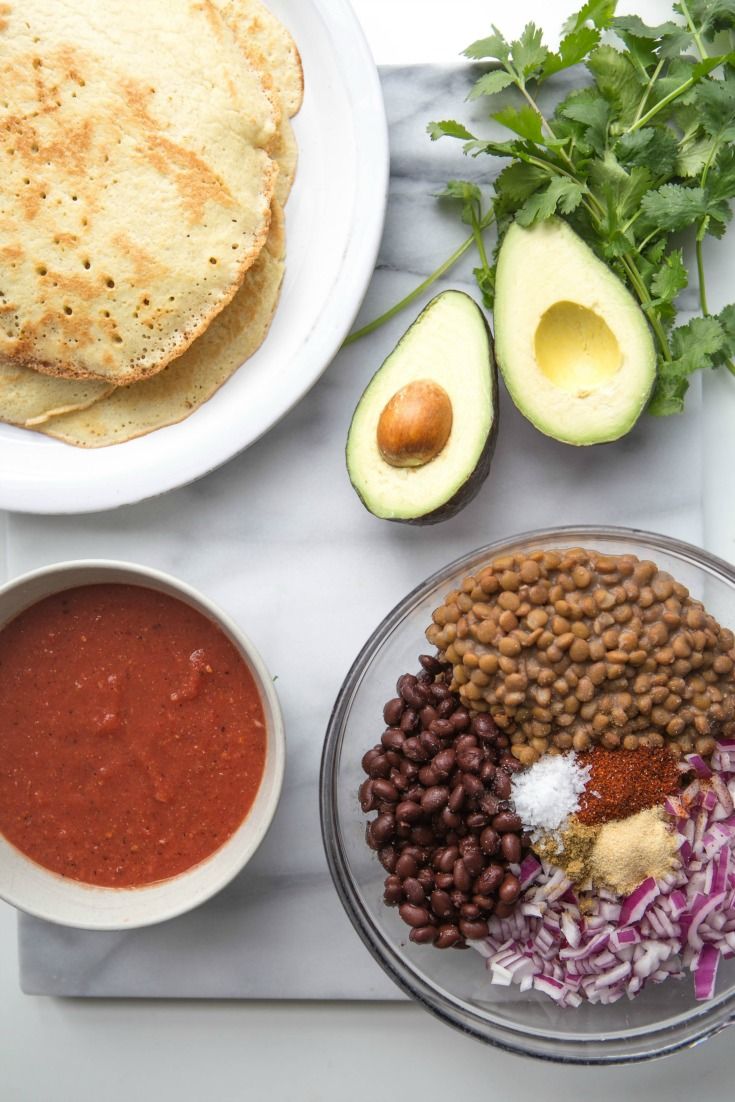 This healthy eating recipe is also gluten-free, because it contains handmade almond flour tortillas. If you've never made tortillas by hand, no worries: they're not hard to make! And the benefits definitely are worth the effort.
The ground almonds in the tortillas will give you an additional protein boost and anti-inflammatory protection. Almonds are high in vitamin E,  a powerful antioxidant that stabilizes disease-causing free radicals. The heart-healthy unsaturated fats in almonds protect you from cardiovascular disease and lower bad cholesterol levels.
Another bonus of this recipe is that it keeps well. You can keep the enchiladas wrapped in the fridge or freezer for later in the week. That way, a warm, healthy meal gets on the table no matter how hectic your weeknight looks.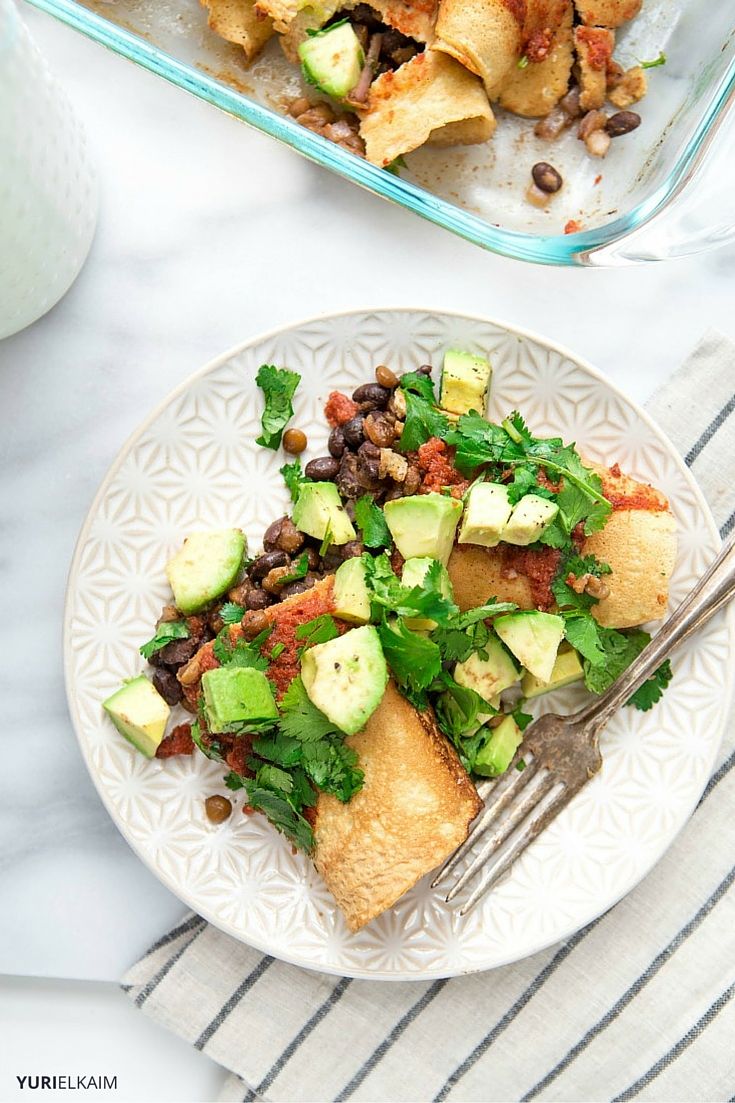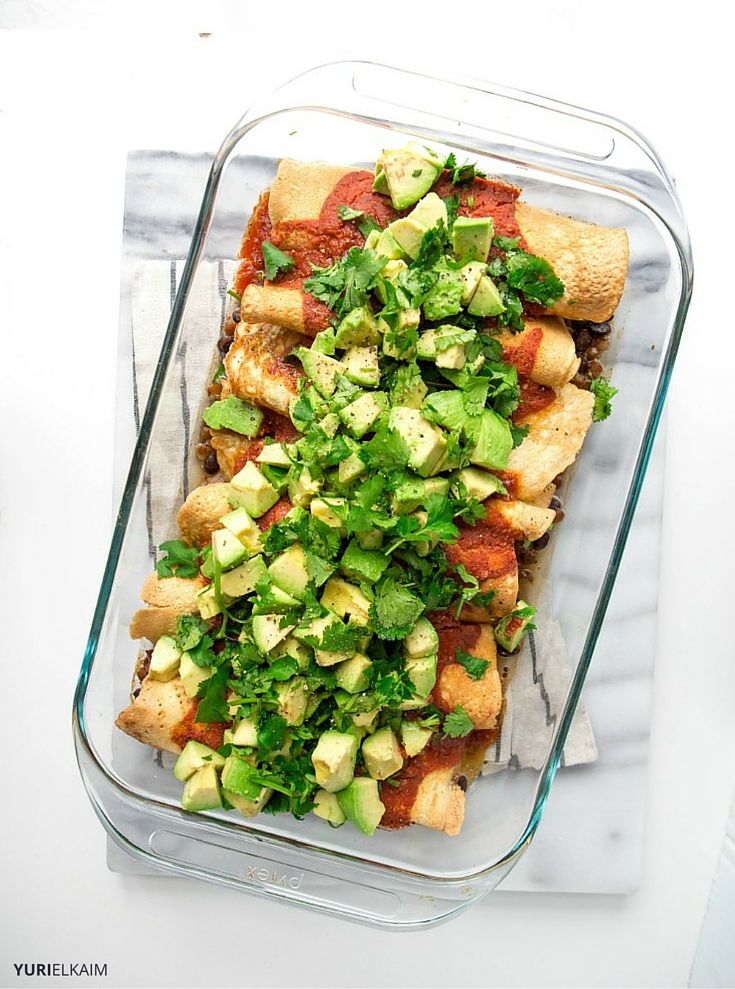 | | |
| --- | --- |
| | |
In a blender, combine eggs, almond flour and salt. Blend for 1 minute.

Heat a skillet over medium heat, melt a small amount of coconut oil in the bottom, and pour just enough of the egg mixture into the skillet to cover the skillet (like a crepe). Cook until golden brown (about 1 minute) then flip and cook second side until golden brown. Transfer cooked tortillas to a plate. Repeat until entire mixture is cooked and 8 tortillas have been made.

In a large bowl, stir together lentils, black beans, diced onion, ¾ tsp cumin, chili powder, garlic powder and ¾ teaspoon salt.

Fill tortillas with mixture, placing rolled enchiladas in a 9x13 baking pan coated with nonstick cooking spray.

In a blender, puree fire-roasted tomatoes, garlic, ¾ tsp cumin and ¼ tsp salt. Drizzle over the top of the enchiladas. Cover with plastic wrap and refrigerate or freeze for later use.

To bake, cook frozen enchiladas uncovered in an oven preheated to 350 degrees F for 40­-50 minutes. Cook thawed (or just­ assembled) enchiladas for 20­-30 minutes, or until the edges of the tortillas turn golden brown and the center filling is piping hot. Serve topped with avocado and cilantro.
Look for almond flour in the baking section of your local grocery store, or the bulk section of any natural foods store.
Enjoy Recipes Like This Enchilada Bake?
You'll definitely want to check out The FREE All-Day Energy Diet Community Cookbook. It features 67 delicious, allergen-free meals that take less than 15 minutes to make … and you can get it for FREE by clicking on the banner below.