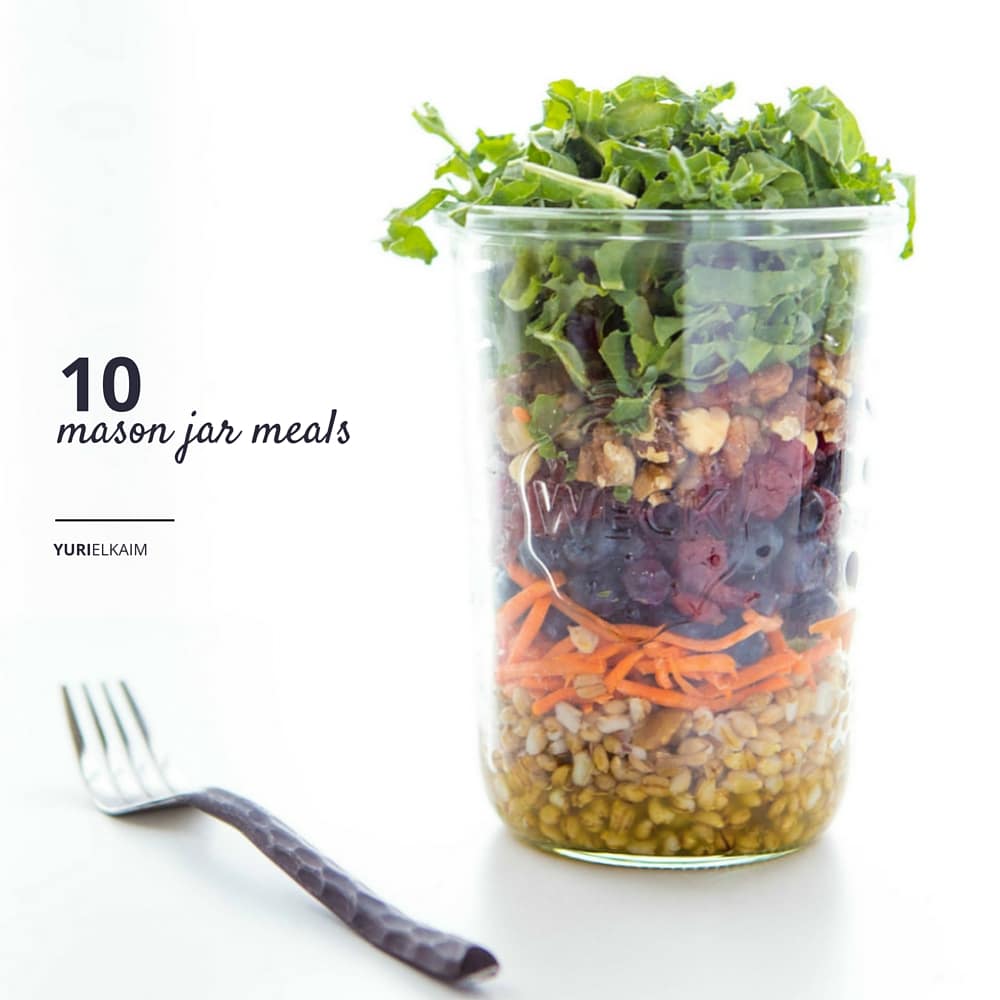 If you've been struggling to prepare easy, delicious meals that are always ready when you need them, these mason jar meals are for you.
I'm not exaggerating; these meals could change your life by making healthy eating easy for you.
The beauty of these mason jar meal ideas is that they're perfect if you're on the go, and need to carry a quick lunch or dinner with you to work.
Layered tight, these mason jar meals contain everything you need in a meal—protein, antioxidant-rich veggies, and healthy seeds or nuts. The best part? There are so many mix and match flavor variations that you'll never get bored of this manner of preparation.
What Makes These Mason Jar Meals so Special
These mason jar meals have layers of good-for-you ingredients; here's a look at just some of the amazing health benefits they contain.
One important component of this meal is protein. It's in every cell in your body, and is used to build and repair tissue. In fact, protein is a building block for your muscles, and is used for muscle repair and maintenance too.
Since your body doesn't store protein like fats and carbohydrates, it's important to include protein in your daily meals.
If you're vegan or vegetarian and you want a plant-based protein, try quinoa. It contains all the essential amino acids, making it a complete protein. Quinoa is also much higher in fiber than most grains, so you'll feel full long after you've eaten, and it will keep your blood sugar levels stable.
I also love black beans as a plant-based protein option. They have a high antioxidant content and lots of folate, which protects against mutations in your DNA.
If you choose to add meat, make sure it's lean meat from livestock raised without antibiotics. Grass-fed beef is optimal for omega-3 content. Adding nuts will also up the protein content of your meal, and contributes important heart-healthy fatty acids.
Leafy greens, such as kale, spinach, and romaine, add loads of nutrition to this salad. Leafy greens are high in iron, which transports oxygen around the body and aids in energy production. Perfect if you're feeling low in energy!
Leafy greens also contain magnesium for muscle recovery, as well as added fiber to keep you full after your meal. More great news – leafy greens are packed with antioxidants and have anti-inflammatory properties as well, not to mention loads of vitamins and minerals. So you're really doing your body a favor by getting plenty of leafy greens into your diet.
As you'll see below, I've also added nuts to a few of these mason jar recipes. Almonds or walnuts are always a good choice, since both contain omega 3 fatty acids for a healthy heart and anti-inflammatory protection.
I've loaded on the seeds too. Chia, hemp and flaxseeds have super nutritional value, and add protein as well as heart-healthy fatty acids and essential vitamins and minerals to this meal.
So, what are you waiting for? Once you have the basic principles down pat, you can start remixing these mason jar meals into your own special creations. Get to work!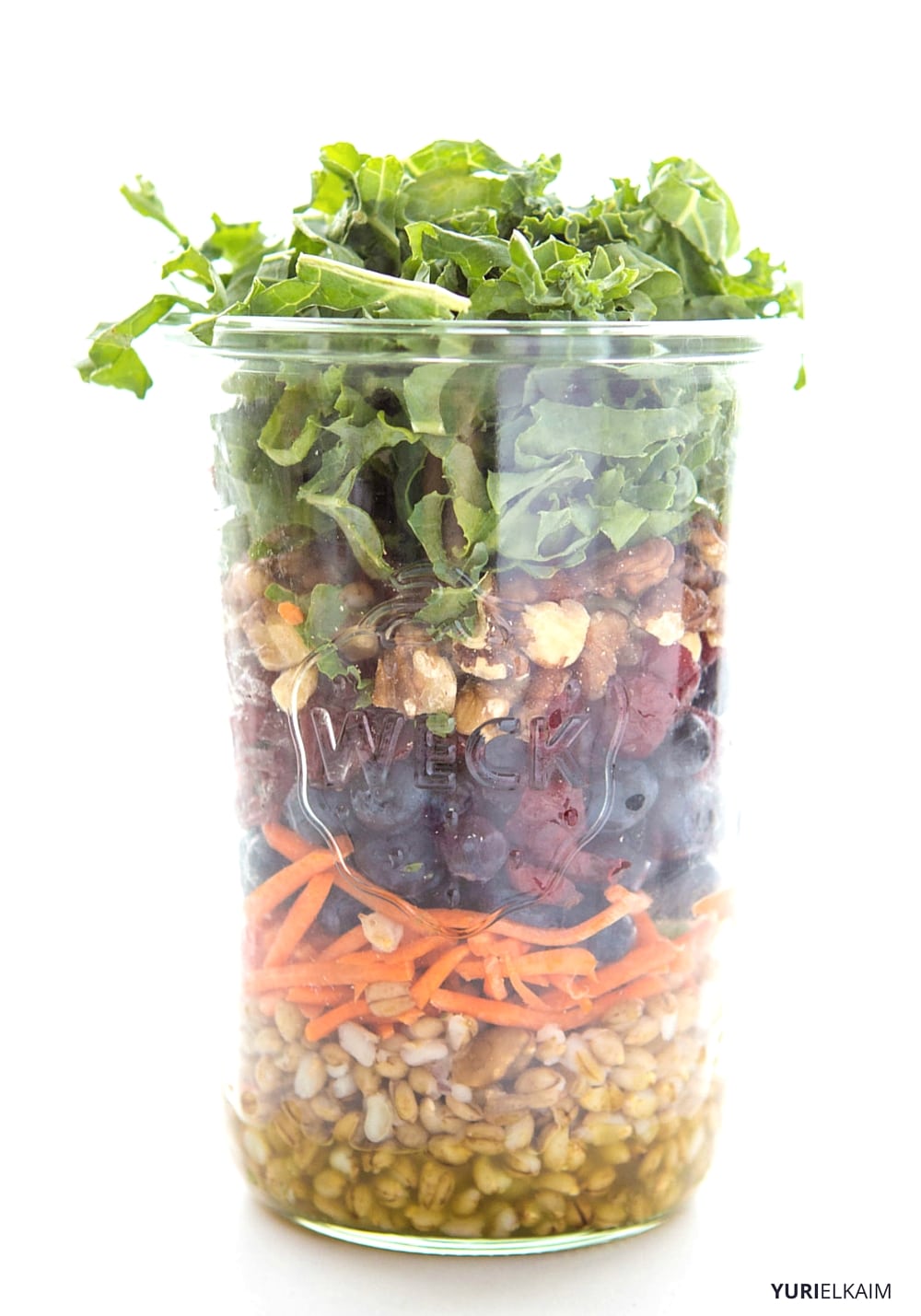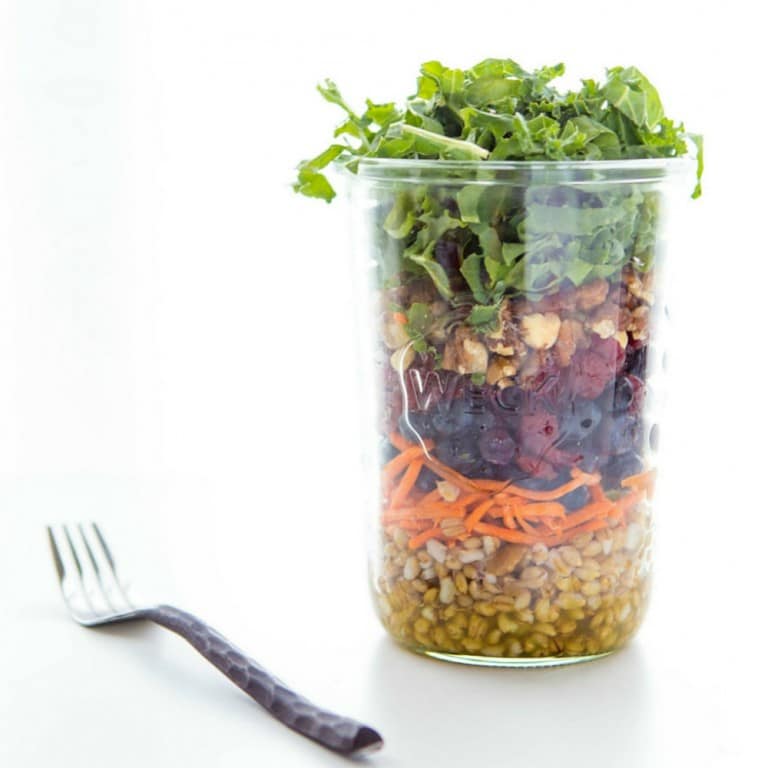 | | |
| --- | --- |
| | |
In a pint-sized jar, layer in all of the ingredients.
Mason Jar Food Ideas: Awesome Additions
1. Superfood Shaker
Boost your lunch with serious superfood action. Add kale, walnuts and blueberries to make this a crunchy, satisfying salad. It's a meal you'll look forward to eating anytime. You can also add some salmon, if desired, to up your healthy Omega ­3s.
2. Italian Antipasto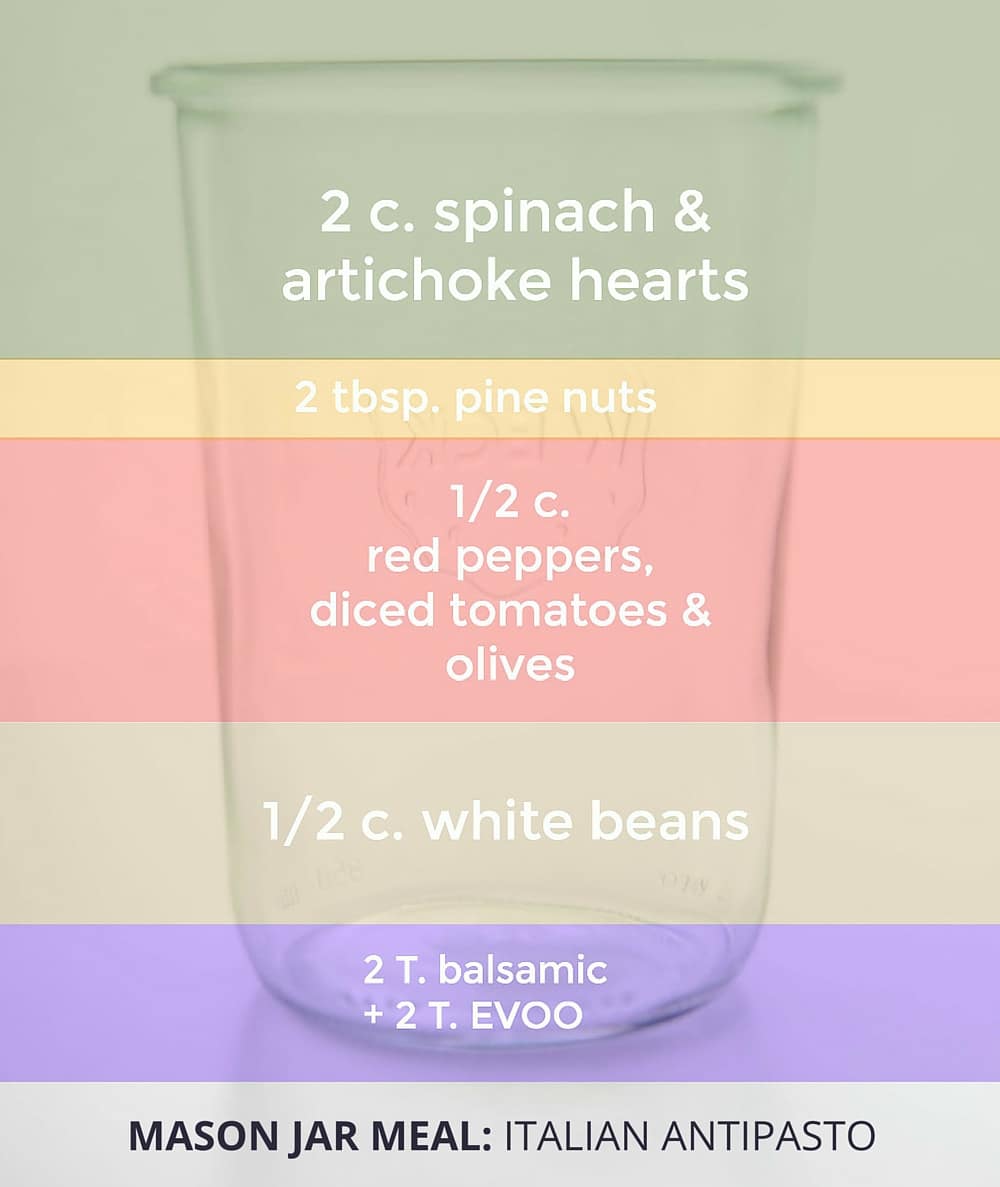 Hit the olive bar and make yourself a hearty, healthy meal! Throw some marinated artichoke hearts, olives and red peppers into the mix for an absolutely delicious flavor combo. This one doesn't taste "healthy," ­­it just tastes incredible!
3. Taco-in-­a-Jar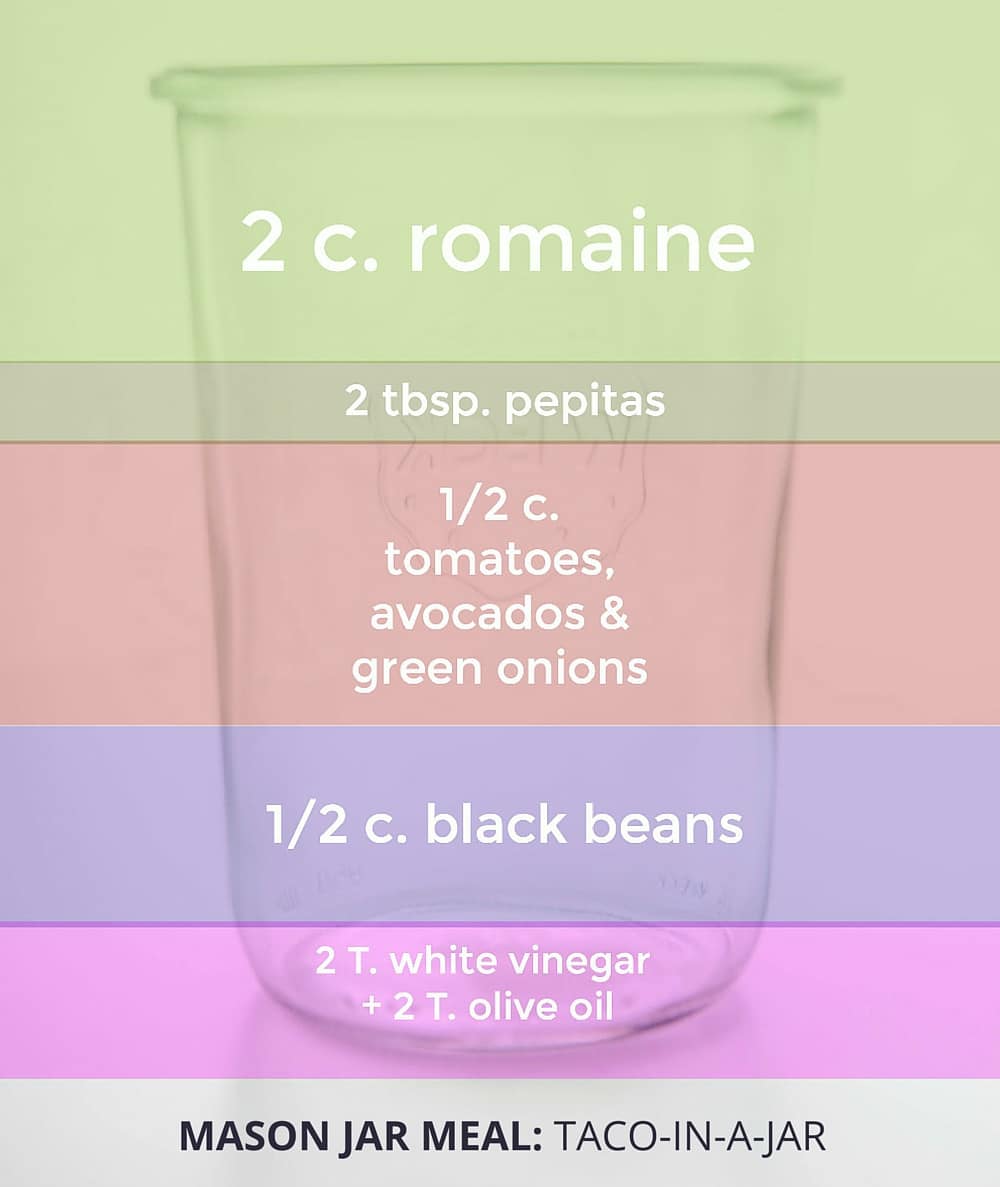 Make every night taco Tuesday with adding any of your favorite taco toppings. Here are a few to get you started: diced tomatoes, green onions, cilantro, black beans, and a pinch of chili powder in your dressing. This one is easy to make the way you please.
4. Asian Zoodle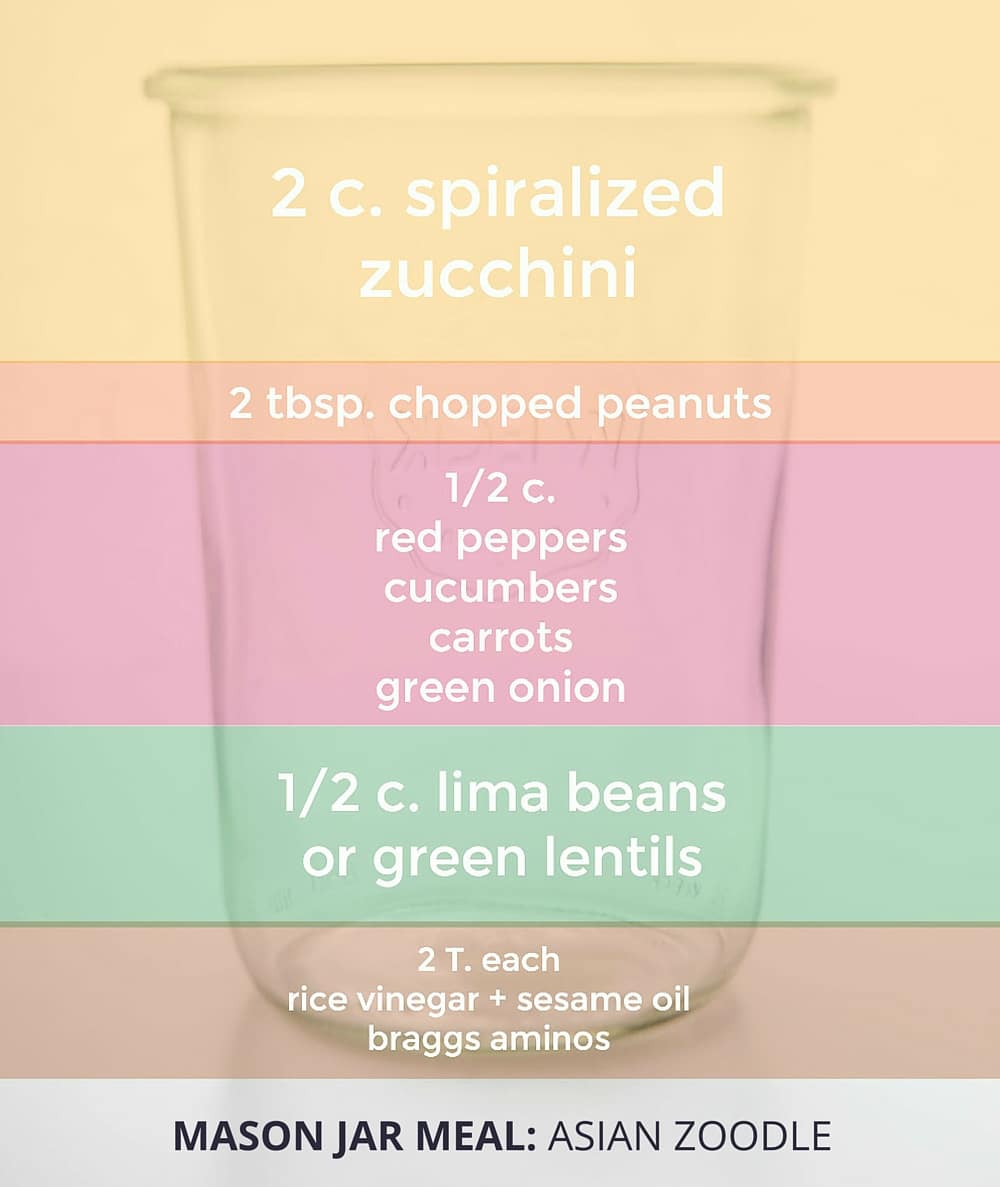 Pull out your spiralizer and make this quick and easy Asian-­inspired mason jar meal. Delicious warm or cold, you can use a julienne slicer to turn a zucchini into noodles (in case you don't have a spiralizer). Toss on some snap peas, shredded carrot, shitake mushrooms, and add a splash of coconut aminos and sesame oil to your dressing. Add diced chicken if you need a little more protein pop.
5. Tuscany Quinoa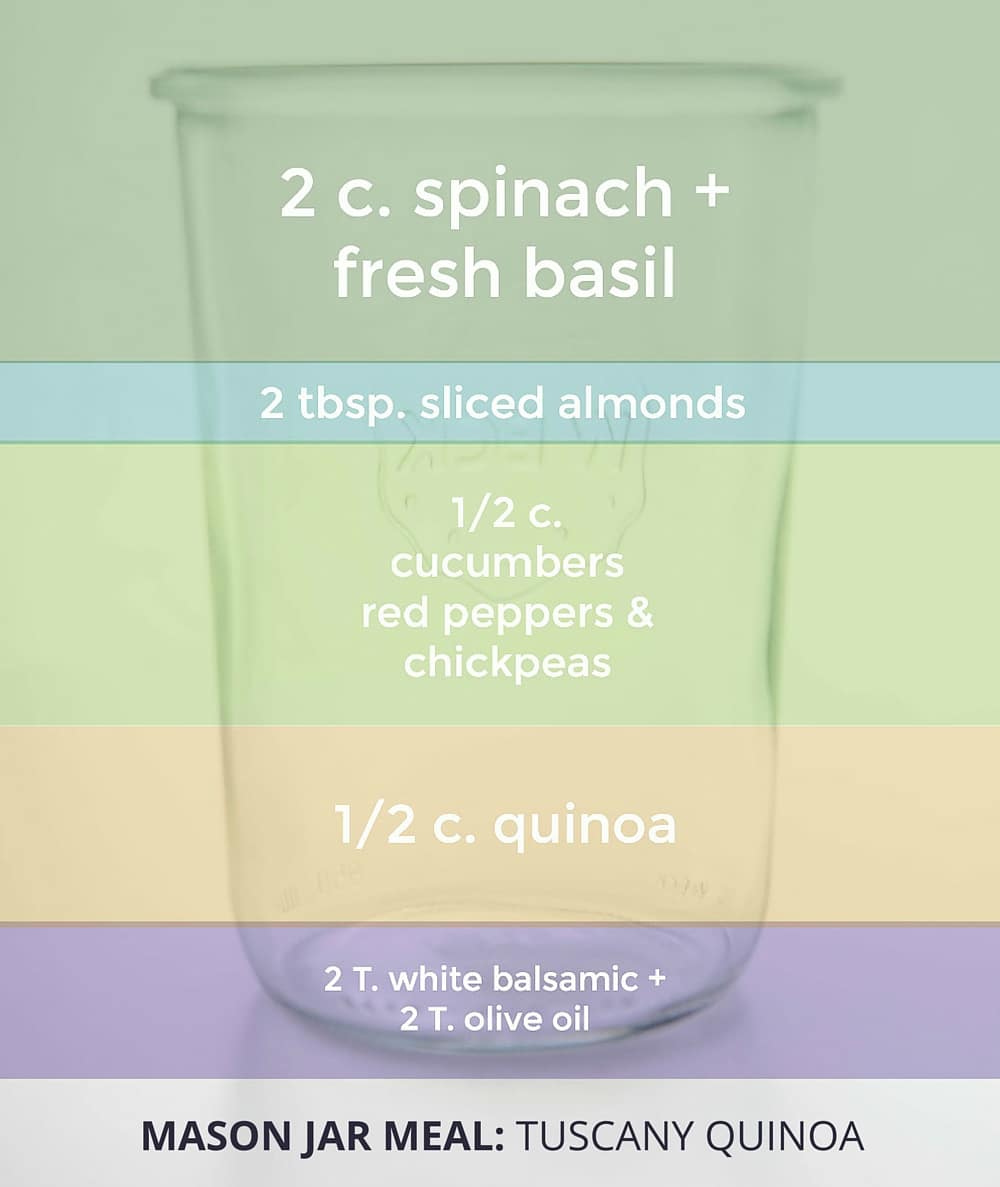 Kick up all the health benefits of the Mediterranean region with this filling meal. Delicious hot or cold, you may want to sprinkle on Italian seasoning or fresh chopped garlic to create a truly aromatic meal. Add in halved cherry tomatoes, Kalamata olives, sliced cucumber, and fresh basil for a taste of Tuscany!
6. Autumn-in­-a-­Bottle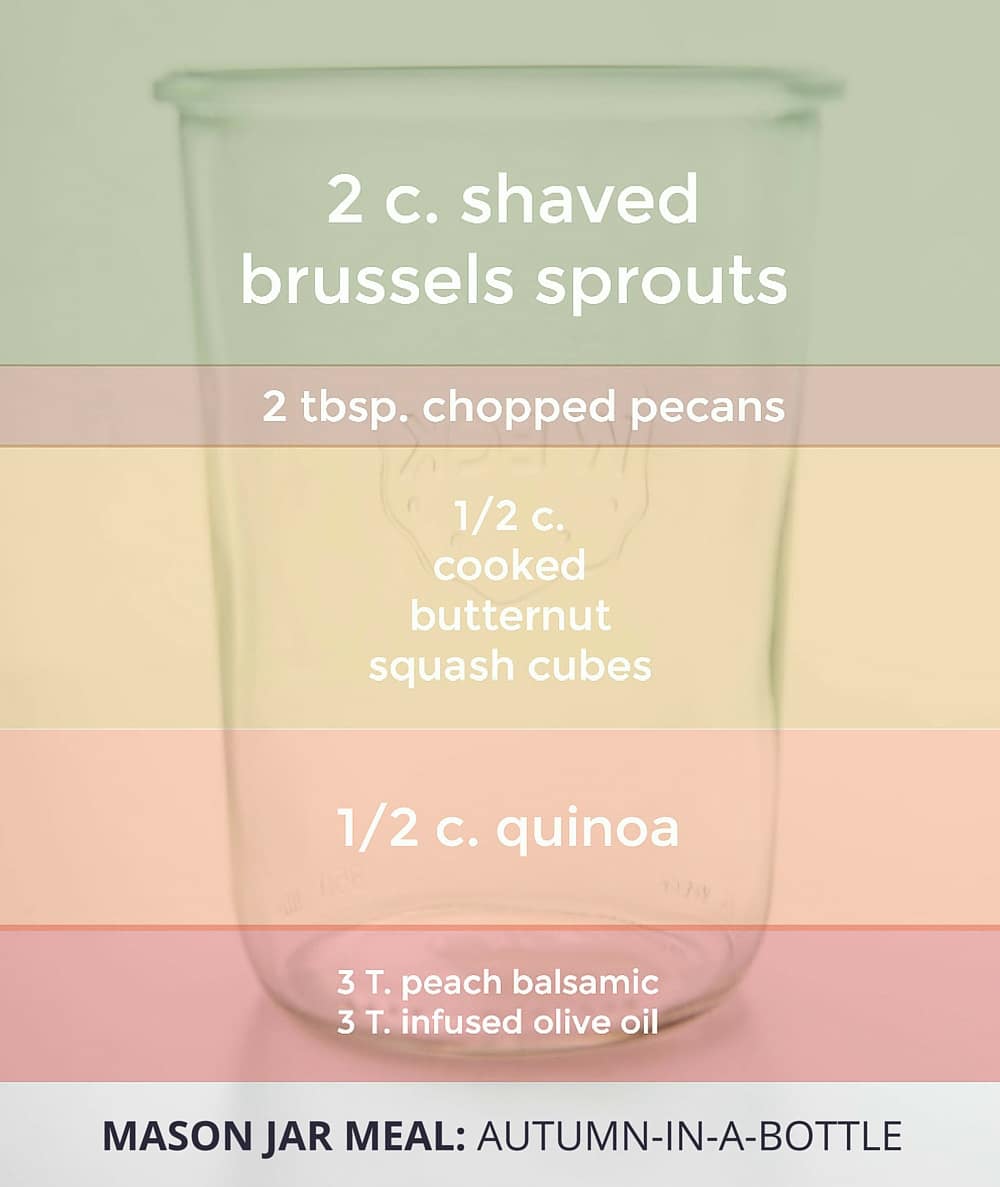 Butternut squash cubes are available in the freezer section of most health food stores. Sauté a bunch in olive oil and garlic, then toss 'em into this absolutely delicious mason jar meal. Sweet potatoes will work in place of the squash, should you not be able to find butternut. Toss in walnuts, apples, and dried cranberries to give this salad lovely fall flavors.
7. Glowing Green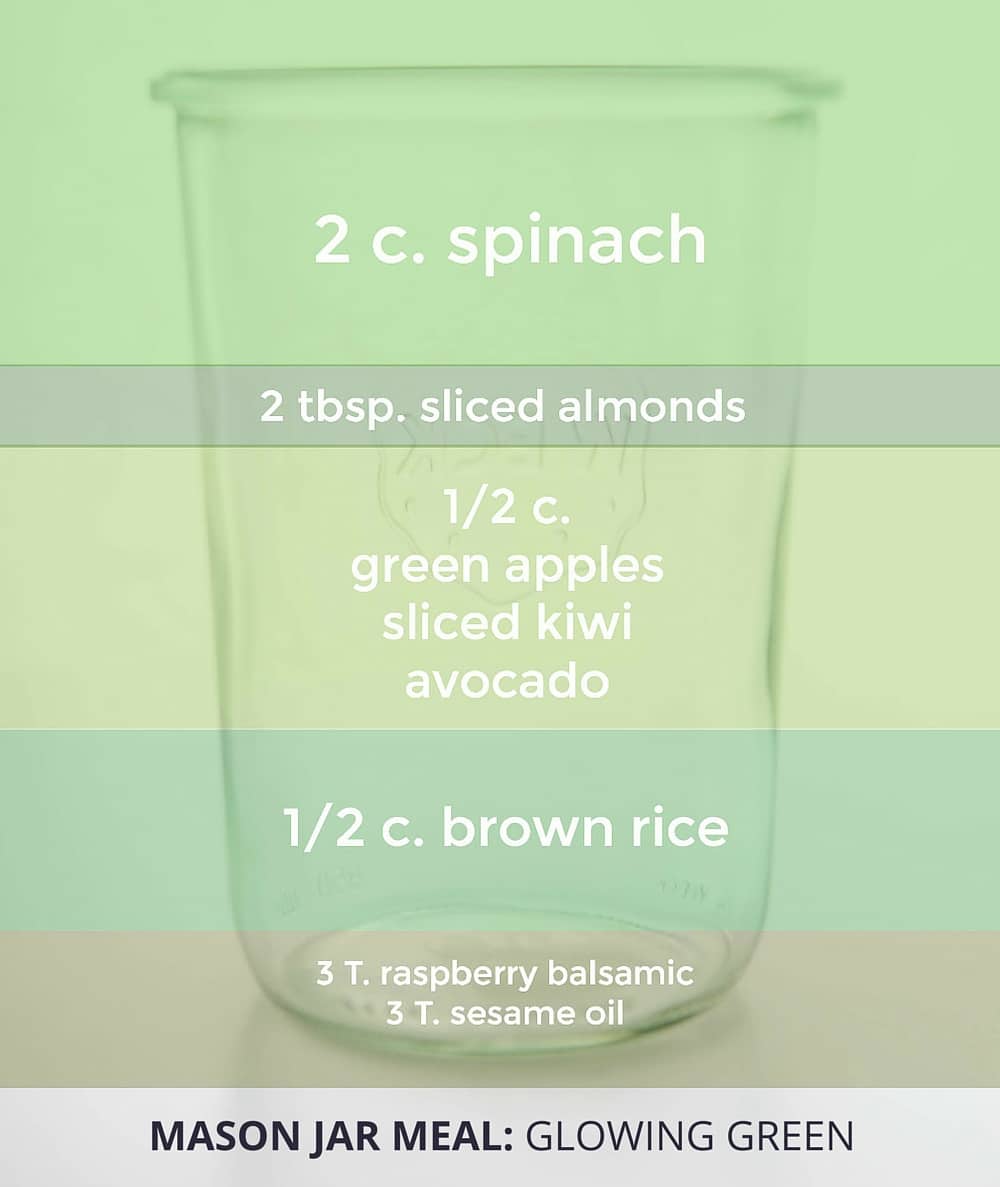 Twist up lunch or dinner with a little bit of sweetness. This fruit-­filled cruncher makes a great summer meal because it's light, fresh and flavorful. Kiwi, Granny Smith apples, avocado, broccoli, cucumber–go ahead and stuff it in there! Add chopped fresh mint to the mix for extra flavor that nicely compliments this combo.
8. Farro & Veggies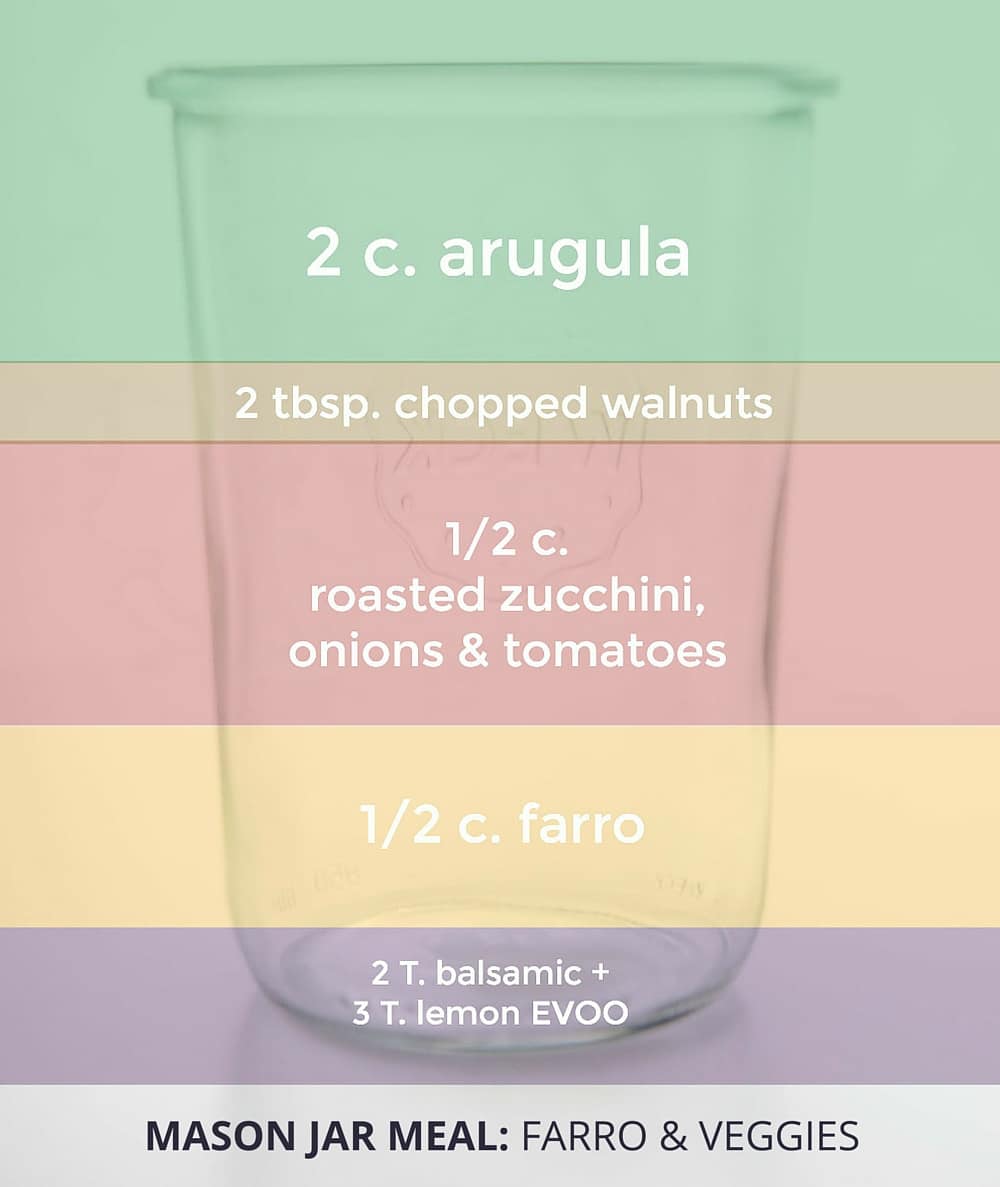 If your local grocery store has ready­-to-­go roasted veggies on their salad bar or olive bar, grab a deli container full and toss them into this mason jar meal. A smidgen of feta is also great if you can enjoy dairy without digestive upset.
If you'd prefer to roast your own veggies, simply slice and place on a baking sheet, drizzle with olive oil, and cook at 450 degrees F until tender (about 15-­20 mins). Allow to cool before placing in your mason jar.
Farro is an ancient grain that's loaded with fiber and is easy to prepare. Combine 1 cup water with ½ cup farro in a pot. Bring to boil, reduce heat to low, cover, and simmer for up to 40 minutes, until liquid is absorbed and grain is tender. Let cool before adding to salad.
9. Hawaiian Haystack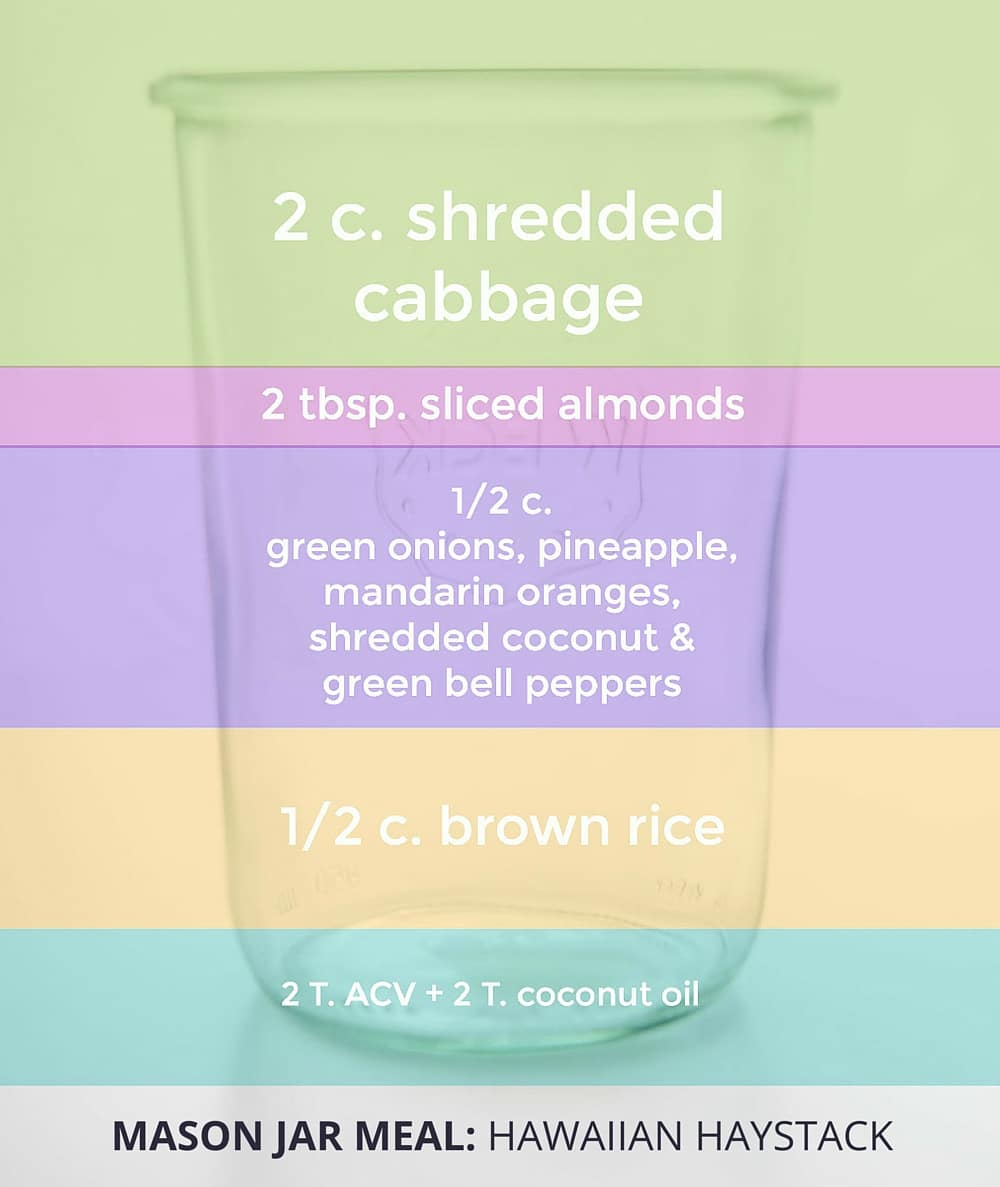 This health-ified version of the classic Hawaiian Haystack meal (a 1970's classic!) is great for toting along anywhere. Enjoy it as an easy prep­-ahead picnic, or take it to work for a quick healthy lunch. The flavors are refreshing, bright and enjoyable anytime.
Add on these toppings for a major flavor explosion: diced pineapple, green onions, raisins, halved cherry tomatoes, shredded coconut (unsweetened), and cashews.
10. Curry Vindaloo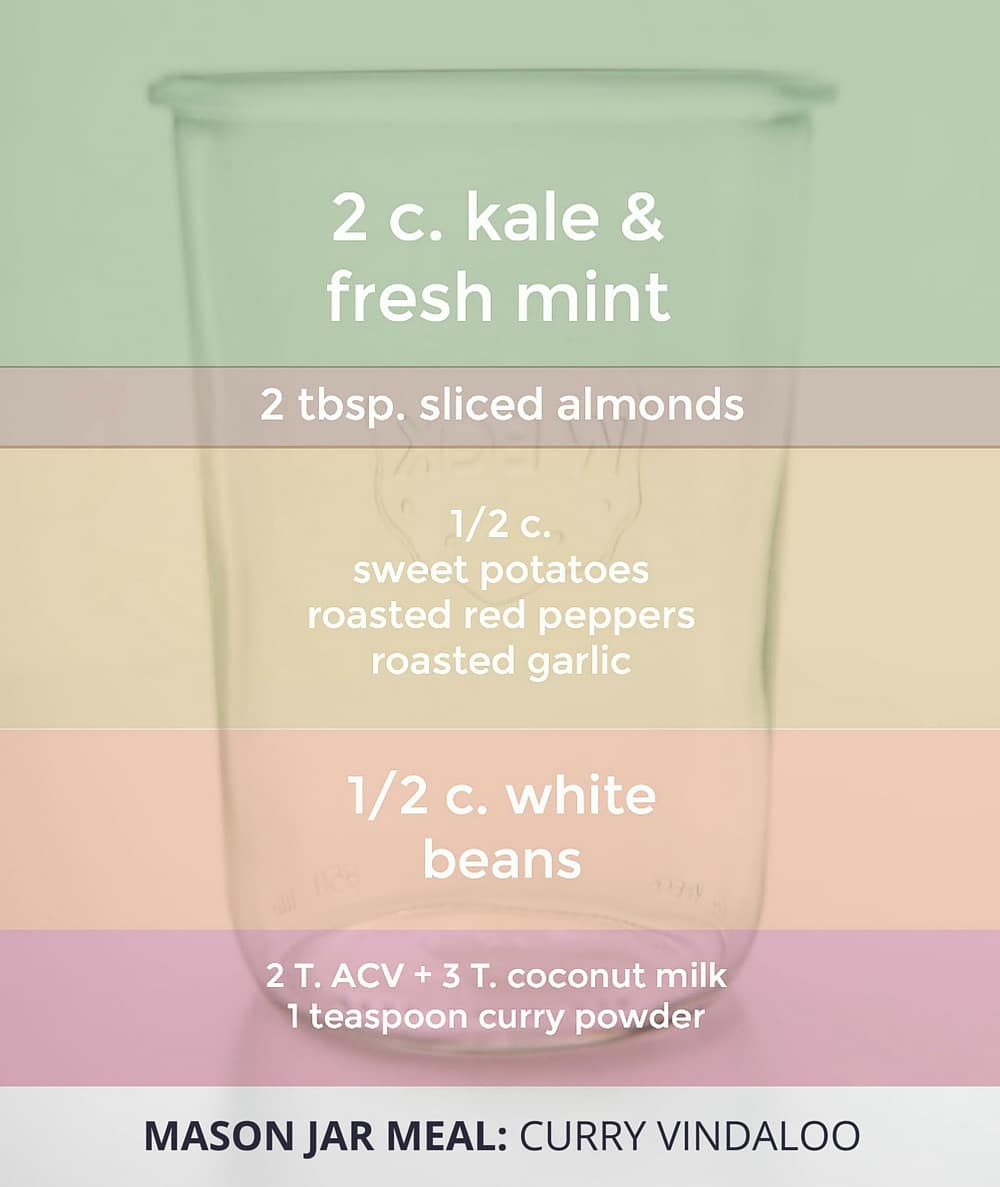 Love the flavors of Indian Food? Forget the take­out and try this salad shaker instead. For best results, I actually prefer making twice the dressing—with a good dose of curry powder—and massaging the kale with half of it before placing in the jar. By the time you're ready to eat, the kale will be tender and infused with flavor. Toss julienned carrot, red bell peppers, diced tomato, and fresh green peas in with the kale, add more dressing, and enjoy!
Enjoy These Healthy Recipes?
Get 67 more delicious, allergen-free meals that take less than 15 minutes to make by clicking on the banner below.