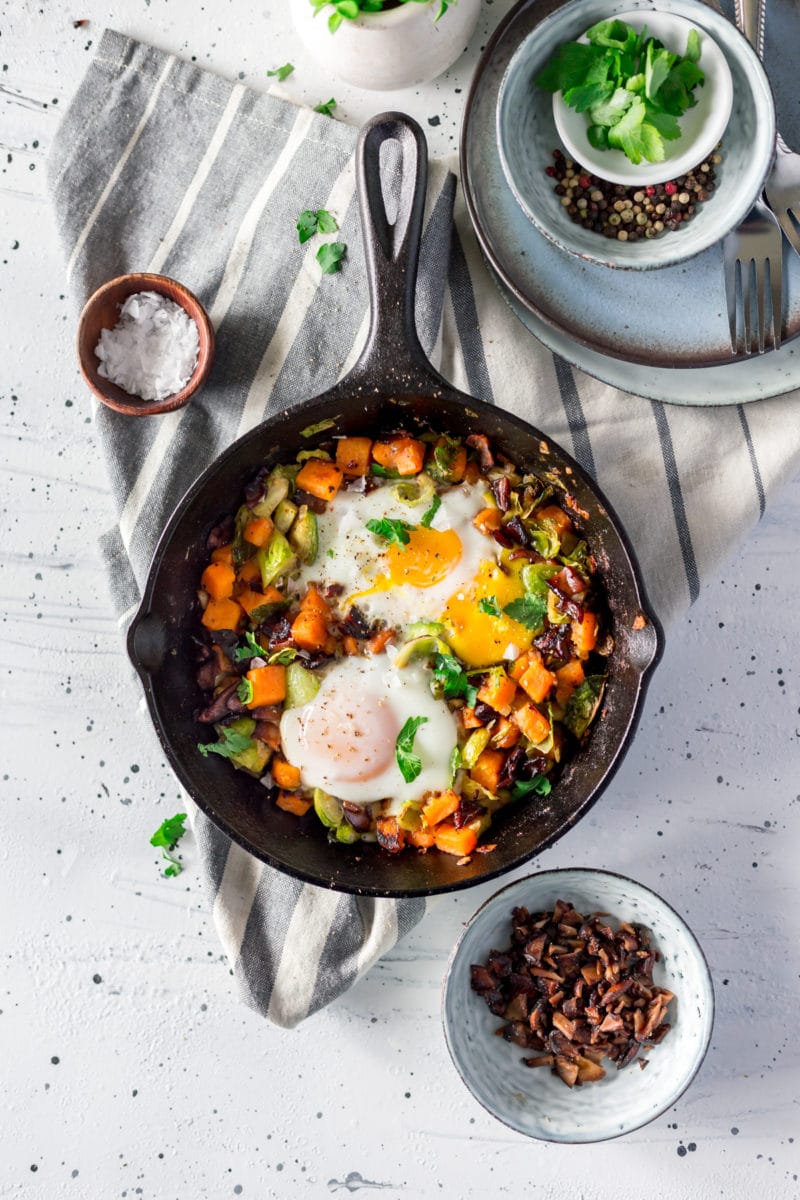 What's better than a breakfast with simple, wholesome ingredients that also tastes completely dynamite?
Nothing, that's what.
This paleo sweet potato hash may very well be my new favorite dish, because like these sweet potato toasts, and these double-baked sweet potatoes, I kind of have a major love for this colorful root.
I have put all my eggs in a basket, er, skillet, when it comes to this savory sweet potato hash, because that's how I like to cook. One dish, just a few minutes, and then done.
Especially considering how wild mornings can be, it's great to be able to whip up something nutritious on-the-fly instead of turning to sugary cereal or gas station donuts because time ran away from you.
Paleo Sweet Potato Hash
I hate feeling sluggish because I thought I couldn't make a decent meal and grabbed garbage to eat instead.
For me, the really fun part about this dish is including some shiitake mushroom bacon. You get all the special flavor of bacon, without all the nitrates, nitrites, and, well, bacon.
It's a much healthier choice, so I won't fault you for sprinkling far more shiitake bacon on this breakfast than I suggest.
I won't tell, I promise.
To help cook everything faster, I cover the skillet for part of the time to steam the sweet potatoes and Brussels sprouts, and then uncover it again to let the outsides get dark and crisp. With the onion already slightly softened, you get a little caramelization, which enhances the natural sweetness of this paleo sweet potato hash.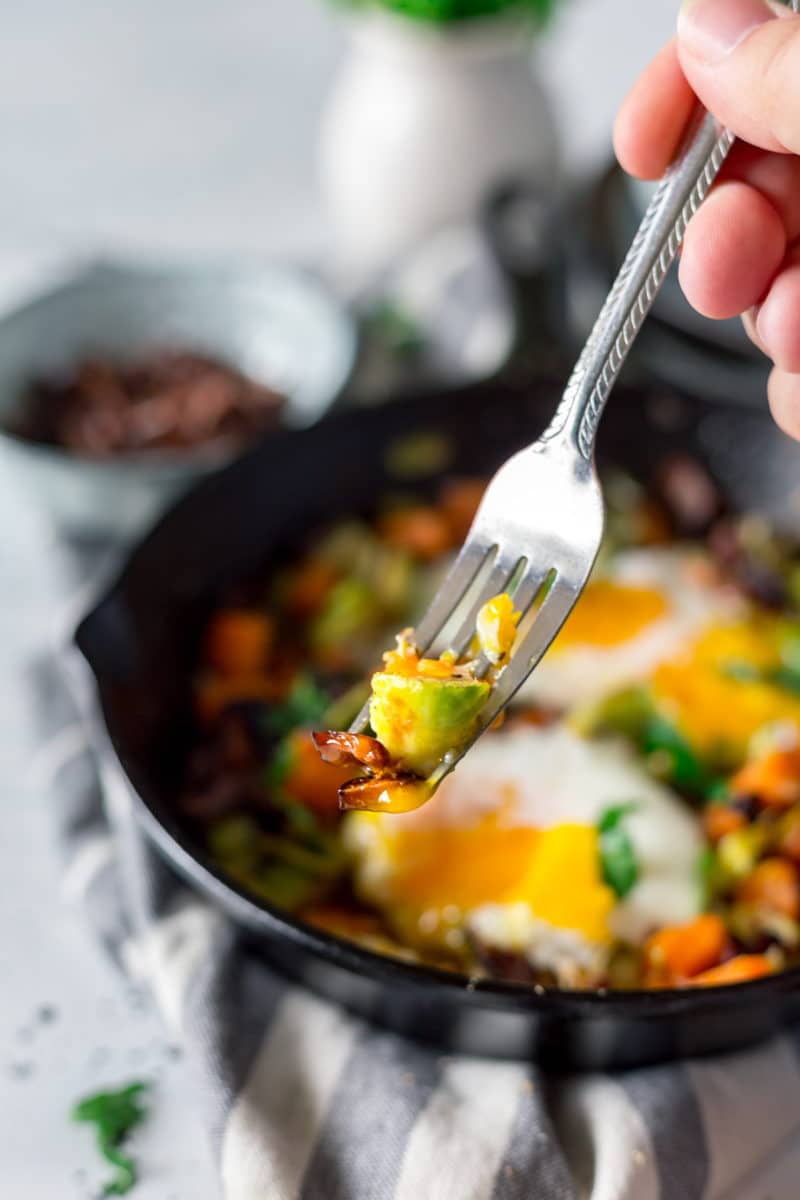 You definitely won't be missing bread or tortillas when you dive into the luscious poached egg. Just stir it all up and savor the bliss that is a delicious, healthy, paleo breakfast.
Perfectly portioned for two, you can easily double the recipe to feed the whole family, or omit the eggs and serve this savory sweet potato hash as a side dish to a hearty dinner.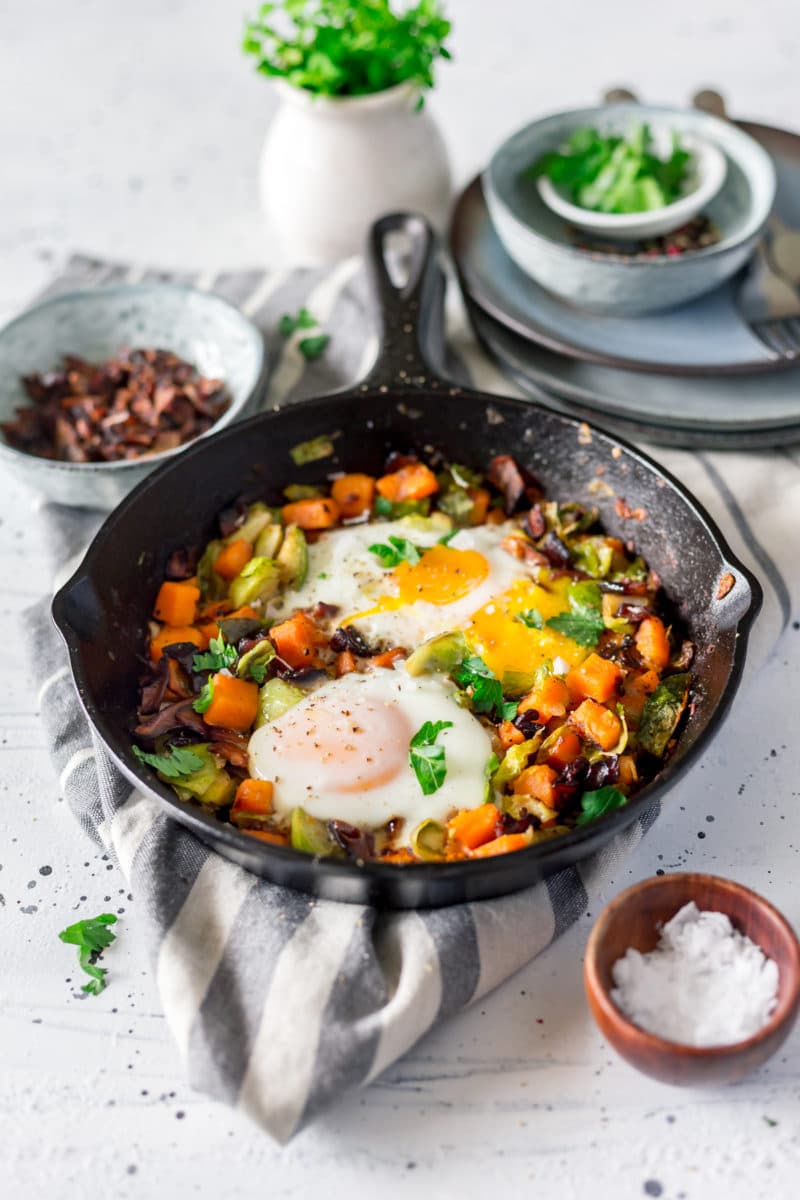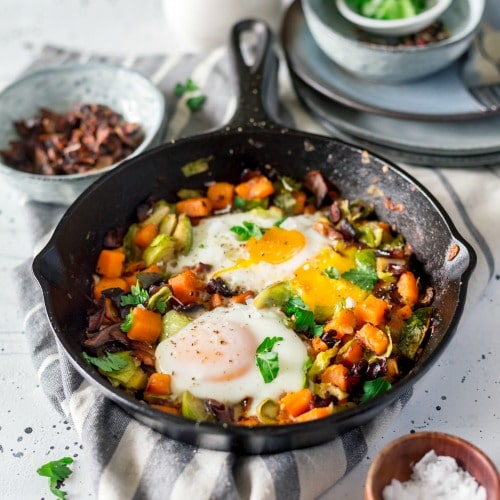 | | |
| --- | --- |
| | |
In a medium-sized cast iron skillet over medium-high heat, add the olive oil. Once hot and shimmering, add the onion and garlic and saute for 2 minutes, or until the onion begins to soften and the garlic becomes fragrant.

Add the sweet potato and Brussels sprouts, sprinkle with salt and pepper, and stir gently to coat. Turn the heat to medium and cover for 5 minutes, stirring once.

Remove the cover and continue to cook until the sweet potatoes and Brussels sprouts brown, around 10 minutes, stirring occasionally.

Sprinkle in the shiitake mushroom bacon and stir gently to combine. Create two small nests for the eggs, then crack one egg into each. Cover and allow to cook for around 5 minutes, or until the whites have set.

Remove from heat, sprinkle with additional salt and pepper if needed, and serve immediately.
Get a FREE Cookbook!
Want more recipes for delicious gluten- and dairy-free meals that take less than 15 minutes to make?
Just click the image below for your copy of the All Day Energy Diet Community Cookbook!