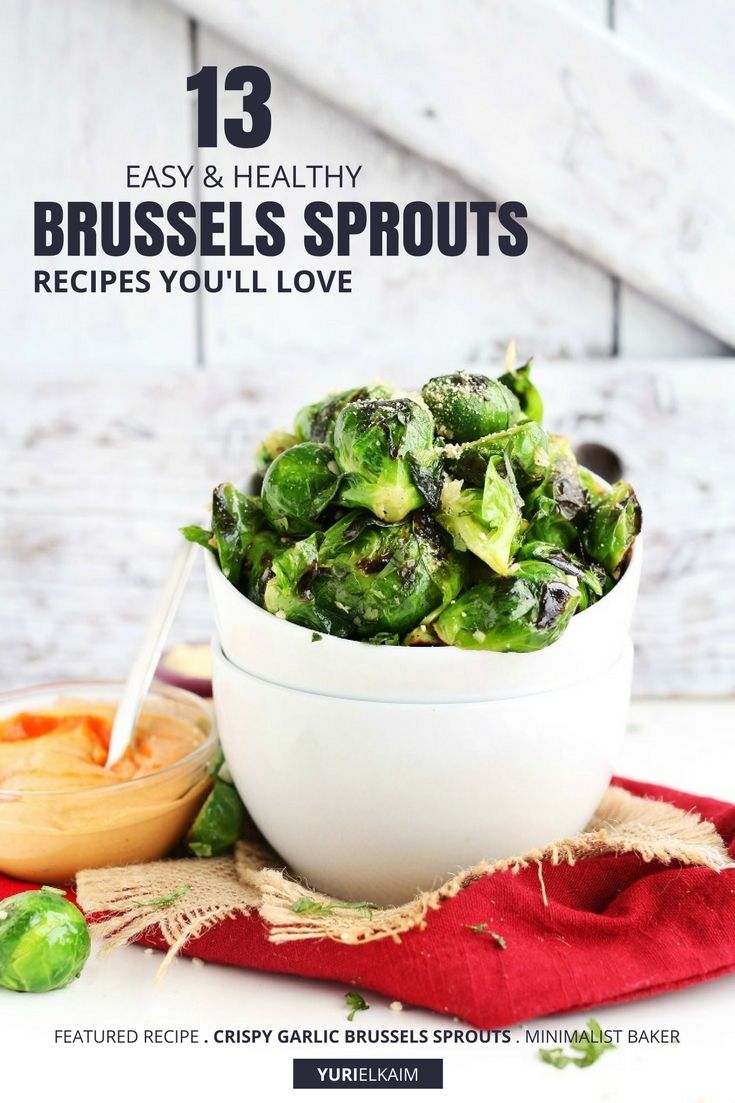 Like most people, I didn't like Brussels sprouts when I was a kid.
The standard cooking method was to boil the heck out of them, and they basically turned into tasteless balls of mush.
I decided to give them another try as an adult, and now I'm a big fan.
Here's why: I cook them differently – instead of dropping them in boiling water, I roast, grill, or pan-fry them in bacon fat, ghee, coconut or olive oil.
Adding fresh herbs and salt helps to bring out a wonderful earthy flavor, and it totally transforms the humble Brussels sprout into a culinary wonder.
Loaded with Taste and Nutrients
Although Brussels sprouts aren't actually baby cabbages, they're in the same family.
That means Brussels sprouts pack a mighty amount of nutrition into each cute little head, including lots of powerful antioxidants.
Aside from their great health advantages, Brussels sprouts work well in a variety of dishes, from sweet and savory fall-inspired dinners to Asian stir fries.
Brussels sprouts also go superbly well with bacon, and take on herbs with finesse.
I've got 13 easy, healthy recipes for Brussels sprouts – including healthy side dishes and entrees – that will definitely win you over and put Brussels sprouts back on your menu.
Recipes for Brussels Sprouts
1. Brussels Sprouts with Kimchi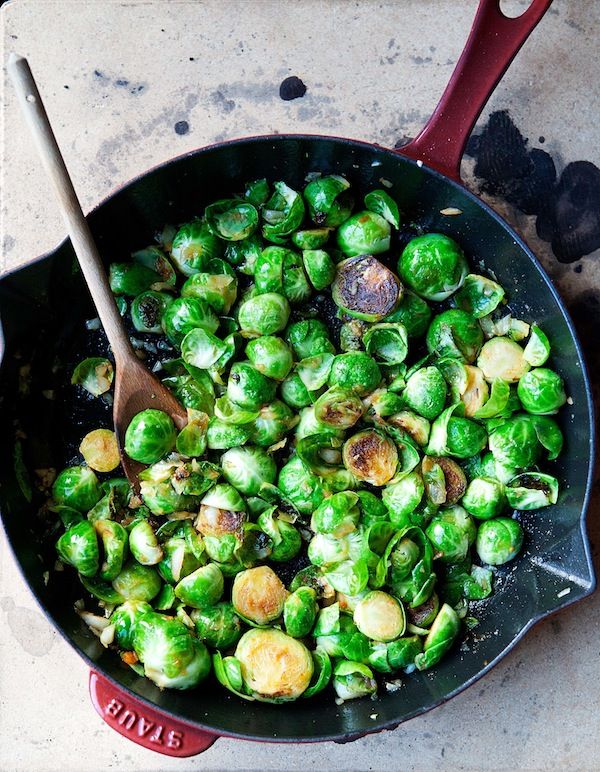 Get some healthy probiotics in your diet with this unusual and exotic dish, which just shows how much recipes for Brussels sprouts have evolved over the years.
You can use either homemade or store-bought kimchi, which will add a unique umami flavor to your meal.
Find the recipe here: Five and Spice
2. Roasted Brussels Sprouts with Cinnamon Butternut Squash
Classic fall flavors prevail in this recipe: roasted Brussels sprouts, cinnamon butternut squash, pecans, and cranberries. Can you say delicious?
Rich and hearty, it's perfect for chilly nights when you crave a comforting and healthy food.
Find the recipe here: Julia's Album
3. Chicken Apple Sweet Potato Brussels Sprout Skillet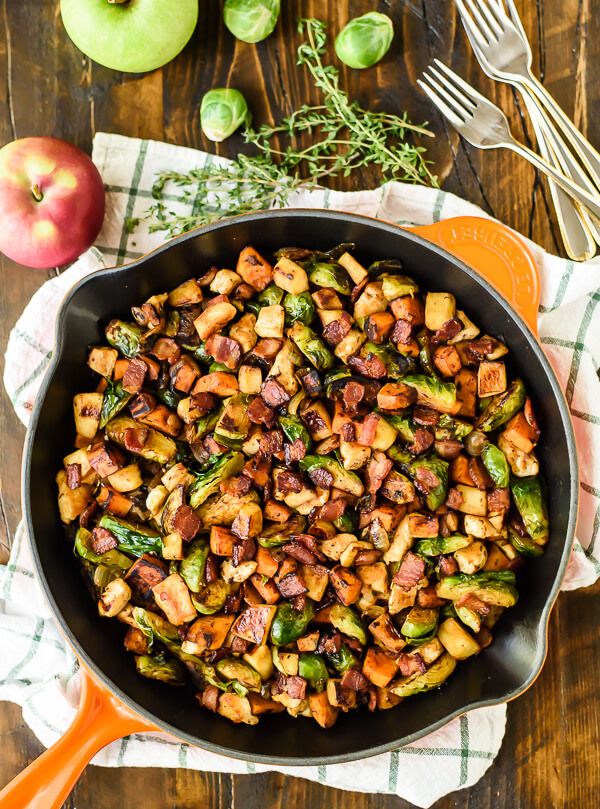 Need dinner on the table in less than 30 minutes? Cook up this quick and easy dinner.
It's healthy, made in one pan, and is a fully balanced meal. Plus, it's perfect for a fall-inspired dinner.
Find the recipe here: Well Plated
4. Autumn Quinoa Salad
Looking for a warm, hearty, comforting salad that is perfect for cool autumn nights? This superfood quinoa salad makes an ideal choice.
It's full of butternut squash, mushrooms, Brussels sprouts, and pomegranate seeds, tossed with protein-packed, filling quinoa.
Find the recipe here: Yuri Elkaim
5. Crispy Garlic Brussels sprouts with Sriracha Aioli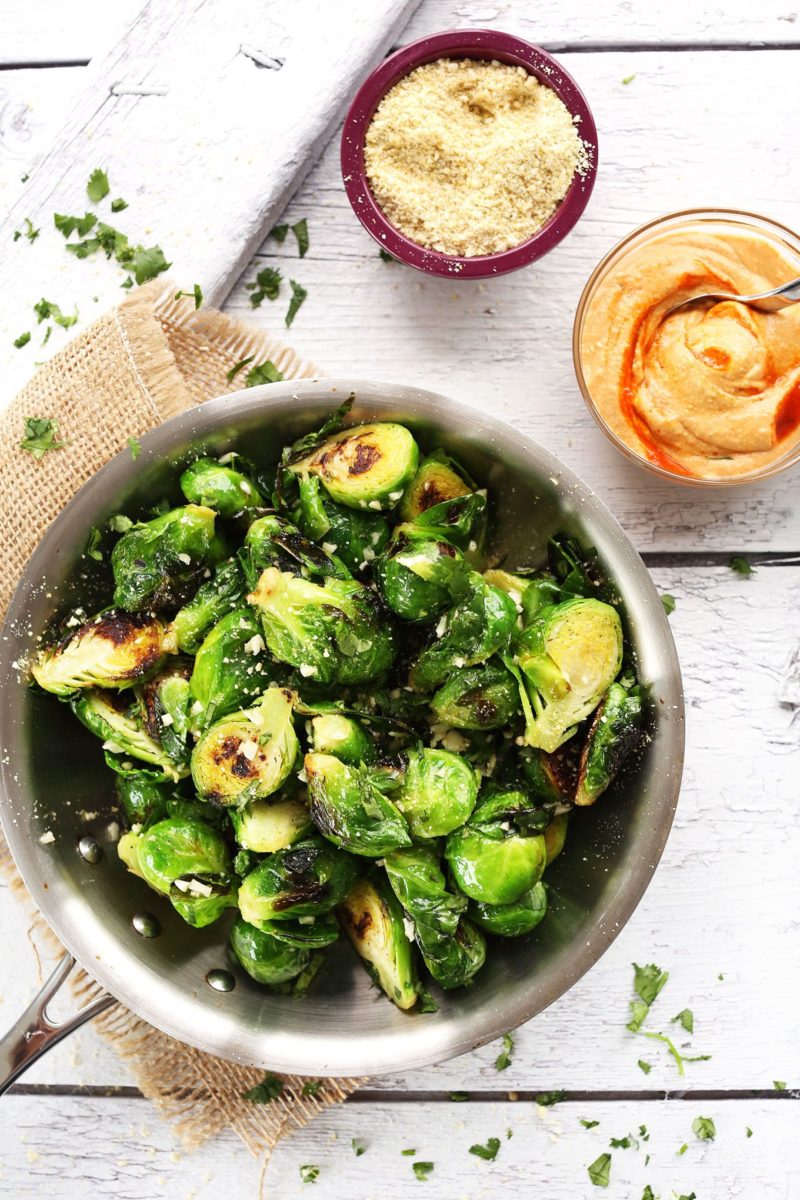 Vegan and gluten-free, these crispy, spicy, garlic-laced Brussels sprouts with sriracha aioli will wow you.
In less than 30 minutes you'll have an entirely vegan and gluten-free side dish.
Find the recipe here: Minimalist Baker
 6. Colorful Brussels Sprouts Recipe
This recipe lives up to its name with all the vibrant colors it contains, and it can be prepped ahead of time and packed for lunch or served for dinner. 
It's loaded with antioxidant-rich Brussels sprouts, cabbage, apple, cranberries, and cashews for a healthy meal you'll feel good about eating.
Find the recipe here:  The Healthy Foodie
7. Roasted Fingerling Potatoes and Brussels Sprouts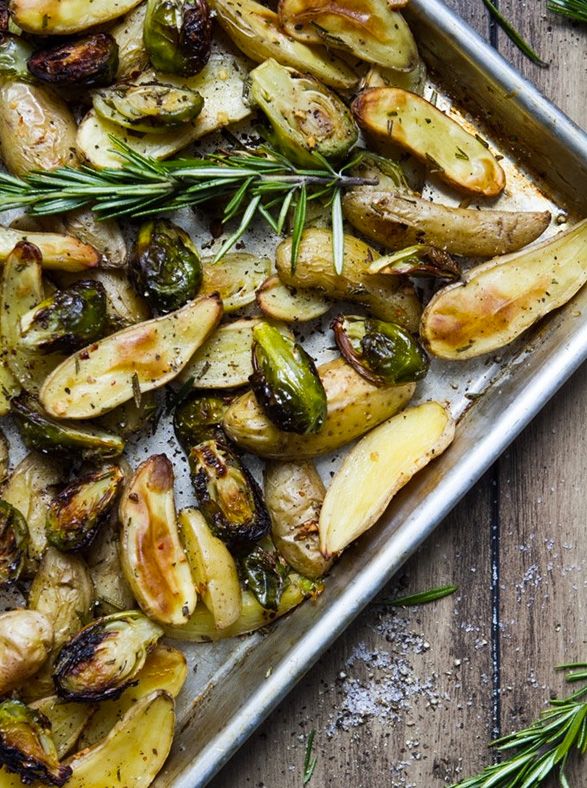 Rosemary and garlic bring out the natural flavors of this fingerling potato and Brussels sprouts dish, which tastes like the best of fall and would be a good "company" dish.
Crispy, salty, and full of flavor, this side works well with grilled meat or tossed in a salad.
Find the recipe here: Oh She Glows
8. Brussels Sprout Sweet Potato Hash
Serve an egg on top of this delicious hash for a healthy version of breakfast-for-dinner.
If you're vegan, forgo the egg and toss in some maple-roasted pecans for a super simple and totally healthy week night meal.
Find the recipe here: Savoring The Thyme
9. Red Quinoa Salad with Roasted Squash and Baby Brussels Sprouts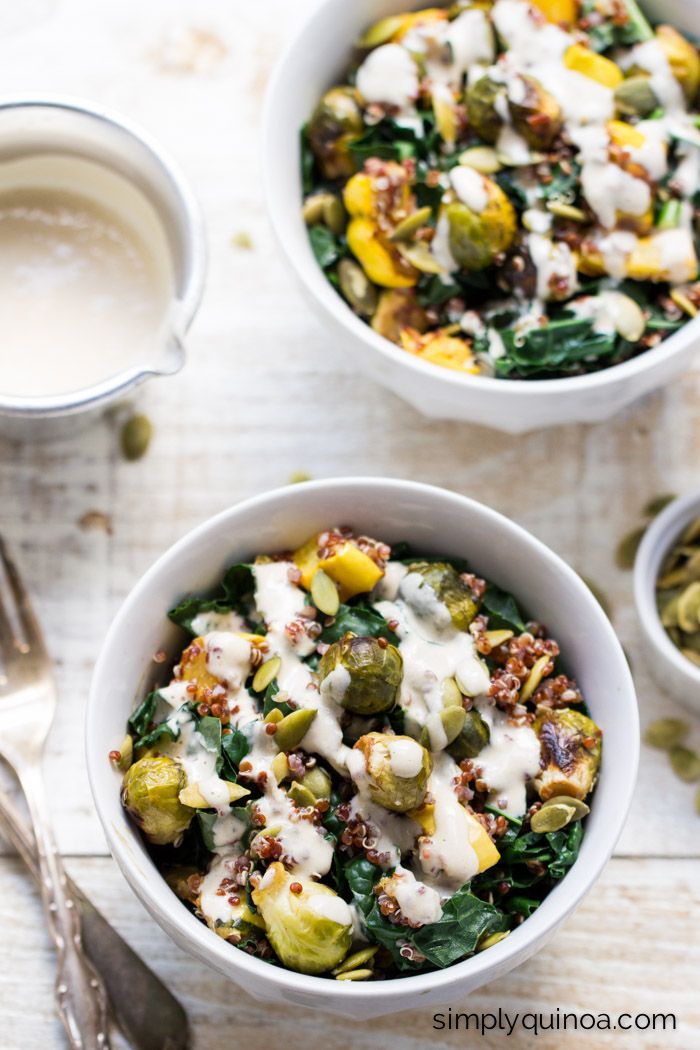 Get more greens on your table with this quinoa salad, which also includes squash, Brussels sprouts and an amazing maple tahini dressing.
You'll feel good about serving your family this healthy, delicious, and simple dinner.
Find the recipe here: Simply Quinoa
10. Balsamic Maple Roasted Brussels Sprouts With bacon
Sweet, salty, and savory, this simple dish has complex tastes that make it crave-worthy.
Seriously, it doesn't hurt to toss in some flavorful, smoky bacon to really make a statement!
Find the recipe here:  Recipe Runner
11. Chopped Brussels Sprout Quinoa Salad with Walnut Dressing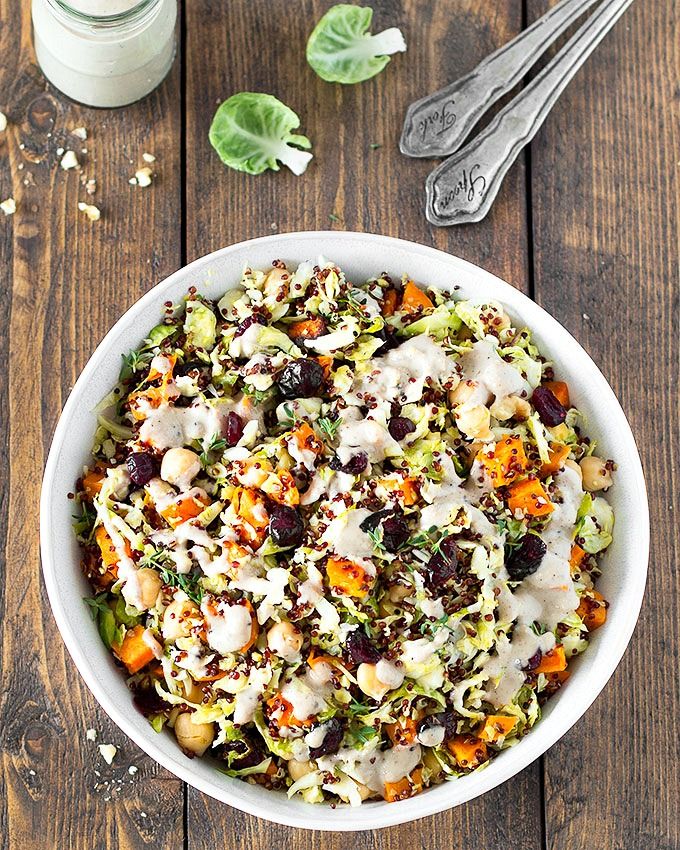 Make this salad on nights when you need a light, healthy, energizing meal.
Walnuts and Brussels sprouts are the stars of salad, lending big nutrition and taste to this delicious chopped salad.
Find the recipe here: As Easy As Apple Pie
12. Curried Brussels Sprouts
Warm Indian spices give this unusual curry a lovely depth of flavor.
Grated coconut and cilantro top this vegan dish for a bright, fresh taste.
Find the recipe here: Coffee and Crumpets
13. Asian Brussels Sprouts Slaw with Almonds and Carrots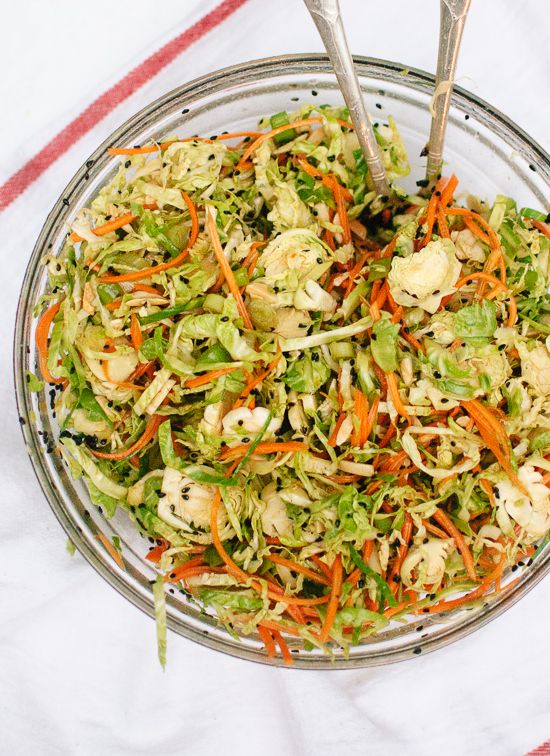 Crispy, crunchy, and delicious, this slaw features a bold honey-soy dressing and is perfect for potlucks.
Go the mayo-free way with this simple and healthy slaw.
Find the recipe here: COOKIE + kate
Rethinking Brussels Sprouts
If you've been turning up your nose at Brussels sprouts, it's time to be brave and give them another try.
Make any of the 13 easy, healthy recipes for Brussels sprouts above and you'll be surprised at how tasty and delicious they really are!
Fast, Easy, Delicious … and FREE!
Are you on the hunt for healthy and tasty meals for you and your family? I've got the solution: 67 real-world-tested recipes that are gluten- and dairy-free, low in allergens, and high in taste.
Plus, they take 15 minutes to prepare.
You can get my All Day Energy Diet Community Cookbook for FREE – all you have to do is click the banner below and it'll be on its way to you in a flash.