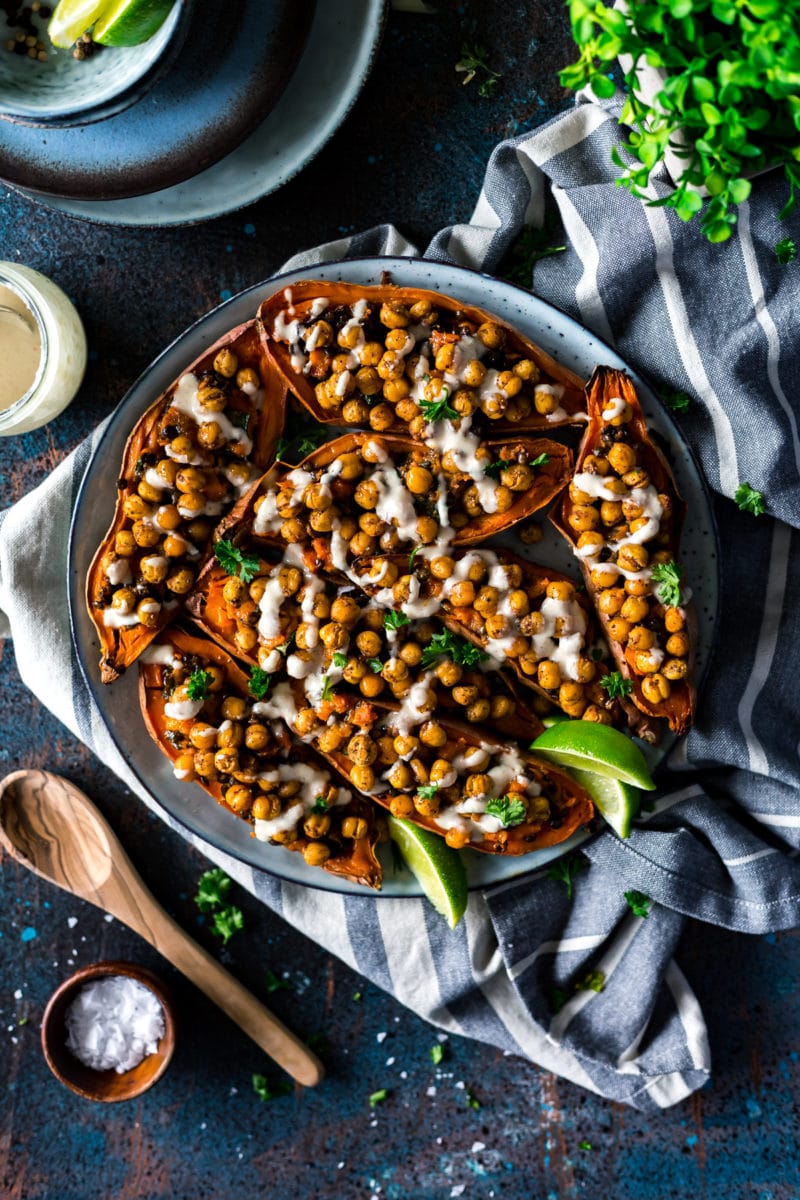 I almost don't have the words to describe the wonderful feeling I get when I dive into these Moroccan chickpea stuffed double baked potatoes – they taste that amazing.
Eating them is like taking your tastebuds on a culinary journey to the Mediterranean and indulging in the earthy, slightly sweet spices that make Moroccan dishes so addictively delicious.
I first fell in love with Moroccan food when I had the chance to try harira, which is a staple soup. I wasn't used to tasting something that wasn't inherently savory and salty, but the flavors were so perfectly balanced that I was instantly obsessed.
I decided to bring a lot of the aspects of that dish to this one, and I think you'll be pleased at how well they work together to make this double baked sweet potato.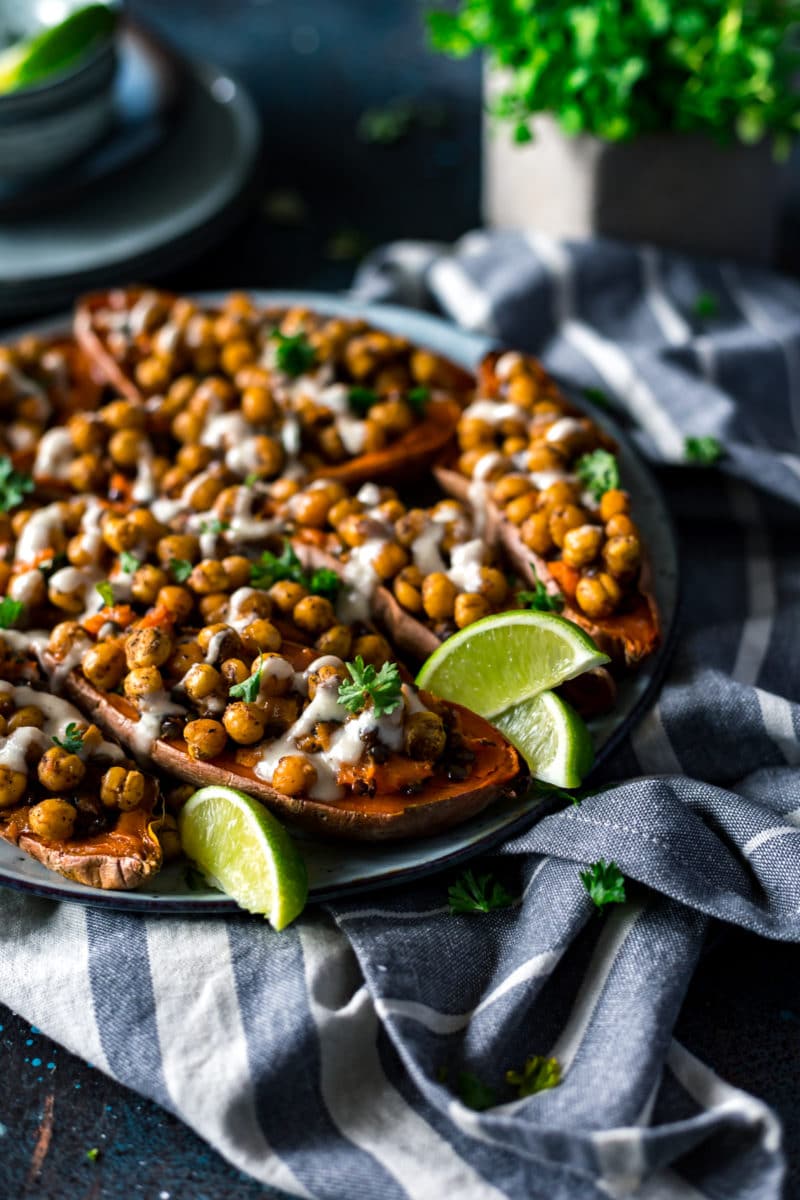 These sweet potatoes are a powerhouse of protein and nutrition, which make them a great standalone meal. There is even spinach hidden in the filling, along with some amazing French, or Puy, lentils, which I love because they pick up flavor like a dream and don't turn to mush as easily as other lentils.
Moroccan Double Baked Sweet Potatoes
I wanted this dish to have a variety of textures, and the lentils mixed in with the sweet potato provides this effect, to perfection.
Then, topping them with heavily spiced chickpeas before putting them back in the oven for the double-baked adventure really rounds out this dish.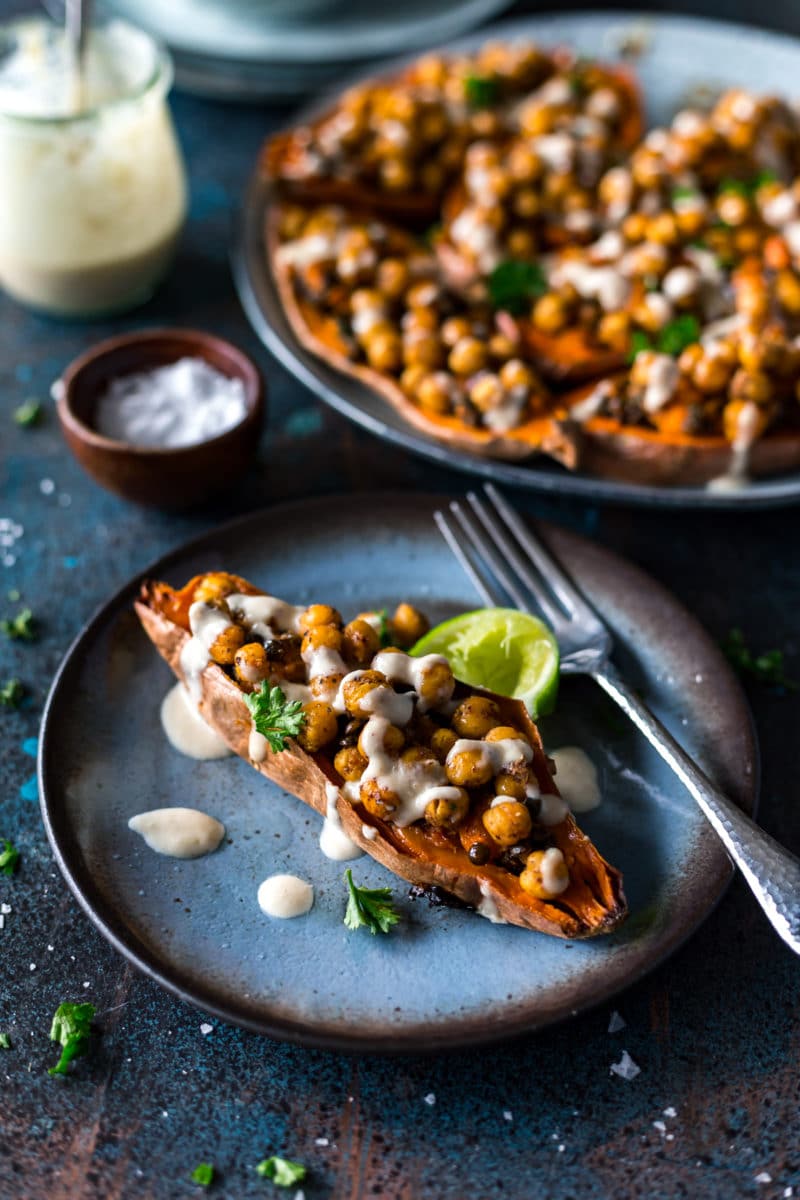 Ras el Hanout
To enhance those Moroccan flavors, I seasoned everything with ras el hanout, which is a blend of the following:
Cardamom
Clove
Cinnamon
Coriander
Cumin
Paprika
Mace
Nutmeg
Peppercorn
Turmeric
Depending on where you purchase your spices, different brands have different blends, but the above list is the most common, and for good reason: it's delicious!
Several brands (like McCormick) offer blends you can find in most well-stocked grocery stores, or you buy it on Amazon. Occasionally it's sold as raz el hanout.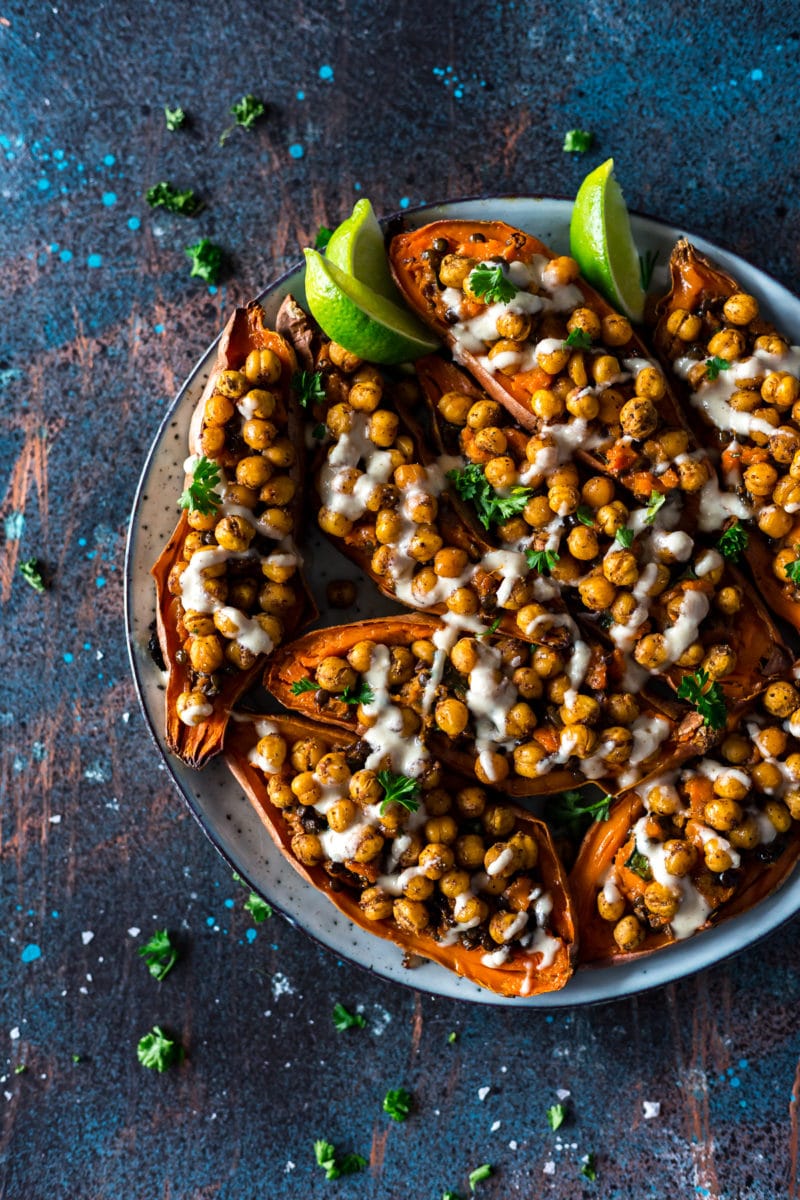 To top off these double baked sweet potatoes, I whipped together a very simple tahini dressing with lime juice, and a smidge of garlic and salt.
I didn't want the dressing to be too sweet since the ras el hanout has a lot of natural sweetness with the cinnamon and nutmeg.
All that's left to do before serving is to sprinkle the twice-baked sweet potatoes with some fresh parsley and you are good to go.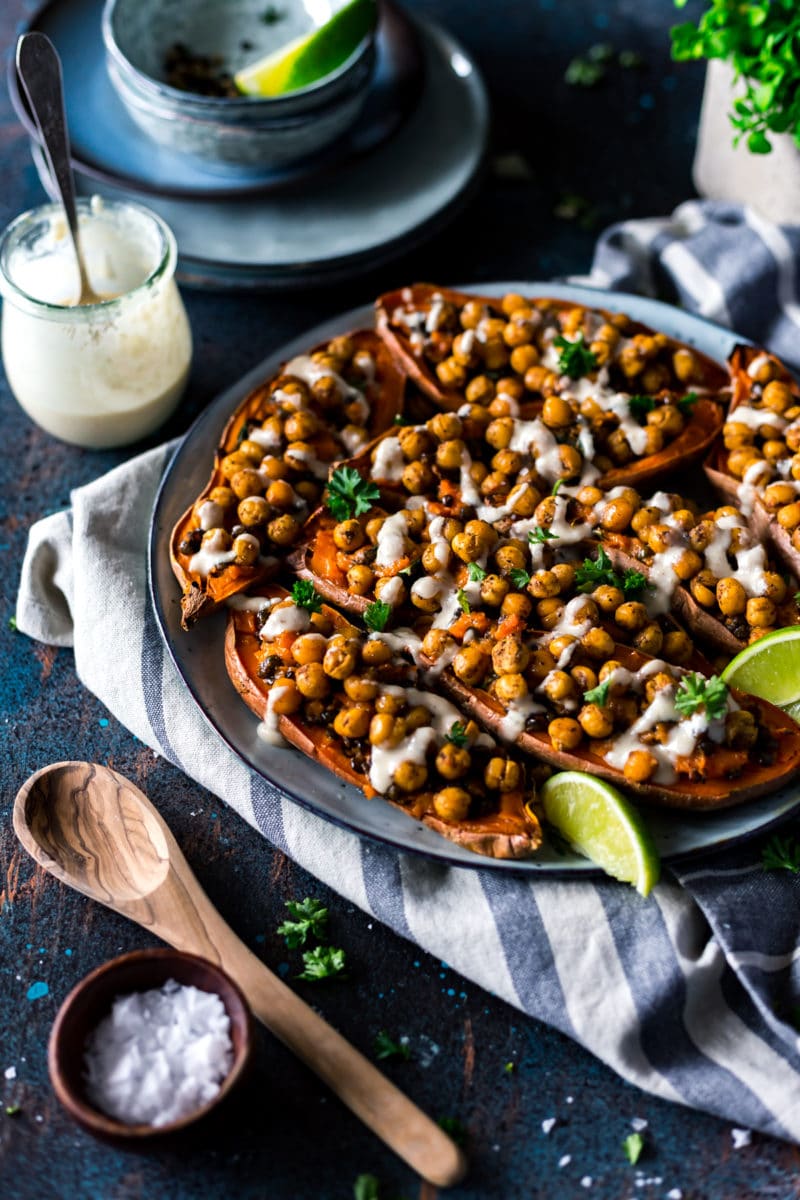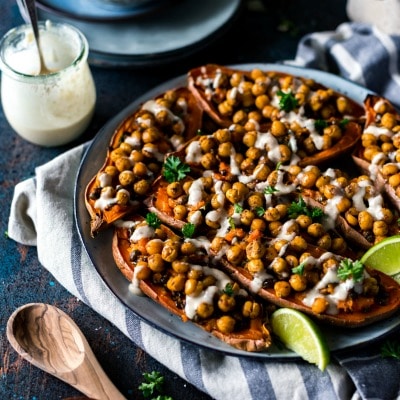 Cook Time

1 hour

45 minutes
Stuffed Double Baked Sweet Potatoes
Cook Time

1 hour

45 minutes

Stuffed Double Baked Sweet Potatoes
Heat oven to 400 degrees.

Line a baking sheet with parchment or foil, then clean, and prick each sweet potato several times with a fork. Bake for 45-60 minutes, or until tender when pierced with a fork. Remove from oven and allow to cool until safe to touch.

While the potatoes are roasting, toss the chickpeas in a lidded container with the olive oil and 1 tbsp. ras el hanout. Shake gently to coat and set aside to marinate.

Once potatoes are cool, carefully cut each potato in half. Gently scoop out the insides of each potato, trying not to rip the skins, and place in a large bowl.

Add the lentils, spinach, 1 tbsp. tahini, and 1 1/2 tsp. ras el hanout to the bowl and gently stir and mash everything together. Season with salt and pepper, then scoop back into each potato half.

Divide the chickpeas between all the potato halves, then place back into the oven and bake for an additional 45 minutes.

While the potatoes are baking for the second time, add the tahini, lime juice, garlic powder, and sea salt to a small container and whisk to combine. Adjust seasoning if needed and set aside.

When the potatoes are done, remove from oven, allow to sit for a few minutes, then drizzle each with the tahini sauce and serve immediately.
Fast, Easy, Delicious Meals
Who doesn't love a meal that tastes great, is easy to make, is gluten- and dairy-free, and also takes less than a half-hour to prepare?
If you're looking for new meal ideas, be sure to get your copy of The All-Day Energy Diet Community Cookbook, a collection of 67 recipes created in real-world kitchens.
You can get your copy – for FREE! – by clicking the image below.