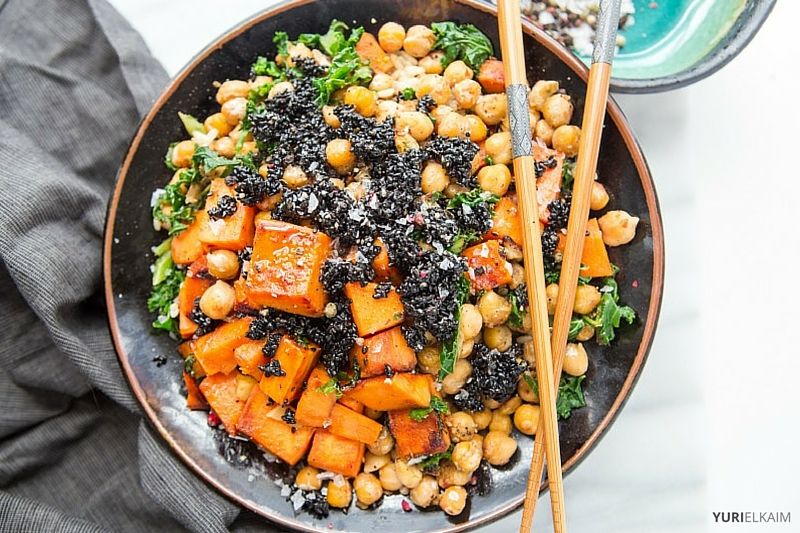 Find your inner Zen at lunch or dinnertime with this simple Buddha bowl that's not only a vegan treat – it's delicious.
You're probably familiar with Buddha's round belly. Try this recipe and you'll see just where this bowl got its name.
It's packed with the goodness of healthy, filling ingredients that taste amazing together. Build your bowl from the bottom up with brown rice or quinoa, add on a savory sweet potato kale layer, and top with a sweet sesame brittle that gives it flavor and a surprising crunch.
Easy to Make, Delicious to Eat
This vegan Buddha bowl may be fairly simple to assemble, but it's got a complex interplay of flavors that makes it extra special.
Sesame brittle is not something you come across often, but it's well worth getting out your fry pan to make from scratch. It gives this bowl a deliciously sweet and savory crunch that goes so well with the other flavors.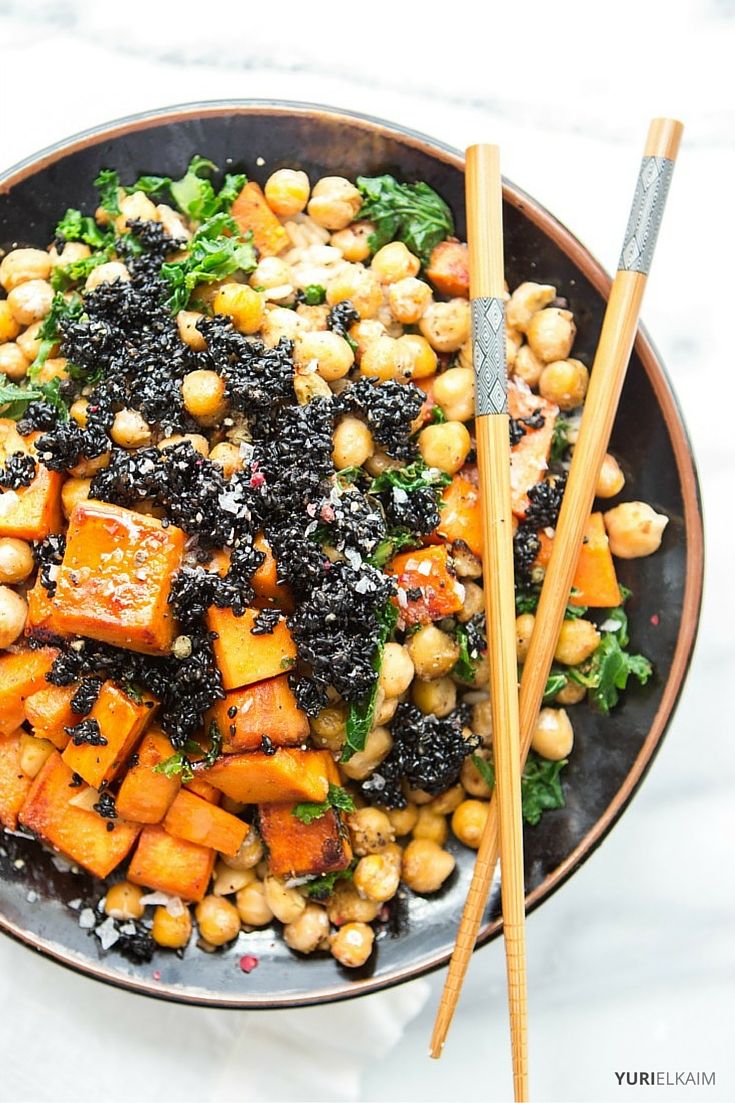 The chickpeas and sweet potatoes are coated in a salty, sweet sauce that's mouthwateringly good. Add that to a bunch of lemony kale and it creates an incredible blend of flavors.
The sesame brittle sprinkles take the taste over the top, which makes this recipe a must-add to your healthy eating library.
If you don't want to take the time to make the brittle, the recipe will still be satisfying. Alternatively, you can switch out the sesame seeds with sunflower seeds.
Buddha Bowl Brims With Plant-Based Protein
Sweet potatoes get their lovely bright orange color from beta-carotene. Foods rich in beta-carotene have protective roles against cancer and heart disease.
This potent antioxidant is converted into vitamin A in the body, which is necessary for healthy vision and skin. Sweet potatoes also contain compounds that tame inflammation and improve regulation of blood sugar in the body.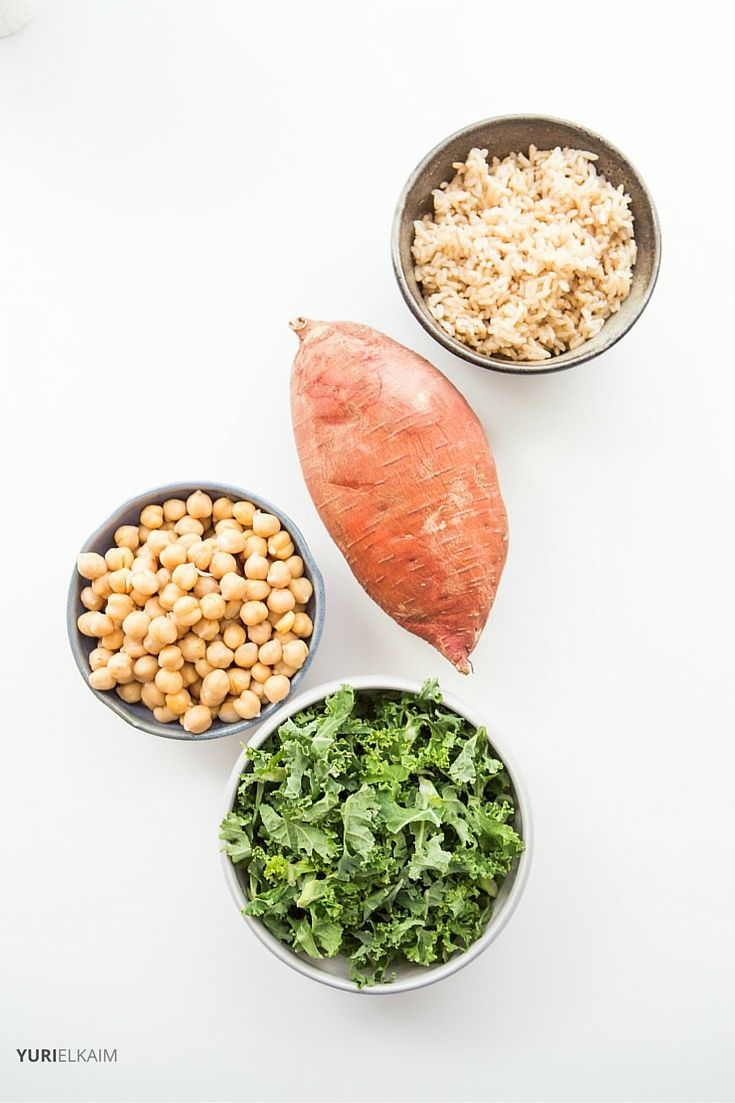 You also won't feel hungry soon after eating a sweet potato, since the fiber in it is digested slowly, producing is a slow-burning fuel to giving you energy for the rest of your day.
However, if you're one of the few people who don't like sweet potatoes, you can leave them out and use quinoa or brown rice instead.
This meal gets protein from chickpeas, and you'll get 39 grams of protein in just one cup! Chickpeas are also full of fiber, which aids in healthy digestion, reduces cardiovascular risk, and stabilizes blood sugar levels.
Chickpeas also contain powerful flavonoids and anthocyanins that help fight oxidative stress. They also contain high levels of iron, which facilitates the flow of oxygen throughout your body and boosts cellular energy production.
Here are some other chickpea recipes you might be interested in: 
This bowl is also stuffed with kale, one of the most nutrient-dense foods around.
One cup of kale has only 33 calories, yet it's packed full of fiber, antioxidants, and anti-inflammatory nutrients.  Kale has high amounts of vitamin C, which not only boost your immune system, but also counteract the damage from disease-causing free radicals.
Kale also contains omega-3 fatty acids to tame inflammation, and fiber to keep you satiated and blood sugar levels stable for hours.
Prep Ahead for Quick, Healthy Eating
You can prepare most items ahead of time, so assembling this delicious bowl at mealtime takes just minutes! Whether you need a filling lunch to get you through the day or a satisfying dinner, this Buddha bowl makes the perfect healthy, vegan meal!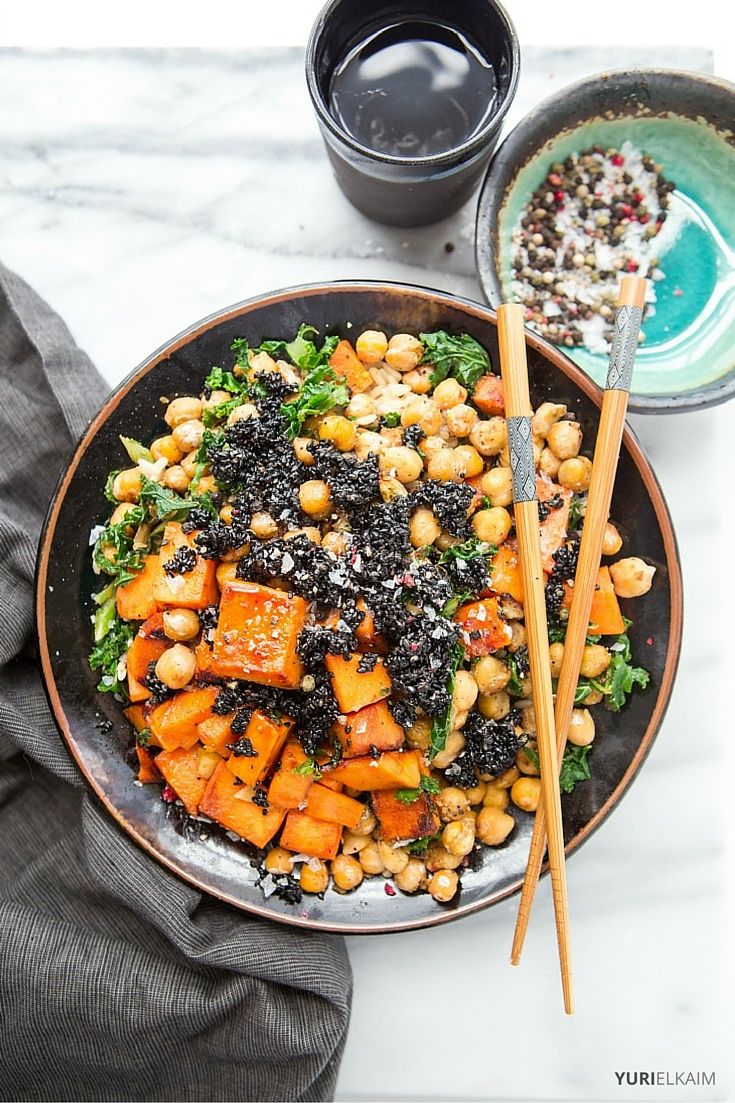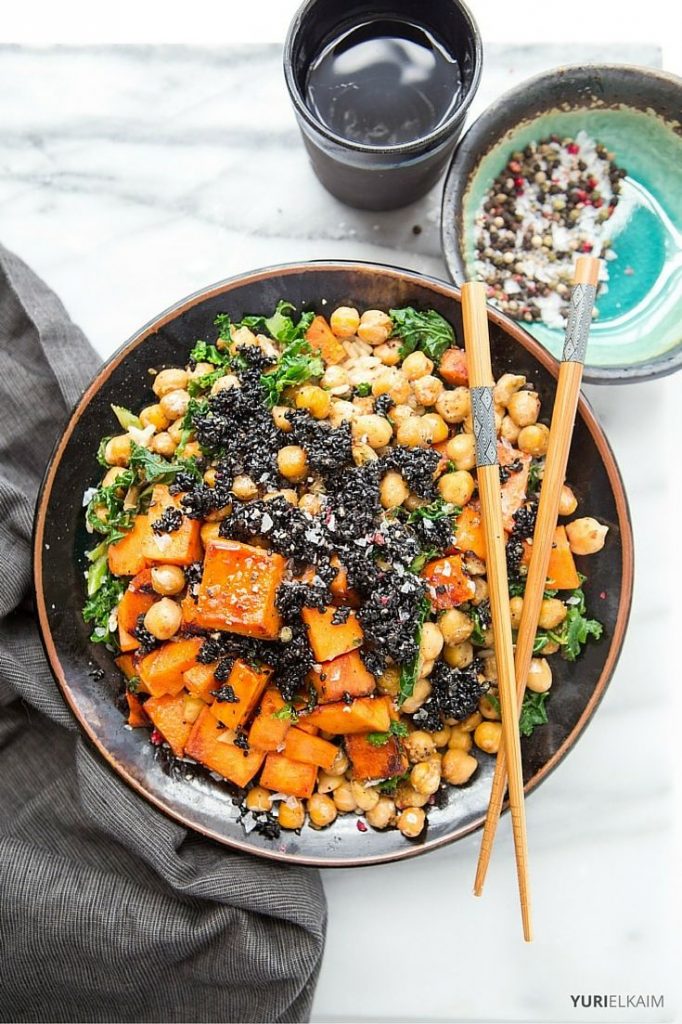 In a large skillet, heat sesame seeds, sesame oil and honey together over high heat.

Stirring constantly, cook until honey begins to sizzle.

Transfer immediately to a piece of parchment paper.

Place in fridge or freezer until cool.

Crack or crumble into bite-sized pieces.
In a large skillet, heat 2 tbsp olive oil over medium-high heat.

Add garlic and chickpeas, frying chickpeas for 1-2 minutes.

Add sweet potatoes to skillet, continue to cook until sweet potato and chickpeas are golden brown.

Add honey and Braggs aminos, stir and cook until caramelized, about 3-4 minutes. Set aside.

In a large serving bowl, massage kale with lemon juice and 1 Tbsp olive oil until tender.

To assemble bowl, place kale and chickpea-sweet potato mixture over brown rice.
Fast, Easy, and Yummy
Looking for more quick-to-table meals that will keep you feeling healthy and energized?
Check out the 67 delicious allergen-free recipes in the All Day Energy Diet Community Cookbook. They will feed you in 15 minutes or less. Get it FREE right now by clicking the banner below.