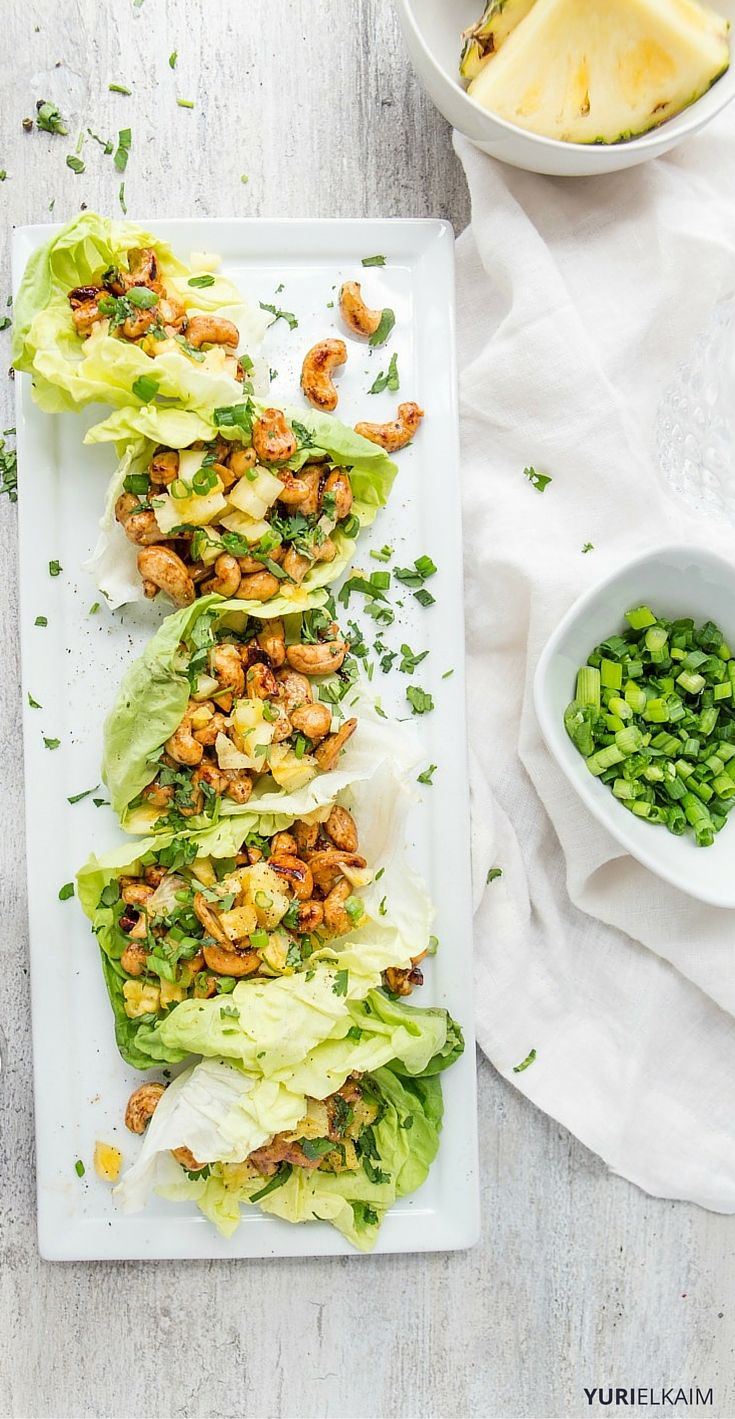 Whip up easy, low-carb appetizers in minutes with these two tasty lettuce wrap recipes that just happen to be vegan.
No meat is needed, since the flavorful cashews are cooked in a deliciously simple and zesty marinade.
Go for a tropical taste, go with the teriyaki cashew wrap, or choose the maple syrup-lemon cashew wrap for sweet and sour flavors.
Either way, you can't go wrong.
Wraps are a No-Fuss Appetizer
If you're crushing on Asian flavors, your taste buds will love these healthy eating recipes.
Other Asian-inspired recipes on the blog: 
The teriyaki wrap satisfies both salty and sweet cravings.  A heaping cup of cashews is infused with zesty lime juice, Bragg's aminos, and a touch of maple syrup for just the right amount of seasoning.
And to top it off? Juicy pineapple, chopped green onions, and fresh cilantro get you that tropical taste any night of the week.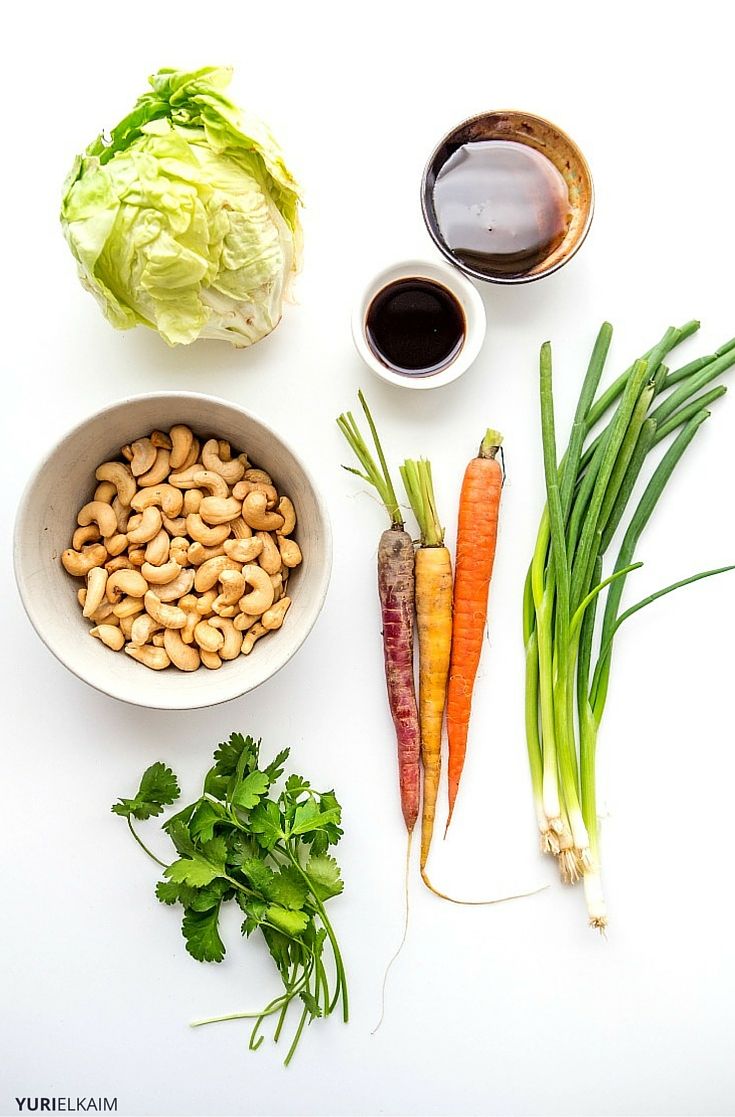 The maple syrup-lemon wrap is perfect for taste buds that crave an Asian takeout experience without the MSG and chemical additives.
Serve up both of these low-carb, protein-packed wraps at your next party for rave reviews.
Happy, Healthy Indulgence
Whether you're vegan or just want a meatless protein option, cashews are full of healthy plant protein.
One cup of cashews contains 40 grams of protein. Protein is essential for building and repairing tissue and muscles, and it's the building block for cartilage, skin, bones, muscles, and blood. Protein also keeps you feeling full, so you won't be tempted to raid your fridge or pantry after dinner.
Cashews have other health benefits, too. Research on cashew seed extract shows that it is particularly promising for reducing diabetes risk.
A 2010 study found that compounds in cashews improved the ability of sugar to enter cells, leading to a decrease in blood sugar levels in the bloodstream (1).
These potential anti-diabetic properties are exciting for those who are diabetic, pre-diabetic, or trying to control blood sugar levels through diet.
Not only do cashews also have a lower fat content than other nuts, more than 80 percent of its fat comes from healthy monounsaturated fat, which has heart-protective effects.
Another great thing about these wraps?
Butter lettuce replaces the high-carb, refined flour tortilla that's typically used as a wrap, so this recipe is a great low-carb appetizer option. And that means your guests won't be too full for their main course.
Easy Vegan Appetizer Wraps
Serve up these wraps in 15 minutes. If you're looking for a meatless nosh packed with plant-based protein, you'll want to try these Asian-inspired, low-carb wraps. They're delicious.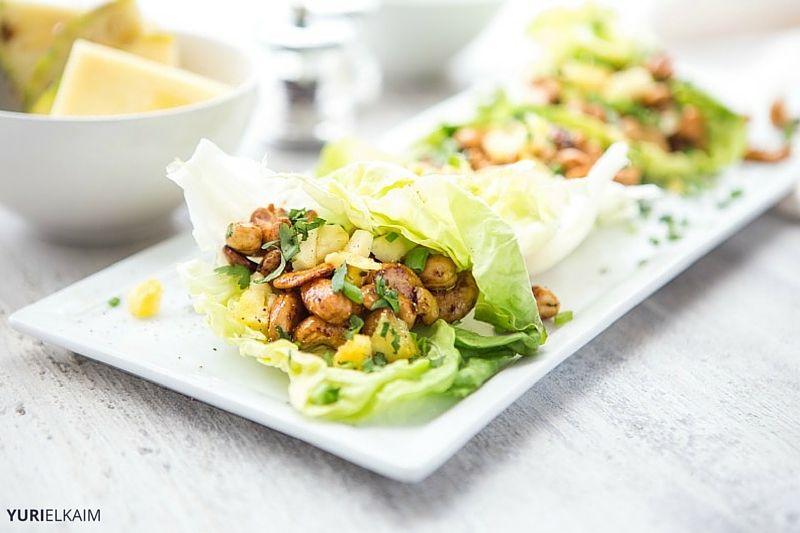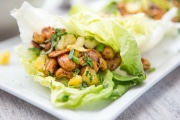 | | |
| --- | --- |
| | |
In a large skillet over medium-high heat, melt coconut oil and add garlic, turn immediately down to medium-low heat.

Add cashews and lime juice and zest to the skillet. Cook until the lime juice is reduced.

Add Bragg's Aminos and honey, cook until glazed and golden (be careful to watch the pot! They brown quickly!)

Serve in lettuce leaves topped with pineapple, cilantro and green onions.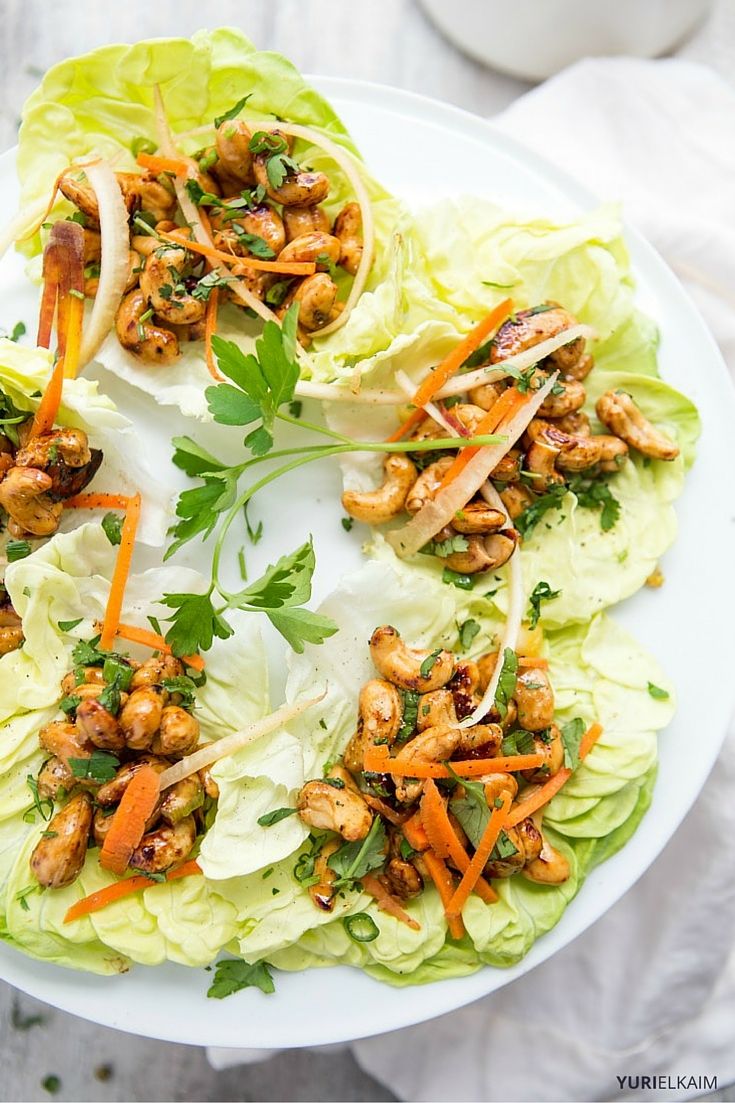 Easy, Delicious, Energizing Food
Want more tasty, allergen-free meals that will take you less than 15 minutes to whip up? Be sure to get my All-Day Energy Diet Community Cookbook, which features 67  easy recipes that will help you feel (and look) years younger.
Get it for FREE right now by clicking the banner below!