Macaroni and cheese is one of those recipes everyone seems to love.
Well, everyone except the nutritionist in me.
Coating carb-y, refined-flour pasta with butter and cheese is about the least healthy way to eat dinner (or any meal for that matter). But it's a comfort food classic, so you wouldn't expect me to ask you to give it up entirely.
You know I'm not about saying "no" or depriving yourself. I'm far more interested in creating healthy alternatives of favorite dishes.
So far, we've done just that with hundreds of recipes. A few of them have become fan favorites:
And now, to the list we add:
Low Carb Mac and Cheese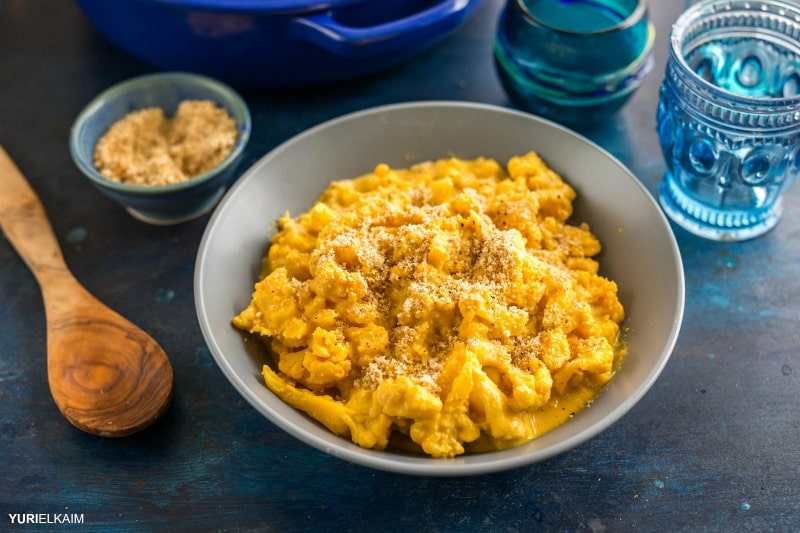 To keep this one healthy, we've swapped out the pasta for cauliflower, which offers a great texture and fewer carbs.
Cauliflower is such a versatile veggie. You can use it in place of rice, roast it into a savory snack, boil it until tender and turn it into mashed potatoes, and you can even grate it into hashbrowns.
A big key in successfully serving up cauliflower as a carb swap is making sure you prepare it appropriately for the recipe.
For this recipe, we tried it several ways, and felt the most mac-and-cheese-like texture came about after we sliced the head of cauliflower into 1/2-inch slices, then cut those slices into thin strips. The florets will fall into different-sized pieces, but you'll get several that look similar to the shape of macaroni. After cooking, the texture is less like cauliflower and more like al dente pasta.
Cheesy Sauce
Next up: the cheese sauce, which contains no actual cheese.
This recipe turns a creative mix of nutritional yeast, coconut milk, and tahini into a savory cheddar-flavored sauce that gets its color from … drumroll please … baby-food carrots!
To really dial in the classic flavor, we top it all off with an awesome nut-breadcrumb mixture, made from toasted almond flour and coconut oil. I was pretty excited about how tasty this turned out. I think you'll be surprised at how satisfying it is as a breadcrumb substitute.
The ingredient list here may not look like your usual mac and cheese, but give this one a try! It's a one-pot wonder. Give it a try tonight and let me know how it goes.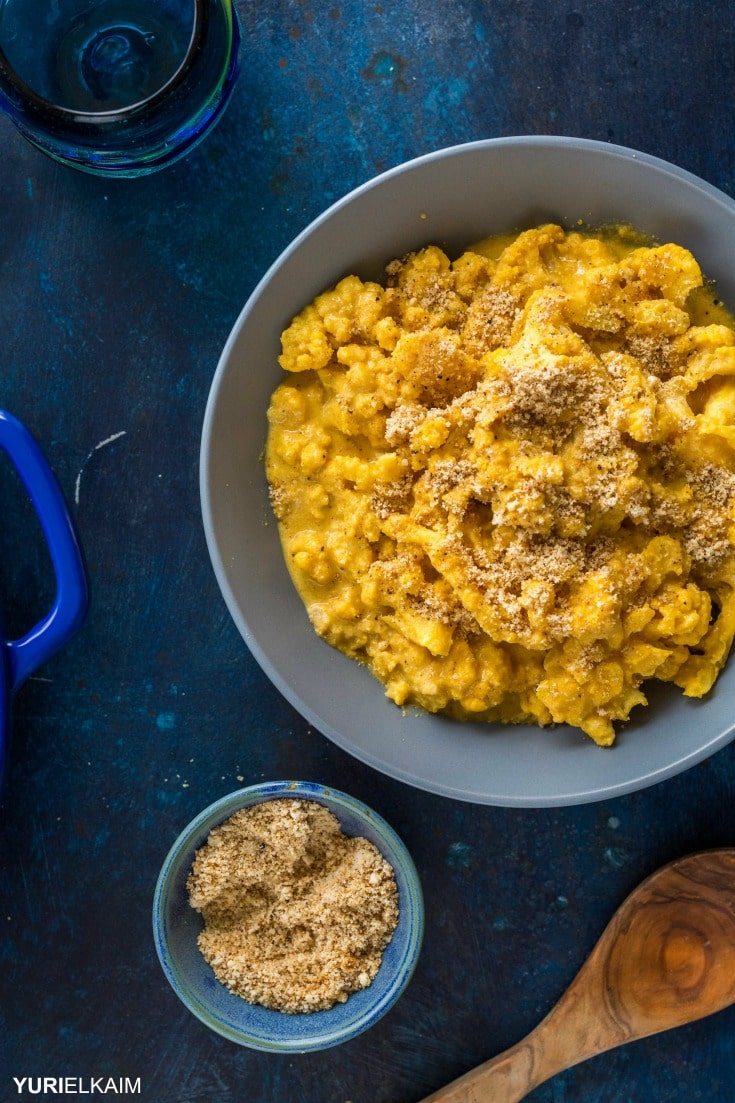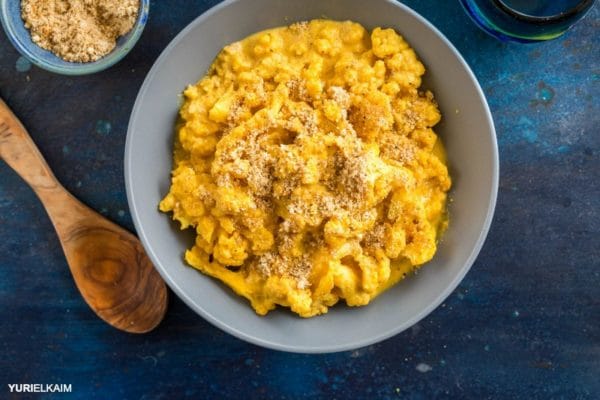 | | |
| --- | --- |
| | |
In a large deep-sided pan, melt coconut oil over medium-high heat.

Add almond meal, garlic salt, and pepper. Cook just until the almond meal begins to taste. Transfer to a small bowl, set aside.

Cut cauliflower into 1/2-inch pieces, then into 1/2-inch strips, to create "macaroni-shaped" rectangle pieces (many of the florets will crumble, which is normal).

Place cauliflower in a pan. Add carrots, coconut milk, tahini, olive oil, onion powder, ground mustard, salt and pepper. Cover and cook 10 minutes, until boiling.

Remove the lid and cook until sauce begins to thicken and cauliflower is very tender. Sprinkle with almond meal "breadcrumbs" and parsley.
Fast, Easy, Healthy
What's for dinner (besides low carb mac and cheese)?
If you're always on the lookout for more dinner ideas, you'll love the All Day Energy Diet Community Cookbook, which features 67 meals that are designed for real-world cooks who crave simple, tasty, and fast-to-prepare dishes.
Each recipe is gluten- and dairy-free, as well as low in sugar and other common allergens.
You can get your copy – for FREE! – by clicking the banner below.