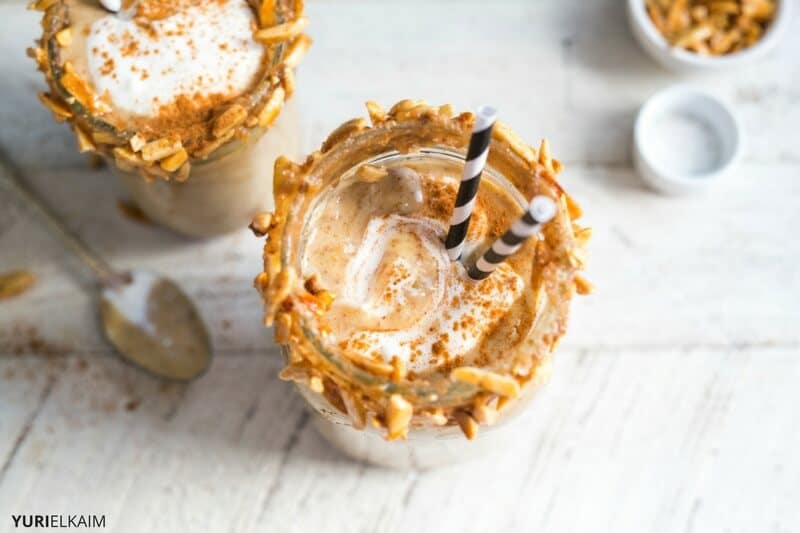 I'm often amazed at how easy it is to transform some of the most decadent sweets into healthy, plant-based treats.
Even though it seems counterintuitive, sometimes the whole-food version is easier to make – and tastier – than the sugar-laden, traditional recipe.
Take, for instance, this salted caramel milkshake.
If you made it from scratch, you'd spend more than a half-hour standing over a hot stove, stirring butter and sugar and cream together until caramelized. Then you'd have to allow it to cool before spooning it into ice cream (which would take about 6 to 12 hours to make).
Or, maybe you'd skip the homemade prep and just buy all of the ingredients from the grocery store. Which, of course, would leave you with a batch of preservative-laden, refined-sugar-spiked ingredients.
Thanks … but no thanks.
Vegan Salted Caramel Milkshake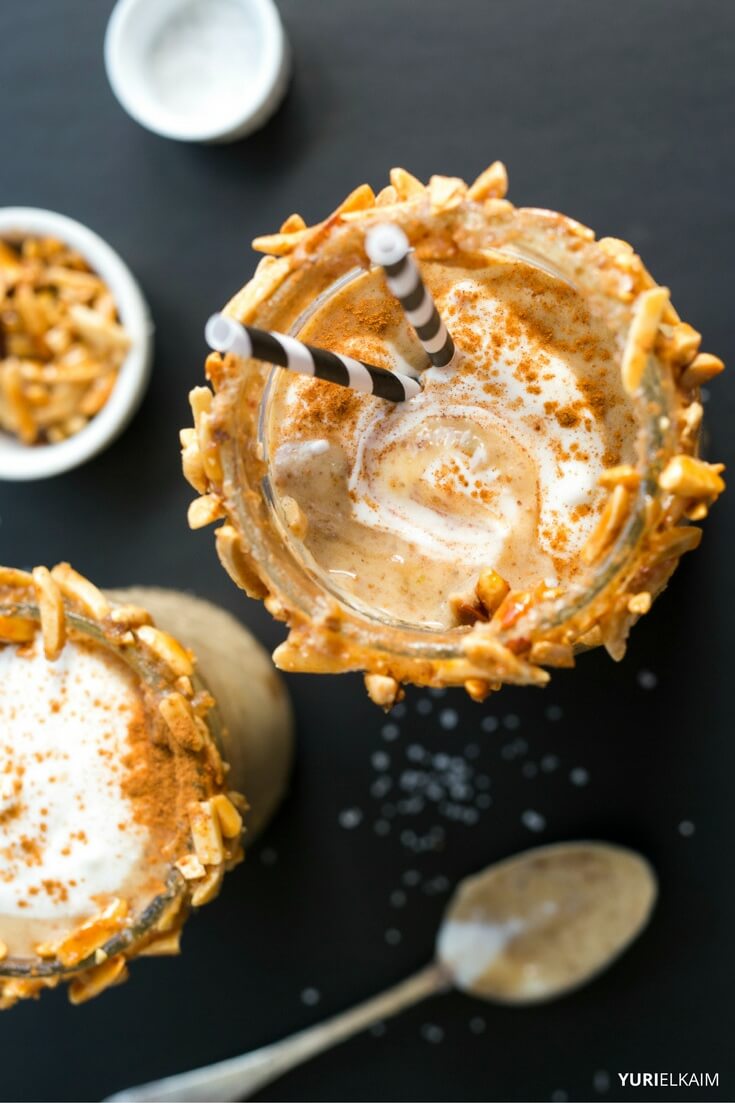 Here's a secret: You can make raw, vegan caramel in a blender in only about 5 minutes.
All you have to do is put pitted dates, pure maple syrup, vanilla, a bit of water and pinch of salt into the blender and puree until it's smooth. Boom: salted caramel.
But, wait. It's about to get even better, because we're going to take that raw, plant-based, vegan caramel and blend it into a dairy-free milkshake.
And this frosty combo is going to make your entire weekend: mouthwatering, creamy caramel-vanilla almond milk, topped with maple-kissed coconut cream and salted caramel almonds.
Are you running to your blender? Me too!
If You Like This Recipe, You'll Love: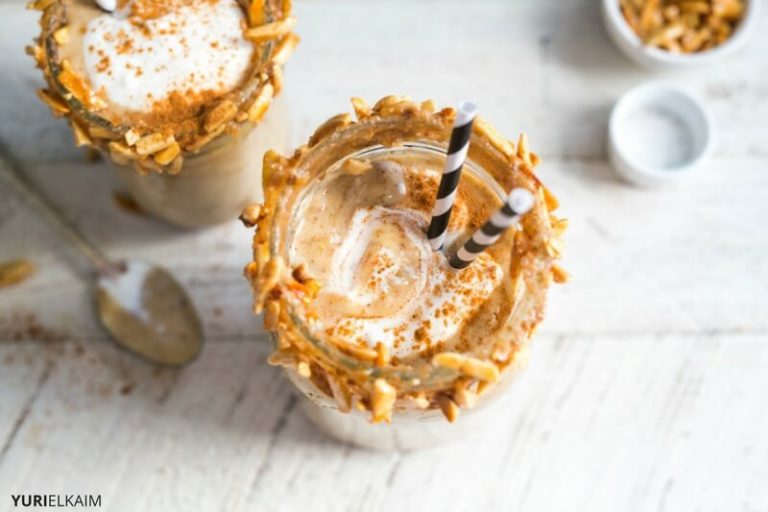 | | |
| --- | --- |
| | |
In a small saucepan, heat almonds, 2 tbsp maple syrup and cinnamon together until syrup begins to bubble and almonds turn golden brown. Transfer to a piece of parchment, sprinkle with salt. Allow to cool.

In a high-speed blender (like a Vitamix) or food processor, combine 1/4 cup maple syrup, dates, 1 tsp vanilla, salt to taste and just enough water to make a smooth, soft caramel. Remove half of the caramel from the blender. Set aside.

To the caramel in the blender, add figs, almond milk and almond butter. Blend until smooth. Add more almond milk, if needed, until desired consistency is reached.

Dip the rims of 4 half-pint mason jars into the date-caramel mixture. Fill with milkshake. Whisk or whip together coconut cream and 1 tbsp honey. Spoon on top of milkshakes.

Top with almonds. Enjoy with a straw ... and a spoon.
If desired, swap in 1/2 cup decaf cold brew coffee instead of almond milk for tasty coffee flavor.
Want More Healthy Delicious Goodness?
If you love this milkshake, you'll also want to download my Healthy Desserts eBook, which contains even more gluten- and dairy-free recipes that will satisfy your sweet tooth.
Go get your copy right now, for FREE, just click the banner below!